Moist, light delicious Chocolate Chip Banana Muffins are a real treat; and fun to make with kids! These muffins are Low-Sodium and delicious! I made this recipe with Greek Yogurt, Coconut oil and my granddaughter Nora!
 I'm visiting my Montana Family and awaiting the birth of grandchild number seven! It's such a pleasure to spend time here visiting and playing with my four year old grand daughter Nora and 20 month old Dane. Nora and I decided some over ripe banana's need using up.
Nothing better than muffins for breakfast and snacks, I say.  If you love banana bread you will love these muffins! You will also enjoy  Kayti's blueberry banana bread, my healthy banana bread recipe and Caramel Pecan Banana Date Bread! So yum!
Kids love muffins! And cooking! I had the pleasure of using my daughter's Kitchen Aid mixer, a gift from her grandma; for this recipe. What a sturdily built, no-nonsense, common sense machine! It made great muffins!
As Nora is showing you; we are using homemade greek yogurt in these muffins. Greek yogurt adds lightness and flavor with very few calories. We also used coconut oil for a healthy digestible oil that tastes great in baked goods. I highly recommend it!
My Granddaughter Nora loves to help!
Cooking with children makes the whole process more exciting and fun. Their sense of enjoyment goes way up when they are allowed to help make recipes. The pay off with these muffins is just plain delectable! Nora loves to eat what she helps create!
Making these muffins with Nora was a special time for me. She was happy to be involved and was a great helper to her grandma! Little Dane waited with a happy face while the muffins baked. We all enjoyed the smell of those baking muffins. What is it about banana breads. They smell heavenly. The whole house did!
Our Seventh Grandchild, Warren David Sandefur, Was born early the next morning. So nice to have a delicious muffin to grab after a long sleepless night! I am so blessed in my family. Such a joy to be able to share time with this wonderful family at such a happy time!
We really love this recipe! The muffins held up for several days and stayed moist, light and fresh. I ate a whole lot of them!
These  muffins are freeze-able. Place the completely cooled muffins in an airtight ziploc freezer bag with all the air sucked or squeezed out as much as possible. Freeze about a month.
Completely thaw on your counter and store in an airtight container to maintain freshness.
Chocolate Chip Banana Muffins Recipe:
Chocolate Chip Banana Muffins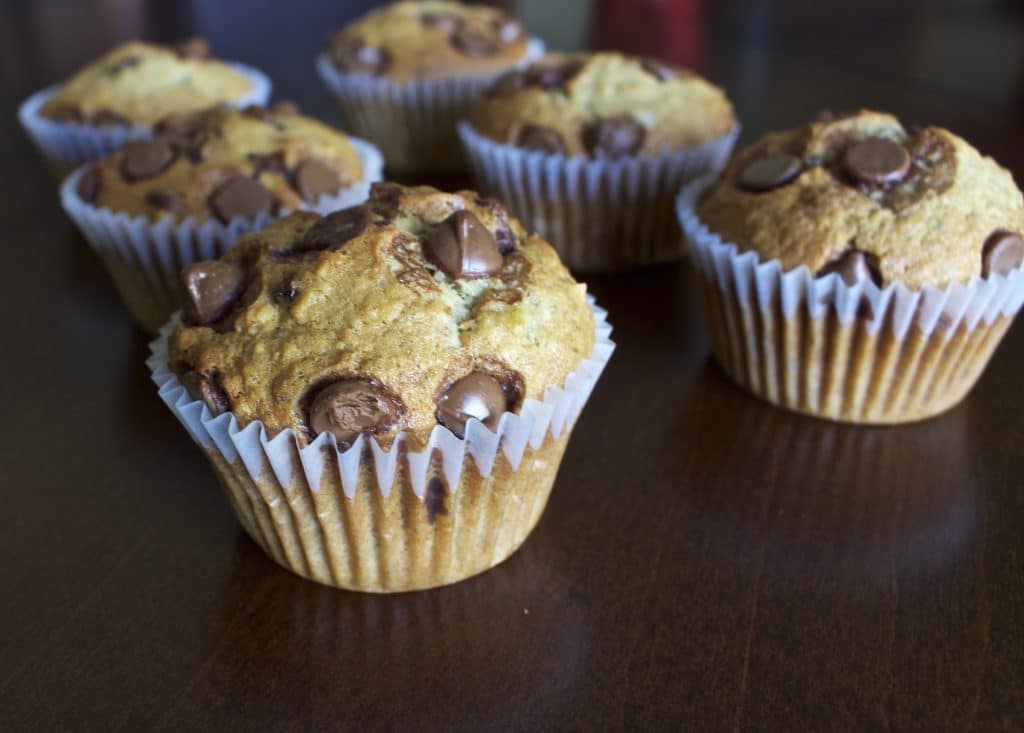 Ingredients
2 Cups all purpose flour
1 Cup sugar
1 tsp. baking soda
1 tsp. baking powder
1 tsp. vanilla
2 eggs
1/2 Cup melted coconut oil
1/3 Cup Greek yogurt
2 to 3 ripe bananas
1 Cup chocolate chips (I prefer dark chocolate)
(Opt)1 Cup finely chopped walnuts (to taste)
Instructions
Preheat oven to 350 degrees
Oil or use cupcake liners in one 12 hole and one 6 hole cupcake pan.
In a stand mixer, whisk together the banana, eggs, oil, vanilla and yogurt until smooth.
Add all of the dry ingredients(except chocolate and nuts). Mix until just combined.
Add in the chopped nuts and chocolate chips and stir well.
Pour batter into the muffin cups 3/4 full, evenly throughout. Put chocolate chips on the top of the muffins if desired.
Bake 20 minutes or until a toothpick come out clean.
Let cool in muffin tin about 10 minutes and then remove to cooling rack.
If not using liners, cut around the muffins carefully with a sharp knife to release them from the tins. The chocolate tends to stick to the pans.
Pin it: