A fruity rum punch recipe with both dark rum and coconut rum. This delicious cocktail recipe is inspired by the Steamboat Bills restaurant in Lake Charles Louisiana.
Bayou rum punch is a delicious blend of coconut rum, Meyers dark aged rum, fruit punch, orange juice, and grenadine. All of the ingredients are poured into a cocktail shaker and shaken with ice. This drink is served in a tall glass with a maraschino cherry and an orange slice for garnish.
The rum punch cocktail has sweet fruity flavors with deep rum notes coming through. A refreshing drink for any occasion.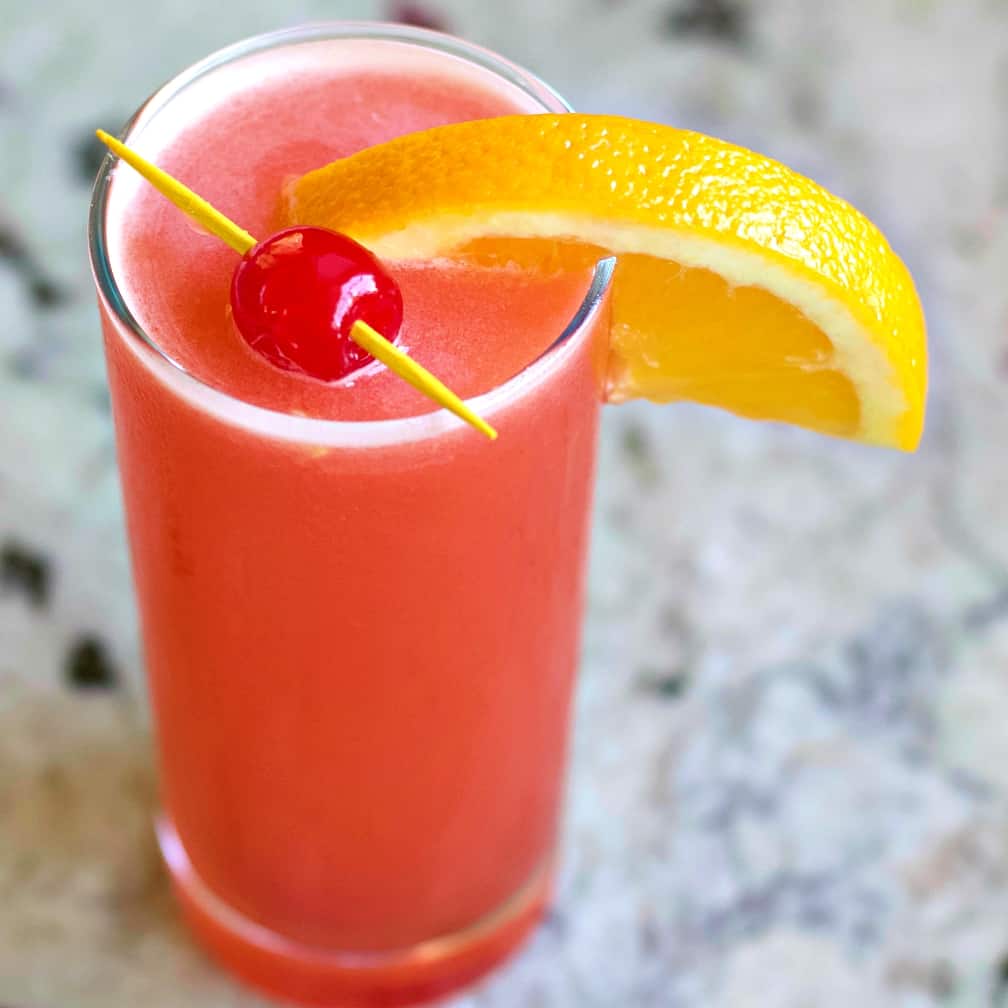 Steamboat Bill's is a fun place to eat and drink if your in the area. The fried alligator was so delicious and tasty. Definitely try it if you get the change. We ordered up the rum punch to enjoy with dinner.
Read all about Steamboat Bill's Restaurant story here. It's very inspiring. The founders are true louisianans with a strong spirit. They created a restaurant chain with a great reputation for southern cooking.
What is Rum Punch?
Rum punch is a drink that is made with sweet fruit juices and combined with dark or light rum. Rum punch has been around since the 16th century. Jamaican rum is the most popular rum to use for this drink. A dark aged rum gives the fruity drink a deep sweet rum taste. This drink is served cold and is popular throughout the Caribbean Islands and the Southern US.
What is Dark Rum?
Dark rum is a rum with a dark caramel color. This rum is typically made with blackstrap molasses which gives the rum a strong and robust flavor. Dark rum is a unique flavor profile that is used in many different cocktail recipes. Aged rum is typically aged 6-18 months in barrels.
Light rum or silver rum is a clear liquid with a very light flavor profile. Lighter rum is best suited to drinks that don't need a strong rum flavor. Mojito's are popular cocktails to make with a white or silver rum. The most popular and budget friendly white rum is Bacardi.
What Mixes well with rum?
There are many different fruit juices, sodas, and fresh fruit options that pair very well with rum. Here are a few or out favorite mixers for rum:
Orange Juice
Pineapple Juice
Mango Juice
Lime Juice
Lemon Juice
Ginger Ale
Coconut Milk
Tonic Water
Coca Cola
Dr. Pepper
Sprite
Flavored Seltzer
Ginger Beer
Fruit Punch
Our Rum Punch Version:
Steamboat Bill's is a casual restaurant that serves a great good time and excellent food with parchment paper and plastic baskets. The rum punch was so delicious that I knew I had to try and recreate something similar at home.
After some trial and error I came up with this recipe which tastes incredibly similar. This drink has sweet flavors, with delicious fruit flavors. The dark rum helps bring in the island taste, we used the coconut rum to lighten up the rum flavor a bit.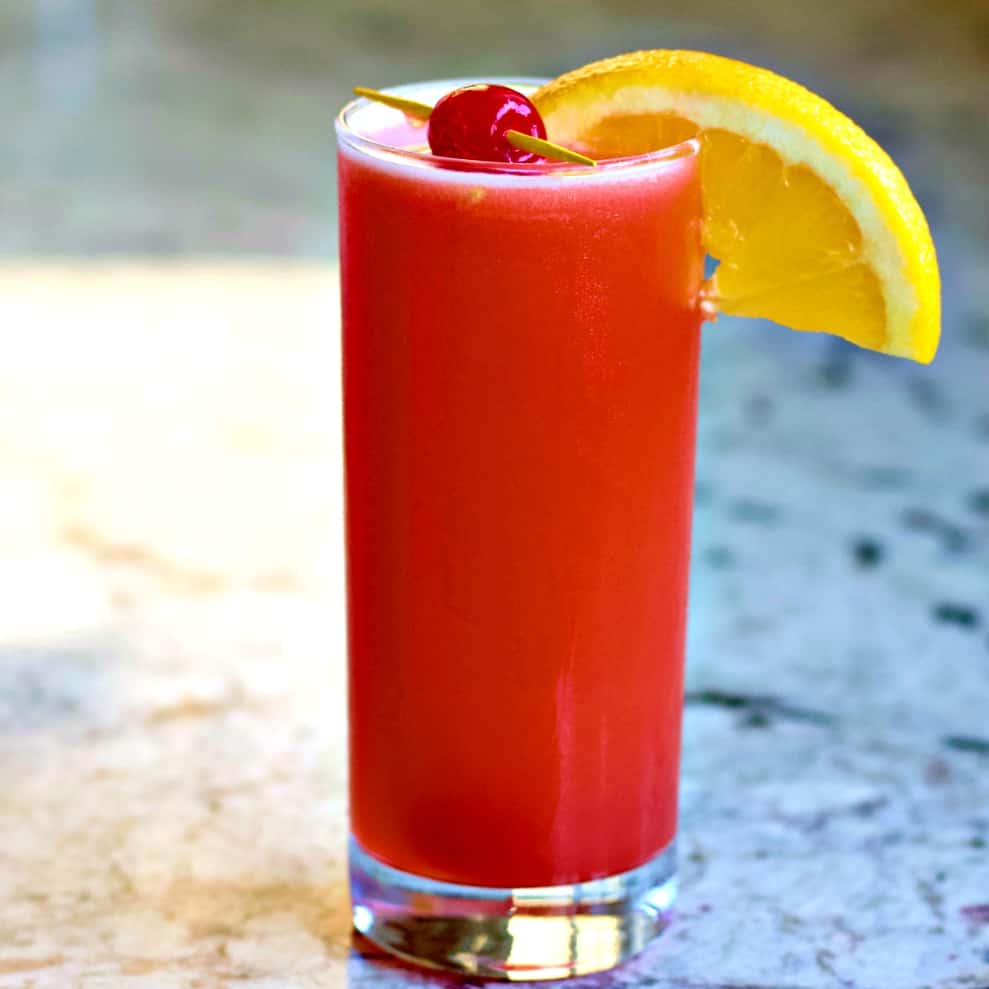 This cocktail is loaded with smooth rum and fruit juice. You can call it either malibu rum punch or Jamaican rum punch. Just don't forget the orange juice and mixed fruit juice. Wowsa what a drink!
Visit our Entire Cocktail Selection here!
Bayou Rum Punch Recipe:
The Ingredients:
The Process:
Here is your visual process. Also watch our video demonstration. This recipe yields 1 cocktail.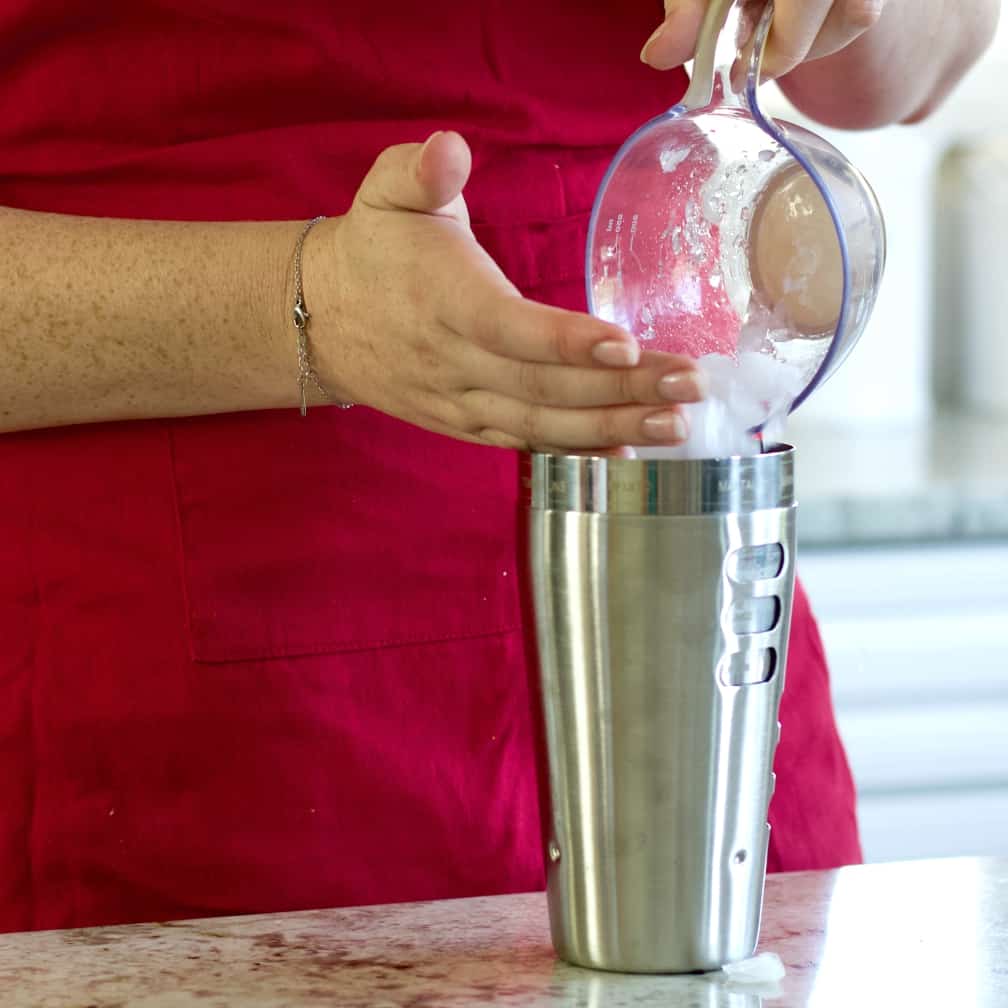 Bayou Rum Punch Recipe into a 10 serving party punch:
In a large pitcher or punch bowl put the following ingredients. Float orange slices in the punch for garnish.
15 oz. Malibu Coconut Rum
5 oz. Meyer's Dark Aged rum
5 Cups Fruit punch
2 1/2 Cups orange juice
5 oz. Grenadine
Add ice to your party cups to keep the punch cool if desired or drink at room temperature.
Your Printable Recipe: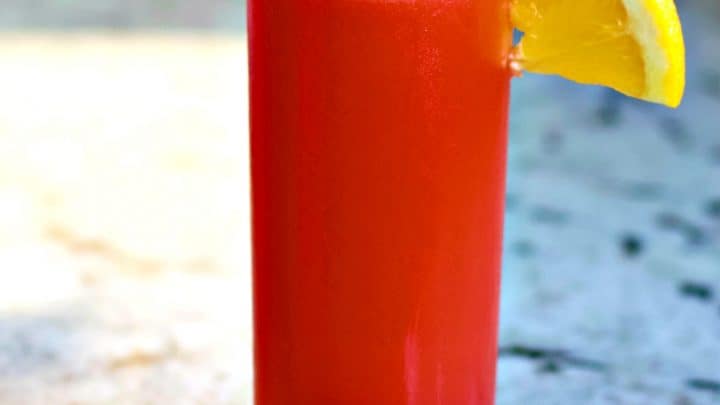 Yield:

1 cocktail
Bayou Rum Punch Cocktail Recipe
A delicious sweet rum drink straight from Louisiana. Made with fruit juice, Malibu and aged rum.
Ingredients
1 1/2 oz. Malibu Coconut Rum
1/2 oz. Meyer's Dark Aged rum
1/2 Cup Fruit punch
1/4 Cup orange juice
1/2 oz. Grenadine
Instructions
Make the Bayou Rum Punch Cocktail:
Fill your cocktail shaker with ice.
Measure and pour into the ice filled shaker the Malibu rum, Meyers rum, fruit juice, orange juice and grenadine.
Close the shaker tight and shake at least 30 seconds to chill and mix the drink.Pour into a collins glass.
Garnish:
Add a slice of orange to the side of the glass
Put a toothpick through a maraschino cherry and lay it on top of the glass.
Notes
For Party Punch that makes 10 servings:
Pour these amounts into a large pitcher or punch bowl.
15 oz. Malibu Coconut Rum
5 oz. Meyer's Dark Aged rum
5 Cups Fruit punch
2 1/2 Cups orange juice
5 oz. Grenadine
Add ice to your punch glasses or drink at room temperature.
Garnish your punch with floating orange slices.
Recommended Products
As an Amazon Associate and member of other affiliate programs, I earn from qualifying purchases.
Nutrition Information
Yield
1
Serving Size
1
Amount Per Serving
Calories

259
Total Fat

0g
Saturated Fat

0g
Trans Fat

0g
Unsaturated Fat

0g
Cholesterol

0mg
Sodium

15mg
Carbohydrates

39g
Fiber

0g
Sugar

35g
Protein

0g
More Delicious Cocktails:
Follow Us:
We enjoy meeting you on our social networks. Follow us on Facebook, Pinterest, Instagram . Tag us with your pictures of our recipes and comment on how it went for you. We would love to see what you do with them.
We often like, comment and share your posts of our recipes on our daily Instagram stories.
Ask questions and rate the recipe in the comments section below. Please share what you did with this recipe. We are always looking for more and better ways to make homemade food. Other cooks love your ideas!
Recent Posts: