Sweet tea and Bourbon is a well loved, ice tea drink from the South. Bourbon iced tea cocktail wets your whistle in the hot humid summer time. The flavor of sweet black tea and bourbon is excellent together.
Our recipe for this black tea cocktail is a simple one. Rather than make a black tea from scratch we used pure leaf black tea from a bottle. This takes all the fuss of brewing a cup of tea and chilling it out of the timetable. Easy peasy.
Bourbon is so good in iced Tea. You can make it so many ways. We added limoncello to our recipe. That really upped the lemony tangy sweetness. And we used Makers Mark bourbon. Smooth and sweet. yum.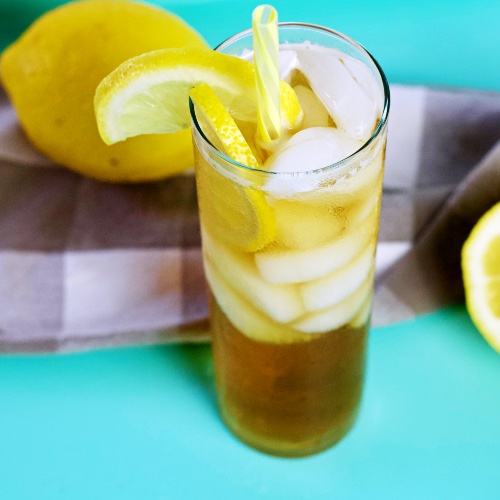 What else is sweet tea and bourbon called? You may know this summertime cocktail by any of these names. The bourbon black tea cocktail is known as Sweet Tea and Bourbon, Kentucky Bourbon tea, Bourbon Iced Tea or simply, bourbon Tea.
Whatever you call it, sweet black tea and bourbon are a good mix.
Black tea has a natural bitterness that creates balance when combined with sugar and mixed with bourbon. Adding lemon brightens the flavors. So does mint.
Best Black Tea for Sweet Tea and Bourbon
The best black tea for sweet tea and bourbon depends on your bourbon, and on you. Any black tea can make great sweet black tea.
Bottled black tea like pure leaf and other brands are delicious, already made, chilled (or room temperature) and often sweetened. This makes the process so easy.
If you want to brew your own tea here are some black teas that taste great with bourbon.
For a classic sweet tea use a Ceylon black tea.
Orange pekoe tea makes a citrusy tea for this cocktail.
Bourbon Tea Bags (here's a whole page of bourbon teas on amazon) have vanilla bourbon and oak flavors in the leaves. I have not tried these but it sounds like a great flavor for a bourbon tea cocktail.
Earl Grey is an option for sweet tea and bourbon if your a fan of bergamot – a fruit that gives the tea a subtle citrus flavor. It's distinctive, but people that enjoy bergamot should try it.
Lapsing souchong blends well with bourbon. This tea has bold, smoky, flavors that complement the flavors of bourbon.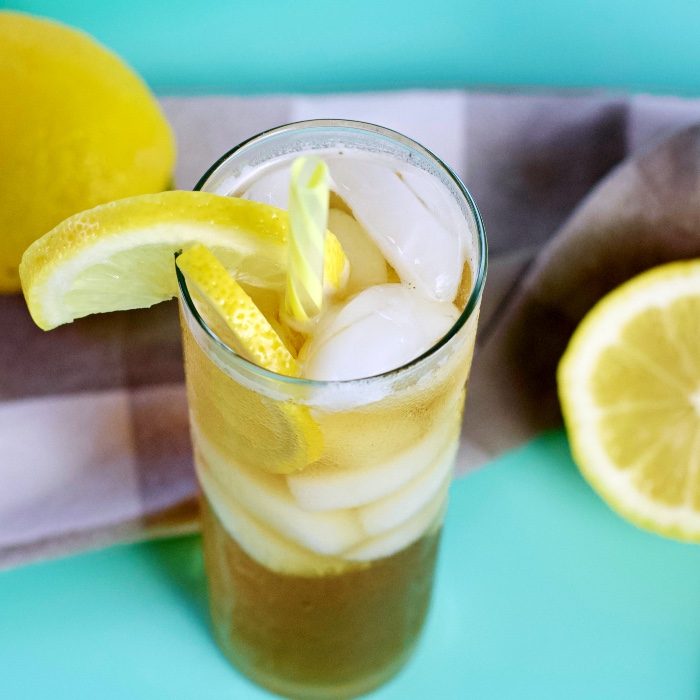 Best Bourbon For Sweet Tea
Using a good quality bourbon is key to making this beverage balance out nicely.
We used Makers Mark for our recipe. Makers Mark is very smooth and sweet bourbon. This high end wheated bourbon (it's made with a wheat mash rather than rye) is a good choice for a sweet tea cocktail. The flavors blend very nicely.
Great Bourbons For This Sweet Tea and Bourbon Cocktail
Your favorite bourbon will probably work great for making a sweet tea and bourbon cocktail. But there is a wide variety of flavors in both tea and bourbon. Make sure the tea balances the bourbon.
Higher proof whiskeys—like a bottled in bond expression or even barrel proof—will be more assertive and cut through the other ingredients. Similarly, a high-rye bourbon will present more spice, which contrasts nicely with the sugar and tea, while a wheated bourbon is going to provide further sweetness.

Liquor.com
Makers Mark (our choice) is a smooth bourbon that fully registers the sweet vanilla and oak flavors of the barrels it is crafted and aged in. It worked well with limoncello and a basic bottle black tea. The tea drink was smooth, sweet and lemony.
If you love a stronger, more assertive drink use a high rye bourbon with the Lapsing souchong and enjoy smoke and spice. It's all up to you.
Whiskey instead of Bourbon in Sweet Black Tea:
You can substitute a Tennessee whiskey for bourbon in bourbon tea. It's a bourbon-type whiskey with the same oak, vanilla, and caramel notes, but mellowed out with a charcoal filter.
Sweet Tea And Bourbon Recipe:
This cocktail has a lovely mix of sweetness and freshness.
Our printable recipe card below has a recipe for a single iced tea. It is easy to double for two. We also include a recipe that makes a gallon or about 16 servings for a crowd.
Yield:

1-10 oz. cocktail
Bourbon Tea Recipe
This sweet black tea and bourbon is deliciously sweet with a touch of lemon to liven it up. Limoncello adds it's own sweetness into this drink so no extra sugar is needed.
Ingredients
4 oz. sweet black tea
1 1/2 oz. bourbon
1/2 oz. limoncello
1 Fresh lemon
Mint for garnish if desired
Instructions
Fill your cocktail shaker with ice.
Pour the bourbon, limoncello and tea into a coktail shaker.*
Squeeze a half of the lemon into the shaker. (to taste)
Seal the shaker and shake vigorously until shaker is very cold.
strain the bourbon tea cocktail into a glass with ice.
Garnsih with lemon slices and mint leaves if desired.
Serve with a straw.
Notes
We used a bottle of pure leaf slightly sweet black tea for our video demonstration. The slightly sweet tea and limoncello work well together with the makers mark bourbon to create a wonderfully rich, smooth iced tea that brings in the richness of the bourbon and adds that lemon twist.
*Sugar replacements:
If you prefer a sweeter tea, add 1/2 oz simple syrup into the shaker before shaking.
You can use your favorite zero calorie sugar substitute if you enjoy it in tea. but do not put a powdered sweetener into the shaker unless you know it will not foam and will mix in well.
Honey also makes a great replacement for sugar in this recipe. Rather than add it to the shaker, add it to the tea at room temperature so it will mix in well.
Punch Recipe:
Ingredients:
4 cups boiling water
1 cup sugar (or honey)
12 black tea bags
6 cups cold water
24 ounces bourbon (approximately one 750 milliliter bottle)
8 oz. Limoncello (to taste)
At Serving:
3 cups crushed ice, plus more for serving
Garnish: 16 lemon slices or wedges
Garnish: 16 mint leaves
Instructions:
Boil the water and sugar in a large pot to hold a gallon. Stir as it heats until the sugar is dissolved and water clears.
Once the water comes to a full roiling boil immediately remove the pot for the heat.
Place the tea bags in the hot water and steep for 5 to 10 minutes or until you like the strength of the tea. Remember it will have more water added so make it strong.
Remove the tea bags and discard.
Add the cold water and stir. Allow the tea to cool to room temperature.
Stir in the bourbon and limoncello.
Chill and store the tea in your refridgerator until serving.
At serving:
Pour bourbon tea into 16 ice-filled highball or Old Fashioned glasses.
Garnish glasses with lemon slices and mint leaves as desired. Serve with a straw.
More Delicious Cocktails:
There are SO many fun cocktails to make. Here's a few of our favorites. Be sure to check out our entire cocktail section to see all our delicious alcoholic drinks.
Follow Us:
We enjoy meeting you on our social networks. Follow us on Facebook, Pinterest, Instagram . Tag us with your pictures of our recipes and comment on how it went for you. We would love to see what you do with them.
We often like, comment and share your posts of our recipes on our daily Instagram stories.
Ask questions and rate the recipe in the comments section below. Please share what you did with this recipe. We are always looking for more and better ways to make homemade food. Other cooks love your ideas!
Recent Posts: