Pineapple margarita is a well loved classic cocktail you are going to want on your drink list. This is a delicious and popular large batch cocktail at parties. Or enjoy this yummy margarita at your own personal cocktail hour, over dinner, or for a sip by the pool.
Pineapple margaritas are a fruity tropical twist to the classic margarita.
Ingredients For Pineapple Margarita:
This Classic Recipe for Pineapple Margaritas is made with tequila, pineapple juice, triple sec and fresh lime juice. It is a delicious, smooth, sweet tart cocktail. If you love margaritas, you need to make this one.
Which Tequila is best for a Margarita?
Either silver tequilas or reposados are best for Margaritas. Blanco tequilas (silver) are young tequilas and provide a more pronounced agave flavor that is great in margaritas. Reposados (gold) tequilas offer a mellower flavor.
If you want a smoky flavor, try using Mezcal instead of tequila. This is especially good if you plan to make a spicy margarita with jalapeño peppers.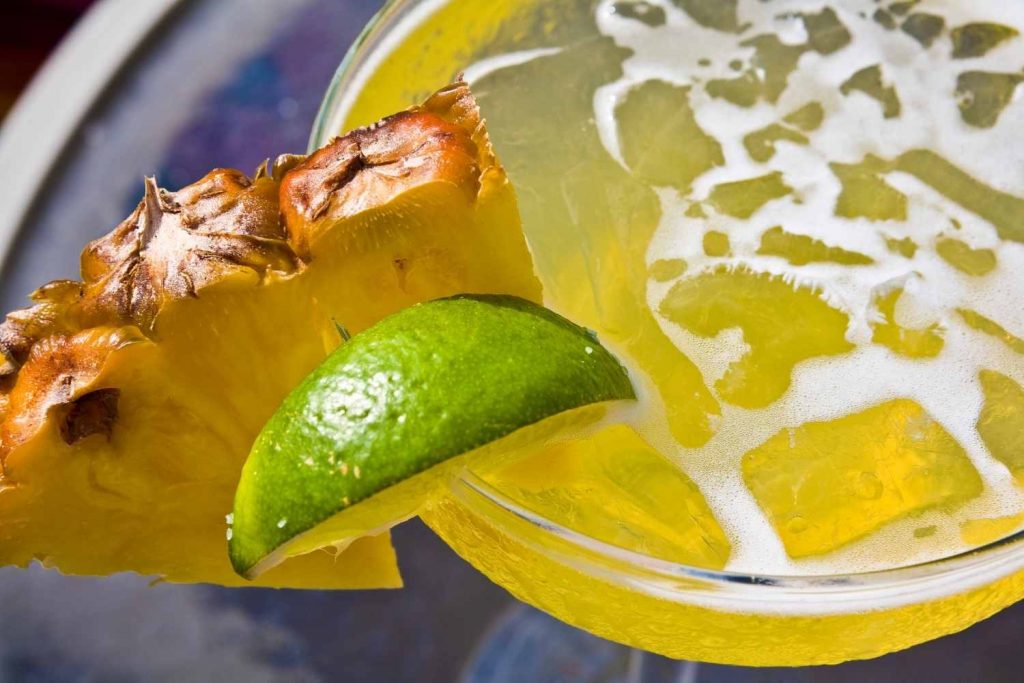 What is the Smoothest Tequila to Use for a Margarita Recipe?
Reposado tequilas are the smoothest tequila to use for a margarita recipe. Reposado tequilas are aged (rested) 2 to 12 months in oak barrels. Reposados offer a range of mellowed agave, oak and vanilla flavors which blend well in the pineapple margarita.
Añejo Tequilas are the smoothest tequilas. However, these high end sipping tequilas are not used in mixed drinks like margaritas.
What Kind of Pineapple Juice is Good with Tequila?
Unsweetened canned Pineapple juice is a good mixer for tequila. Pineapple juice blends well with the agave taste of Silver tequilas or the reposados.
Unsweetened Pineapple juice is called for in this classic recipe. This is a smooth, fruity, but less sweet drink. Unsweetened pineapple juice allows the agave flavor of the sharper silver tequilas to peak through the drink without dominating.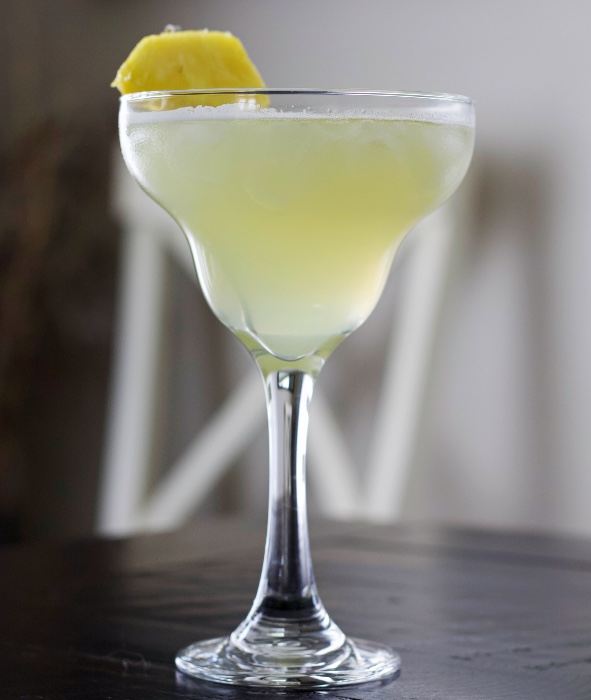 Is Triple Sec necessary for Margaritas?
Triple sec is an essential component of a margarita. Cointreau is the triple sec called for in our margarita recipe. The rich orange flavor combines with lime and tequila to make the characteristic flavor blend margarita lovers enjoy.
Can you add simple syrup to a Pineapple margarita?
This classic pineapple mixed drink is a blend of sweet tart flavors without added sweeteners. If you prefer a sweet flavor in your drink with less tartness, add simple syrup to taste.
How Much Alcohol is in a Margarita?
Margaritas are strong cocktails with an Alcohol By Volume (ABV) of about 33%. The Pineapple margarita is diluted with pineapple juices and has a lower ABV. Pineapple margaritas have about 12% ABV making this a light 22 proof drink.
To make this drink stronger increase the tequila amount to 2.5 ounces and cointreau to 1 ounce. It's easy to adjust the alcohol and flavors to taste.
The alcohols we used in this margarita recipe:
If you change up the recipe amounts, alcohols or even brands of alcohol, like the triple sec, that have differing ABV, you can change the alcohol content of the drink. Other things that affect the alcohol content of your pineapple margarita include how much ice you add to the shaker and how hard you shake it.
After the pour, how long is your drink sitting in a glass of melting ice? By volume the alcohol level in the glass will dilute and soften the alcohol impact the longer you sip.
Substitutions:
Here substitute ingredients for this recipe.
Any Reposado or silver tequila can make a good pineapple margarita. Mezcal will give you a smokier flavor that works well in a spicy pineapple margarita.
Cointreau can be replaced with Grand Marnier although the flavor is stronger. Any triple sec can be used that you enjoy.
Lime juice is essential but you can use bottled if your out of fresh limes.
Unsweetened pineapple juice. Be careful here. If you like a sweeter drink you can use sweetened canned or reconstituted frozen pineapple juice, but it will make this drink sweet.
The thing with substitutions is you need to taste test the new drink blend and adjust whatever you come up with until it is enjoyable.
How to Make a Jalapeño Pineapple Margarita
It's very simple to make a delicious spicy pineapple margarita. Add fresh jalapeño slices to the ingredients in the shaker. Shake it all up and pour this spicier margarita over ice.
How MUCH spiciness do you want in your Margarita?
if you want a tamer drink, with just a hint of heat, use a single round slice of pepper. Jalapeños seeds have a LOT of heat in them. To keep the drink less spicy, take out the seeds before you add the slice to your cocktail shaker.
To make the spice EVEN MILDER. Don't shake the pepper with the drink. Just drop an unseeded round of pepper into your glass and stir it in after pouring the shaken drink. Pull the pepper out when your happy with the spiciness.
If you prefer a flaming hot spice, use several extra jalapeño slices and leave the seeds in. Cut across the pepper in rounds so you get a good amount of jalapeño juice as you shake the drink..
Steeping the fresh jalapeño slices and seeds in the drink mix before shaking it up will produce a very spicy pineapple margarita that will definitely wake up your taste buds.
To steep this drink, mix up the drink ingredients with fresh jalapeño slices 15 minutes or more before you plan to add it to your shaker with ice. The longer it steeps, the spicier it gets.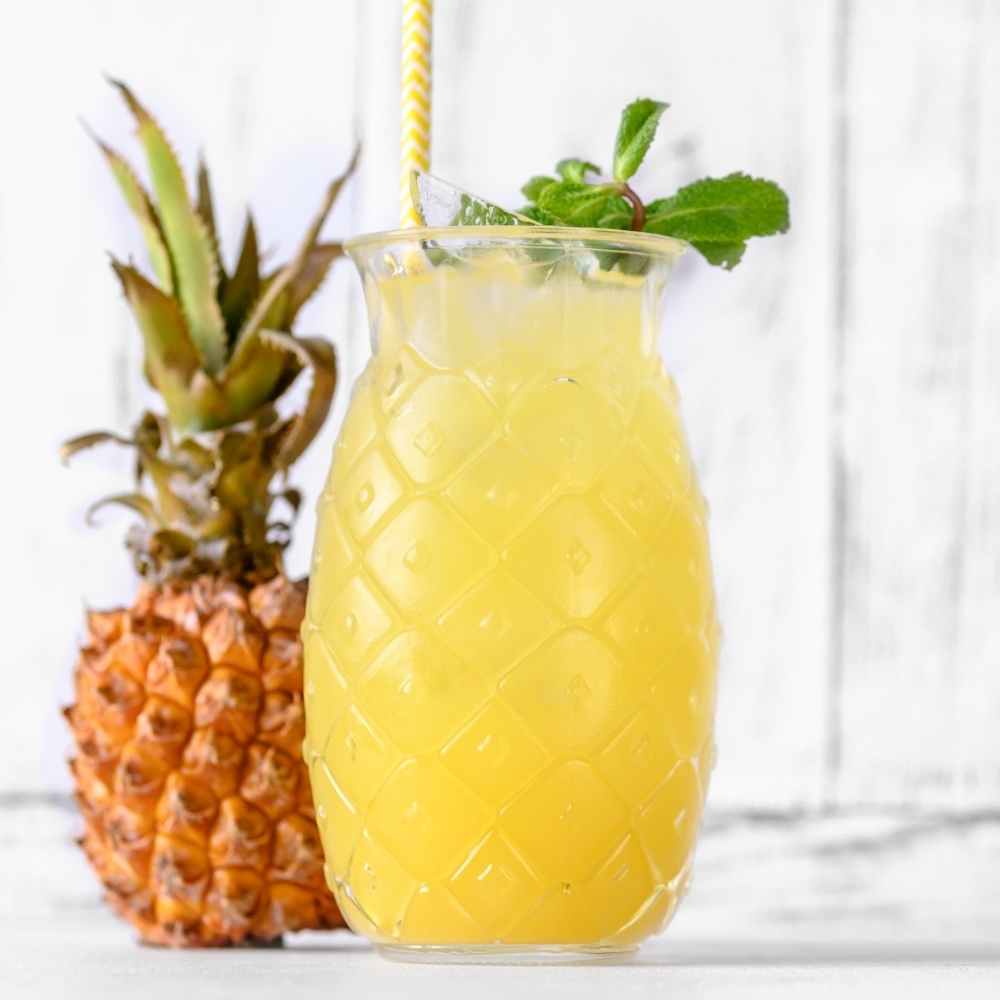 Pineapple Margarita in a Large Batch Cocktail For Parties:
The pineapple margarita is a batch cocktail of choice for hostesses. It is easy to make ahead of your event.
TIP: Do NOT add ice to the pitcher. It will melt and dilute the drink. Instead, make the pitcher without ice and refrigerate it an hour or more before serving to chill it. Set an ice bucket on the table by the cocktail glass arrangement.
Or immerse the chilled pitcher in a tub of ice to keep it cold for summertime outdoor events.
Make this into a batch margarita cocktail in a pitcher to serve 8, use our recipe in the notes section of the printable recipe card. For an even larger group, make it in a 20 serving size punch bowl and double the pitcher recipe.
How Do you Serve Pineapple Margarita?
For a party make a large batch of pineapple margaritas in a pitcher or punch bowl. This simple and classic party cocktail looks beautiful in a pitcher or punch bowl set with matching glasses.
Serve garnishes on a platter or in pretty bowls for your guests to choose. Sliced jalapeños, Fresh Pineapple chunks, and Wedge of lime are easy for guests to pierce with a pick or set into the glass.
Theme your pineapple margarita for the event you have in mind. Garnishes, glasses and even the glass rim will all add to the atmosphere. Have fun with it.
Glasses for Pineapple Margarita:
From formal to casual, glasses set the tone. Choose the glasses that best suit your event or mood. There are many options for glasses in local stores and on Amazon.
Here are a few options from Etsy. There are so many venders with original, beautiful and interesting glasses and pitchers for cocktails.
Poolside, mason jars garnished with pineapple wedges are cute and durable.
Garnish Suggestions:
Garnishes often reflect the flavors of the drink. In this case pineapple, lime and orange. Even peppers are fun in a spicy pineapple margarita.
Pineapple chunks or wedges. With or without the skin on.
mint leaves
jalapeño peppers
lime wedges or wheels
orange wheels
The fruit garnishes can set on the side of the glass, on a cocktail pick, or submerge them right into the glass.
Rim The Glass:
Margaritas are often served in glasses with salted rims. Naked rims give a more formal look. You can add a lot of ambience with a rimmed glass. They can reflect the event or compliment the other garnishes. But they should ALWAYS enhance the flavor of your drink.
To rim a glass with salt, sugar or even chili salt blends for a spicy drink, here is our method.
Run a lime or pineapple wedge around the rim of the glass to wet it. You can also invert a glass rim into simple syrup if you really need it sticky for a sugar rim.
Invert the wet rim of the glass into the kosher salt, sugar or whatever blend you choose until it stick to the wet rim. You may need to push the salt to the edge if the glass rim is not evenly coated.
Shake off excess and right the glass.
Pineapple Margarita Recipe
This is the classic Pineapple margarita on the rocks- it is meant to be shaken and then served over ice. For our large batch cocktail recipe and instructions, look in the notes section. Enjoy!
Yield:

1 cocktail
Pineapple Margarita Recipe
Sweet, tart Pineapple Margaritas are tasty and popular at home or for a party event. These are easy to make and fun to drink.
Ingredients
1/1/2 oz. Silver Tequila (or Mezcal for Spicy Margarita)
3/4 oz. cointreau ( or grand mariner or triple sec)
3 oz. unsweetened pineapple juice
1/2 oz. lime juice
Instructions
Add ice to your shaker
Pour in the ingredients. tequila, cointreau, pineapple juice and lime juice. (Add jalapeño rounds now if you want them.)
Seal the shaker.
Shake the shaker vigorously about 30 seconds until very cold.
Add Ice to your glass.
Pour the margarita into the glass.
Notes
Spicy Pineapple Margarita:
Substitute Mezcal for silver tequila if you want a smokier taste.
Cut jalapeno pepper into rounds and add a round or two into shaker with cocktail ingredients. Shake and pour.
For a REALLY spicy drink allow the jalapeño peppers to steep and chill with the cocktail ingredients at least 15 minutes before shaking and keep the pepper seeds in the drink.
Garnish with jalapeno peppers and pineapple chunks or lime slices or wedges.
Rim the glass in a spicy salt of your choice.
For a Pitcher-8 servings:
Please feel free to adjust to taste:
3/4 cup lime juice (to taste)
2 cups silver tequila
2 cups Triple Sec
4 cups fresh pineapple juice
Fresh pineapple slices, for garnish
Pour it all in a chilled pitcher and stir briskly. Regrigerate at least an hour before serving. Serve it in glasses with ice.
Sweet Pineapple Margarita:
For a sweeter drink, add simple syrup (to taste) into the shaker with the other ingredients and shake them together.
Or you can use a sweetened pineapple juice rather than unsweetened.
Sweetened orange juice can also replace half the pineapple juice for a sweet citrusy drink.
Garnishes:
Whatever brings out the tropical Mexcican vibe will work as a garnish.
Salt the Glass Rim:
: To salt the glass rim, invert the glass into simple syup or run a wedge of lime around the rim. Once the glass rim is wet, invert it into your salt. Shake the excess gently off the glass.
Salt with kosher salt.
OR Spicy salt blends work well for spicy margarita. Chili powder and salt.
For those that prefer a sweeter drink salt and sugar can be mixed in equal parts.
Garnishes for the glass either inside or on the rim:
Pineapple chunks,
lime rounds or wedges,
Jalapeño rounds for spicy.
Nutrition Information
Yield
1
Serving Size
1
Amount Per Serving
Calories

183
Total Fat

0g
Saturated Fat

0g
Trans Fat

0g
Unsaturated Fat

0g
Cholesterol

0mg
Sodium

3mg
Carbohydrates

19g
Fiber

0g
Sugar

15g
Protein

0g
More Yummy Margaritas:
You can never has too many tequila margaritas. There are so many ways to change up the classic margarita. Here's a few of our favorites.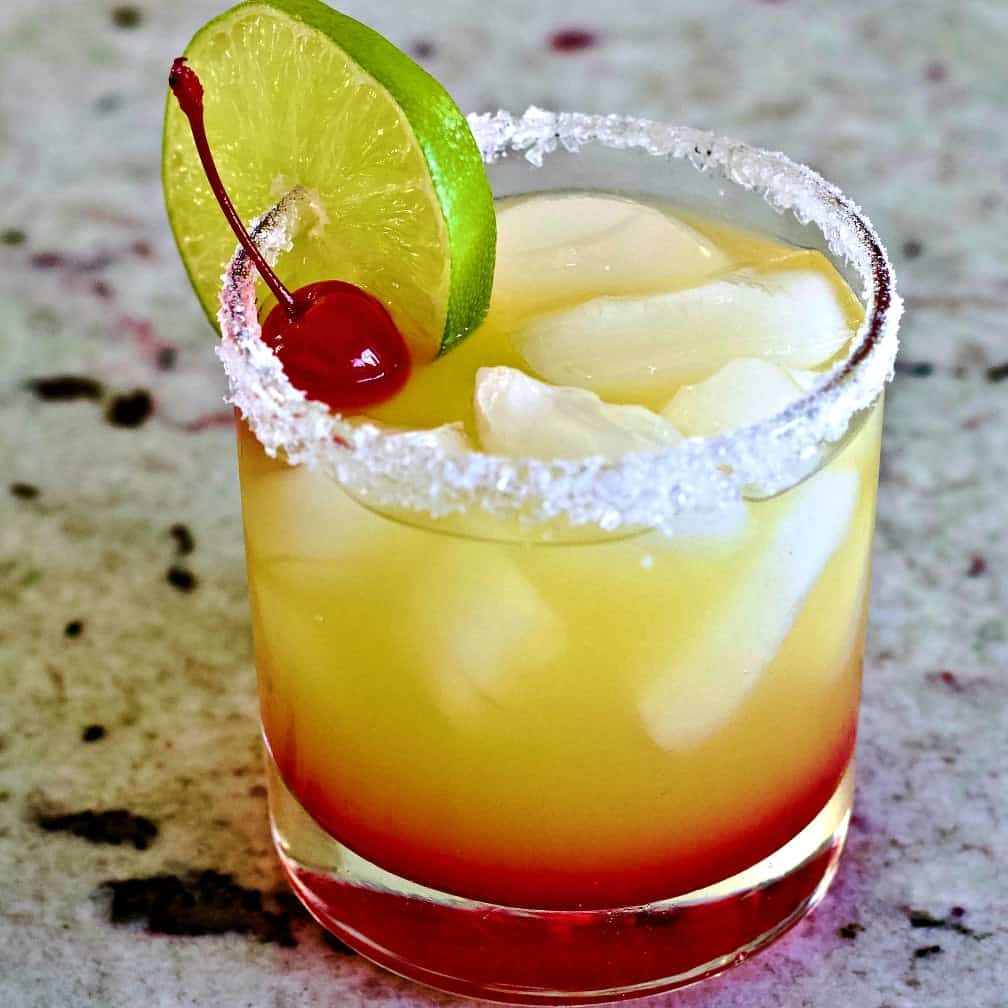 Follow Us:
We enjoy meeting you on our social networks. Follow us on Facebook, Pinterest, Instagram . Tag us with your pictures of our recipes and comment on how it went for you. We would love to see what you do with them.
We often like, comment and share your posts of our recipes on our daily Instagram stories.
Ask questions and rate the recipe in the comments section below. Please share what you did with this recipe. We are always looking for more and better ways to make homemade food. Other cooks love your ideas!
Recent Posts: