The White Russian is Cozy and rich with sweet pumpkin spice liqueur and whipped cream vodka. This is a delicious Fall cocktail.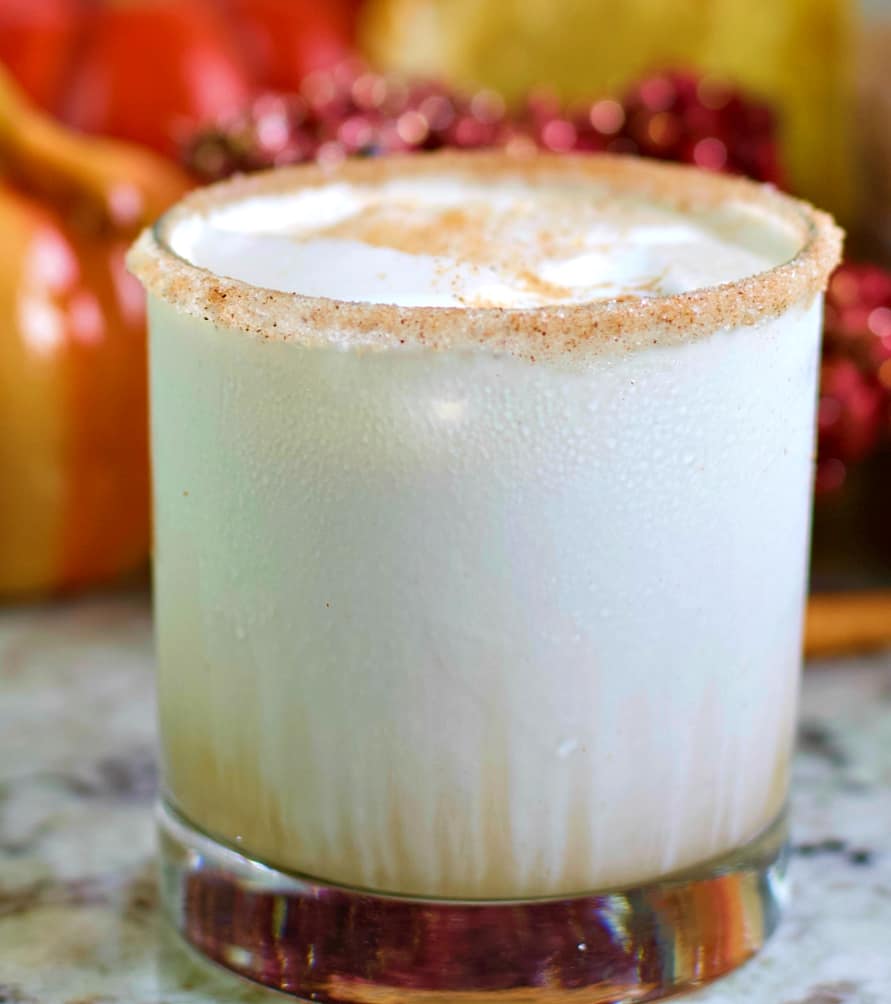 This Pumpkin twist on the popular kahlua cocktail is a perfect after dinner drink or comfy drink between friends on a chilly Fall evening.
We Love our traditional White Russian Recipe. Made with kahlua, vodka and cream its a smooth, rich coffee cocktail that hits the happy hour spot any time of year.
Adding Pumpkin spice Liqueur and changing out the vodka for a whipped cream flavor says Fall in a big way.
Rim the glass with a sweet pumpkin spice blend and add a dash of pumpkin spice on the finished kahlua masterpiece.
Perfection for an after dinner dessert drink with your honey or a cozy Fall Party idea or girls night out drink.
More Fall Cocktails:
Crown Royal Apple Salted Caramel Whiskey Drink

Espresso Martini

Coffee Martini
Pumpkin Spice White Russian Recipe:
This is definitely a dessert cocktail. Rich creamy smooth and satisfying. Who needs cake?
The Alcohol: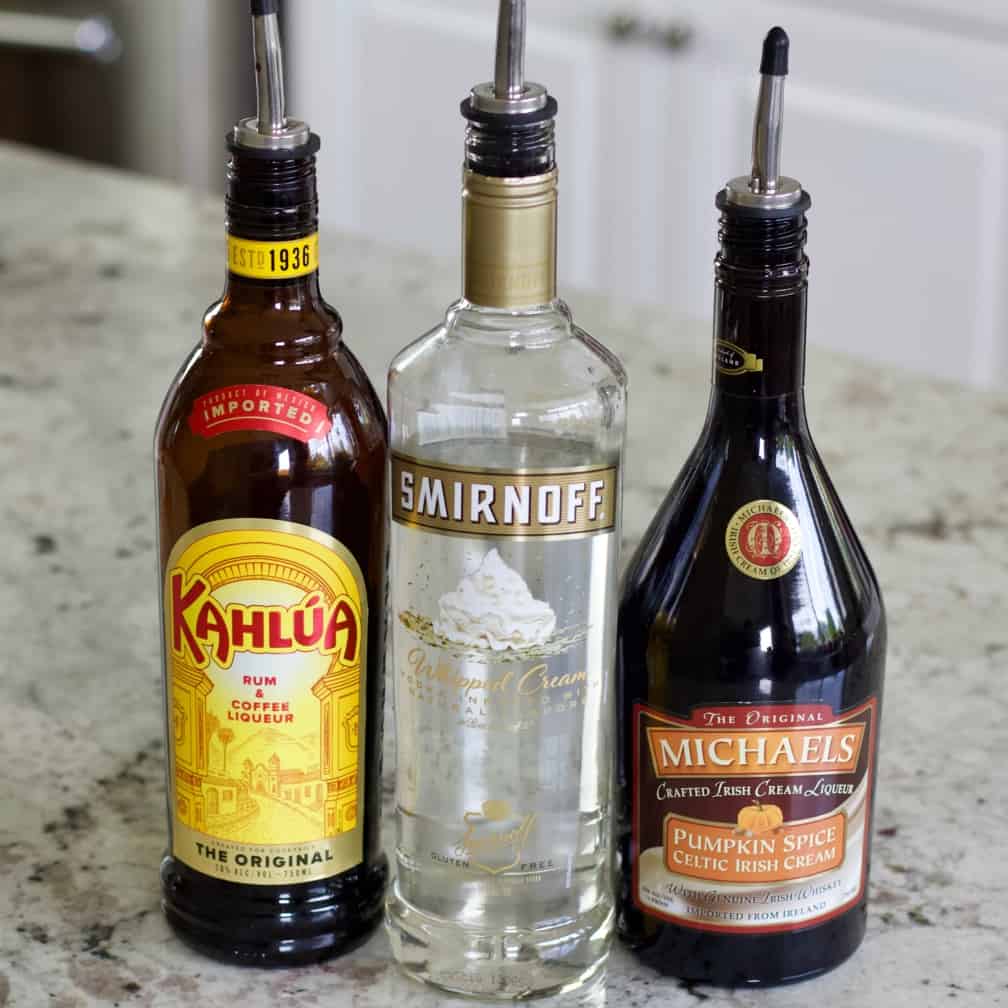 This is the booze we used to make our pumpkin spice liqueur drink.
you can choose whatever brands you enjoy for your pumpkin spice liqueur. Both Kahlua and Baileys make pumpkin spice liqueur.
We used smirnoff whipped cream vodka and highly recommend it for the added creamy flavor. It really enhances this cocktail.
There really is no replacing the kahlua in my opinion. Kahlua is my favorite coffee liqueur. It just has a flavor that is just right for the White Russian.
Notes on the remaining ingredients:
The heavy cream could be replaced with half and half or even whole milk to reduce the calories in this Fall cocktail recipe.
We used pumpkin pie spice and sugar to rim the glass. This is optional but really adds to the Fall Vibe and flavor.
We didn't use cinnamon sticks but you could serve your drink with a cinnamon stir stick if you wish.
The simple syrup is only used to wet the rim of the glass. The sugar spice blend will stick to the syrup.
How to Rim The Glass:
Here is the method for rimming your glass with sugar and pumpkin spice seasoning. Rimming the glass is optional but gives your white russian drink a cozy fall feel.
Enjoy a bit of extra sweet pumpkin flavor right from the rim. The picture gallery below shows you how easy it is to rim your glass. Also Watch our video demonstration.
Pour simple syrup on a small flat plate

mix sugar and pumpkin spice on a second small flat plate.

invert your chilled glass into the sugar/spice blend and coat the rim.

a properly rimmed glass for the pumpkin spice white russian
How to Make a White Russian with Pumpkin Spice Liqueur:
Here is the entire process for you. Please also watch our video demonstration and read the printable recipe.
Fill your shaker with ice.

Pour whipped cream vodka into jigger to measure and pour into shaker

Measure and pour in the kahlua

Measure and pour in the pumpkin spice liqueur

Shake the cocktail at least 30 seconds to chill it.

Pour the cocktail into your rimmed glass

Add the cream

Pumpkin Spice White Russian

Garnished pumpkin spice white russian
Your Printable Recipe:
Yield:

1 cocktail
Pumpkin Spice White Russian
Cozy and sweet pumpkin spice liqueur turns the traditional White Russian into a delicious Fall cocktail.
Ingredients
1 1/2 oz. Vodka (whipped cream flavor)
1 oz. Kahlua
1/2 oz. Pumpkin Spice Liqueur
2 oz heavy cream
Instructions
Rim the cocktail Glass:
Pour simple syrup on a small flat plate
mix 1/4 cup sugar and 1 tsp pumpkin spice (to taste) and pour on a second flat plate
Invert glass onto the simple syrup
Now immerse wet glass rim into the sugar/spice blend and coat the glass rim.
Make The Cocktail:
Add ice to your cocktail shaker
Measure and pour into your shaker the kahlua, whipped cream vodka and pumpkin spice liqueur.
Shake at least 30 seconds to chill the cocktail
Assemble the cocktail:
Add ice to your rimmed glass.
Pour the shaken drink into your glass
Fill with cream.
Garnish:
Sprinkle pumpkin spice on top and serve with a cinnamon stick if desired.
Nutrition Information
Yield
1
Serving Size
1
Amount Per Serving
Calories

425
The calories will change depending on the glass you use and the amount of ice. Reduce calories by changing the cream to either whole milk or half and half.