The Caribou Lou drink is a sweet, high powered rum drink. It's delicious with pineapple rum flavors. But watch that kick!
Actually, this drink is considerably tamer than it used to be. Originally the Caribou Lou was created in Kansas City Missouri with Bacardi 151. THAT was a Mule kicking party drink.
Bacardi 151 was discontinued in 2016. It was considered too dangerous for drinkers. The flammability of 151 was SO high it was sometimes misused for flaming shots and pyrotechnic ignitions.
There is a lot of speculation Bacardi just got sick of the lawsuits. So they quit making it.
Today we make this delicious cocktail with 80 proof white Bacardi rum. So you might be able to walk after drinking it. 🙂 …And you won't accidentally set yourself on fire.
We adjust!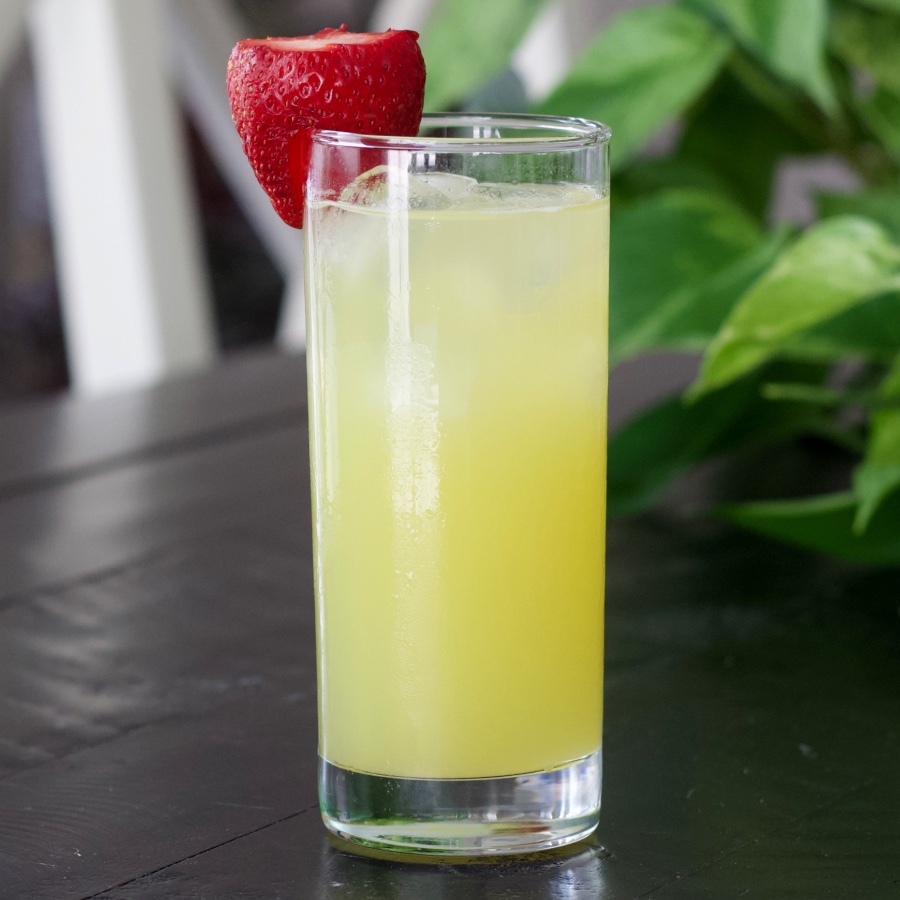 There is even more to this drink story. The Music goup Tech N9NE popularized this drink in the rap song Caribou Lou in 2006. The group founder, Aaron Dontez Yates was born and raised in Kansas City Missouri.
He apparently had a great fondness for this high test party drink. Back then they used the Bacardi 151 and that is the rum the song mentions. And yeah. He liked to get girls drunk for obvious reasons…
So this drink is considerably more tame and party appropriate than the wildly hard hitting original. 🙂
More rum Drinks:
If you are looking for specifically Bacardi rum drinks you may enjoy this Bacardi Cocktail also.
We love rum drinks of all types. If you do too here are a few of our favorites.
Caribou Lou Recipe:
We made the Caribou Lou in a tall 12 oz. glass. Actually, This drink is pretty versatile in presentation. It's stated intention is to get you drunk.
This is not a fussy presentation drink. Plastic party cups, mason jars, tall or short glasses will all work for the ambience of the drink.
You can present it with a fancier garnish and put it in a pretty glass if you wish to serve it for an after dinner drink. Whatever you like.
You can even tone down the Bacardi to 1 oz. instead of 1 1/2 oz. Its still a tasty cocktail and less hard hitting.
It's a simple shaker drink over ice. The rest is up to you. Enjoy!
Yield:

1 drink
Caribou Lou Drink Recipe
Ingredients
For the Cocktail:
1 oz. Malibu Rum
1 1/2 oz. Bacardi White Rum (80 proof)
4 Oz. Pineapple Juice
Garnish Suggestions:
Fresh strawberry
maraschino cherry
pineapple wedge
mint leaves
Instructions
Fill your cocktail shaker with ice
Add the Malibu rum, bacardi and pineapple juice to the shaker.
Seal and shake about 30 seconds until the shaker is very cold.
Fill a tall 12 oz glass with ice.
Strain the caribou lou drink into the glass.
Garnish and serve
Notes
The original drink was served with 151 bacardi rum. That rum is discontinued and no longer available. We use the barcardi 80 proof now. You can add 1 oz. instead of the 1 1/2 oz called for if you want to tone the alcohol down even further.
Nutrition Information
Yield
1
Serving Size
10 oz.
Amount Per Serving
Calories

310
Total Fat

0g
Saturated Fat

0g
Trans Fat

0g
Unsaturated Fat

0g
Cholesterol

0mg
Sodium

4mg
Carbohydrates

21g
Fiber

0g
Sugar

18g
Protein

0g
Follow Us:
We enjoy meeting you on our social networks. Follow us on Facebook, Pinterest, Instagram . Tag us with your pictures of our recipes and comment on how it went for you. We would love to see what you do with them.
We often like, comment and share your posts of our recipes on our daily Instagram stories.
Ask questions and rate the recipe in the comments section below. Please share what you did with this recipe. We are always looking for more and better ways to make homemade food. Other cooks love your ideas!
Recent Posts: