The royal flush cocktail is a richly flavored whiskey drink. It's fun to serve at a poker night, or any gathering of friends with a Vegas or gambling theme.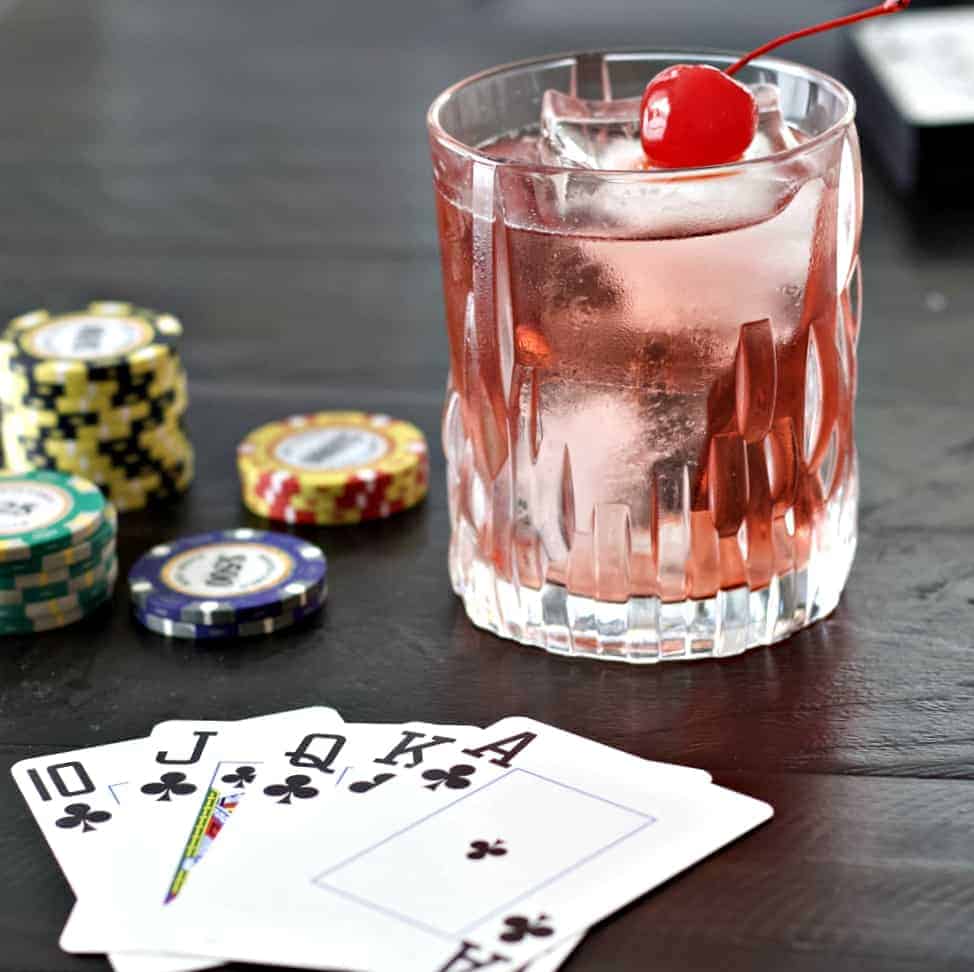 Start with your favorite whiskey. Now blend in peach schnapps and malibu rum with a hint of cranberry juice. Now that's a great drink to sip with your friends while pondering your cards.
Try our Vegas Bomb. It's a fun dropped drink made with the Royal flush shot. It's a bit messy…great a for the patio.
Visit our Cocktail section to See our complete line up of cocktail recipes.
I may have mentioned this in other cocktail posts. My husband hosts a monthly poker night. He and his friends are heavily invested in their poker night.
To set the scene They put together a kitty and bought a poker table, mini fridge and chairs for this special monthly event in our basement.
They had poker chip companies send them samples of poker chips. And the ones they chose are SO pretty. No cheap plastic for this group.
They chose high end Ceramic chips. The whole set weighs a TON. And the cards are also special with just the right finish and font. Of course.
Brian sets the mood just right. That includes good whiskey cocktails. It makes for a fun game.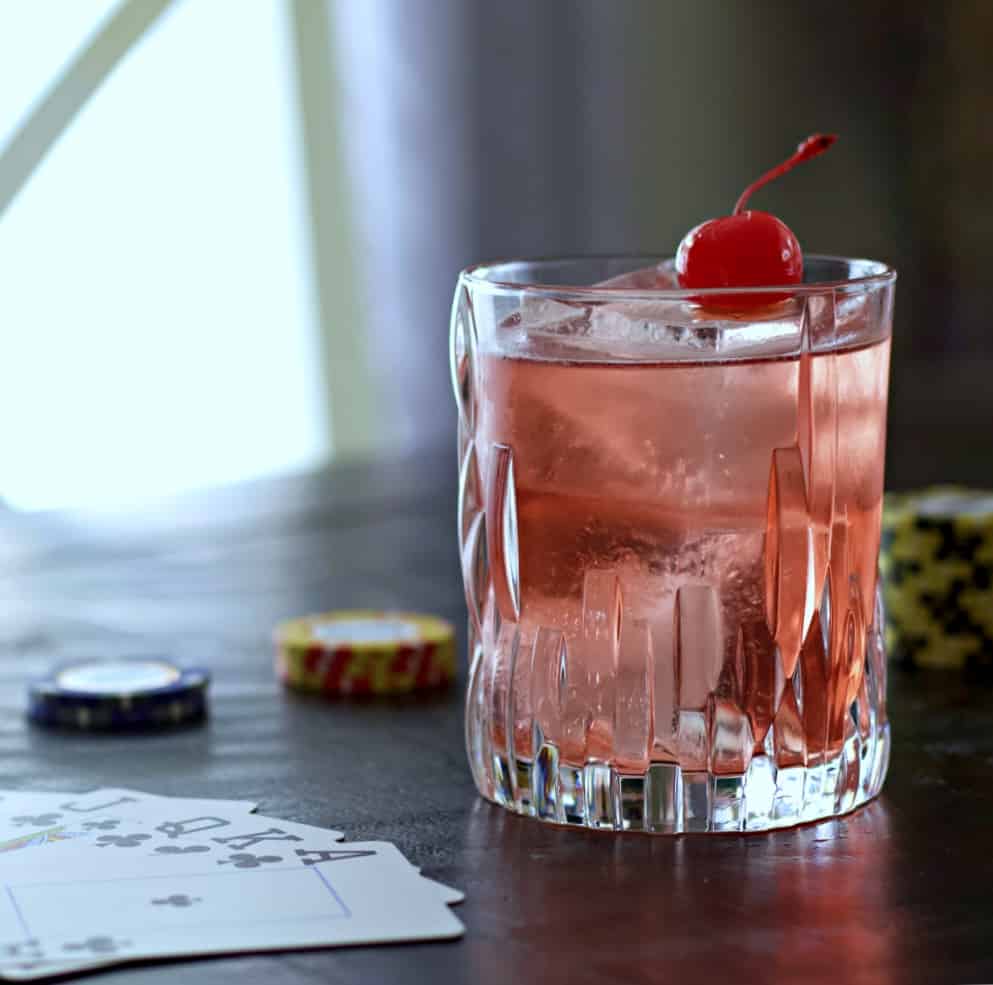 The royal flush cocktail just HAD to sit on the table with those chips and cards. Don't you wish you were there?
Royal Flush Drink Recipe:
This is an adaptation of the original Crown Royal drink recipe. We added the Caribbean rum for a bit more richness. We think you'll love it this way.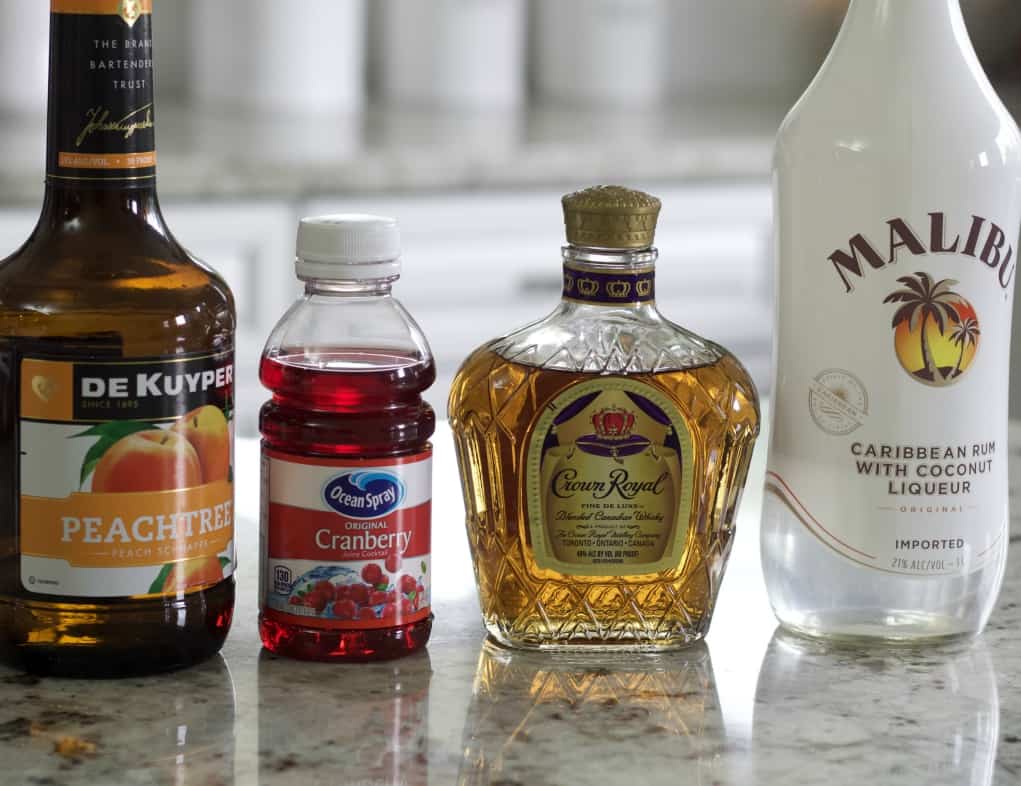 Crown royal whiskey (any good whiskey will work.)
malibu rum
peachtree schnapps (or any good peach liqueur)
cranberry juice (we prefer sweetened rather than unsweetened for this drink)
Garnishing:
You can create your own style with the garnishings. Here are a few ideas. We'd love to know how you build this drink.
We used a maraschino cherry. Just plopped it on the ice.
OR Garnish with an orange peel twist or wedge on the rim.
We also used the large square cubes for the look. And they dissolve a lot slower than small ice cubes so slower dilution.
Add a fresh whole cranberry or three on a pick for winter.
slice a fresh peach and slide it into the glass for summer.
Visual Guide:
Please watch our video for a complete demonstration of this cocktail. Here's the process: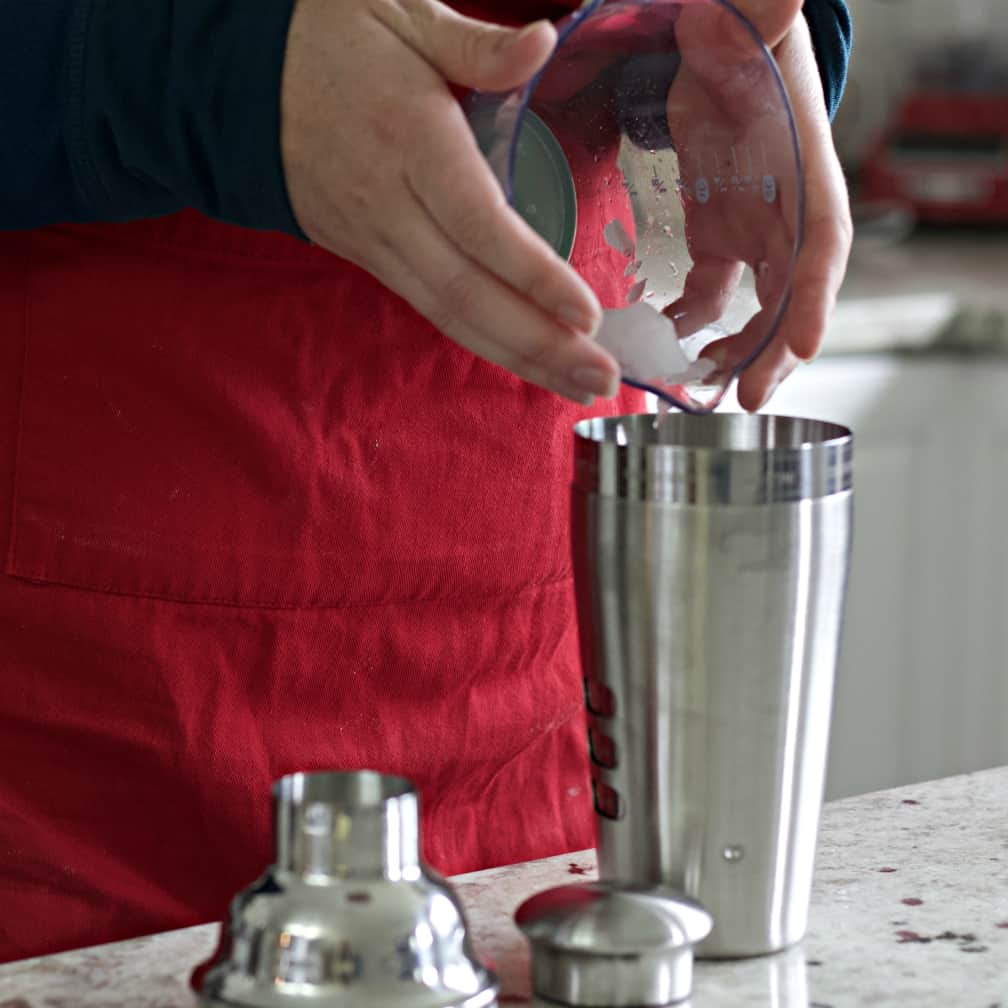 Helpful products:
Your Printable Recipe Card: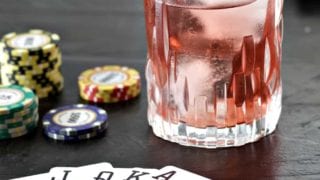 Yield:

1 royal flush drink
Royal Flush Drink
The Royal flush cocktail is a richly flavored whiskey drink. It's fun to serve at a poker night, or any gathering of friends with a Vegas theme.
Ingredients
1 1/2 oz. Crown royal whiskey
1 oz. Peach schnapps
1/2 oz. Malibu coconut rum
1 oz. cranberry juice
ice for shaker and drink glass
Instructions
Fill your cocktail shaker with ice
Measure and pour in the Whiskey, peach schnapps, malibu rum and the cranberry juice.
Seal the shaker. Shake vigorously until the shaker is really cold. (about 30 seconds)
Pour the drink into a 10 oz. whiskey glass.
Add ice (large square cubes recommended)
Notes
In our Vegas Bomb Recipe we use this drink as a royal flush shot. It's very simple. Just keep the proportions of the ingredients 1:1.
The original Royal Flush recipe does not use the malibu rum. But we enjoy the Caribbean rum in this cocktail.
Nutrition Information
Yield
1 royal flush drink
Serving Size
1
Amount Per Serving
Calories

283
Total Fat

0g
Saturated Fat

0g
Trans Fat

0g
Unsaturated Fat

0g
Cholesterol

0mg
Sodium

6mg
Carbohydrates

13g
Fiber

0g
Sugar

13g
Protein

0g