Lemon Cheesecake Delight is a delicious make ahead dessert. This dessert is made in a 9 x 13 sheet pan with Fresh, lemon curd topping, a No Bake-Cheesecake filling and yummy press in graham cracker crust.
This dessert is perfect for potlucks, holidays or family treats anytime. Just chill, cut and serve. Our family has served this cheesecake recipe for years at group events. Lemon cheesecake is so refreshing for summer parties.
These bars use the same delicious no bake crust we use for our blackberry cheesecake bars. This no bake, press in crust uses walnuts and coconut oil to add wonderful flavor and keep the crust firm with no baking.
Serve with a dollop of whipped cream and a sprinkle of lemon zest.
More Cheesecake Desserts:
We have LOTS of yummy cheesecake desserts. Here are just a few your family is sure to enjoy.
Lemon Cheesecake Bars Recipe:
This recipe makes about 24 3 x 3 inch cheesecake bars. Of course that depends on how you cut them. For a large crowd at a gathering you can make them smaller 1 1/2 inch squares and have 36 bars to serve.
TIPS:
You can make this recipe with full fat cream cheese, butter and sour cream if that is your desire. It will also be great with lower fat options like greek yogurt and Neufchâtel cheese.
I use coconut oil in the press in crust because it makes a firm press in crust even when unbaked.
Make lemon curd before the cheesecake filling. I copied it into this recipe for you.
To save time let the curd cool while making the rest of this recipe.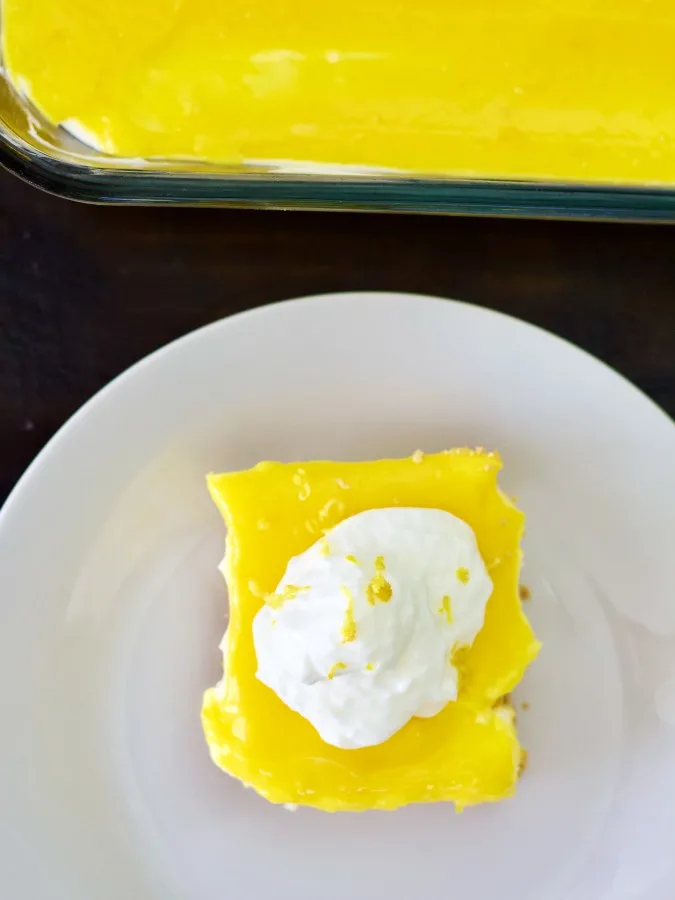 Serving Suggestion:
Cut into small squares with a sharp knife.
Be sure to use enough pressure to go completely through the crust.
Remove pieces with a spatula or pie server onto plates.
Serve plain or with a dollop of whipped cream.
Garnish with a sprinkle of fresh lemon zest if desired.
Lemon Cheesecake Delight Printable Recipe: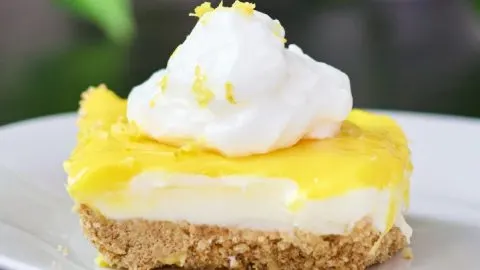 Yield:

24 servings
Lemon Cheesecake Delight
Total Time:
3 hours
45 minutes
Lemon Cheesecake Delight is a delicious make ahead sheet pan dessert. Fresh, lemon curd topping, No Bake-Cheesecake filling, with a press in graham cracker crust. Perfect for potlucks, holidays or family treats anytime.
Ingredients
FOR THE LEMON CURD
1/2 Cup fresh lemon juice
2 tsp. fresh lemon zest
1/2 Cup sugar
3 large eggs
6 Tablespoons cold butter, cut into bits
FOR THE CRUST
1 1/2 Cup graham crackers-crushed
2 Tablespoons sugar
1/4 Cup walnuts
1/2 cup coconut oil-melted
1/2 tsp. vanilla
FOR THE NO BAKE-CHEESECAKE FILLING
1 Tablespoon fresh lemon juice
1 tsp. finely shredded lemon zest
3 8 oz. packages cream cheese, softened
1 1/2 Cup sugar
2 tsp. vanilla extract
1/2 Cup sour cream
Instructions
FOR THE LEMON CURD:
Whisk together lemon juice, zest, sugar and eggs in a 1 quart saucepan, over low heat
Stir in butter and cook over moderately low heat, whisking frequently, until curd is thick enough to hold the marks that the whisk leaves behind
When the first bubbles appear on the surface, remove from heat immediately
Cover and chill until cold and thick, about 1 hour
The curd can be stored in an airtight container and refrigerated for up to 1 week if desired
FOR THE Graham Cracker CRUST:
Pulse the graham crackers with the walnuts and vanilla and sugar in a food processor until they make crumbs.
Pour the coconut oil in a stream into the crumbs and pulse until it's well mixed.
Press the crust into the bottom only of an oiled 9 x 13 pan.
Set in the fridge. Chill to set until the lemon curd is chilled.
FOR THE CHEESECAKE FILLING:
In a large bowl, combine room temperature cream cheese and sugar and beat on low speed until smooth and creamy.
Add vanilla, lemon juice, sour cream and lemon zest
Continue mixing until everything is fully combined, scraping the sides of the bowl as needed
WHEN THE lemon curd is cool:
Spread the cream cheese mixture over the crust.
Spread the lemon curd evenly over the cream cheese layer.
Refrigerate 2 hours or until cold and fully set.

Serve:

Cut into squares. Serve on plates with a dollop of whipped cream and a sprinkle of lemon zest if desired.
Nutrition Information
Yield
24
Serving Size
1
Amount Per Serving
Calories

403
Total Fat

24g
Saturated Fat

16g
Trans Fat

0g
Unsaturated Fat

5g
Cholesterol

78mg
Sodium

230mg
Carbohydrates

44g
Fiber

0g
Sugar

31g
Protein

5g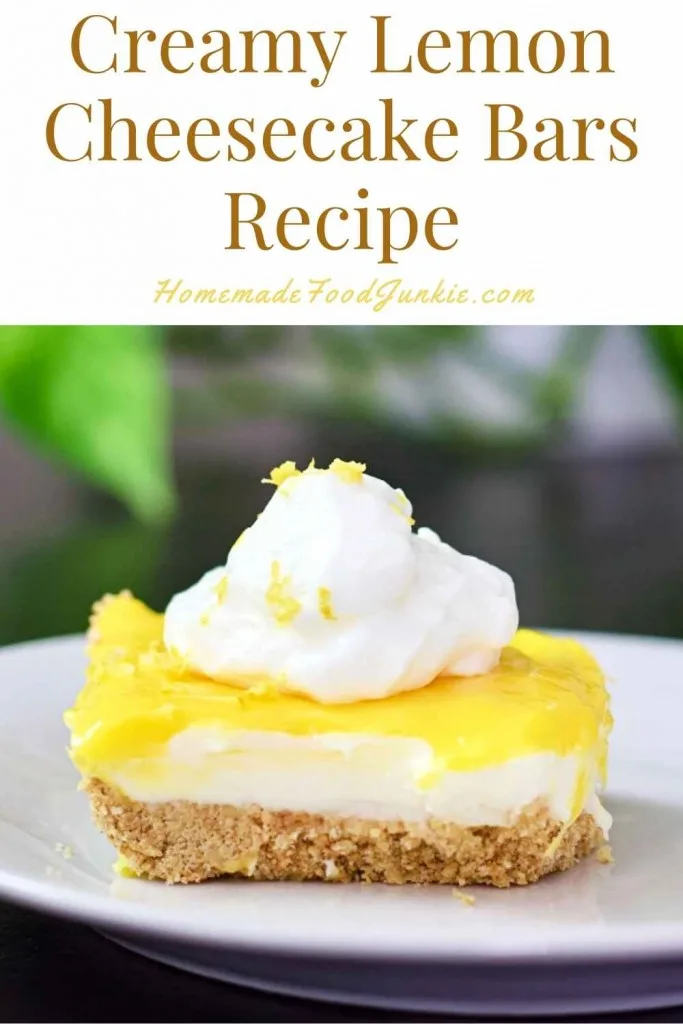 The no bake cheesecake filling is adapted from Pioneer woman.com
Here is the complete lemon curd Recipe.