What is the best option for greenhouse plastic covering? Different plastic products offer different advantages.
Remember, The plastic you choose makes a huge difference in the success of your greenhouse.
A Backyard greenhouse can lengthen your growing season, over winter crops in cooler climate zones or grow exotic plants throughout the year.
Maybe all you want is a short season hot house.
For the very best greenhouse experience you need to know what you expect the plastic to do. Then choose the proper plastic to get it done right.
Polycarbonate Greenhouse Plastic Panels:
If you build your own DIY greenhouse frame you need a product to cover it. Most likely plastic.
We are big fans of polycarbonate panels as an ideal greenhouse material. That's what we used and it works wonderfully well for us.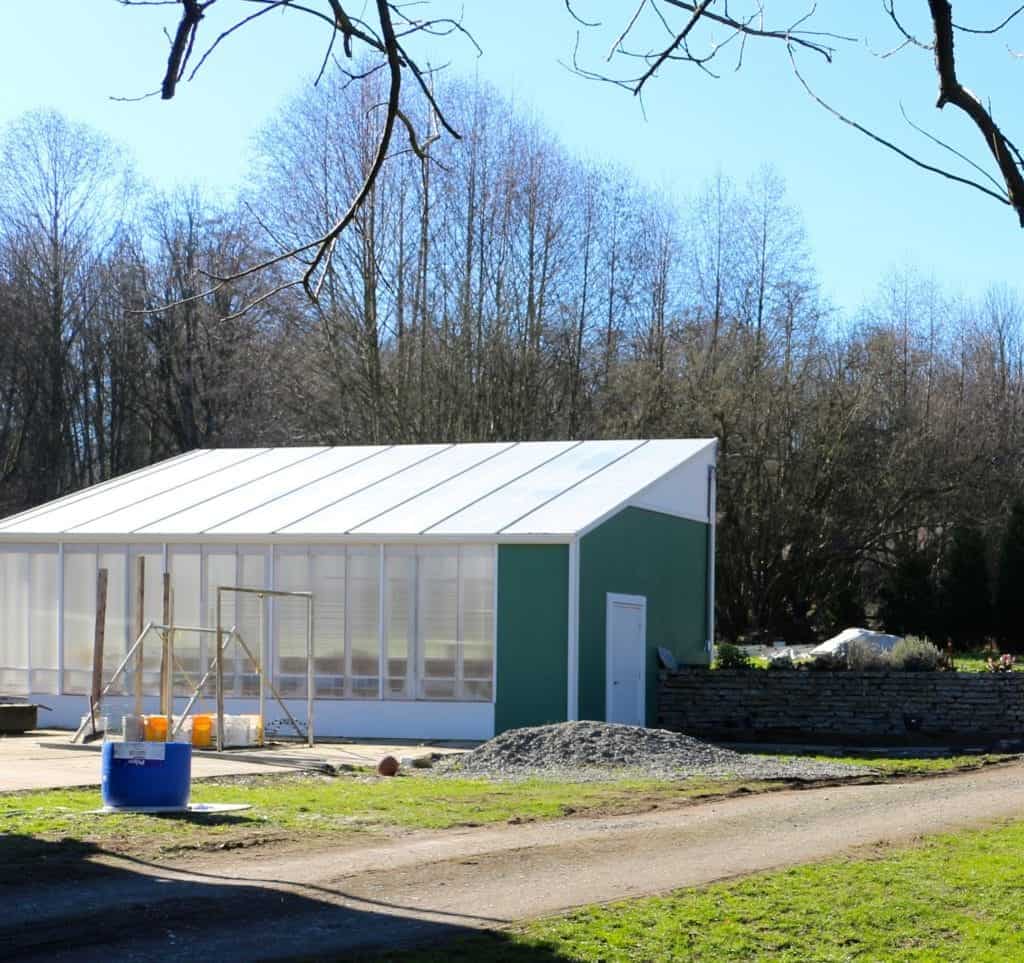 I designed our greenhouse for good passive venting and economy. The painted white bottom wall you see is actually a row of vents. In summer they stay open to bring in cooling air.
Since the plastic panels are expensive I wanted to use them as efficiently as possible.
The Plastic panels are UV protected and provide light filtration. This protects the plants from burning in the intense sunlight.
Dave and his framer friend, Mick, built the greenhouse with a solid insulated wall on the North side. On the west side in the tall wall we put 4 foot vents along the whole wall. This allows hot air to escape.
This design reduced the number of panels needed to cover the greenhouse. And the manual vents saved us money on purchased automatic venting options.
This greenhouse is built on a concrete barn slab with a four foot knee wall on the west side. This help insulate the greenhouse and give a good stable foundation wall to attach the frame.
We chose the triple wall polycarbonate panels for our greenhouse because they have an R2 insulation value. We planned to grow year round crops in our temperate climate so the panel R value was important for us.
At the time we purchased the panels, triple wall was the highest insulation value available in polycarbonate panels. They have even better products now.
polycarbonate panels come in several thicknesses now. Single wall to five wall. The panels also come in different thickness. All these factors affect the insulation or R value of the greenhouse glazing.
Be sure to ask your local supplier and figure out the best choice for your greenhouse.
Our triple wall polycarbonate panels are now 8 years old. They have a projected lifespan of 10 to 20 years. So far they remain clear, have hardly any condensation and give an R 2 insulation value with a UV protection of 50.
Those greenhouse panels are paying for themselves with eight seasons of fantastic high value produce.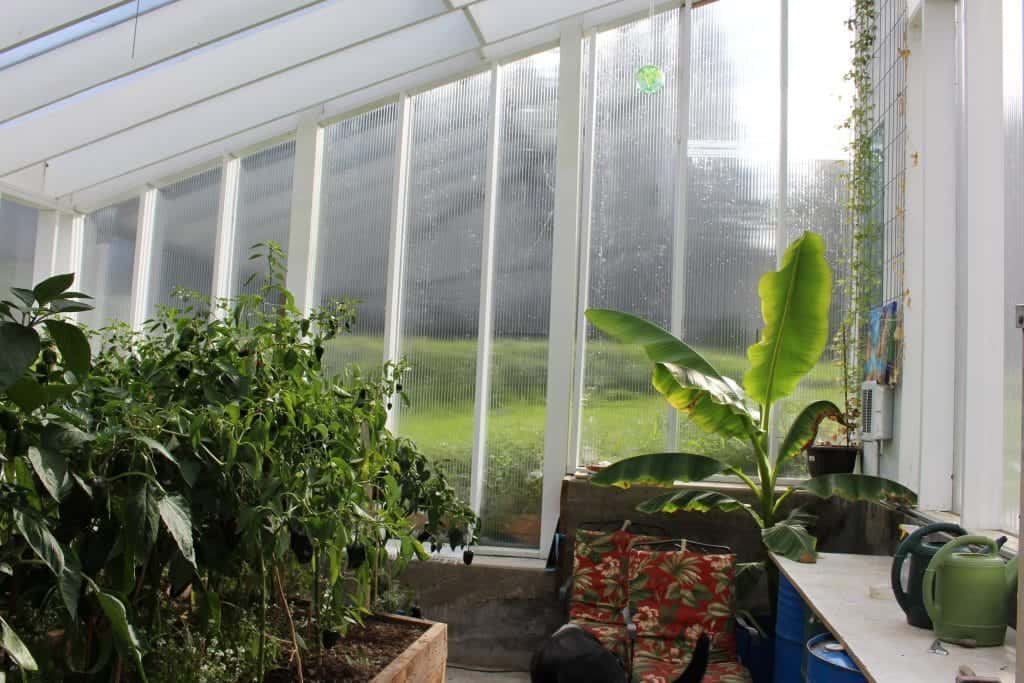 Greenhouse Plastic Sheeting:
Plastic sheeting works ok for a short term greenhouse solution. It is a popular choice for an inexpensive DIY greenhouse covering.
Greenhouse plastic sheeting is sold in rolls and makes a good material to stretch or staple to your existing greenhouse frame. It's relatively easy to work with and will fit any size frame you have.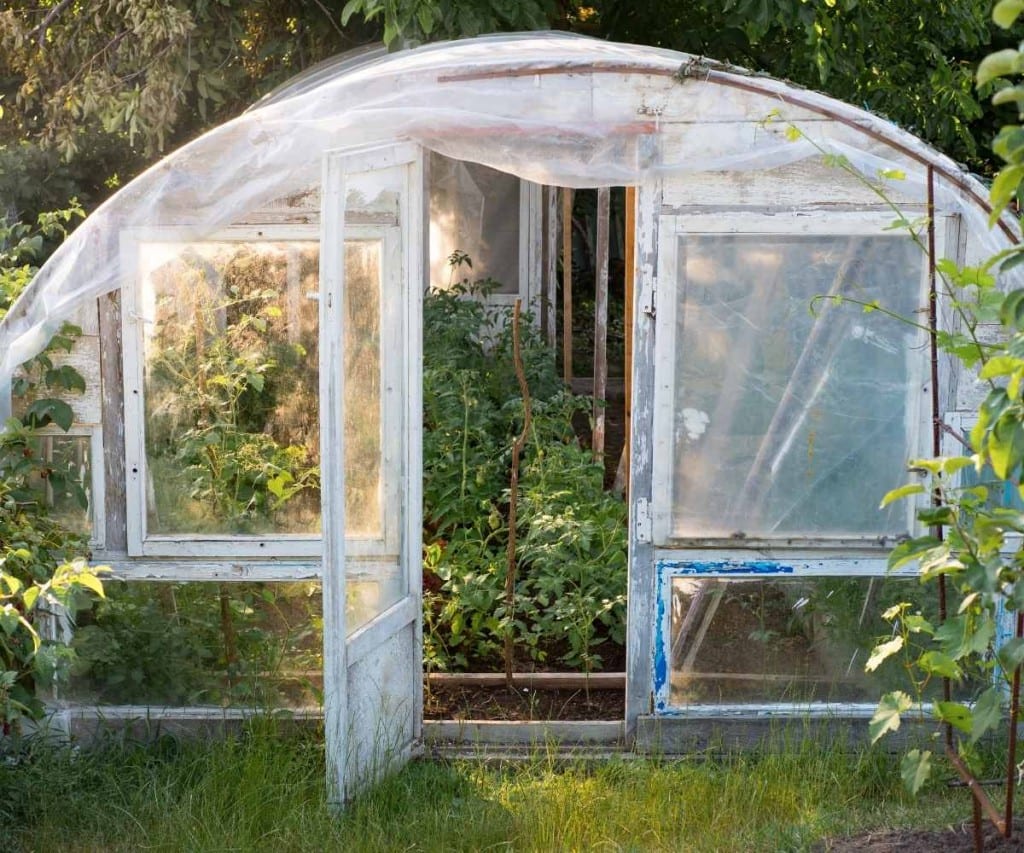 Buy the correct size roll and proper plastic to do the job.
measure your frame and get a roll the right size for the job.
Be sure to stretch the plastic sheeting tight across your frame and anchor to the frame. Loose plastic rips and tears easily.
Polyethylene plastic needs to be at least 6 mil thick for multi year durability as a greenhouse sheeting. It will last about four years if UV protected.
4 mil will work in growing tunnels, overwintering or for single year applications.
Plastic sheeting must be UV resistant for any outdoor use or it will sun rot.
R Value of plastic sheeting is about .85.
Eco Friendly Greenhouse Plastic?
Is plastic a sustainable material for greenhouses?
Polycarbonate panels and plastic sheeting have environmental impacts.
If you properly recycle plastics they are much more sustainable.
The good news. There is progress in plastic. Not enough. But it's more eco friendly than it used to be. IF you choose the correct type and recycle it when you are done with it.
Be sure to look at the different plastics used in greenhouse kits. Look for a kit with a low impact on the environment.
HDPE plastic has environmental advantages over other plastics.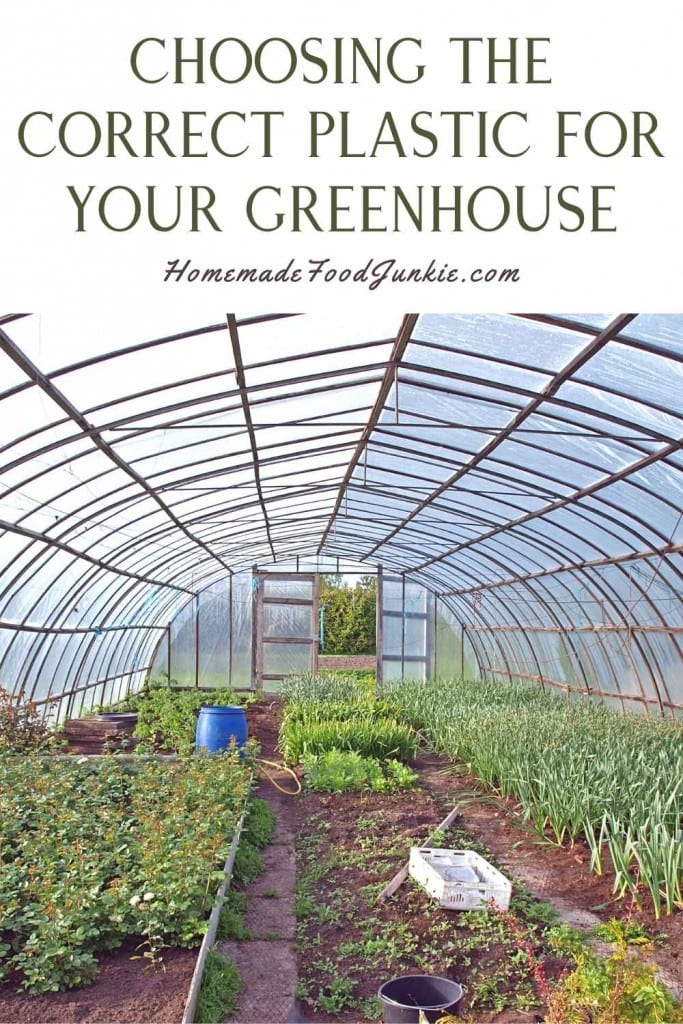 Greenhouse Gardening Solutions: Learn about organic pest control methods, insecticidal soaps and beneficial insects like ladybugs. Read these posts.