Lemon Cheesecake Tarts and tartlets have a bright lemon flavor and delicious lemon zest crust. This vibrant dessert is the perfect cross between decadent, creamy cheesecake, and the classic lemon tart. Our recipe can made as a single large tart, or split into adorable mini lemon cheesecake tarts that are perfect for individual servings.
Lemon cheesecake tarts have a creamy texture that pairs beautifully with the vibrant, citrus notes of fresh lemon juice. Our delicate sugar crust is made with fresh lemon zest for added flavor and a soft cookie like crunch.
We enjoy these lemon cheesecake tarts with our scratch made strawberry rhubarb sauce, raspberry sauce, and blueberry reduction sauce. You can also top these with sugared cranberries, seasonal fresh fruit, even a finishing topping of our decadent lemon curd.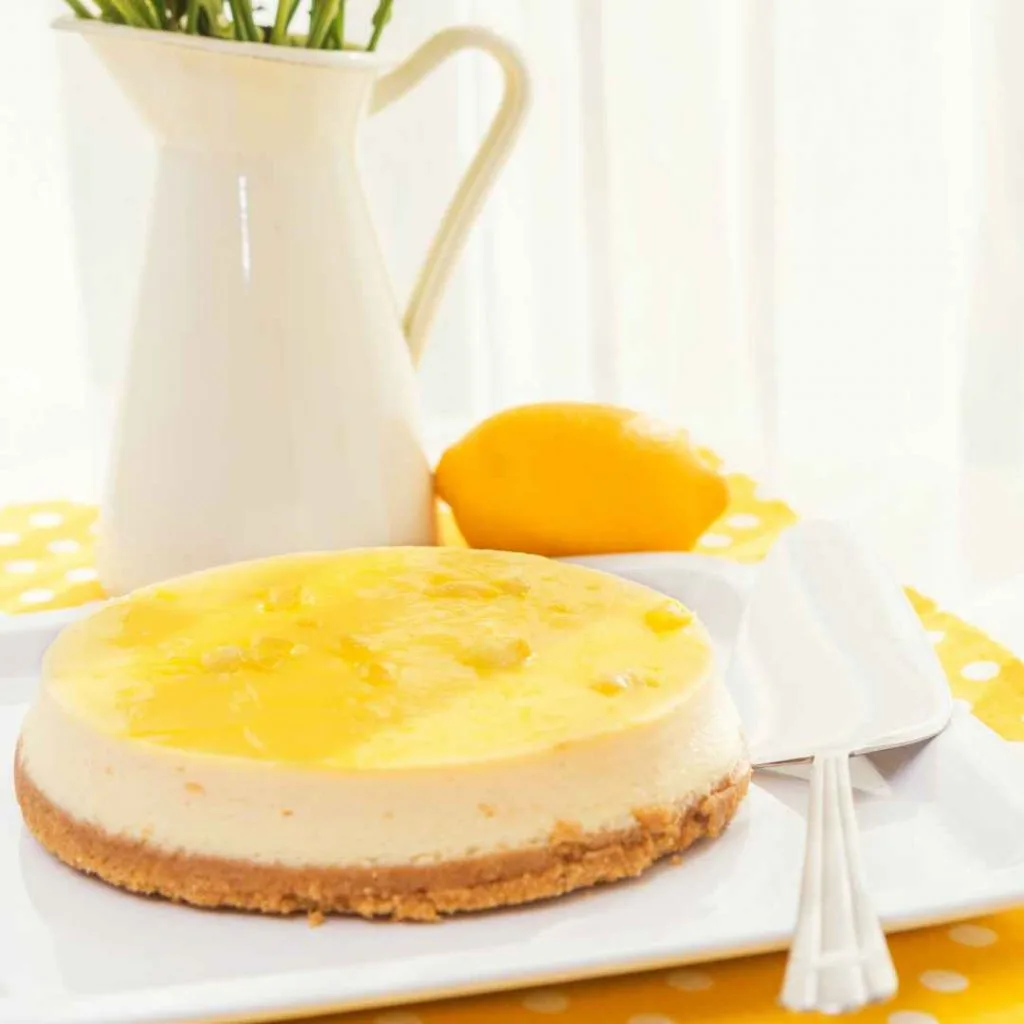 What is a lemon cheesecake tart?
This bright dessert is essentially a lemon cheesecake made in the form of a single tart, or an assortment of mini tarts, topped with your choice of sauce or left plain for a delicious treat. These tarts are lighter than a traditional cheesecake so they bake and set much faster making them a wonderful option for beginner bakers who might not be familiar with cheesecakes.
These tarts can be made with or without a crust depending on your preferences and dietary needs. The crustless tarts provide an excellent low carb and gluten free option.
Do tart crusts need to be pre baked?
For these lemon cheesecake tarts we do recommend pre baking, also known as blind baking, the crust before adding the cheesecake filling. This crust is made from flour, eggs, and coconut oil so it does need to bake before the liquids are added to avoid saturating it through. This would prevent it from baking fully.
Blind baking is a quick process, only taking about 12 minutes at 350 degrees F for this recipe. Once the cookie crust has partially baked you can add the filling without worrying about an uneven bake or raw tart crust.
Is cheesecake a tart?
Though some would argue that they are different, the overall consensus is that cheesecakes would be considered at the very least a form of tarts. They are made with a thick, custard like filling and can be baked either with or without a crust. Cheesecakes are most often baked in a graham cracker base crust, but some have more of a cookie or pastry type crust similar to pies and tarts.
Because these two desserts are so similar, they pair beautifully well which is why cheesecake tarts are a thing! We love cheesecake around here, and tarts are another favorite, so bringing these two together just made sense.
How do you serve cheesecake tarts?
The wonderful thing about mini tarts is that they are small and easy to serve at holidays and events of any occasion. Large tarts can be used as a centerpiece for a dessert table at a luncheon or evening dinner party. Both styles of tarts will present a sophisticated aesthetic, and can be enjoyed alongside an array of other desserts, or featured as the main focus.
Here are some ideas for how you can present, serve, and garnish a full sized tart, or a selection of mini lemon tarts.
Top with seasonal fruits that accompany the lemon flavor
Dust with powdered sugar
Dollop with a sweet whipped cream
Garnish with sugared lemon twists
Swirl in raspberry, strawberry, or a sweet rhubarb sauce before baking to elevate the flavors and create a splash of color
Top with a meringue and toast for a traditional lemon meringue look
Finish with a strawberry rhubarb, raspberry, or blueberry sauce
Lemon Cheesecake Tarts Recipe
Making tarts is fun and pretty easy considering they bake and set much faster than a traditional cheesecake, and don't require a water bath for even baking.
We recommend using a baking sheet to set the tartlets while in the oven, and the larger tart in by itself. They came out beautifully with only minimal cracking, but do be careful of the temperature and cook time as they are prone to sinking.
About the baking…
Predictably, the mini tarts take less time to bake than the larger tart. We we baked a batch of minis, we did 20 minutes and the pulled them out. They seemed pretty done and golden, but they did collapse, so keep an eye on them. They may need a bit longer than you think!
The larger tart was done in about 35 minutes. Again, use your experience to determine if they are perfectly done. If you don't have experience with cheesecake tarts, cook them until they are golden brown, and not jiggly. Tarts set up completely in cooking, unlike a larger, deeper cheesecake that has a bit of jiggle in the middle when done and sets completely after a lengthy cooling in the refrigerator.
Here is the Printable Recipe: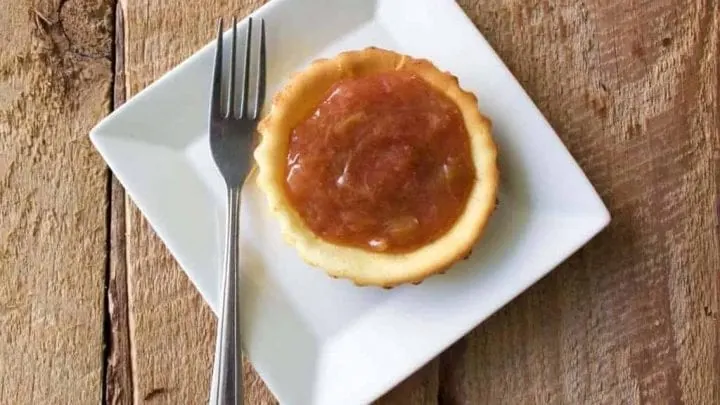 Yield:

12 servings
Lemon Cheesecake Tarts
Additional Time:
20 minutes
Total Time:
1 hour
10 minutes
Rich, lemon cheesecake tarts make a nice dessert for the family. Need gluten-free? Eliminate the crust and use gluten-free flour in the cheesecake filling. Top these delicious lemon tarts with homemade Strawberry Rhubarb sauce for a delicious springtime treat!
Ingredients
(For the Crust)
1 1/2 Cups sugar
1 Cup coconut oil
2 tsp. lemon peel, finely shredded
1 tsp. baking soda
1 tsp. cream of tartar
2 eggs
1 tsp. vanilla extract
3 Cups flour
(For the cheesecake)
2 8oz. blocks cream cheese, softened
2 eggs
1 tsp. vanilla
2/3 Cup sugar
2 Tablespoons flour
2 tsp. lemon juice
Instructions
Preheat oven to 350 degrees
Making the crust:
Grease four mini tart pans and a 9 inch tart pan, or two 9 inch tart pans as desired
In a large mixing bowl add coconut oil, sugar, lemon peel, eggs and vanilla. beat with an electric mixer on medium until pale and smooth
In a separate bowl whisk together flour, baking soda, cream of tartar, and salt
Add the dry ingredients slowly to the wet while mixing on low. Beat until combined into a cookie dough consistency
Form the cookie dough crust in the tart pans (oiling your hands will help when working with this dough)
Bake 12 minutes
For the cheesecake filling:
In a stand mixer combine the cream cheese, eggs and sugar and beat on low speed until mixed
Add vanilla, lemon juice, the zest of one lemon and flour
Mix with an electric or stand mixer until smooth, scrapping the sides of the bowl as needed
Pour the cream cheese filling mixture into tart pans and fill to top
Bake mini tarts for 15 to 20 minutes. Bake 9 inch tart 30 to 35 minutes until golden brown
Cool to room temperature in their baking pans
After they are cool, remove from baking pans
Top your cheesecakes if you desire and enjoy
Nutrition Information
Yield
12
Serving Size
1
Amount Per Serving
Calories

580
Total Fat

33g
Saturated Fat

23g
Trans Fat

0g
Unsaturated Fat

6g
Cholesterol

100mg
Sodium

249mg
Carbohydrates

64g
Fiber

1g
Sugar

38g
Protein

8g
Follow Us:
We enjoy meeting you on our social networks. Follow us on Facebook, Pinterest, Instagram . Tag us with your pictures of our recipes and comment on how it went for you. We would love to see what you do with them.
We often like, comment and share your posts of our recipes on our daily Instagram stories.
Ask questions and rate the recipe in the comments section below. Please share what you did with this recipe. We are always looking for more and better ways to make homemade food. Other cooks love your ideas!
Recent Posts: