Sugared cranberries are simply cranberries that have been coated in sugar. They are often used as a decorative garnish or topping for baked goods, such as cakes and pies, or as a sweet and tart addition to salads and cocktails.
These sweet pops of color look great on winter themed charcuterie boards and make an interesting sweet tart snack. Just set out a bowl of candied cranberries as part of your meal. They make a delicious addition to sweet potato, pumpkin and apple side dishes.
We often use sugar coated cranberries and other sugared berries as well as sugared rosemary or other other sugared herbs to garnish cocktails, recipes and party trays.
Our Sugared Cranberries Cocktail method:
Rather than use simple syrup to sugar our cranberries for cocktails, Kayti and I make REALLY easy sugared cranberries. We simply roll the berries in Lime Juice and then in sugar. It's simple and Quick. The cranberries look great. As you see pictured below, the berries look wet and the sugar looks like melting ice. This adds a nice refreshing touch to this icy drink.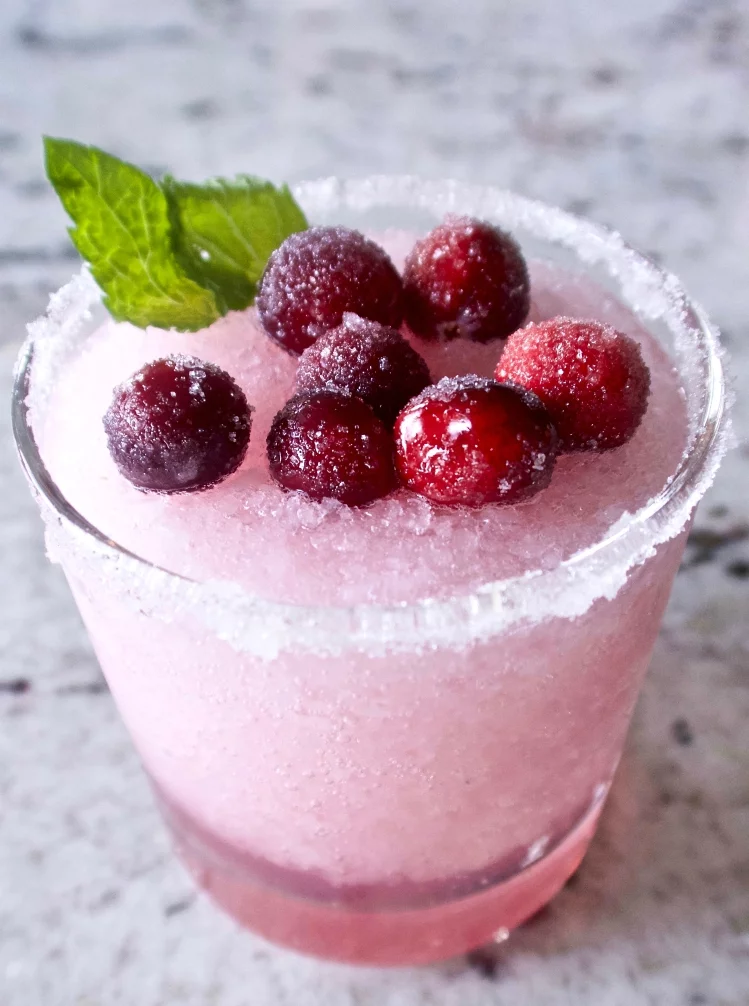 Our Mistletoe Margarita (Recipe Here) is an example of how in a couple of minutes with a few berries and sugar, you can turn a bland looking recipe into something that evokes the Holidays, or winter season and adds style all at once.
We have used this method of sugaring cranberries for cocktails for years. It works great and takes very little fuss or time. Don't use this method if you want a dryer, more evenly sugared look to your berries.
You can also use orange liqueur and water 1:1 to make a lovely boozy simple syrup to make sugared berries for cocktails.
How Are You Using Your Finished Cranberries?
What is the purpose of your sugar coated cranberries? Like with most kitchen creations, there are several ways and reasons cooks make and use candied cranberries.
Our 'wet icy look' cranberries don't hold the sugar long and the sugar clumps like melting ice. That's a part of why we use this method for drinks.
If your topping cakes you want a dryer, more evenly frosted effect most likely. However, sometimes we want a rugged or rustic look to the garnish rather than elegant. And you may want to flavor the sugar or syrup to compliment or even enhance to overall recipe if you plan to eat the garnish.
Different sugars, spice blends if you chose to add them, and the condition of the cranberries will impact the final look.
We always recommend you use FRESH cranberries rather than frozen for sugaring. Defrosted berries tend to pucker so they won't give you the beautifully rounded berry look you probably prefer.
Even the method of how you make and use and make your berry coating solution that provides the base for the sugar top coat is a big part of the final look.
How Does Sugar Stick on Cranberries?
Lime juice will hold the sugar on the berry for a short time, even as the sugar dissolves it is offering a certain effect you may find pleasing for your purposes.
For a stronger, more consistent coating that will hold the sugar better use simple syrup. The simple syrup acts as a sticky adhesive that helps the granulated sugar to adhere to the cranberries.
A simple syrup with the correct viscosity to cling to the berries will use a 1:1 ratio of water and sugar. Make sure the sugar is completely dissolved and cooled (if your heating the syrup) to ensure the berries are not damaged.
You can also add a pinch of salt or a few drops of food coloring, or spices to the simple syrup for extra flavor and visual appeal.
Some cooks leave the berries in the simple syrup for several hours to overnight so the berries absorb the sweet flavors of the syrup.
Another option: Rather than making a simple syrup use pure maple syrup to coat the berries. Pure maple syrup is healthier than a sugar syrup and coats cranberries very well. Maple syrup is a nice flavor with cranberries. I use maple syrup to sweeten my homemade cranberry sauce. Be sure you enjoy maple syrup. It WILL add its own maple flavor to the candied cranberry. And maple syrup is rather expensive. You do you!
Once the berries are coated with the syrup you're using allow the berries to dry (from a quick drip dry to an overnight drying time is fine).
The sugar should stick to the cranberries and create a beautiful, shimmering effect.
What Kind Of Sugar Works Best For Sugared Cranberries?
White Granulated sugar works best to encase cranberries because it has a fine texture that coats the cranberries evenly and creates a smooth, shimmering finish.
If you want a SUPERFINE look to your berries, use superfine sugar. You can make your own by blending sugar one minute in your food processor. The grain will turn into a powder not much bigger than powdered sugar.
You can also use raw or Turbinado sugar for a more subtle color. These types of sugar have larger crystals and may give the finished cranberries a slightly rustic or rough appearance which you may prefer for certain presentations.
You can also use flavored sugars, such as cinnamon sugar or vanilla sugar. This adds a touch of extra flavor to the cranberries. Vanilla sugared cranberries are excellent and offer a warm sweet counterpoint to the tart fresh cranberries that works well for many uses.
Powdered sugar can also offer a pleasing look to your cranberry garnishes. Whatever sugar you choose will affect the look and texture, and even flavor of your sugar coated cranberries.
Spiced Sugared Cranberries:
Adding spice blends in with the sugar before coating your cranberries is another way to make cranberries a creative and delicious addition to your charcuterie boards, salads, drinks and desserts. Simply mix the desired flavorings with the granulated sugar before rolling the cranberries in it.
Cranberries taste wonderful on pumpkin and apple pie. Mix some pumpkin pie spice or apple pie spices like nutmeg, cinnamon, or allspice to the sugar blend before rolling cranberries. Add these Flavors to the top of your pies, cheesecakes and holiday treat boards for a bit of extra flavor.
You can cook spices right into your simple syrup. Add WHOLE spices when you make your simple syrup and then strain them out before rolling the berries. After the berries cure, roll them in your sugar and let them dry.
Can you Add Sparkle to Sugared Cranberries?
Yes, you can add sparkle to sugary cranberries by rolling the cranberries in a mixture of sugar and edible glitter or by dipping the cranberries in a glaze made with sugar and a small amount of water, then sprinkling them with edible glitter. Here's one way to do it:
In a small bowl, mix together 1 cup of granulated sugar and 1 tablespoon of edible glitter.
Wash and dry a batch of fresh cranberries.
Roll the cranberries in the sugar and glitter mixture until they are evenly coated.
Place the cranberries on a sheet of parchment paper to dry for at least an hour, or until the sugar coating has hardened.
Serve the cranberries as a decorative topping for cakes, cupcakes, or other desserts, or use them to add a pop of color to holiday cocktails or mocktails.
You can also make a glaze by mixing 1 cup of confectioners' sugar with 1 to 2 tablespoons of water until you have a smooth, thin consistency. Dip the cranberries in the glaze, then sprinkle them with edible glitter while the glaze is still wet. Allow the glaze to dry before serving the cranberries.
How Long Do Sugared Cranberries Last?
Sugar coated cranberries are best served within a day or two of being made. The sugar coating may start to dissolve over time and the cranberries may become less crisp.
It's a good idea to refresh the sugar coating by rolling the cranberries in additional granulated sugar before serving. This will help to restore the crunchy texture and prevent the sugar coating from dissolving.
How to Store Sugared Cranberries:
Once made, sugar coated cranberries will last for a few days if stored properly. To store sugared cranberries, place them in an airtight container or sealable plastic bag. You can store them at room temperature for several days.
The cranberries will become slightly softer as they absorb moisture from the air, but they should still maintain their shape and flavor. You may want to roll the berries in sugar just before serving if they have started to weep.
Can you store sugar coated cranberries in the fridge?
Yes, you can store sugar coated cranberries in the fridge to help them stay fresh and keep their shape. To store candied cranberries in the fridge, place them in an airtight container or plastic bag and keep them in the fridge for up to 1 week.
If you're storing candied cranberries that have been coated with a glaze made with confectioners' sugar, it's best to keep them in a single layer, separated by parchment paper or waxed paper, to prevent the glaze from sticking together.
If you're making candied cranberries in advance, storing them in the fridge is a good way to keep them fresh until you're ready to use them. Just be sure to bring them to room temperature before serving, as they will taste best when they are not chilled.
To Freeze Sugared Cranberries:
NOTE: As the candied berries defrost they will pucker and the candy coating may weep and degrade somewhat. Use defrosted candied cranberries for snacks and salads rather than showing them off as garnishes.
TIPS for FREEZING Candied Cranberries:
Use fresh cranberries to make your sugar coated cranberries recipe.
Dry the finished cranberries completely before freezing so they don't stick together or go limp as they defrost.
Freeze your sugar coated cranberries in a layer on a baking sheet (I Use a silicone mat under mine while freezing) for an hour or until hard.
Pour the frozen berries into a ziplock freezer bag, suck out all the air and label it with the date. If you are concerned your freezer contents will move and smash the frozen berries use a rigid air tight freezing container. For best results place your freezer bag IN the rigid container. This way you can remove some berries and keep sucking out the air as the quantity of berries gets smaller. Less air the better to avoid freezer burn.
Frozen sparkling sugared cranberries prepared this way will stay in pretty good condition for up to 6 months.
To defrost the berries: Remove the amount of berries you need and suck out the air from the freezing container and return to freezer.
Use the berries frozen or allow them to defrost on parchment paper or a wire rack to gently bring them to room temperature. Watch for seepage. Cranberry juice will stain.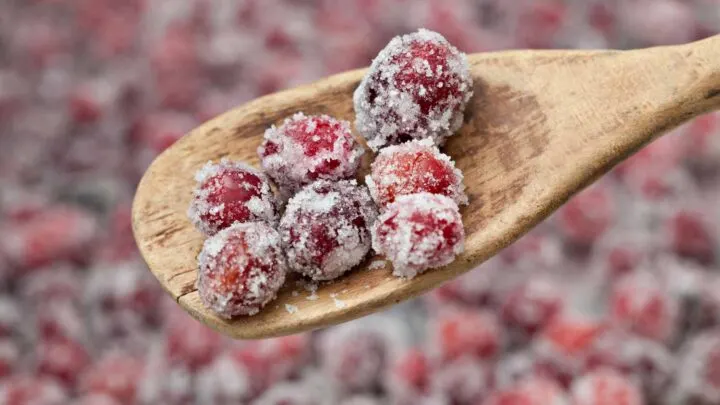 Yield:

1 Cup sugared cranberries
How To Make Sugared Cranberries
Total Time:
1 hour
10 minutes
Sugared cranberries are simple to make and add a wonderful holiday flair to charcuterie boards, salad, desserts and side dishes. Even turkey or holiday hams can be garnished with candied cranberries.
Ingredients
1 Cup fresh cranberries (washed and dried as needed)
2 Cups granulated sugar (divided)
1 Cup water
Instructions
In a small bowl, mix together 1 Cup sugar and water (UNTIL SUGAR IS COMPLETELY DISSOLVED) to create a simple syrup.

Roll the cranberries in the simple syrup. Make sure the berries are evenly coated. (You can soak the berries in the syrup overnight if you wish)
Allow the berries to dry five minutes (up to an hour) on a wire rack.
Pour remaining granulated sugar on a plate or shallow bowl.
Roll the coated cranberries in granulated sugar to fully and evenly coat them.
Place the sugared cranberries on a wire rack or baking sheet to dry for several hours or overnight.
Once dried, sugared cranberries are ready to serve.
Notes
Making Easy Sugared Cranberries For Cocktail Garnishes:
When you don't want to fuss with a simple syrup or the drying times here's a reliable method for making sugared cranberries for drinks.
1/2 Cup whole fresh cranberries
1/4 Cup. granulated sugar, divided
1/4 Cup Lime juice
Pour lime juice in a shallow bowl and roll the fresh cranberries in it until they are thoroughly coated.
Pour the sugar on a dry plate or shallow bowl. Roll berries in sugar until evenly coated.
Use as garnish as desired.
TIPS:
When making the simple syrup you may heat it to help dissolve the sugar. Even boiling it a minute or so is fine. HOWEVER, COOL the syrup before soaking the cranberries in it. Otherwise the berries will split just like they do making homemade cranberry sauce. The berries will crack and dissolve in hot water.
If you decide to allow your berries to soak in the cooled simple syrup they will float to the top. So Set a plate on them to immerse them in the syrup.
It's easy to make different flavors and effects in sugared cranberries by using different sugar textures, grain size, sugar flavors and adding ground spices right into the sugar..
The simple syrup can be flavored if you cook it. Add fresh sprigs of rosemary, orange slices, whole spices like cinnamon stick, cloves, nutmegs and allspise or anise. Allow the syrup to cool and merge flavors for as long as you like. Strain the cooked syrup before putting cranberries in it.
Save the extra simple syrup for drinks and cocktails.
Nutrition Information
Yield
30
Serving Size
1
Amount Per Serving
Calories

53
Total Fat

0g
Saturated Fat

0g
Trans Fat

0g
Unsaturated Fat

0g
Cholesterol

0mg
Sodium

1mg
Carbohydrates

14g
Fiber

0g
Sugar

13g
Protein

0g
This nutrition label is not correct. It doesn't take into account the unused syrup and sugar used for rolling the berries.
Recipes To Garnish With Candied Cranberries:
Looking for ways to use these seasonal show stoppers? Here's a few recipes that are easy to garnish with a holiday theme using sugar coated cranberries.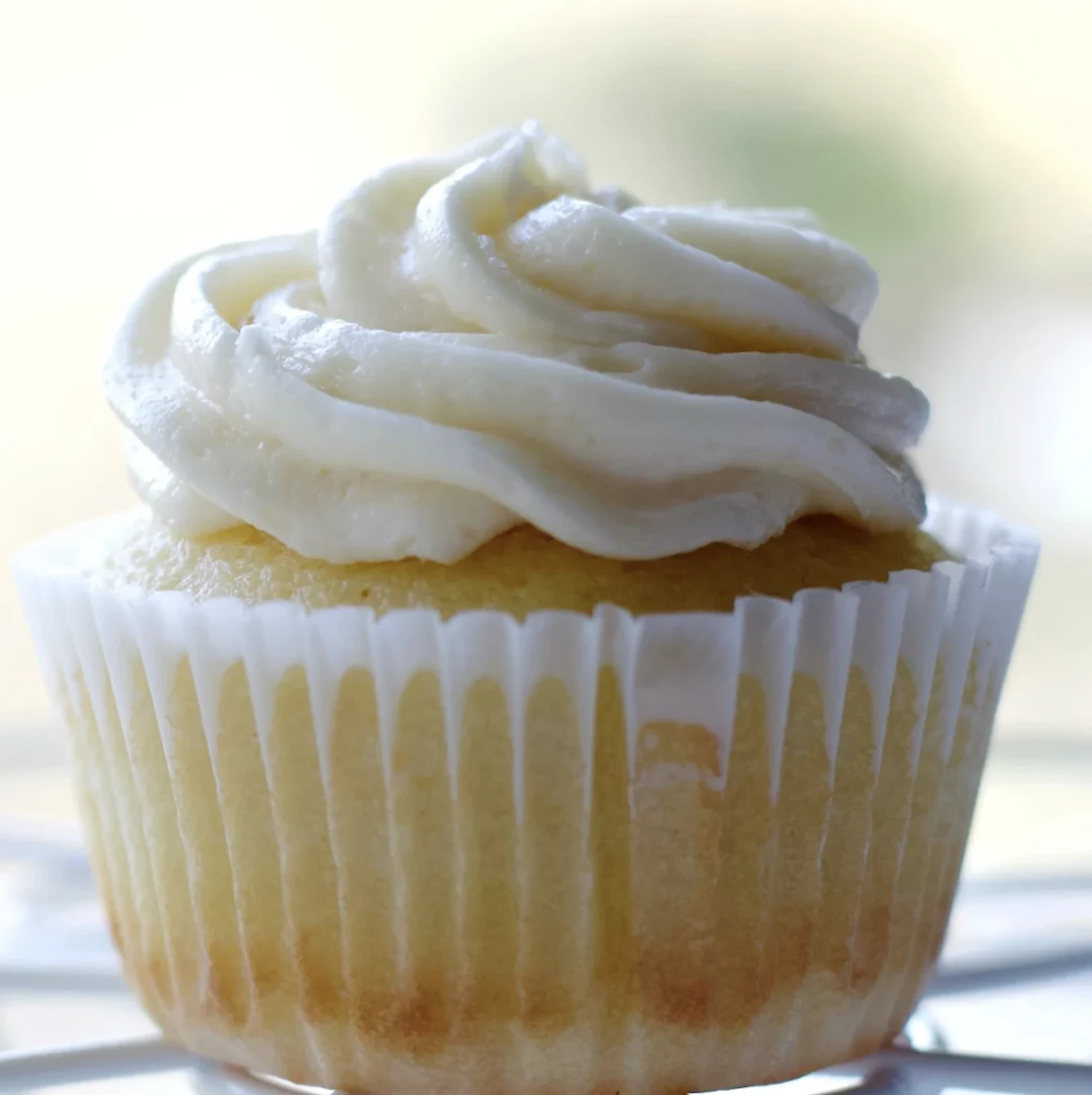 Follow Us:
We enjoy meeting you on our social networks. Follow us on Facebook, Pinterest, Instagram . Tag us with your pictures of our recipes and comment on how it went for you. We would love to see what you do with them.
We often like, comment and share your posts of our recipes on our daily Instagram stories.
Ask questions and rate the recipe in the comments section below. Please share what you did with this recipe. We are always looking for more and better ways to make homemade food. Other cooks love your ideas!
Recent Posts: