Delicious Cranberry Mimosas mixed drinks are just the ticket for your holiday gathering. This cocktail is festive, aesthetic and easy to make. Combining sparkling white wine or champagne with your favorite cranberry juice and garnishing however you like.
These Christmas Cranberry Mimosas are perfect to serve at parties, holiday events, or in a large punch bowl to enjoy with Christmas dinner. A mimosa makes a perfect celebratory drink. It's light and sparkling making it popular for weddings, bridal showers, and girls nights.
What is a Mimosa?
This beautiful drink was originally concocted by a frenchman in the hotel Ritz in Paris about 1925. It's now a well established part of the mixologist and culinary professionals repertoire. It's also well known around the world as a good choice for large crowd adult refreshment.
A mimosa is a chilled drink made with one part citrus juice and one part white wine or champagne. We are twisting the recipe a bit by substituting cranberry juice for the citrus. It's a delicious twist that is perfect for the winter season.
Does Cranberry juice taste good with champagne?
Cranberry is a great juice to pair with champagne. The most popular Cranberry Mimosa is called the Poinsettia Drink. It's a simple cocktail made with cranberry juice, orange liqueur, and champagne.
Christmas cocktails refresh and delight with their colors, flavor and holiday sparkle. We chose to make a simple refreshment that can be dressed up for the season with sugary garnishes if desired.
What juices go well with Mimosas?
Mimosas are often served at special breakfasts and brunches with the more traditional orange juice, pineapple juice, peach, and mango.
Cranberry mimosas are perfect for Christmas morning, holiday parties or an after dinner drink during the winter season. Apple and pear juices make delicious mimosas during this time of year too; finish with cinnamon sugared rims and enjoy all of the flavors of the season.
Cranberry Mimosas Recipe:
This holiday drink is made with chilled Cranberry Juice and Champagne. It's also easy to mix together fast for a big crowd, and they can be prepared ahead and served in a punch bowl.
Dump a couple of fresh cranberries on top for a simple garnish, or serve in sugar rimmed glasses and finish with sugared cranberries and fresh rosemary sprigs.
What is the best Champagne to use for Mimosas?
Cranberry mimosa with Prosecco and Cava both make a good mimosa. Brut Champagne is another great choice for this holiday drink. Keep the wine and champagne dry for the best result. Cranberry juice is sweet enough to balance dry sparkling wine or champagne beautifully.
Cranberry Mimosas make impressive Christmas cocktails.
This is a perfect party drink. When you need a fast, festive, easy, and delicious cocktail to serve your guests these are the ticket. Be Sure to chill the juice and bubbly ahead for several hours.
This mimosa recipe is for two servings. However, In the NOTES section of our printable recipe card below you will find the proportions for a party pitcher. That will give you about 12 servings at a time.
How do you serve Holiday Mimosas? Add a beautiful holiday aesthetic to your drink table. Put some holiday greens on the table with a few Christmas fairy lights. Nestle the Cranberry Mimosas into the holiday greens to create beautiful place settings for your guests.
How do You Garnish Cranberry Mimosas?
Cranberry Mimosas are the ultimate holiday refreshment. With a stunning red hue and the iconic cranberries, they make a visual statement that is perfect for the Christmas season.
There are several ways you can garnish cranberry mimosas to make them visually appealing and add a festive touch to your holiday gatherings. Here are a few ideas:
Fresh cranberries: Float a few fresh cranberries in the glass for a pop of color and a festive touch. You can also skewer a few cranberries on a toothpick and place it on the rim of the glass as a garnish.
Rosemary sprigs: Use a sprig of rosemary to add a touch of greenery to your cranberry mimosas. You can tuck the sprig into the rim of the glass or use it to stir the drink.
Candied cranberries: Make your own candied cranberries and thread a few of these on a toothpick and place them on the rim of the glass as a garnish.
Orange slices: Add a slice of orange to the rim of the glass for a burst of citrus flavor and a pop of color. You can also add a few orange slices to the drink itself for a festive twist.
Sugar rim: Rim the glass with sugar by moistening the rim with a little water or cranberry juice and dipping it into a shallow dish of sugar. This will add a touch of sweetness and a pretty finishing touch to your cranberry mimosas.
Freeze Cranberries in Fun ice cubes trays and serve in the mimosa (Watch the video for details)
What is the Best Glass To Serve Mimosas?
Champagne flutes are a lovely and traditional way to serve mimosas. These glasses are designed specifically for sparkling wines and champagne, as their tall and slender shape helps to preserve the bubbles and maintain the temperature of the drink.
That being said, there's no hard and fast rule about what type of glass you should use to serve mimosas. You can use any type of tall, narrow glass, such as a highball glass or a Collins glass. You can also use wine glasses or even tumblers if you prefer.
The important thing is to use a glass that is tall enough to accommodate the volume of the drink and the bubbles, and that is narrow enough to help keep the drink chilled.
Ultimately, the best glass for serving mimosas will depend on your personal preference and the occasion. If you're hosting a formal brunch, for example, you may want to use champagne flutes to give your mimosas a more formal and sophisticated vibe.
On the other hand, if you're having a casual get-together, you can use any type of glass that you have on hand and that you think looks nice.
Yield:

2
Cranberry Mimosas
These delicious cranberry mimosas are just the ticket for any holiday gathering this year! They are festive, pretty and easy to make. Enjoy the delicious sparkly taste of cranberry bubbly for the holiday season.
Ingredients
1/2 cup sparkling sweet white wine or champagne
1/2 cup sweetened cranberry juice
3-4 fresh cranberries to garnish
Instructions
Pour champagne over cranberry juice
Garnish with cranberries and enjoy!
You can adjust the drink measurements based on how strong you would like the alcohol content.
Notes
For a large crowd:
1 Bottle of champagne (about 25 oz.) makes about 12-2 oz. servings
25 oz. of Cranberry juice
1 bag of Fresh cranberries to garnish
Follow instructions and adjust to your preferences.
Recommended Products
As an Amazon Associate and member of other affiliate programs, I earn from qualifying purchases.
Nutrition Information
Yield
2
Serving Size
1
Amount Per Serving
Calories

237
Total Fat

0g
Saturated Fat

0g
Trans Fat

0g
Unsaturated Fat

0g
Cholesterol

0mg
Sodium

15mg
Carbohydrates

36g
Fiber

8g
Sugar

17g
Protein

1g
Looking for more drinks for the holiday season?
looking for more drinks for holiday parties or a cozy drink with a friend? Here are some of our favorites.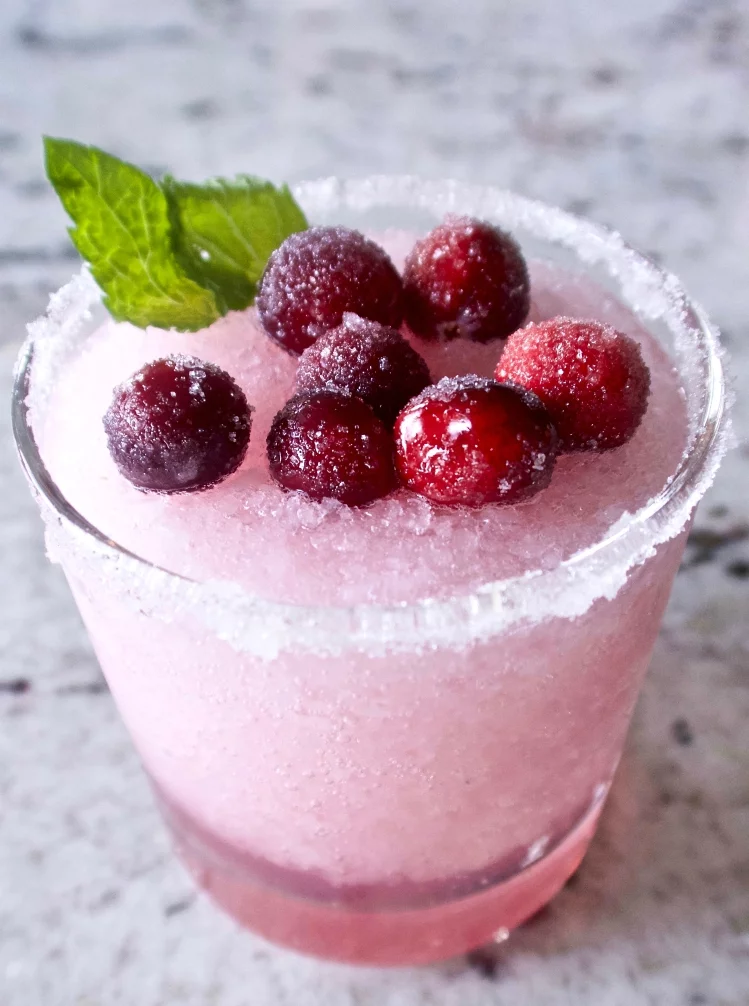 Follow Us:
We enjoy meeting you on our social networks. Follow us on Facebook, Pinterest, Instagram . Tag us with your pictures of our recipes and comment on how it went for you. We would love to see what you do with them.
We often like, comment and share your posts of our recipes on our daily Instagram stories.
Ask questions and rate the recipe in the comments section below. Please share what you did with this recipe. We are always looking for more and better ways to make homemade food. Other cooks love your ideas!
Recent Posts:
This post was originally published on October 14, 2015