This decadent Peppermint Schnapps Milkshake is the ultimate alcoholic dessert drink. Combining creamy vanilla ice cream, crushed peppermint candies, and Peppermint Schnapps this drink is a grown up milkshake. Perfect for the Holiday season or anytime you want a luscious, refreshing milkshake.
Peppermint Schnapps is also a popular choice to create a minty St. Patricks Day shake, Peppermint Eggnog shots, or Chocolate Peppermint martinis. This shake can be dressed up and served alongside a hot cocoa bar, at a Winter bridal shower, or as a Christmas Eve dessert.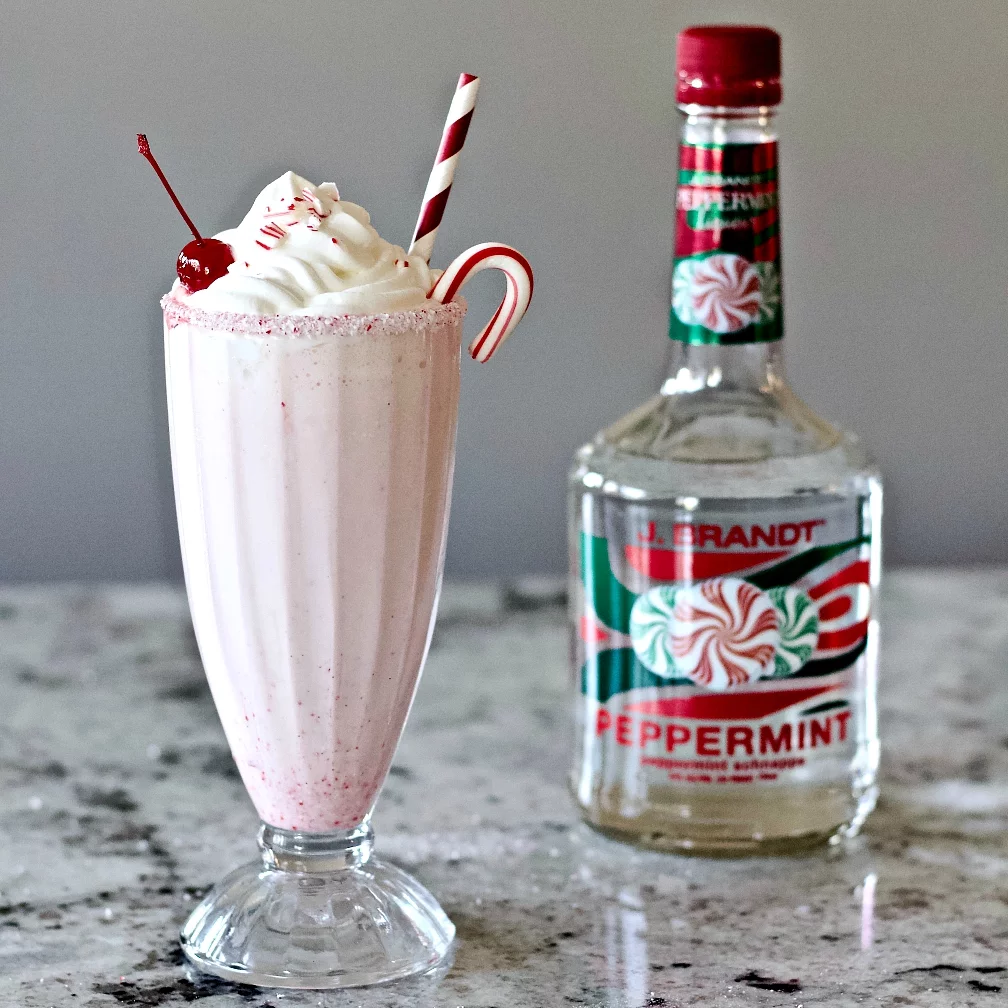 What is Peppermint Schnapps used for?
Peppermint Schnapps is actually a very versatile alcohol that pairs well with Whiskey, Vodka and even Brandy. It can be used to make creamy alcoholic milkshakes, hot or cold coffee drinks, and even shots. Anywhere that you want a fresh peppermint kick, Schnapps is a good option.
It is not the same as peppermint liqueur as it is less sweet, more concentrated and has more of an intense peppermint flavor profile. In short, it makes a great addition to your drinks because it will compliment the flavors of the other ingredients that it is paired with without adding sweetness and unnecessary liquid. It can even be enjoyed straight!
Watch Us Make this delightful milkshake in the video. Want it virgin? Just omit the Schnapps and add more Peppermint candy!
We garnished these Holiday mixed drinks with crushed candy canes, whipped cream and a maraschino cherry on top. Peppermint schnapps milkshakes bring a cheerful, classic Holiday tone to the party.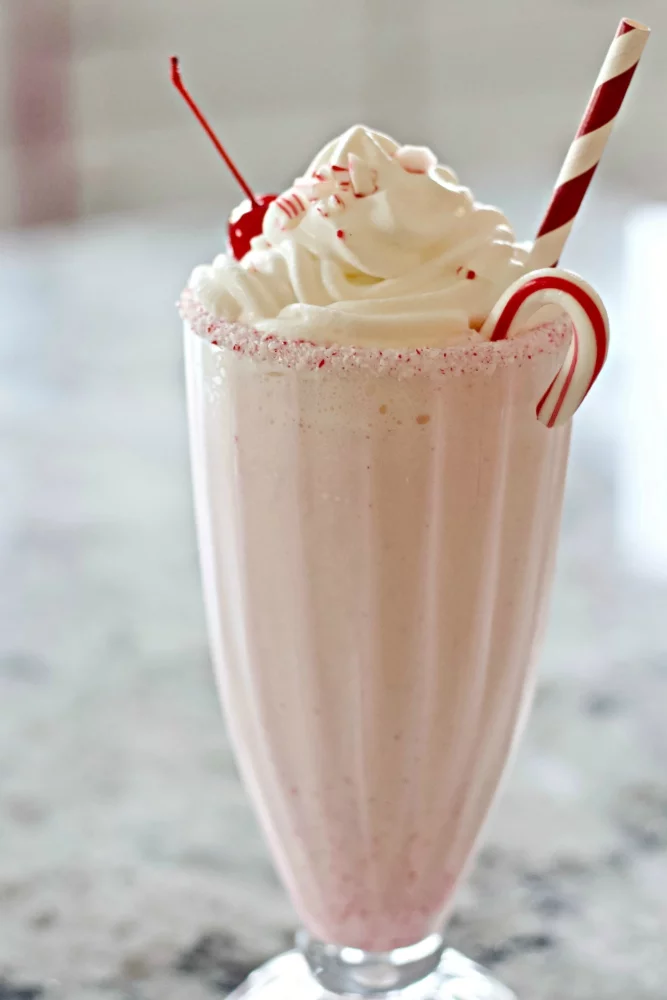 How do I make the best Milkshake?
When it comes to making the best milkshakes, ingredient ratio is the most important factor. Be sure you follow the recipe and take care if you are doubling or tripling it for a larger group. The ratio of ice cream to milk is usually 1 Cup of ice cream to 1/4 Cup of milk. You can use any form of milk you prefer, but full fat milks will yield the creamiest, thickest shakes.
For our recipe we use heavy cream for an even more decadent shake. If you use cream the ratio will differ because cream is thicker and heavier than milk, so be sure to follow the recipe. If your shakes are not thick enough, add more ice cream to thicken them up. You will likely also need to increase the ratio of add-ins as well.
Making this Peppermint Milkshake recipe
Milkshakes melt quickly so to give your guests the best results, serve these at a small, intimate event and make them just before you need them. Or, work in teams to get them made and garnished quickly.
NEED IT VIRGIN? Of course you can make these peppermint shakes virgin drinks too. Just throw in more crushed candy and omit the Schnapps.
Our Homemade French Vanilla Bean Ice cream or any store bought vanilla bean ice cream is a wonderful rich base for this peppermint shake. We recommend you stick with vanilla bean or other vanilla ice cream with this recipe. The peppermint candy and Schnapps are plenty of peppermint flavor.
On the flip side, if you want to get creative you could also make these in as a Chocolate Peppermint Shake. We haven't tried it, but we are sure it would be a tasty variation.
You can use whatever brand and proof you prefer. We have used both 30 and 80 proof. We used a 30 proof schnapps this time. It made a delicious, light holiday cocktail with only a mild kick. Just perfect for an after dinner dessert drink, girls night out or office partyIt will make a difference In the flavor of the milkshake. The peppermint flavor gets more intense at 80 proof and of course, the alcohol content increases as well.
Whipped Cream Dispenser with 10 N20 Chargers
are a great time saver. Just throw in your whipped cream ingredients, pressurize and shake. It's a great tool if you're making this Peppermint Schnapps recipe for a large group.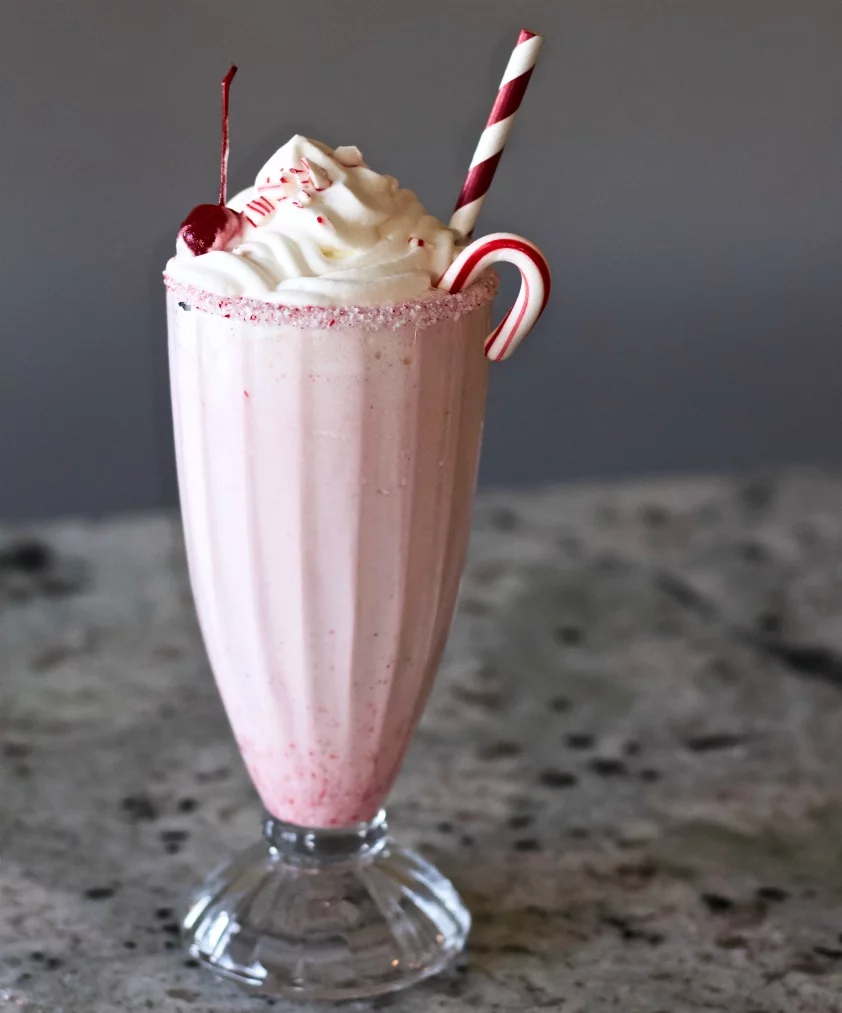 Dress up your Peppermint Milkshake
Use a pretty soda glass and rim the lip in peppermint for a festive ruffled edge look. Our video shows you the secret to making a beautiful candy rim.
Blend the milkshakes as directed.
Make your whipped cream and layer it over the shake.
Sprinkle crushed candy cane on the whipped cream.
Stick a cheery cherry on top and slide a mini candy cane on the side, sprinkle a few large fines of peppermint candy on the whipped cream to give it that extra touch of class in a glass.
Your Printable Recipe Card: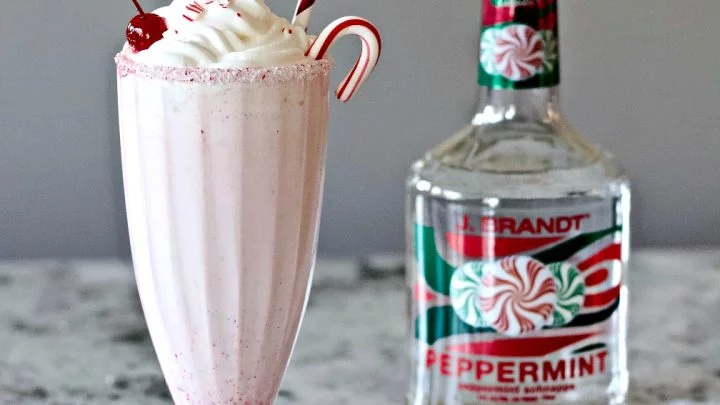 Yield:

1 milkshake
Peppermint Schnapps Milkshake
Peppermint Schnapps Milkshakes with vanilla bean ice cream and crushed peppermint candy makes a delicious Holiday Party drink. Treat your friends to this adult refreshment. All you need is a blender, a few yummy milkshake ingredients and peppermint Schnapps.
Ingredients
1 Cup broken candy canes crushed and sifted, reserve chunky parts
12 ounces vanilla bean ice cream , use your blender bowl measurements to get close)
1/2 Cup heavy cream, 30 percent or higher
1.5 ounce peppermint Schnapps liqueur, One shot glass full
(Recommended Garnishes:)
1/2 cup Whipped cream, as desired-swirled on top
1 maraschinos cherries
1 mini candy cane to decorate the cup
Instructions
To Rim the milkshake cup with candy cane:
Put 1 Cup broken candy candy canes into your blender and blend to fine crush.
Sift the blended candy canes into a bowl. Reserving the chunks.
Pour the FINE candy canes onto a shallow plate.
On a DIFFERENT shallow plate: Pour a splash of the schnapps onto the plate. Turn your cup upside down in the schnapps until the rim is wet.
Dip the wet rim into the crushed candy canes to collect the fine crushed candy onto the rim. Set cup upright and to the side while making the shake.
Put the cream, schnapps, ice cream and leftover crushed candy cane, into your blender. (reserve a few chunky pieces for garnish if desired)
Blend until combined. Pour into a glass, leaving 1/2 inch of head room.
Layer the whipped cream over the shake, sprinkle with remaining crushed candy cane, and top with a maraschino cherry.
This makes one 12oz. Glass serving with all the trimmings.
Notes
If you plan to rim the glasses with crushed candy cane do this BEFORE you fill the glass.
Recommended Products
As an Amazon Associate and member of other affiliate programs, I earn from qualifying purchases.
Nutrition Information
Amount Per Serving
Calories

630
Follow Us:
We enjoy meeting you on our social networks. Follow us on Facebook, Pinterest, Instagram . Tag us with your pictures of our recipes and comment on how it went for you. We would love to see what you do with them.
We often like, comment and share your posts of our recipes on our daily Instagram stories.
Ask questions and rate the recipe in the comments section below. Please share what you did with this recipe. We are always looking for more and better ways to make homemade food. Other cooks love your ideas!
Recent Posts: