Smokey, sweet Bacon Wrapped Water Chestnuts are delicious appetizers to make ahead, freeze and reheat. Made with water chestnuts, high quality Applewood smoked bacon, gluten free bbq sauce, and a reduced sodium Tamari sauce; these hot appetizers are the perfect party food for any occasion.
This recipe comes from our daughter in law, Heather who has made these Bacon Wrapped Water Chestnut Appetizers for years. If you have tried her Wild Pheasant in Mushroom and Wine Sauce, Banana Berry Trifle, or her Rabbit Mushroom Stew, you know that Heather is a talented and versatile cook. We are so happy when she shares her recipes with us.
We are walking you through exactly how to make this delicious bacon wrapped finger food, complete with tips on how to prepare your water chestnuts, and get deliciously crispy bacon for every one.
Heather's bacon wrapped appetizer recipe is a version of Rumaki without the chicken livers. Rumaki appetizers are a bit retro. They were popular in the 1940s and 50s in the faddish Tiki restaurants like Don the Beachcomber.
This recipe made its way into many American homes over the decades following. Creative cooks everywhere put endless versions of bacon wrapped water chestnuts on their party tables. However, the piece of liver is distinct to Rumaki recipes.
Our version of water chestnut bacon wraps does not include the liver, but you can add it if you want to. Like all vegetable recipes water chestnuts are pretty versatile.
How do you cook Bacon Wrapped Water Chestnuts?
The beauty of appetizers is the ease of preparation and enjoyment. This recipe is as easy to prepare as it is to serve and enjoy. Pre soak your water chestnuts in the Tamari sauce for at least 30 minutes, dip the water chestnut in BBQ sauce of your choice. Wrap the sliced bacon around the water chestnuts and pierce with a soaked toothpick. Arrange on a parchment lined baking sheet, brush with more BBQ sauce and bake.
Can I reheat Bacon Wrapped Water Chestnuts?
This appetizer is a great make ahead party option, because they can be prepared and then reheated when ready to serve. Simply place them on a parchment lined baking sheet when ready to serve, and heat them at 400 degrees F for about five minutes.
Try our Bacon Wrapped Sweet Potatoes for more ideas on healthy bacon wrapped appetizers.
Make this B

acon Water Chestnut

recipe healthier and keto:
Using the options below can greatly reduce the calories, sugars, carbs and sodium. Turn this into a paleo, keto friendly, low carb and diabetic friendly appetizer recipe.

Make this recipe gluten free by choosing gluten free Tamari and bbq sauce as I did. This is very helpful nowadays since many party guests have dietary goals and restrictions.
How many carbs are in Bacon Wrapped Water Chestnuts?
As with every recipe the carb count for these Bacon Wrapped Water Chestnuts will vary a bit depending how they are prepared, the choice of BBQ sauce and so on. For our recipe there are 6 grams of carbohydrates per serving as prepared following our instructions, making this a great keto and low carb appetizer option. It is a satisfying sweet and salty bite that everyone will love.
How can I prepare Bacon Wrapped Water Chestnuts?
Find a good quality bacon with no artificial ingredients. Your local grocer will carry (or google will know where to find) uncured, reduced sodium, nitrate free center cut bacon.
Use a sugar free bbq sauce. I found two on amazon with stevia for sweetener. I've added them to the printable recipe card below for you.
Water chestnuts are very good for you. This article by healthline goes into the details of water chestnut nutrition and health benefits if you are interested.
This recipe calls for organic gluten free sodium reduced Tamari rather than soy sauce. You can also try coconut aminos if you prefer.
Healthier Choices-Calculated Nutrition:
with sugar free barbeque sauce and reduce sodium options this recipe is gluten free, diabetic, low carb and keto friendly.
Nutritional Information for this Recipe sugar free:
1 bacon wrapped water chestnut
25
35 to 40 depending on your sugar free BBQ sauce choice
-2
-1
-0
-1
-6
Milligrams-239
Grams-1
Grams-2
Grams-0 (or 1 depending on Barbeque sauce choice)
2
You can Choose LOTS of Variations to change up this recipe. Let us know your favorite way to make these. Here's a few ideas to get you started.
Replace the BBQ sauce dip by rolling the water chestnuts in brown sugar (or brown sugar free option)
Add a pineapple chunk with the water chestnut when rolling the bacon and secure with a toothpick.
Use medjool dates in with the water chestnut and eliminate the bbq sauce dip.
Mix up a batch of your own bbq sauce using a one to one ratio. Mix together chili sauce, mayo and current (or grape) jelly. In my recipe to replace the bbqsauce you would need 1/3 cup of each.
How do I keep Bacon Wrapped Water Chestnuts warm at a party?
Place the baked Bacon Wrapped Water Chestnuts in your crockpot, warming pan or Instant pot on slow cook function. Set the pot to low heat and pour your sauce over them sparingly. This keeps it easy to access and pull out with the toothpick.
How to store and freeze Bacon Wrapped Water Chestnuts
Make as directed except for the final pour of the BBQ sauce over the top.
Cool the

water chestnuts bacon wrapped on

the baking sheet until room temperature
To retain the best shape just set the baking sheet in your freezer.
Once frozen remove the bacon wrapped water chestnuts to a glass or plastic airtight freezer container.
Label and freeze
Thaw on the counter and set on a baking pan. Drizzle on the bbq sauce over the top sparingly.
Reheat in preheated oven at 400 degree F for 5 minutes or until they sizzle a bit and crisp the bacon. We do not recommend reheating in a microwave, for best results reheat in an oven.
Bacon Wrapped Water Chestnut Recipe Printable Recipe Card: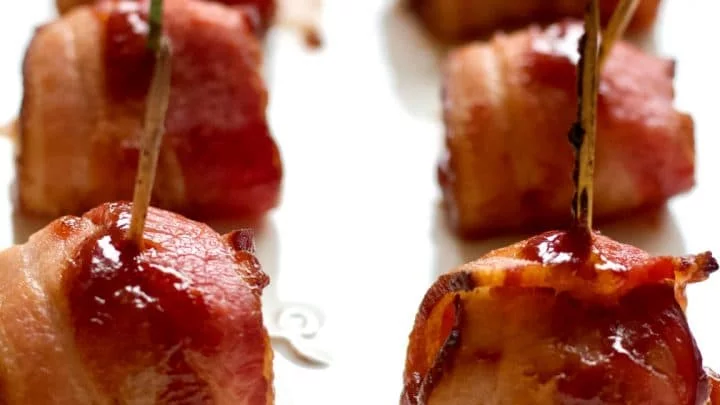 Yield:

25 bacon wrapped water chestnuts
Bacon Wrapped Water Chestnuts
This smoky sweet bacon wrapped appetizer is easy to make. Make this recipe ahead and quickly reheat. It freezes well too. These are old time favorites that have stood the test of party time!
Ingredients
2-8 oz. cans of whole water chestnuts
16 slices reduced sodium bacon
1 Cup gluten free barbeque sauce
1/2 Cup reduced sodium tamari
Instructions
Preheat Oven to 400 degrees F.
Soak the whole water chestnuts in the tamari for 30 to 60 minutes
Cut the bacon slices in half
dip each water chestnut into the BBQ sauce.(watch video)
Wrap the soaked whole water chestnuts in bacon and pierce with a toothpick(watch video)
Place the wrapped water chestnuts on your oiled baking sheet.
Brush the tops of the water chestnuts with remaining BBQ sauce.
Bake for 20 minutes
Notes
Make them ahead and freeze
These easy appetizers can be made ahead. If you are having a party in the next few days just store them in your fridge in an airtight container. On serving day bake them in your oven at 400 degrees for 5 minutes or until bacon is crisp. Ready to serve!
Make as directed except for the final pour of the BBQ sauce over the top.
Cool the bacon wrapped water chestnuts on the baking sheet until room temperature
To retain the best shape just set the baking sheet in your freezer.
Once frozen remove the bacon wrapped water chestnuts to a hard sided freezer container (OR heavy plastic freezer bag if you can remove the toothpicks successfully).
Label and freeze
THAW on the counter and set on a baking sheet
AND REHEAT in preheated oven at 400 degree F for 5 minutes or until they sizzle a bit to crisp the bacon.
Recommended Products
As an Amazon Associate and member of other affiliate programs, I earn from qualifying purchases.
Nutrition Information
Yield
25
Serving Size
1
Amount Per Serving
Calories

53
Total Fat

2g
Saturated Fat

1g
Trans Fat

0g
Unsaturated Fat

1g
Cholesterol

6mg
Sodium

355mg
Carbohydrates

6g
Fiber

0g
Sugar

4g
Protein

3g
Follow Us:
We enjoy meeting you on our social networks. Follow us on Facebook, Pinterest, Instagram . Tag us with your pictures of our recipes and comment on how it went for you. We would love to see what you do with them.
We often like, comment and share your posts of our recipes on our daily Instagram stories.
Ask questions and rate the recipe in the comments section below. Please share what you did with this recipe. We are always looking for more and better ways to make homemade food. Other cooks love your ideas!
Recent Posts: