This creamy Holiday Eggnog Cocktail is the perfect drink to serve at your dinner party this holiday. With a beautiful balance of Kahlua coffee liqueur and Baileys Irish Cream mixed with old fashioned Eggnog, it provides a comforting refreshment that you guests will love.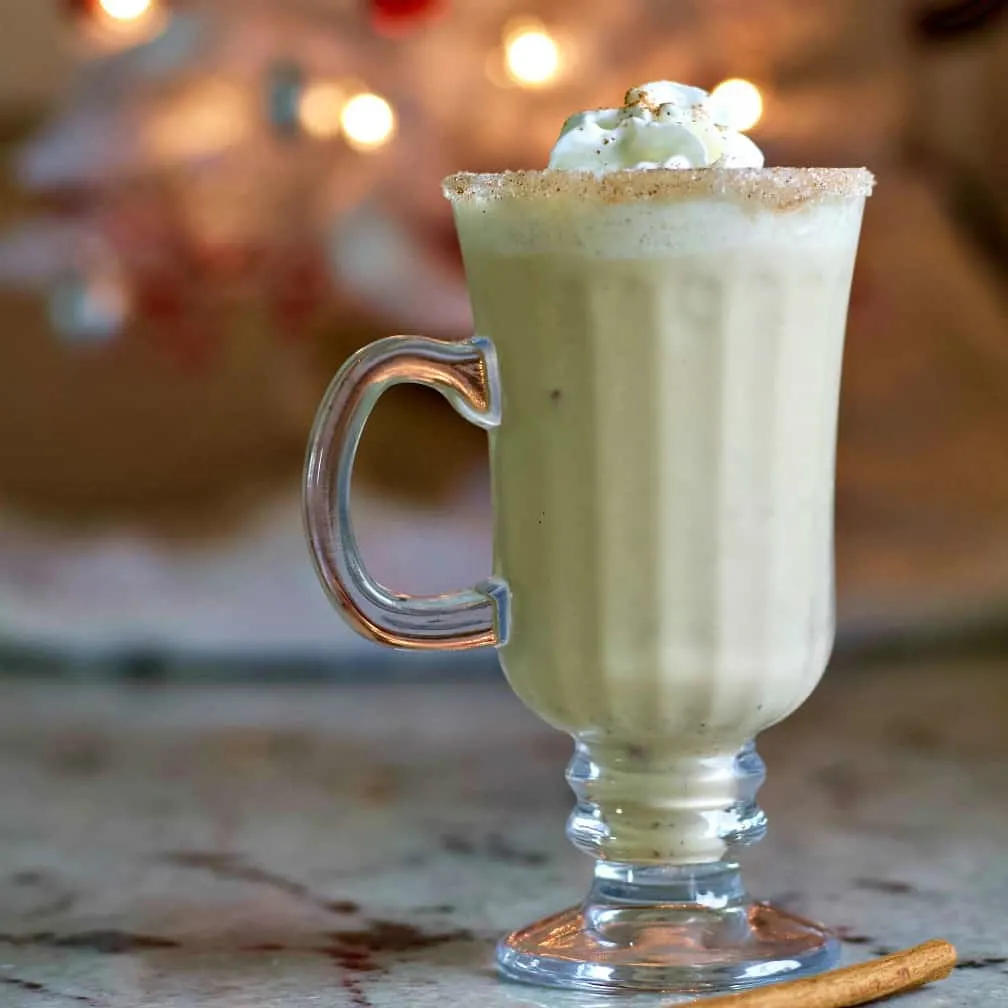 Is Homemade Eggnog safe?
Homemade Eggnog can be made safely with fresh ingredients and the proper serving protocol. Eggnog is made with egg yolks which are much safer than the egg whites, and because it goes through a heating process any potentially harmful bacteria is eradicated.
If you do not wish to make your own Eggnog from scratch, you can opt for your favorite store brand like we did for this recipe. Nothing beats a fresh made eggnog, but the convenience of purchasing eggnog is optimal when serving large crowds.
What kind of alcohol goes in Eggnog?
Brandy is the traditional alcohol choice for eggnog, but combinations of dark rums and Cognac are also used with bourbon being added for an extra kick.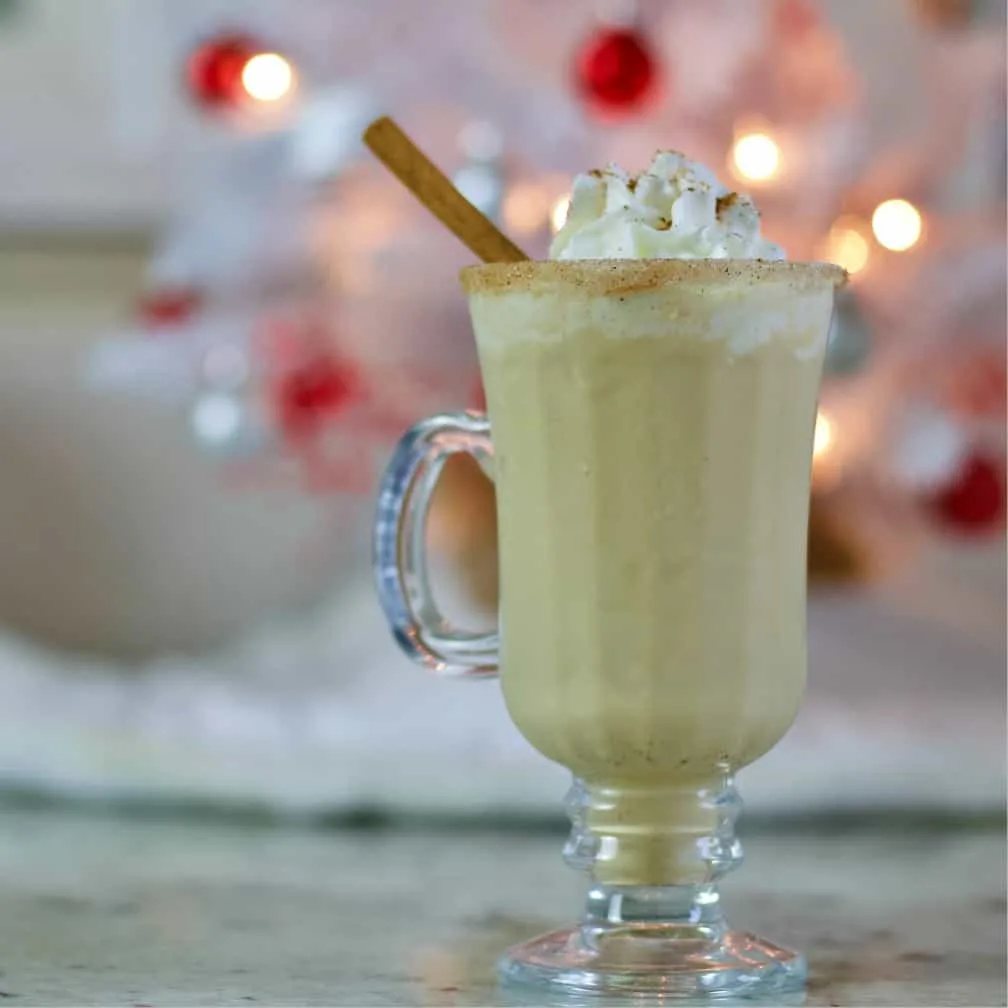 Looking for other Holiday Cocktail recipe ideas?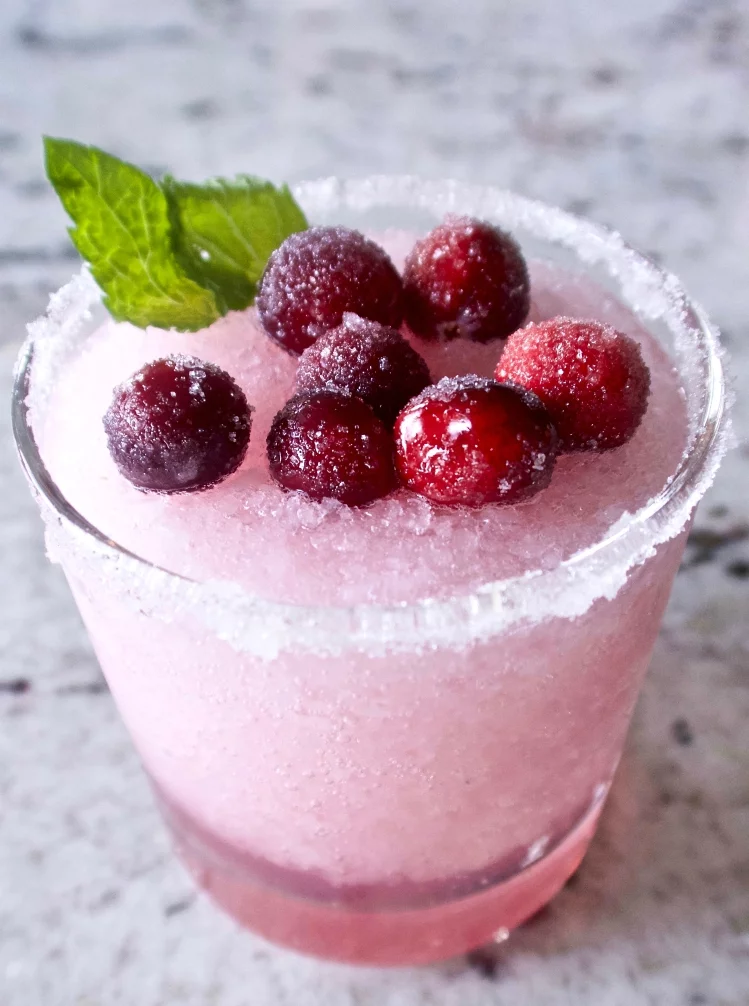 How do you serve Eggnog?
Stemless wine glasses and old fashioned glasses are popular choices when serving Eggnog. Glass mugs with handles are also a great idea given that it is a chilled drink that will sweat. Set these beauties out after dinner for a Thanksgiving or Christmas dessert cocktail.
Footed Irish coffee mugs are a bit less formal. The sugar spice rim is a nice touch. Made in the Irish coffee mug this drink has a much more casual and cozy vibe going for it.
What do you serve with Eggnog?
Eggnog is a traditional holiday drink with warm notes of dark amber alcohol that pairs beautifully with aromatic spices and garnishes. We are sharing some ideas for you to try out.
Sprinkle with cinnamon, nutmeg or ginger spices
Top with a dollop of fresh whipped cream and a cinnamon stick
Float some beautiful star anise herbs for a rustic holiday look and added flavor
Serve in a cinnamon and sugar rimmed glass
Add fresh minced vanilla bean
Make an espresso eggnog with cold brew and kahlua
Drizzle with chocolate or caramel sauce
Serve with mini gingerbread cookies
Holiday Eggnog Cocktail Recipe
This is a simple holiday drink that is perfect for a party punch bowl if you are hosting a crowd. We chose to combine two liqueurs with our favorite eggnog. A bit of coffee and cream is just right with Eggnog.
Ingredients
Eggnog
Whipped cream for the top with a sprinkle of spice
TIP: When selecting the eggnog be sure to read the label. The only ingredients you should see are milk, sugar, vanilla, eggnog, water, and nutmeg. Avoid preservatives or thickeners for the best experience with this drink.
Rim the Glass
With some simple syrup and a mixture of cinnamon and sugar
Wet the rim of a glass with simple syrup.
Turn the glass over on a plate sprinkled with sugar and cinnamon.
The sugar and cinnamon will grab onto the wet rim and form a sweet rim to compliment your eggnog drink.
The Method
Here is your visual walkthrough of making this cocktail.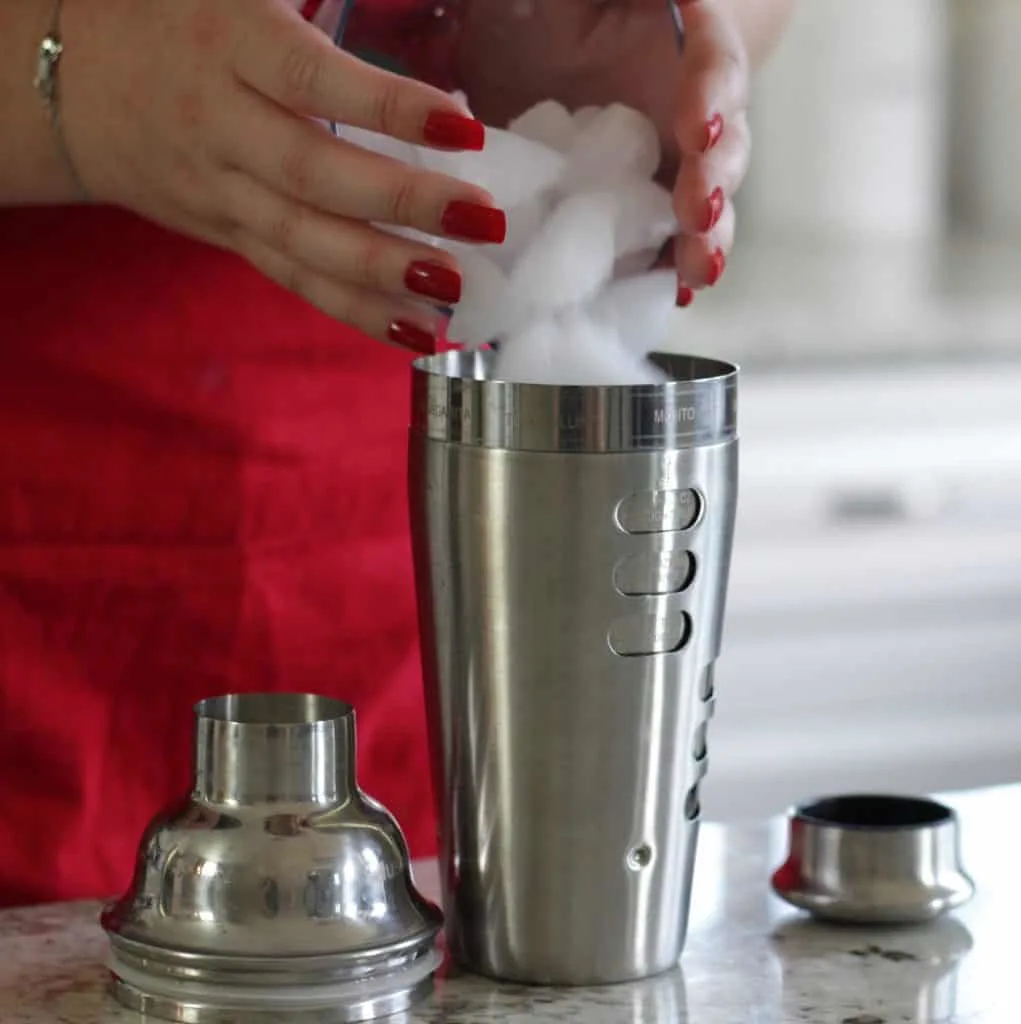 This is a delicious holiday drink that compliments any dessert table. We enjoy serving it alongside traditional holiday cookies such as shortbread, sugar cookies, and gingerbread. Enjoy!
Your Printable Recipe Card: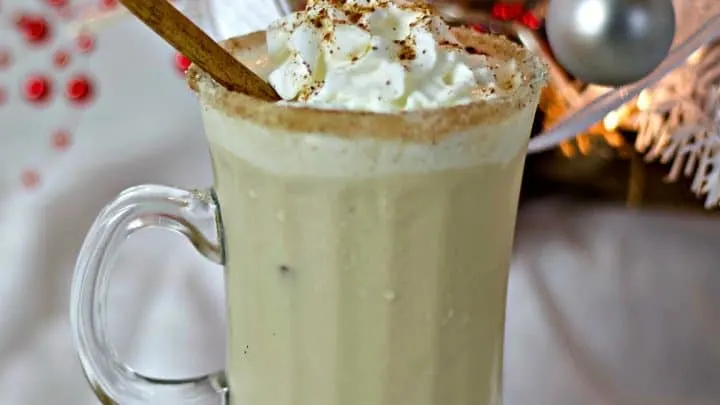 Yield:

1 cocktail
Homemade Eggnog Cocktail
This decadent Homemade Eggnog Cocktail is the perfect drink to serve at your holiday party this year. This party drink has delicious kahlua and Baileys Irish Cream mixed with the yummy taste of old fashioned eggnog.
Ingredients
1.5 oz. Bailey's Irish Cream
1.5 oz. Kahlua coffee liqueur
5 oz. eggnog
Instructions
Rim the glass with cinnamon and sugar.
Spread simple syrup on a small plate
Mix 2 Tsp. cinnamon and 2 Tablespoons sugar on another small plate.
Invert your glass into the simple syrup to wet your glass rim..
Now invert the glass over onto a plate with the cinnamon and sugar mixture.
firmly press the glass in until the rim is totally coated.
Make Eggnog Cocktail:
Chill your glass in the fridge or freezer at least 15 minutes.
Add ice to your cocktail shaker.
Pour in the eggnog and both shots of liquor.
Firmly push on the top of your cocktail shaker and shake at least 30 seconds to one minute until your cocktail is very cold.
Top with whipping cream and sprinkle cinnamon on top.
Notes
Garnish Ideas:
Spray a dollop of canned whipped cream to top
Sprinkle cinnamon or nutmeg on top
Drizzle chocolate syrup on the inside of your glass to form attractive patterns.
Use a cinnamon stick as a stirring stick when serving this holiday cocktail.
Rim the glass as shown in instructions above and the video.

Party Punch:

For every 10 guests you want to serve you will need:
15 oz.Baileys Irish Cream (2 cups)
15 oz. Kahlua Coffee Liqueur (2 cups)
2 quarts Eggnog

Mix it all in a large serving bowl and stir. Serve with a ladle.
Party Serving ideas:
Set rimmed glasses near the bowl. (Make ahead and chill.)
Canned whipped cream near the bowl.
Chocolate syrup for garnishing the glasses if desired.
Recommended Products
As an Amazon Associate and member of other affiliate programs, I earn from qualifying purchases.
Nutrition Information
Yield
1
Serving Size
1
Amount Per Serving
Calories

529
Total Fat

11g
Saturated Fat

7g
Trans Fat

0g
Unsaturated Fat

4g
Cholesterol

92mg
Sodium

82mg
Carbohydrates

49g
Fiber

0g
Sugar

49g
Protein

6g