This decadent Homemade Eggnog Cocktail is the perfect drink to serve at your holiday party this year. It has delicious hints of kahlua and Baileys Irish Cream mixed with the yummy taste of old fashioned eggnog.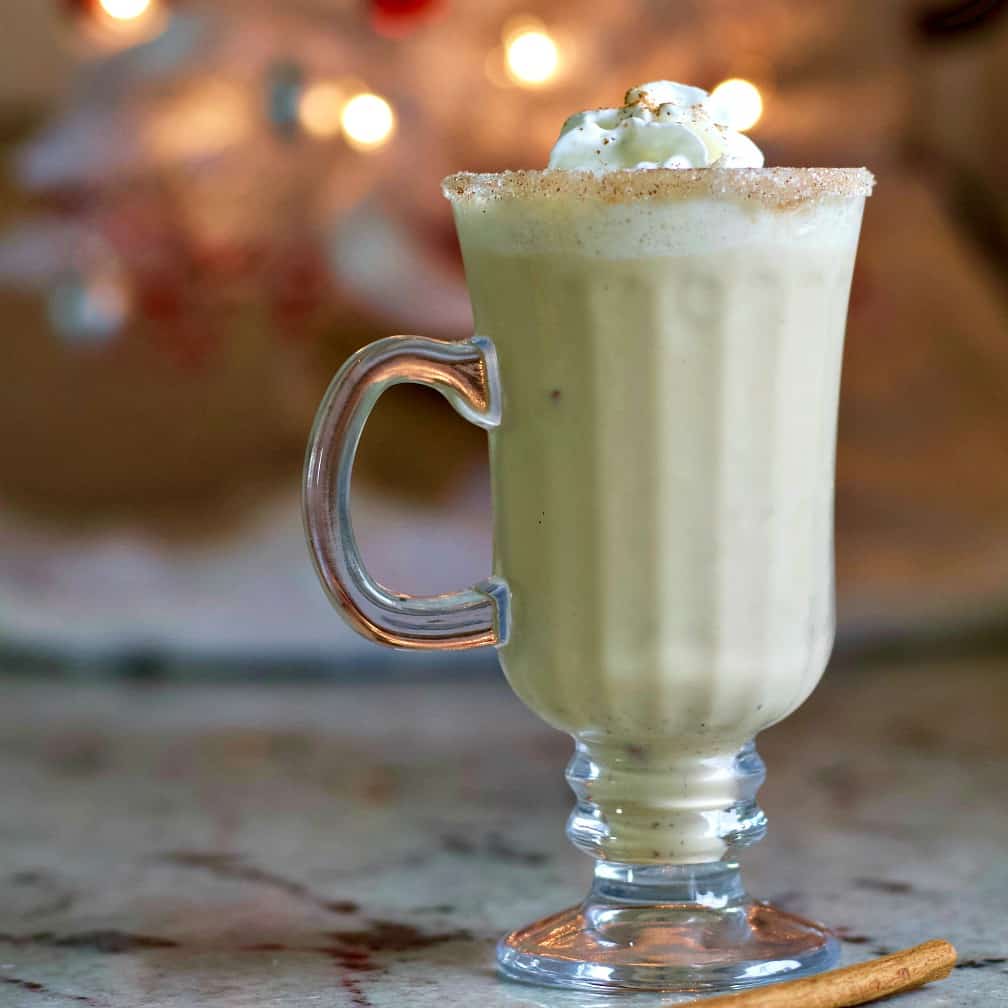 This recipe is for eggnog lovers everywhere. 🙂 I absolutely love eggnog.
My Mom always buys a gallon from the grocery store for me once she spies it in the grocery stores every Fall. She knows how much I've loved eggnog since I was Pretty much weaned.
I would happily drink the entire gallon myself. My husband and kids fight me for it now. But I always get my share.
As an adult I've add eggnog cocktails to this eggy love affair. This one turned out SO good.
This one came into being one night when my friend Christina and I had an eggnog party for two. We had a great time experimenting and came up with this drink as you see it below.
Eggnog is JUST coming into the stores around October first or so. I am quick to find it and make this cocktail. I love sipping my favorite Fall comfort food with a lovely alcohol kick.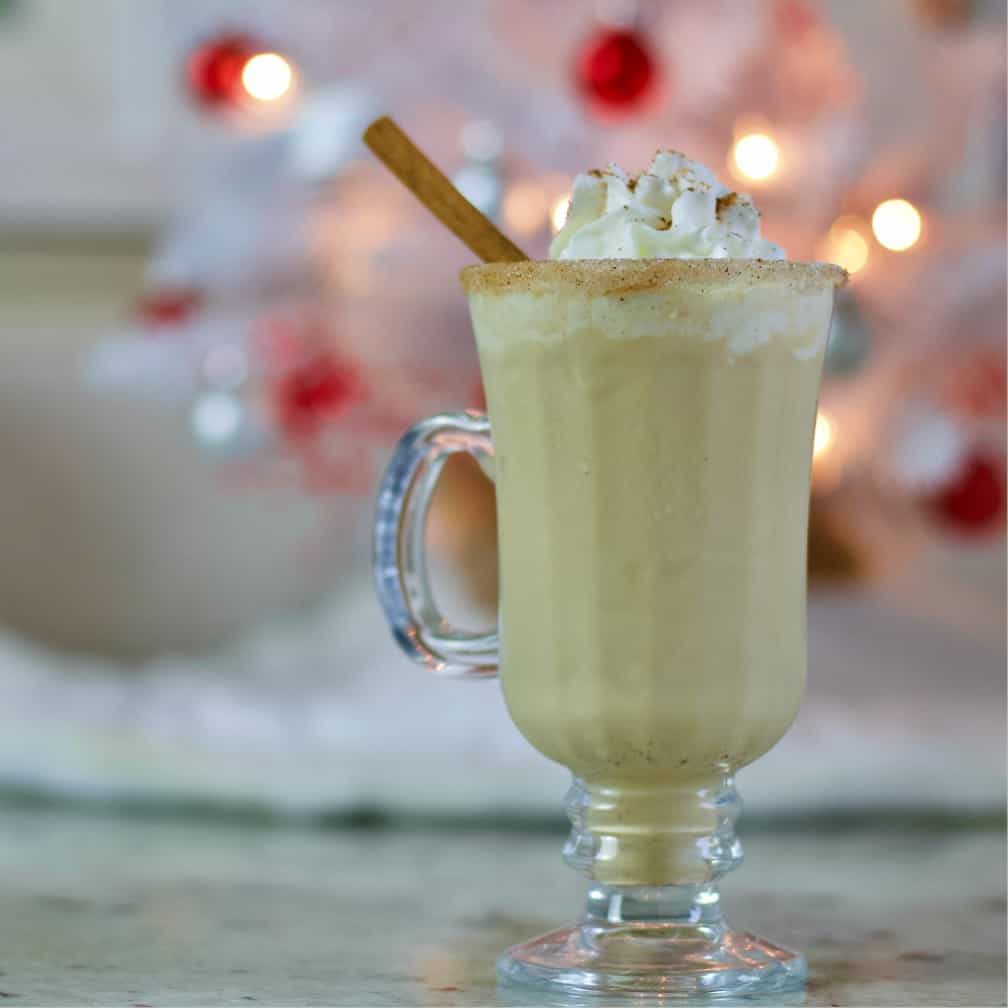 Looking for other Holiday cocktail recipe ideas? Here's a few.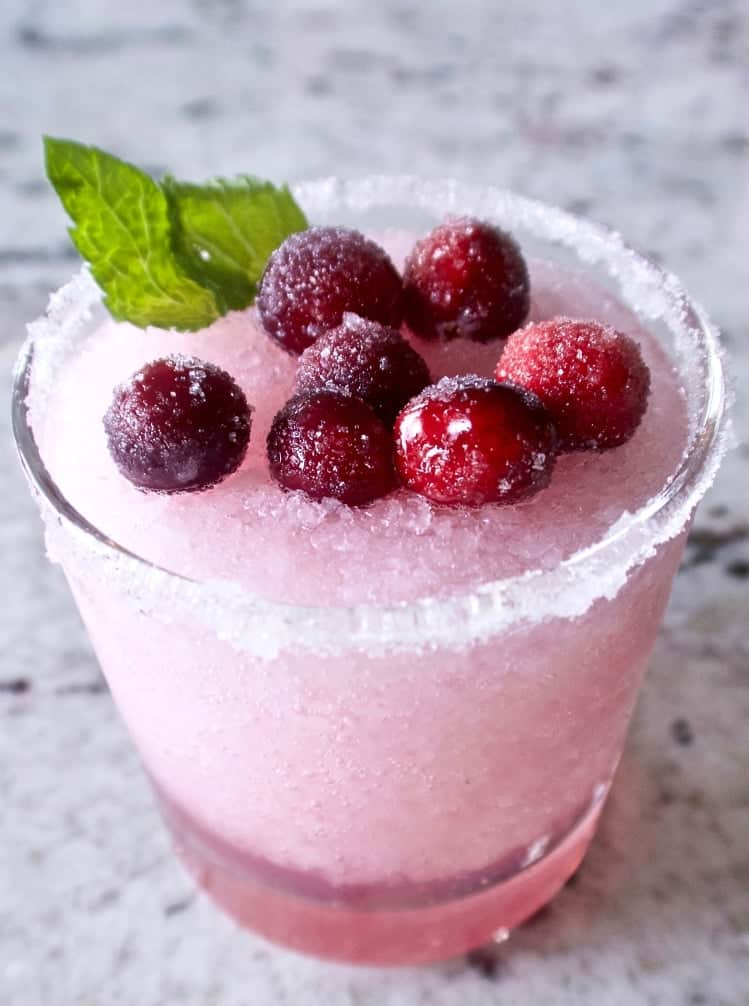 The Glasses and presentation:
I've enjoyed this eggnog drink recipe for several years now. We've put it together in a few different ways with different glasses and garnishes.
This stemless wine glass presentation has a nice party vibe. Set these beauties out after dinner for a Thanksgiving or Christmas cocktail.
Isn't it cute? And the chocolate is a nice touch for some extra interest.
Footed Irish coffee mugs (I found mine at Home Goods) are a bit less formal. I make mine in the mugs without the extra chocolate. But the sugar spice rim is a nice touch.
Feel free to add the chocolate if you like.
Made in the Irish coffee mug this drink has a much more casual and cozy vibe going for it. Sit with a friend as I did and have a coze by your fire on a chilly night.
Put out a bunch of these for a fun drink at a holiday party. They are easy to handle and quick to make.
I've linked both types of glasses for you in the recipe card at the post bottom in case you don't find any at your local stores. Thank you for supporting Homemade Food Junkie.
Homemade Eggnog Cocktail Recipe:
This is a rich creamy drink with two liqueurs and yummy eggnog. A bit of coffee and cream is just right with Eggnog.
Ingredients:
Eggnog
Whipped cream for the top with a sprinkle of spice.
TIP: When you pick your eggnog out for this drink read the label. The only ingredients you should see are milk, sugar, vanilla, eggnog, water, and nutmeg. Avoid preservatives or thickeners for the best experience with this drink.
Rim the Glass:
This is the way we rimmed our glass for this cocktail.
Wet the rim of a small stemless wine glass with simple syrup.
Turn the glass over on a plate sprinkled with sugar and cinnamon.
The sugar and cinnamon will grab onto the wet rim and form a sweet rim to compliment your eggnog drink.
The Method:
Here is your visual walkthrough of making this cocktail.
Garnishes:
The glass you use has a lot to do with how this Fall cocktail fits in to your event. Once you have chosen your glass think about the garnishes.
chocolate syrup. It's so good! And it is stylish.
For thanksgiving (Unless your doing a very formal event) use the Irish coffee glasses.
For Christmas I'd go for the stemless wine glass.
The sprinkle on top could be anything from nutmeg, cinnamon to a sparkling sugar.
Feel free to find new ways to garnish and present this yummy Cold weather drink and TELL US. We LOVE to hear all your ideas on our recipes.
Happy drinking. We hope you enjoy this recipe as much as we did. Please Drink responsibly.
This is a delicious holiday drink and it's very filling. You wont need more than one of these. Enjoy!
Your Printable Recipe Card:
Yield:

1 cocktail
Homemade Eggnog Cocktail
This decadent Homemade Eggnog Cocktail is the perfect drink to serve at your holiday party this year. This party drink has delicious kahlua and Baileys Irish Cream mixed with the yummy taste of old fashioned eggnog.
Ingredients
1.5 oz. Bailey's Irish Cream
1.5 oz. Kahlua coffee liqueur
5 oz. eggnog
Instructions
Rim the glass with cinnamon and sugar.
Spread simple syrup on a small plate
Mix 2 Tsp. cinnamon and 2 Tablespoons sugar on another small plate.
Invert your glass into the simple syrup to wet your glass rim..
Now invert the glass over onto a plate with the cinnamon and sugar mixture.
firmly press the glass in until the rim is totally coated.
Make Eggnog Cocktail:
Chill your glass in the fridge or freezer at least 15 minutes.
Add ice to your cocktail shaker.
Pour in the eggnog and both shots of liquor.
Firmly push on the top of your cocktail shaker and shake at least 30 seconds to one minute until your cocktail is very cold.
Top with whipping cream and sprinkle cinnamon on top.
Notes
Garnish Ideas:
Spray a dollop of canned whipped cream to top
Sprinkle cinnamon or nutmeg on top
Drizzle chocolate syrup on the inside of your glass to form attractive patterns.
Use a cinnamon stick as a stirring stick when serving this holiday cocktail.
Rim the glass as shown in instructions above and the video.

Party Punch:

For every 10 guests you want to serve you will need:
15 oz.Baileys Irish Cream (2 cups)
15 oz. Kahlua Coffee Liqueur (2 cups)
2 quarts Eggnog

Mix it all in a large serving bowl and stir. Serve with a ladle.
Party Serving ideas:
Set rimmed glasses near the bowl. (Make ahead and chill.)
Canned whipped cream near the bowl.
Chocolate syrup for garnishing the glasses if desired.
Recommended Products
As an Amazon Associate and member of other affiliate programs, I earn from qualifying purchases.
Nutrition Information
Yield
1
Serving Size
1
Amount Per Serving
Calories

529
Total Fat

11g
Saturated Fat

7g
Trans Fat

0g
Unsaturated Fat

4g
Cholesterol

92mg
Sodium

82mg
Carbohydrates

49g
Fiber

0g
Sugar

49g
Protein

6g