This drink is a perfect addition to any fall gathering. The pumpkin spice Martini makes a yummy Thanksgiving cocktail with warm fall flavors and decadent pumpkin bliss.
The days are getting darker and colder. We are rapidly descending into the fall season. Pumpkins and pumpkin spice recipes like this are cropping up all over the place.
We are feeling inspired to make delicious pumpkin recipes for all of our wonderful readers. Here's an easy Fall Cocktail you are sure to enjoy.
You may want to keep this yummy Fall drink on your short list of Thanksgiving Cocktails
Find our Entire Selection of Cocktail in our Cocktail Section:
More Fall Cocktails: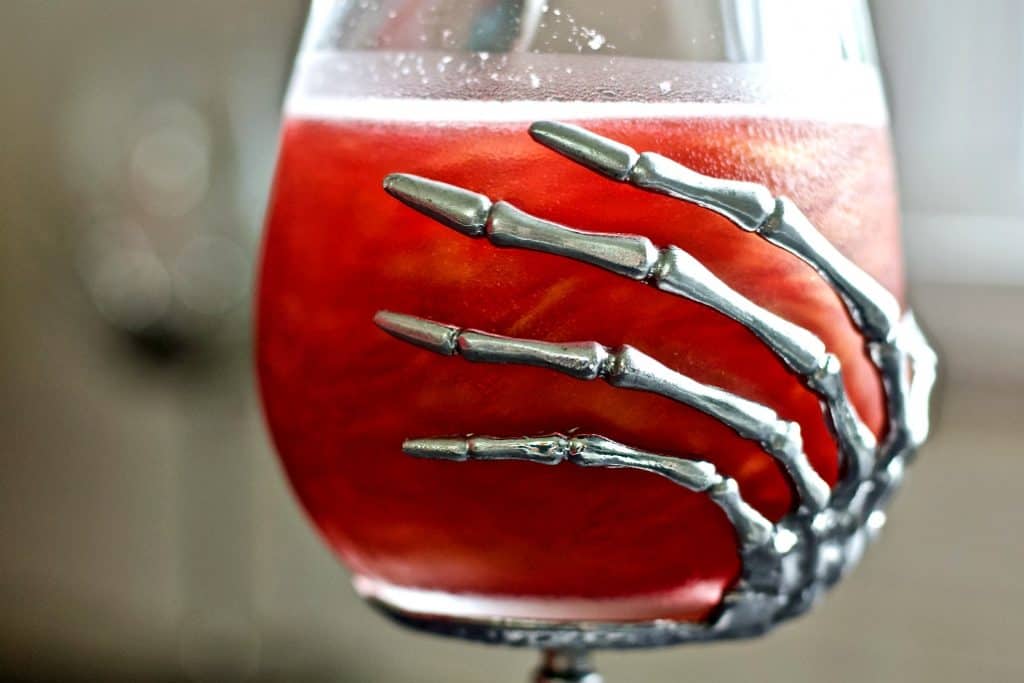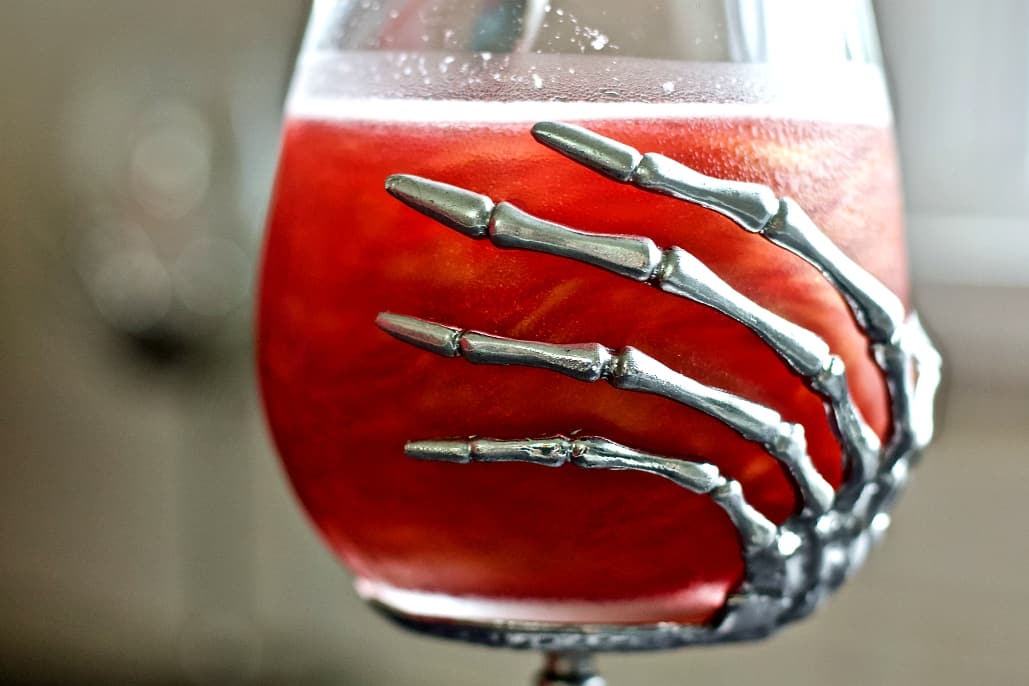 About Martini recipes
A classic martini is a blend of 1/2 oz dry vermouth and 3 oz of gin. That is not what we have here. We are playing up the Fall vibe with this yummy drink just in time for the holiday season.
Pumpkin Spice Martini Recipe:
Our vodka martini is a blend of 3 different alcohols, pumpkin pie spice and a touch of heavy cream.
Martinis are made with no mixers and are essentially straight alcohol. The drinks are small.
Trust me, Just one of these delicious drinks gets you feeling warm and fuzzy with a relaxed buzz.
Ingredients:
As the ingredient list shows this drink is decadent. Enjoy the rich Flavors in this creamy Fall Cocktail
Michaels Pumpkin Spice Celtic Irish Cream or any spiced Pumpkin Liqueur you have on hand. Hiram Walker or Baileys (Such a pretty bottle too) are both good brands.
Heavy Cream
Pumpkin Pie spice
Pumpkin Puree Variation:
For an extra thick and pumpkin flavor add 2 Tsp. of pumpkin puree to your shaker. This will make your martini a bit denser but really pull hard on that Fall vibe for you. If you try it this let us know what you think!
Garnish Ingredients and Instructions:
We rimmed the glass with sugar and spice. This adds a bit of extra sweet pumpkin zip to this recipe. See the visual walkthrough below and watch the video for instructions on how to add that touch of class to your Pumpkin Spice Martini.
I also added a small dollop of whipped cream with pumpkin pie spice on top to finish the look. and add more creaminess.
Garnishes Ingredient List:
sugar
pumpkin pie spice
whipped cream
The Garnishes make this a pretty and stylish Fall drink you and your guests will certainly enjoy.
To Rim Your Martini Glass:
Begin with a chilled martini glass
Dip your chilled glass rim in simple syrup
Follow the instructions below.
Make this Pumpkin drink:
Here is your visual walkthrough for this martini recipe. Please also take a look at our video demonstration of this drink and our printable recipe for further details.
Large Group Thanksgiving Cocktail or Holiday Drink Instructions:
Need this Martini recipe for a Holiday season party or Thanksgiving drink? This martini recipe is VERY easy to expand to as many servings as you need.
All the main ingredients are in a one to one proportion so merely multiply the one oz. servings of each ingredient by the number of mixed drinks you need. Make the cocktails in small batches to keep the drinks fresh.
The garnishes are of course optional. If you prefer to keep it simple for a crowd just shake, pour and serve!
Your Printable Recipe Card: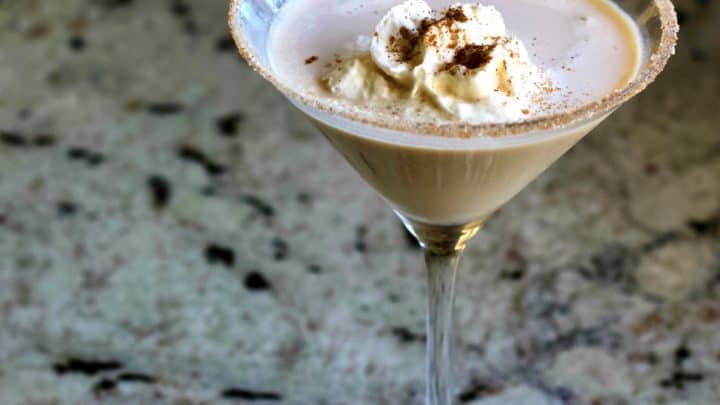 Yield:

1 Cocktail
Pumpkin Spice Martini
The perfect addition to any fall gathering, this pumpkin spice martini is a delicious taste of warm fall flavors, and decadent pumpkin bliss.
Ingredients
1 oz Baileys Irish Cream liqueur
1 oz Hiram Walkers Pumpkin Spice liqueur
1 oz Smirnoff Whipped Cream Vodka
1 oz Heavy Whipping Cream
Instructions
Chill a martini glass 5-10 minutes before rimming the glass
Coat a plate in simple syrup and run the chilled rim of the martini glass in a circle until the rim is completely covered.
Use a 50/50 ratio of sugar and pumpkin pie spice on another plate to run the rim of the glass along the mixture, keep rubbing until the rim has a good coating of the sugar and pumpkin pie spice.
Fill a cocktail shaker up with ice
Add the Baileys, Pumpkin Spice liqueur, the whipped cream vodka,and the heavy whipping cream into the cocktail shaker.
Place the lid back onto the cocktail shaker and shake thoroughly for 30-60 seconds until the contents are chilled.
Carefully pour the cocktail into the martini glass, being careful not to mess up the rim.
For an extra garnish, you may put a dollop of whipping cream in the center of the drink and sprinkle some nutmeg of pumpkin pie spice on top.
Notes
Garnish:
Simple Syrup on a plate, enough to coat rim of glass
Sugar and pumpkin pie spice mixed together on a seperate plate for rimming chilled glass coated in simple syrup.
Variation: Add 2 tsp. canned pumpkin puree for a more intense pumpkin experience.
Recommended Products
As an Amazon Associate and member of other affiliate programs, I earn from qualifying purchases.
Nutrition Information
Yield
1
Serving Size
1
Amount Per Serving
Calories

441
Trans Fat

0g