Rich, moist cakey pumpkin cream cheese muffins are soft and blissfully good! This creamy pumpkin muffins make a fantastic, filling breakfast or snack.
Coffee, homemade grape juice or your favorite iced tea are excellent companions with these satisfying fall treats.
It's time to get back into warm cozy pumpkin muffins and pumpkin breads too.
Pumpkin muffins make a delicious breakfast or snack.
Your family will love these sustaining yummy muffins.
We have several muffin recipes on the blog because…we like them. Here are a few to get you started.
Pumpkin and squashes fill baskets all over my house right now so I'm making these muffins for tomorrow's breakfast. They are so delicious!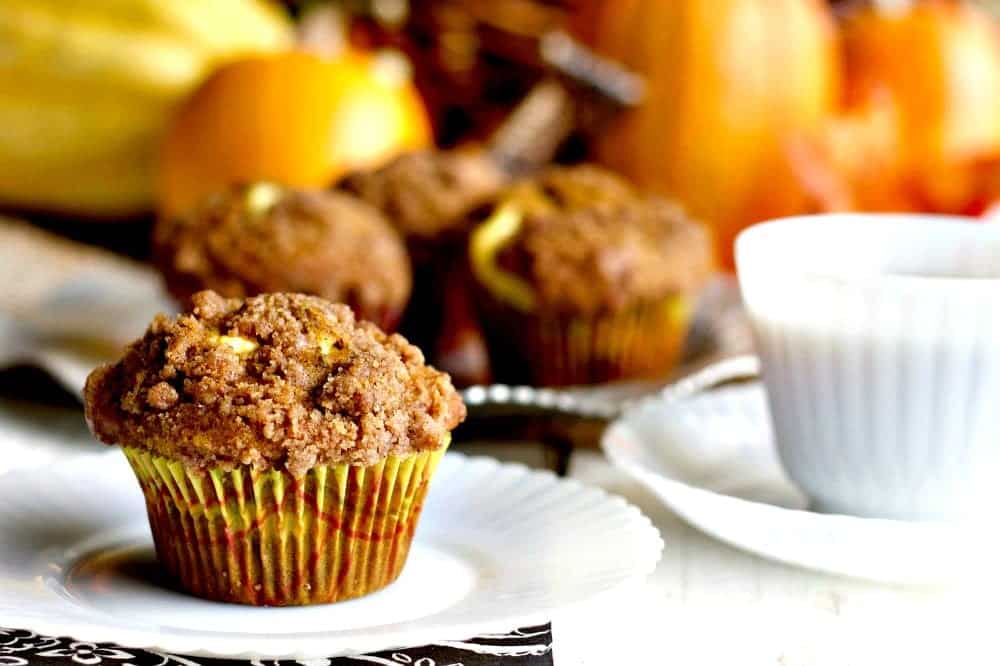 If you have pumpkin tucked away in your freezer or pantry for the off season pull that homemade puree out and use it for this recipe.
If you have canned pumpkin puree that is also a great choice for this muffin recipe. Do NOT use canned pumpkin pie filling.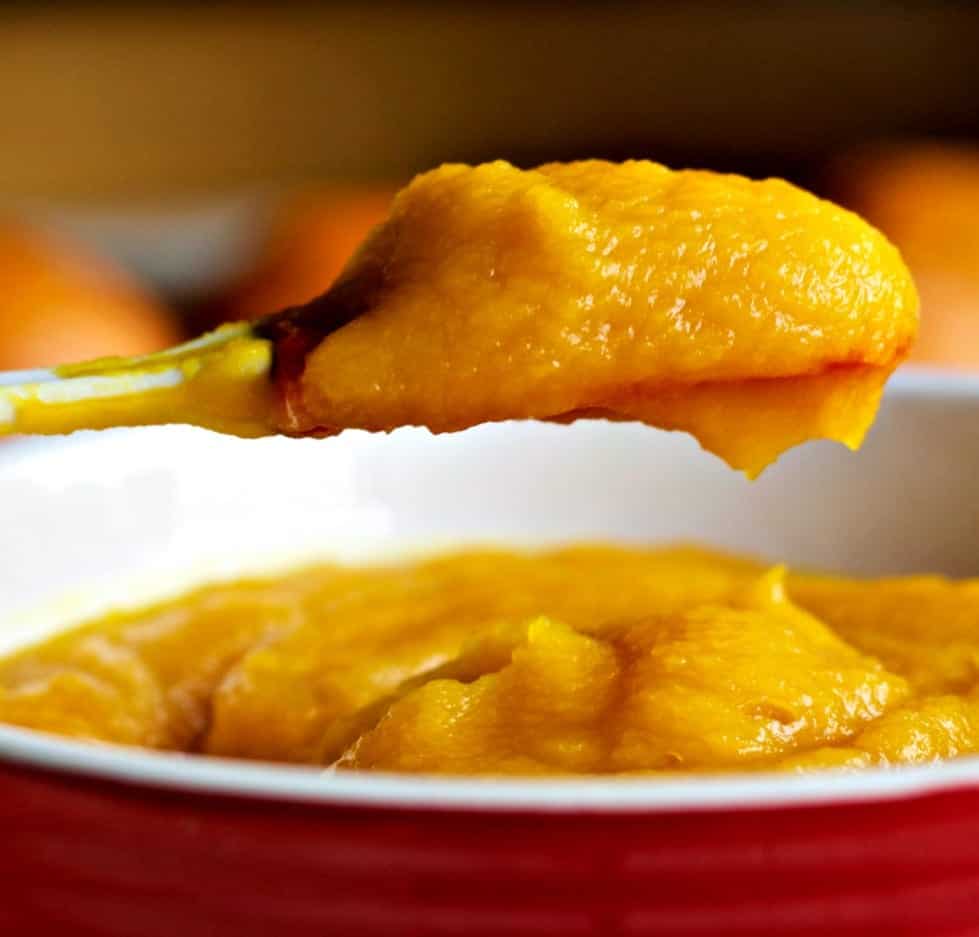 Homemade Pumpkin Cream Cheese Muffins Recipe:
The delicious flavor combination of Pumpkin and cream cheese add filling comfort food and fall goodness into your morning meal, or mid day snack.
These muffins are easy to make but it is a three step process. Don't let all the instructions bother you. Just do it one step at a time and before you know it, yummy pumpkin spice smells will fill your kitchen and delightful Creamy Pumpkin Muffin will fill your mouth.
Tips;
The topping is simple but mine came out a bit wet the first time I made this recipe. To fix that I added the oil in small amounts and had better results. Use just enough oil or butter to make the crumbles.
Coconut oil adds REALLY great flavor into this recipe and replaces butter one to one with great results. Feel free to use butter if you would rather.
Let these muffins cool all the way before serving. The flavor is much better at room temperature than baking hot.
The muffin paper comes off easily when cooled. When hot the muffins cling to the paper.
These are a crumbly muffin. They tend to separate into the layers if they are not completely cooled. Eating them at room temperature is best.
Go for it!
Enjoy the creative process of baking these muffins and the delicious results.
These Moist, rich, muffins with coconut oil and flax for satisfying, healthy fats and fiber will satisfy your family with nourishing energy to get through the day.
Instructions Summary:
Don't let the long recipe scare you off. Just complete each step. It's not hard. These muffins are worth it!
Make the crumb-topping first
Set aside the topping and make the pumpkin muffins:
Make the cheesecake filling
Assemble and bake the muffins
Cool to room temperature before serving
Freeze These Pumpkin Muffins:
Creamy Pumpkin Muffins freeze well for up to 2 months. What a nice treat these make for a quick winter breakfast.
Freezing Tips:
Cool to room temperature
Carefully Place these muffins in a gallon ziplock freezer bag (Or freezer container) so they stay upright and sit flat in your freezer.
Remove all the air from the ziplock bag.
You may also vacuum pack these muffins if you have one.
Label and place in your freezer on top so they are not squashed by other frozen foods.
Your Printable Pumpkin Muffin Recipe:
Yield:

12 muffins
Pumpkin Cream Cheese Muffins
Rich, moist cakey pumpkin cream cheese muffins are soft and blissfully good! This creamy pumpkin muffins make a fantastic, filling breakfast or snack.
Ingredients
Crumb Topping
1/4 cup brown sugar
1/2 cup all-purpose flour
1 teaspoon ground cinnamon
1/4 cup coconut oil-scant, melted
Pumpkin muffins
1 3/4 Cups all-purpose flour
1 tsp. baking powder
1 tsp. baking soda
1/4 Cup flax
1/2 tsp. salt
2 tsp. ground cinnamon
1 tsp.pumpkin pie spice
1/2 cup brown sugar
2 large eggs
1 cup pumpkin puree
1/2 cup melted coconut oil
1/3 cup milk
1 tsp. vanilla extract
Cheesecake Filling
6 ounces cream cheese, softened to room temperature
1 egg yolk
1 tsp. vanilla extract
3 Tablespoons granulated sugar
Instructions
Preheat oven to 425F degrees.
Line a 12 hole muffin tin with liners or oil. Set aside.
Crumb-topping:
Add the brown sugar, flour, and cinnamon to a small bowl and mix until combined.
Add the melted coconut oil and mix until crumbs form.
Set aside the topping until needed
Pumpkin muffins:
In a large bowl, whisk together the flour, baking powder, baking soda, salt, cinnamon and pumpkin pie spice until combined.
In a medium bowl, whisk the brown sugar and eggs together until combined.
Whisk the pumpkin, oil, milk, and vanilla into the sugar/egg mixture.
Pour the wet ingredients into the dry ingredients and stir until just combined. Set aside.
Cheesecake filling:
In a medium bowl, beat the softened cream cheese with an electric handheld (or stand) mixer on medium-high speed until creamy.
Add the egg yolk, vanilla extract, and sugar. Beat until combined.
Assembly
Layer the muffin batter onto the bottom of the muffin cup (I used a teaspoon).
Alternate the pumpkin batter layers with the cream cheese mixture until cups are full.( I took a toothpick and 'encouraged' the batter a bit to close any gaps). The muffin cups will be almost full.
Heavily sprinkle the topping onto the muffins. This topping is crumbly so expect some crumbles on the muffin pan.
Baking Instructions:
Bake the muffins for 5 minutes at 425 F degrees.
Keeping the muffins in the oven, lower the temperature down to 350F and bake for an additional 15 minutes or until a toothpick inserted in the center comes out clean.
Cool for 10 minutes in the muffin tin, then transfer to a wire rack to cool until ready to eat.
Nutrition Information
Yield
12
Serving Size
1
Amount Per Serving
Calories

386
Total Fat

23g
Saturated Fat

15g
Trans Fat

0g
Unsaturated Fat

5g
Cholesterol

61mg
Sodium

330mg
Carbohydrates

40g
Fiber

3g
Sugar

17g
Protein

6g