This old Fashioned Pineapple muffin recipe is a Vintage recipe. I updated this gem with a coconut oil twist. This muffin recipe makes moist slightly sweet muffins with a pineapple burst in every bite.
Pineapple muffins are easy to make and always a delicious treat. Make these muffins with a few simple ingredients and some crushed pineapple. These muffins are moist and flavorful with sweet bursts of pineapple in every bite.
Pineapple muffins are always a big hit and they get eaten up very quickly. These muffins are great for breakfast or a sweet snack during the day. Serve them warm with melted butter for a decadent treat.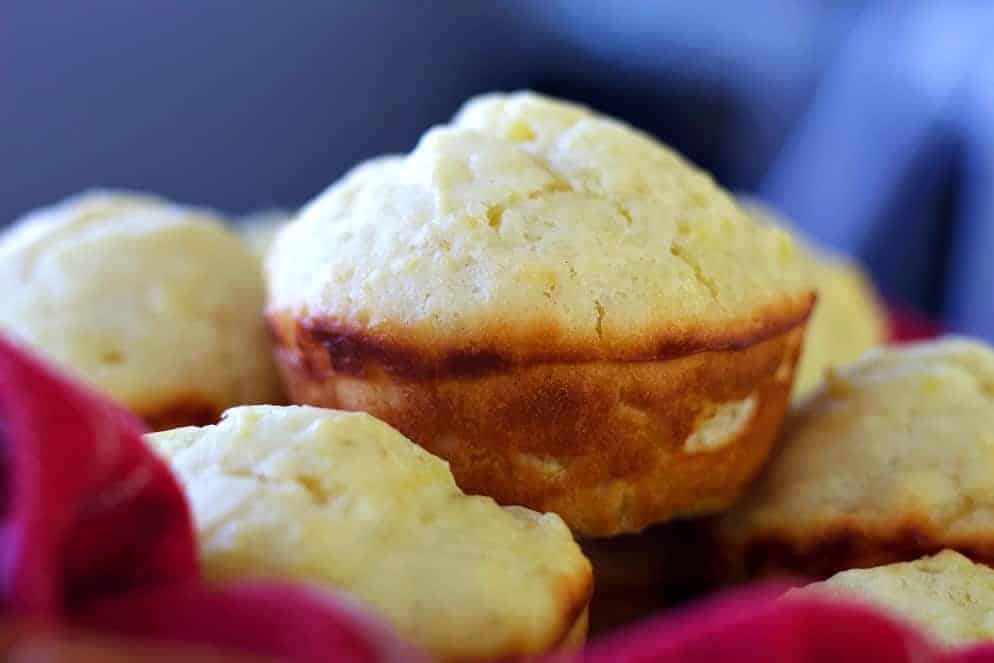 Old Fashioned Pineapple muffins are quick and easy to make. Pineapple muffins compliment many meals and make a great snack or breakfast.
This pineapple muffin recipe is an adaptation. I found the original recipe in my Great grandma Anderle's American Woman's Cookbook published in 1947.
This book will teach you LOTS of stuff. Like how to cook game meats, make sweetbreads, and bake lots of yummy recipes. In the old ways.
Watch Kayti Make Old Fashioned Pineapple Muffin Recipe:
More Delicious Muffins:
Is fresh or canned pineapple better for muffins?
Crushed canned pineapple is preferred for this muffin recipe. the crushed pineapples are smaller and more tender than fresh cut pineapple. The crushed pineapple smoothly incorporates into the batter leaving small juicy pieces in the muffins.
If you don't have crushed pineapple on hand, you can make your own using fresh pineapple and a blender. Simply rough chop the fresh pineapple and add it to a blender. Put the blender on the chop setting and chop for 30 seconds until the pieces are small.
What does baking with Greek Yogurt in muffins do?
Greek yogurt is a great addition in muffins. The greek yogurt helps baked goods stay properly moist throughout the baking process. Greek yogurt can also add a hint of tanginess into the muffins. The combination of sweet and tangy is perfect for the pineapple muffins.
Greek yogurt is a common substitute for sour cream in baking. It has nearly the same consistency and tangy taste as sour cream.
Coconut Oil in Muffins
The coconut oil serves as a fat substitute. In this recipe we replaced the shortening with healthier coconut oil. This oil can also be used to replace vegetable oil or butter in baking recipes. Coconut oil has a very high smoke point and can also be used to grease the muffin tins.
If you don't have coconut oil on hand, you can substitute the oil with some unsalted butter. Just make sure the butter is melted before it is added into the batter.
How do I make fluffy muffins?
Muffins can be made fluffy and light by using room temperature dairy ingredients, and carefully mixing the ingredients. Room temperature dairy products will mix easier into the batter. They also trap air while baking which helps the batter rise and not condense.
Another way to make fluffy muffins is to not over mix the batter. Don't be tempted to set the mixer on and leave it. Carefully mix the ingredients until they are just incorporated. Over mixing ingredients in muffins can cause the air pockets to fall, leaving you with a dense muffin.
Old Fashioned Pineapple Muffins Recipe:
These homemade muffins reflect the era they were made in. I adapted this recipe to replace the milk with fresh Greek yogurt. The shortening is replaced with coconut oil in this recipe.
This version is more moist, tender and flavorful. Perfect with butter and jam for breakfast or dinner.
TIPS:
Oil your muffin tins. Cupcake liners are NOT recommended for these muffins. They will pop right out of a well oiled muffin tin once baked.
Mix until all the ingredients are Just moistened and combined. Overmixing will cause these muffin to be dense.
Baking time is about 15 minutes to 20 minutes. It depends on how full your muffin tins are and how hot your oven is. Bake until a toothpick inserted into the center of the muffins comes out clean.
Freezing Pineapple Muffins:
These muffins Freeze great in ziplock Freezer bags with as much air sucked out as you can. The main thing is keep air off them so they don't dry out in the freezer.
Label and date the bag.
Stores well in freezer at least 2 months.
If you purchase Items from our Affiliate Links we may receive a small commission at no extra charge to you. Thank you for supporting Homemade Food Junkie.
Your Printable Recipe Card: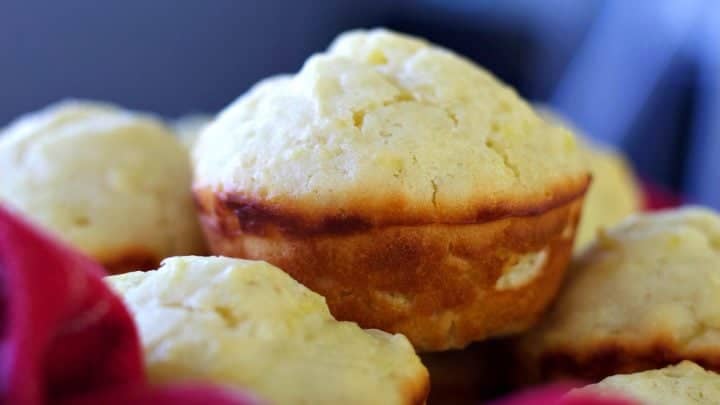 Yield:

18 muffins
Old Fashioned Pineapple Muffins
This Vintage recipe with a modern coconut oil twist makes moist, slightly sweet muffins with a pineapple burst in every bite! Old Fashioned Pineapple muffins are quick and easy to make. Pineapple muffins compliment many meals and make a great snack or breakfast!
Ingredients
2-1/2 Cups sifted all purpose flour
1/2 tsp. salt
1/3 Cup Sugar
4 Tsp. baking powder
1 Cup nonfat greek yogurt
1 egg
1/3 cup coconut oil-melted
1-20 oz. can crushed pineapple
Instructions
Preheat oven to 400 degrees F.
Grease muffin tins
Sift flour, salt, sugar and baking powder together in a large bowl. In a separate, medium bowl combine the remaining ingredients, and then add them quickly to the dry.
Stir just enough to dampen the ingredients.
Pour into greased muffins tins(DO NOT USE CUPCAKE LINERS!)
Bake for 15 to 20 minutes or until toothpick comes out clean
Cool on a cooling rack
Serve warm with butter or pineapple jam
Recommended Products
As an Amazon Associate and member of other affiliate programs, I earn from qualifying purchases.
Nutrition Information
Yield
18
Serving Size
1
Amount Per Serving
Calories

147
Total Fat

4g
Saturated Fat

3g
Trans Fat

0g
Unsaturated Fat

1g
Cholesterol

11mg
Sodium

182mg
Carbohydrates

24g
Fiber

1g
Sugar

10g
Protein

3g
Follow Us:
We enjoy meeting you on our social networks. Follow us on Facebook, Pinterest, Instagram . Tag us with your pictures of our recipes and comment on how it went for you. We would love to see what you do with them.
We often like, comment and share your posts of our recipes on our daily Instagram stories.
Ask questions and rate the recipe in the comments section below. Please share what you did with this recipe. We are always looking for more and better ways to make homemade food. Other cooks love your ideas!
Recent Posts: