lemon blueberry muffins are soft, sweet and moist. Add them to your list of favorite lunch box recipes for kids or grown ups. These also make a yummy grab n go breakfast, anytime snack food or quick dessert.
And Who doesn't love a good muffin? They are so easy to eat and simple to whip up. Set them out on a tray and watch them disappear. They are easy to serve and don't create a lot of mess.
Blueberry muffins are America's very favorite muffin. There are over 110,000 google search for blueberry muffins every MONTH. That's a LOT of folks looking for blueberry muffins.
And why not? Blueberries are absolutely delicious and very healthy for you. Muffins are an easy way to deliver that yummy goodness to your family. Muffins like these will be gobbled up by your family.
Even picky eaters go for these. There is just enough lemon in them to give a bit of a fresh zing. Even kids love the lemon with blueberry combination.
More Recipes with Lemon and Blueberry:
Lemon and blueberry are perfect flavor partners. You can find more recipe using this combination below.
Lemon blueberry Muffin Recipe:
This is a quick and easy blueberry muffin recipe. In less than an hour you can have cooled muffins to serve your family.
Preparing the Blueberries:
Using Fresh or Frozen blueberries:
The biggest difference between using fresh and frozen blueberries is how they look when finished. The blueberry muffin with flax and coconut oil pictured below has fresh blueberries.
You can see they don't bleed blueberry juice into the muffin dough. The flavor is pretty much the same but the texture is a bit different.
The berries give a more distinct presence in the muffin since they have not been broken down by freezing.
Our lemon blueberry muffins using frozen blueberries has a slight purple swirl through the muffin.
As you can see both Fresh and frozen berries are excellent for blueberry muffins. Use what you have on hand.
Blueberry Preparation:
Here how to prepare your blueberries (either fresh or frozen) for this recipe. Our video has a complete recipe demonstration for you.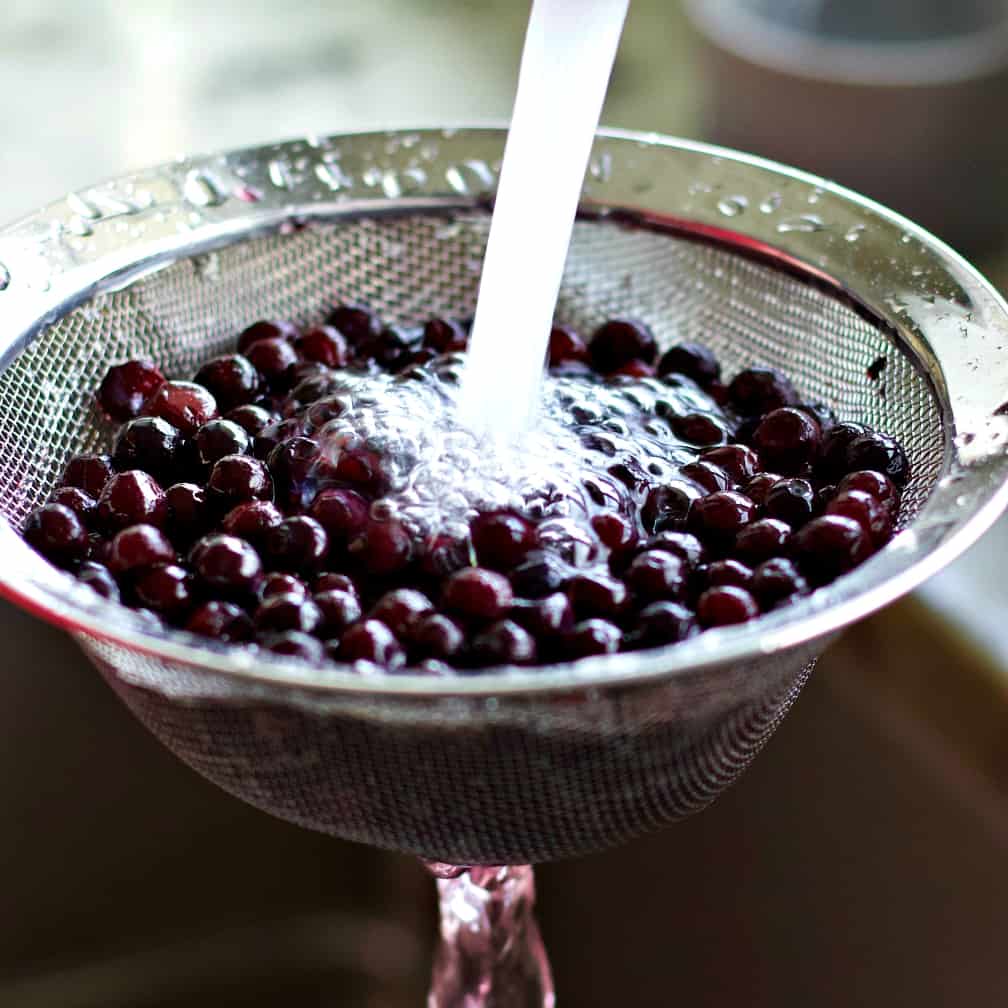 Making Lemon Blueberry Muffins
Here's a quick visual guide of the mixing and baking process for this recipe. Please also watch our video for a complete recipe demonstration.
Once cooled enjoy these muffins just plain or follow our suggestions linked below for more interesting ways to change up this muffin recipe.
Variations and Substitutions:
Bring your own ideas. This basic lemon blueberry muffin recipe from scratch lends itself to creative adjustments. Vary the sweetness or use substitutions. Add more lemon zing or moderate the lemon flavor with less lemon zest.
We here at Homemade Food Junkie fully appreciate your individual preferences. Here are a few ideas to make this basic lemon blueberry muffin recipe your own.
Variations and Toppings:
Adjust the lemon zest to increase or decrease the lemon flavor.
After cooling the muffins. Add a lemon glaze like the one we use in our Iced Lemon bread recipe.
Add a cream cheese icing as we did in our blueberry muffins with flax recipe.
Substitutions:
When you are out of an ingredient try one of these substitutions.
substitute greek yogurt one to one for sour cream.
Substitute ground flax meal for the eggs (This will make a denser muffin with more fiber). Use one Tablespoon of ground flax meal to three tablespoons of water for each egg.
Substitute avocado oil or softened coconut oil one to one for butter.
Freezing Muffins:
Make a double batch and freeze these lemon blueberry muffins. They are so easy to grab right out of the freezer to add to the lunch box. Properly frozen these muffins will stay delicious when defrosted for up to two months.
How to Freeze Muffins:
Cool muffins completely after baking
Put the muffins in an airtight freezer container, label and freeze
OR double wrap the muffins with plastic grocery store bags. Just suck out the air and twist the first bag tight. Then wrap the second bag around the first and freeze.
I reuse plastic grocery bags all the time in my freezer for baked goods. they hold fine for up to a month. For longer freezer storage use approved freezer bags or containers.
Your Printable Recipe Card:
Yield:

18 muffins
Lemon Blueberry Muffin Recipe
Lemon blueberry muffins are soft, sweet and moist. A favorite lunch box recipe for kids or grown ups. These also make a yummy grab n go breakfast, snack food or quick and easy dessert.
Ingredients
2 Cups all-purpose flour (Plus three tablespoons of flour for coating blueberries)
2 tsp. baking powder
3/4 tsp. sea salt
2 Cups fresh blueberries-rinsed and dried
1/2 Cup butter- softened
1 Cup granulated sugar
1 1/2 tsp. pure vanilla extract
1 tablespoon lemon juice, freshly squeezed
1 large lemon
2 large eggs-room temperature
1/4 Cup sour cream
1/4 Cup whole milk
6 tsp. white sanding sugar crystals
Instructions
Preheat oven to 375 degrees F.
Mix the dry ingredients in a medium mixing bowl and set aside.
Wash the blueberries and drain them.
Spread the blueberries on a paper towel. Pat dry.
Pour the dried blueberries into a bowl and pour in the three Tablespoons of flour. Gently coat the berries. Set aside.
In a stand mixer or with an electric hand held mixer-Cream together the sugar and butter in a large mixing bowl.
Zest the lemon rind and add it to the batter. (see video)
Squeeze half of the lemon juice into the batter. (see video)
Crack eggs into batter and mix.
Pour in the dry ingredients in small batches mix until well combined.
Add sour cream and vanilla and mix.
Pour in the milk and blend all the ingredients (except blueberries together until the batter is thoroughly blended.
Fold blueberries in gently BY HAND with a spatula. Line muffin cups with paper liners or oil muffin cups.
Drop the batter evenly into each muffin cup. (an ice cream scoop works well.) Fill each muffin cup 3/4 full.
Sprinkle the sanding sugar over the muffin tops as desired.
Bake 25 minutes or until a toothpick inserted into the center of the muffins comes out clean.
Remove from oven and set the muffins on cooling racks until room temperature.
Nutrition Information
Yield
18
Serving Size
1 muffin
Amount Per Serving
Calories

171
Total Fat

7g
Saturated Fat

4g
Trans Fat

0g
Unsaturated Fat

2g
Cholesterol

36mg
Sodium

203mg
Carbohydrates

26g
Fiber

1g
Sugar

15g
Protein

3g
We love your input on all of our posts and recipes. And we enjoy seeing your work. Comment below and Tag us on instagram @homemadefoodjunkie with pictures of your finished muffins.
Recipe Source: Confetti and Bliss