Blueberry Lemon Chia Seed Bundt Cake is a very tasty combination of blueberries and fresh lemons. Lemons in the cake and the glaze compliment the sweet pops of blueberries.
Together with a bit of chia seed crunch this is a delicious tangy sweet summer dessert recipe. Perfect for a large event. Since Lemons are in season this is a great Easter dessert Recipe.
This is a pretty bundt cake with outstanding flavor. My family went nuts for this one! I used organic sugar and Chia seeds in this recipe for extra nutrition and fiber!
I really like the Chia seeds in this recipe. Bundt cakes are an easy way to make a lovely dessert with little fuss. This recipe is a good one!
My Favorite Bundt Cakes:
My Chocolate Zucchini Cake is a summertime standby we all love. The Lovely Lemon Rose cake is an excellent Spring dessert and truly beautiful. Yet, This time I wanted an easy bundt with blueberries to jazz it up.
The Major Ingredients in this Bundt Cake Recipe:
Chia Seeds:
This recipe was a bit of a risk for me. I haven't tried baking Chia seeds into cakes before.
Chia is great baked into granola. So why not cake?
And It worked! Everyone thought they were poppy seeds. The tiny bits of crunch added a nice element to the cake. Chia seeds get stuck in your teeth exactly the same as poppy seeds too 🙂
I'm not calling this health food. But it IS real food. No cake mix chemicals here. Just regular kitchen cupboard ingredients.
I know you all have Chia seeds for your morning smoothies by now. 🙂
The Fruits:
Lemon blueberry bundt cakes are a very pleasing combination of citrus and berries. The good news is the blueberries and lemons make a great cake even though they are fresh in different seasons.
Blueberries are the anti-inflammatory poster child for superfood fruits. Fresh Blueberries retain all their nutrients in the freezer too. And they interchange perfectly fresh or frozen in recipes.
If you are home freezing blueberries make sure they are frozen on a baking sheet dry before bagging them.
Blueberries can go directly into the recipes without draining, as soon as they thaw out. So they become a perfect partner for in-season lemons.
Lemons are best used fresh for a lemon bundt cake recipe. Make this lemon cake in the winter or spring when they are freshest. Or you might have to resort to bottled lemon juice.
Blueberry Lemon Chia Seed Bundt Cake Recipe:
Bundt Cake Recipe Tips:
If you want to make your cake so It looks like what you see pictured here you need this bundt cake pan.Or one in a similar style. The glaze will easily run down the sides in nice even runs and everyone will think your a pro.
The Bundt Cake Pan should be non stick for best results. If your pan is NOT non stick, oil it really good. You need the cake to release from the pan easily so it looks amazing.
A properly baked bundt cake will usually fall out of the pan with no sticking. I have never had a disaster. Just make sure you oil the pan well, bake the cake completely until a toothpick inserted in the middle comes out clean.
Let it cool in the pan about five minutes to set up after baking.
Turn the pan upside down on a cooling rack and let the cake cool to room temperature.
This is an easy bundt cake recipe. The trickiest part is getting the glaze right. You need to adjust your glaze so it pours well but does not soak into the cake. You want it evenly poured in one pass to make the beautiful outcome you see pictured here.
Blueberry Lemon Chia Seed Bundt Cake glazing is easy.
Pouring on the Glaze:
TIPS:
Start on the ridge top and slowly pour in a circle until the circle is completed. We did two circles.
You MUST Pour on the glaze all at once. If you let it harden and then pour on more, you will have unsightly runs in the glaze.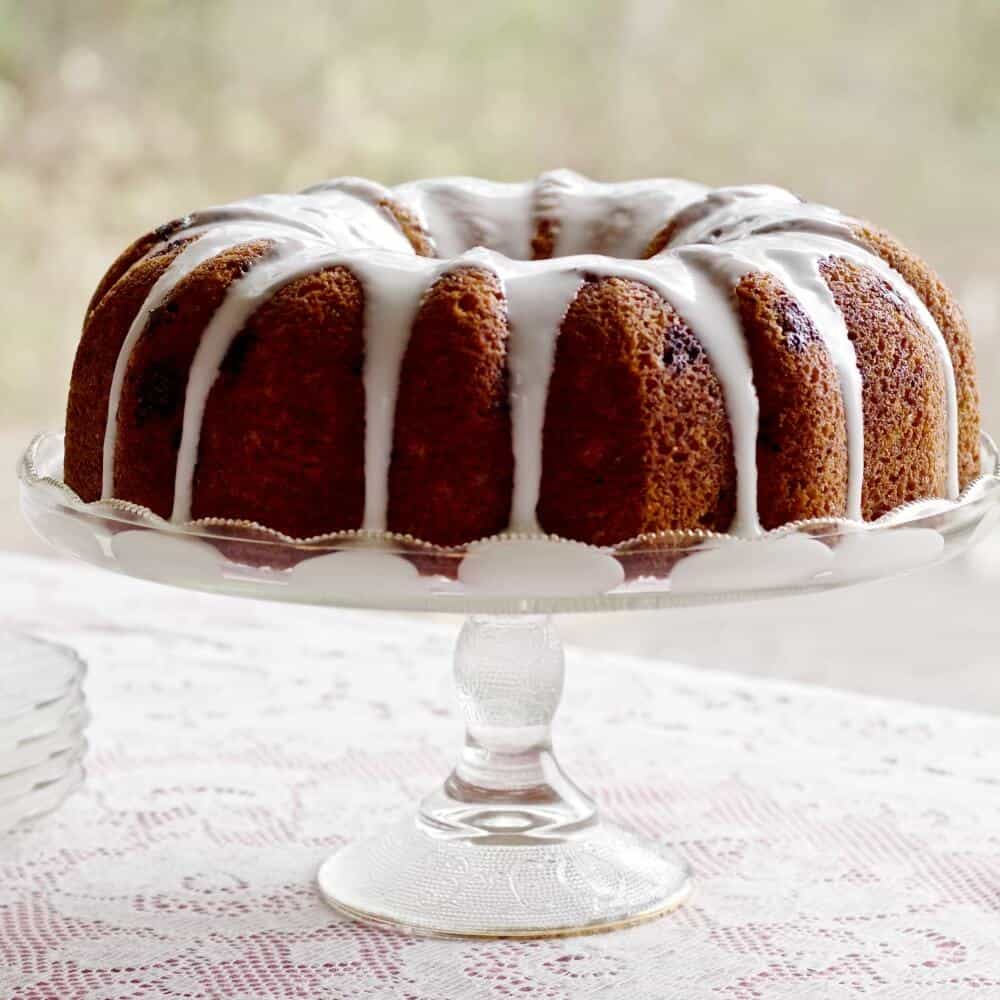 We belong to the Amazon Affiliate Program. This means if you make a purchase through our affiliate links we may receive a small commission at no extra charge to you. Thank you for supporting Homemade Food Junkie.
Your Printable Recipe Card:
Yield:

20 slices
Blueberry Lemon Chia Seed Bundt Cake
Total Time:
1 hour
5 minutes
Blueberry Lemon Chia Seed Bundt Cake is a very tasty combination of blueberries and fresh lemons. Lemons in the cake and the glaze compliment the sweet pops of blueberries
Ingredients
1-3/4 cups granulated sugar
3/4 cup coconut oil, softened
4 large eggs
3 Cups all-purpose flour
1 tablespoon baking powder
1 tablespoon Chia seeds
1/2 teaspoon baking soda
1-1/2 cups fresh blueberries
3/4 cup buttermilk
1/3 cup fresh lemon juice (about 2 lemons)
1 teaspoon vanilla extract
1 teaspoon almond extract
Powdered Sugar Glaze:
1-1/2 cup powdered sugar
1 tablespoon buttermilk
1 tablespoon fresh lemon juice
Instructions
Preheat the oven to 350°.
Grease a 12-cup Bundt pan with coconut oil
Combine organic granulated sugar and coconut oil in a large bowl.
Beat with a mixer at medium speed until smooth and airy.
Add eggs, one at a time, beating well after each addition.
lightly spoon flour (do NOT compress flour!) into dry measuring cups, level with a knife.
Sift together flour and next 3 ingredients, stir with a whisk.
Gently fold blueberries into flour mixture.
Combine 3/4 cup buttermilk, 1/3 cup strained fresh lemon juice, and extracts.
Add flour mixture and buttermilk mixture alternately to sugar mixture, beginning and ending with flour
Blend.
Pour batter into prepared pan.
Bake at 350° for 45 minutes or until a wooden pick inserted in center comes out clean.
Cool pan on a wire rack 10 minutes. Remove cake from pan; cool on rack.
For the Glaze:
To prepare glaze, place powdered sugar in a small bowl; add 1 tablespoon buttermilk and 1 tablespoon juice, stirring with a whisk until combined.
Pour glaze over warm cake; cool completely. Glaze will set and harden after the cake cools.
Notes
This cake stores well at room temperature for several days if covered.
Nutrition Information
Yield
20
Serving Size
1
Amount Per Serving
Calories

271
Total Fat

10g
Saturated Fat

7g
Trans Fat

0g
Unsaturated Fat

2g
Cholesterol

38mg
Sodium

139mg
Carbohydrates

43g
Fiber

1g
Sugar

27g
Protein

4g
Pin it: