Berries and buttermilk are a classic combination that have been enjoyed for generations. In this article, we will be showcasing a delicious berry buttermilk ice cream recipe that is easy to make, healthy, and perfect for any occasion. With juicy, sweet berries and tangy, creamy buttermilk, this recipe is a balance of flavors that will delight your taste buds.
Whether you are looking for a quick and easy breakfast option, a midday snack, or a light dessert, this berry buttermilk recipe is sure to please and decently healthy. So, get ready to whip up this delicious treat and savor the flavors of summer all year round!
Infused with rich maple and brown sugar flavor, this creamy textured Berry Buttermilk Ice Cream no eggs recipe contains no white sugar either. This recipe is easy to make with no eggs or custard making required.
This scrumptious homemade buttermilk ice cream base can be used with other add ins as well.. Whisk the few ingredients, and pour it in your freezer bowl. Soft set in less than 1/2 hour!
Ice cream finds its way into our freezer quite often, now that I make my own ice cream recipes. About a year ago I started experimenting with ice cream recipes. I have yet to have a fail. BUT creamy homemade ice cream that doesn't go all hard and icy is a challenge.
Why is Buttermilk Used in Ice Cream?
Buttermilk is often used in ice cream for its tangy flavor and creamy texture. The acidity in buttermilk helps to balance the sweetness of the ice cream, giving it a well-rounded taste. Additionally, the lactose in buttermilk helps to keep the ice cream smooth and creamy, preventing it from becoming icy.
Furthermore, buttermilk contains protein and fat which both contribute to the richness and body of the ice cream. Overall, buttermilk is a versatile ingredient that can add a unique flavor and texture to ice cream, making it a popular choice among ice cream makers.
Can I use Buttermilk Instead of Heavy Cream for Ice Cream?
Yes, buttermilk can be used as a substitute for heavy cream in some ice cream recipes. However, it will result in a different flavor and texture than traditional ice cream made with heavy cream. Buttermilk is tangy and has a lower fat content than heavy cream, so it will result in a lighter, less rich ice cream.
Can you substitute buttermilk for whole milk in ice cream?
The acidity in buttermilk can cause the ice cream to freeze harder than it would with heavy cream. If you're looking to use buttermilk as a substitute, it's best to use an ice cream recipe specifically designed for buttermilk or to experiment with the proportions and add-ins to find the desired outcome.
What can I use instead of buttermilk in ice cream?
If you don't have buttermilk, there are several substitutes you can use in ice cream recipes, including:
Yogurt: Yogurt has a similar tangy flavor and creamy texture to buttermilk, making it a good substitute.
Sour cream: Sour cream is another option that can add a similar tanginess to the ice cream.
Lemon juice or vinegar: If you don't have any dairy products on hand, you can add a small amount of lemon juice or vinegar to milk to create a similar tanginess to buttermilk.
Milk: If you simply want to reduce the tanginess, you can use plain milk as a substitute for buttermilk in your ice cream recipe.
Each of these substitutes will result in a slightly different flavor and texture, so it's best to experiment and find the option that works best for you.
Over the last year of studying on ice cream I have picked up a few tricks. Today's recipe for Berry Buttermilk requires no custard to make it Creamy, and EASY. The creamy texture of this Berry Buttermilk Ice Cream comes from the maple syrup, brown sugar and heavy fat content. Sugars and fats won't freeze so they make creamier ice cream. Look for a full fat probiotic buttermilk, if you can find one. Everyone needs probiotics.
Along with this highly probiotic buttermilk; I decided to try a no white sugar recipe. So I'm using brown sugar and maple syrup for sweeteners. They add a maple flavor to the ice cream that I love!!
We enjoy ice cream all year-long. My little churn works it's heart out in even the deepest winter months. I made a lovely Mid Winter Cherry Peach Maple Ice Cream last winter.
I do have to say Hot summer weather and frozen, melty, sticky sweet creaminess are particularly popular here. Especially with berries and fruit from our garden. Our blueberries, raspberries and blackberries are still green.
The berries you see here are an organic frozen three berry blend. They worked really well in this recipe. Later in the summer I'll use our fresh garden berries. But the frozen berries worked great.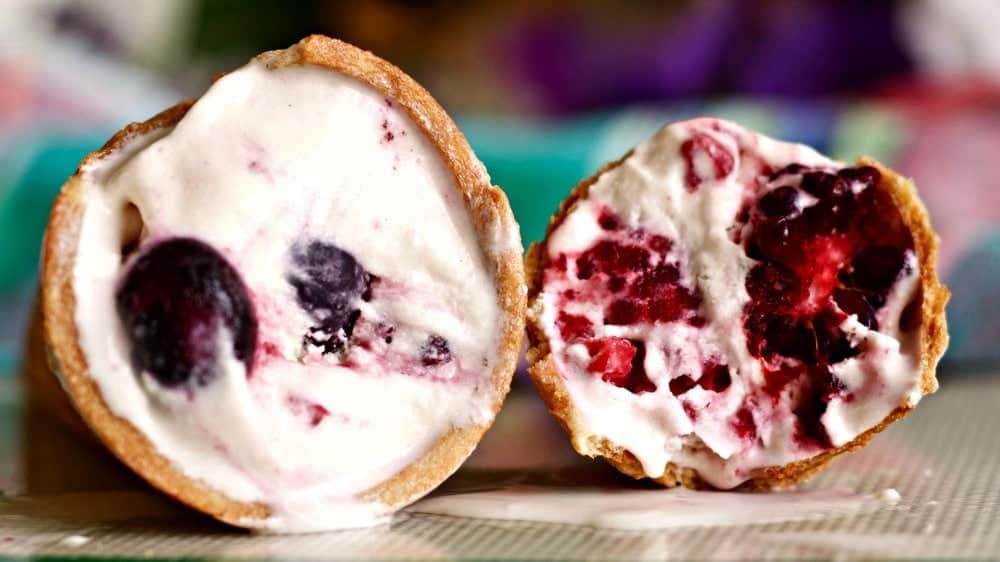 I have had SO many people try this recipe out. I actually made this twice because we loved it and I wanted a lot of feedback on it. The buttermilk is enough of a flavor change to get some extra feedback on it. Then, I used maple syrup and brown sugar together with berries!
I made with fewer berries the second time to let the ice cream flavor shine. Our Montana Family of five visited and loved this ice cream. I'll be playing with other buttermilk ice cream recipes soon! And I'm thinking about Kefir ice cream too! Got to try it!
I'm making ice cream in my handy-dandy Cuisinart Ice Cream maker If you need an ice cream churn, and who doesn't? This is a good one.
Berry Buttermilk Ice Cream Recipe:
Pretty simple recipe here. Here's the tips:
The berries are not sweetened. Use very ripe, sweet berries or you will taste the extra berry tang.
If you use frozen berries, which I did this time, the ice cream will set up very fast.
Wait until the ice cream is about five minutes from done and then add the berries.
The berries will stay more intact, if you are using fresh berries; if they are added at the end. And the frozen berries will be easier to distribute through the ice cream in the last five minutes, when the ice cream has some body to it.
Be careful not to add the berries (fresh OR frozen) too fast or they will clump and squish.Just add a few berries at a time as the churn goes around. That will get them evenly distributed.
I use a kitchen knife to push the frozen berries into the ice cream maker so they get swirled clear to the bottom of the churn. They tend to stay at the top if the ice cream is firming up fast. Fresh berries should churn without help.
Yield:

8 servings
Berry Buttermilk Ice Cream
Infused with rich maple and brown sugar flavor, this creamy textured Berry Buttermilk Ice Cream contains no white sugar. This recipe is easy to make! No eggs or custard making required for this scrumptious homemade ice cream.
Ingredients
1 1/2 Cups heavy cream
1 1/4 Cup full fat buttermilk
1/4 Cup maple syrup
3/4 Cup brown sugar
1 1/2 Cup frozen berries
Instructions
Whisk all the ingredient together, except the berries
Pour the mixture into your ice cream maker and churn until almost soft set, about 15 minutes
Add the berries and churn until the ice cream is thoroughly blended with the berries and frozen to soft set
Serve immediately or store in the freezer in an airtight container
Nutrition Information
Yield
8
Serving Size
1
Amount Per Serving
Calories

279
Total Fat

17g
Saturated Fat

11g
Trans Fat

1g
Unsaturated Fat

5g
Cholesterol

55mg
Sodium

59mg
Carbohydrates

30g
Fiber

1g
Sugar

28g
Protein

3g
More Homemade Ice Cream Recipes:
Follow Us:
We enjoy meeting you on our social networks. Follow us on Facebook, Pinterest, Instagram . Tag us with your pictures of our recipes and comment on how it went for you. We would love to see what you do with them.
We often like, comment and share your posts of our recipes on our daily Instagram stories.
Ask questions and rate the recipe in the comments section below. Please share what you did with this recipe. We are always looking for more and better ways to make homemade food. Other cooks love your ideas!
Recent Posts:
PIN IT:
recipe adapted from Healthy Green Kitchen