Mid Winter Homemade Peach Ice Cream with cherries is made with canned peaches in lite syrup, dried sour cherries, and Pure Maple syrup.
This is a delectable indulgence made with pantry ingredients and fridge when no fruit is on the tree. A delicious homemade Gluten-​Free ice Cream
Peach Ice Cream in Winter:
Those peaches were such a treat in winter. I still love canned peaches for a taste of summer in dull, cold dreary days. They are so good with homemade Greek yogurt with a sprinkle of Homemade Granola on top.
I had my first truly excellent peach ice cream from the old food co-op I worked at eons ago. But it was So expensive I could afford it only rarely.
Bright frozen peach flavor in a creamy ice cream without extra chemicals. I wanted to make peach ice cream with canned peaches. Since its mid winter and not a fresh peach to be found.
This Homemade Peach Cherry Ice Cream is made with canned peaches (from Costco) in lite syrup and dried cherries. It turned out fabulous.
A frozen peach treat is a fresh, bright reminder of summer. Best of all you can make it straight from the pantry. No fresh tree fruits required.
I ADORE my Cuisinart Ice Cream maker!
I bought my Cuisinart Ice cream maker, last summer. Even then, winter was in my mind. Darkest winter with nothing fresh in the house.
More Ice Cream Recipes:
Make all of these delicious frozen treats with your electric ice cream maker.
I love homemade ice cream. It's WAY better than store bought in flavor. And not addicting (much).
My favorite ice cream brands are full of chemicals to make my tastebuds crave unnaturally. I finally had to give store bought ice creams up.
Homemade Ice Cream is easy to make and fun. You can make almost anything into ice cream and the flavors are excellent.
How to Make homemade Ice Cream with an Ice Cream Maker:
Homemade ice cream is so easy nowadays. An electric ice cream maker is very easy to use and takes very little time.
Just follow your instruction manual for your particular machine. Mine says push the on button. 🙂 Turn it off when the ice cream is done. Love that.
I had a few glitches inventing this recipe. Playing in food is not without its bumps and bruises.
Using an electric Ice Cream maker is SO easy… Except for this:
I forgot my electric ice cream churn takes only a one and a half quarts of ingredients to finish a two quart bowl of ice cream.
Ice cream churns whip the batter and fluff it up so it expands…. I didn't realize HOW MUCH it would go over the top.
I actually reaped about 1 1/2 quarts. The rest, (except what I spooned up in ecstatic dismay) was lost.
I made this ice cream recipe again and refigured the proportions to make sure my disaster could not happen to you and your 1 1/2 quart ice cream churn.
This recipe will now go right to the top of the churn but not over it's banks. I made sure of it.
Homemade Peach Ice Cream:
This ice cream has a lovely range of peachy cream flavor. Not too sweet. The maple syrup adds a bit of depth you won't get with sugar. And it's better for you.
Ingredients:
Peaches
Use canned peaches in a LITE syrup. The extra sweet of heavy syrup is unnecessary and will make a very sweet ice cream. If all you have is heavy syrup peaches reduce the maple syrup.
Cherries:
I added dried Montmorency cherries. The peaches, cream and maple syrup blend beautifully with the dried sour cherries.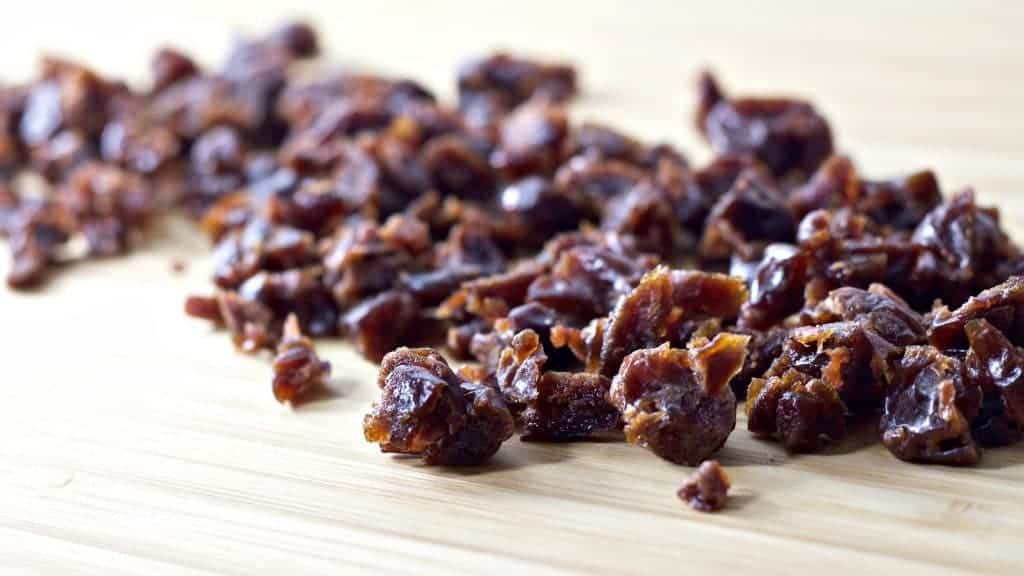 The sour cherries are the crowning touch in this recipe. They really bring out and enhance those yummy sweet creamy canned peaches.
Cherry Peach Ice Cream is so good. You can omit the dried cherries if you don't have them handy. But I hope you will make this recipe with the cherries. They are so good together.
Fresh Fruits in this Recipe:
Use Perfectly ripe fresh cherries and fresh peaches for best results.
TIP: DON'T use sour pie cherries. They are NOTHING like Montmorency dried cherries.
TIP: DON'T use under ripe fruits. You need the sweetness and juiciness only ripe fruits can give.
TIP: You may want to add a bit more maple syrup to taste since you are losing the lite syrup from canned peaches.
Frozen fruits:
If you have frozen cherries or peaches they will work in this recipe. Since they are frozen just add them straight out of the freezer bag into your ice cream mixer and mix until soft set.
However, if you have frozen juices with your fruits making a solid pack you will need to at least partially defrost the fruits so you can break or cut the fruits into small (1/2 inch) pieces.
Same applies to large slices of frozen peaches or whole cherries.
Large pieces of either cherries or peaches are not desired for ice cream. Keep the pieces of fruit to 1/2 inch or even smaller to 1/4 inch is better.
Your Printable Recipe Card:
Yield:

12 servings
Homemade Peach Ice Cream with Sour Cherries
Total Time:
2 hours
30 minutes
Homemade Peach Ice Cream with Sour Cherries is made with canned peaches in lite syrup and dried sour cherries with Pure Maple syrup. A delectable gluten free ice cream made from the pantry and fridge when no fruit is on the tree.
Ingredients
2/3 Cups Canned peach juice (lite syrup)
1 1/2 Cups peaches (chopped 1/2 inch or smaller pieces)
1/2 Cup chopped Montmorency dried sour cherries
1 Cup Heavy whipping cream
1 Cup half and half
1/3 Cup organic pure Maple Syrup
1 1/2 Tsp. pure vanilla extract
Instructions
Pour all the ingredients (except chopped peaches and cherries) into a 2 quart bowl and whisk until well blended.
Start your churn according to directions and pour in the ice cream batter
After churning 10 minutes Add the peaches and cherries slowly into the churn.
Churn until soft set about 10 more minutes.
Serve soft or transfer to airtight freezer containers and freeze several hours to preferred hardness.
Nutrition Information
Yield
12
Serving Size
1
Amount Per Serving
Calories

141
Total Fat

9g
Saturated Fat

6g
Trans Fat

0g
Unsaturated Fat

3g
Cholesterol

29mg
Sodium

20mg
Carbohydrates

13g
Fiber

1g
Sugar

11g
Protein

2g