Delicious Pastrami tortilla wraps are easy to make and present the perfect finger food for your next event or get together. Made with fine brisket pastrami, a simple mayo spread, Jarlsburg cheese, fresh greens and sauerkraut to build a rich flavor; all wrapped in a delicious flour tortilla. A marvelous combination of Satisfying flavors and textures. And so easy to eat.
When you're looking for ideas for wraps, this recipe is a wonderful option. Pastrami tortilla roll ups are excellent for your school and work lunchbox. These are easy to eat, and you can be make adjustments to the filling and spread as you like it.
Tortilla wraps are one recipe that you are going to want to add to your regular menu rotation. Pastrami lettuce wraps have a delicious, rich flavor that takes your standard wrap up a notch.
What is the Difference Between a Wrap and a Tortilla?
Both tortillas and wraps are a type of flatbread, and though they are similar, that is really the only shared commonality. Tortillas are made without the use of yeast meaning they are an unleavened flatbread. Tortillas are not made with any additional spices or seasonings. They are also much thinner than a standard wrap.
Wrap are most often made with yeast, and can contain spices and herbs, as well as honey and other sweeteners. Wraps are much thicker and sometimes larger than tortillas, which makes them a bit stronger and easier to cut. They are usually used for large burritos because they can fit a large quantity of fillings.
Are Tortilla Wraps Healthy?
Tortilla wraps can be a wonderfully healthy option depending on the ingredients used, and the quality of the tortilla. Choosing highly nutritious options for the filling is important, even the mayo can be much healthier if you make your own with Healthy oils and ingredients. Our homemade healthy Mayonnaise Recipe is excellent for soft tortilla wraps. You will cut out inflammatory oils and added fillers by making your own mayo spread from scratch, and the flavor is far superior which will deepen the flavor of your pastrami wraps.
Adding fresh greens or chopped veggies will give you vitamins, fiber, and delicious texture. Using different choices of meats will also affect the nutrition and calories of tortilla wraps. Chicken and turkey are the leanest options for meat based proteins, but using small amounts of richer meats will give more flavor.
Reaching for healthier tortillas, maybe a low carb option, will save on added fats and carbs which many find beneficial. You can even make your own tortillas, which cuts out low quality fillers, additives, and preservatives. We have two wonderful homemade tortilla recipes including our sourdough tortillas. Either of these would be outstanding to use for these pastrami wraps.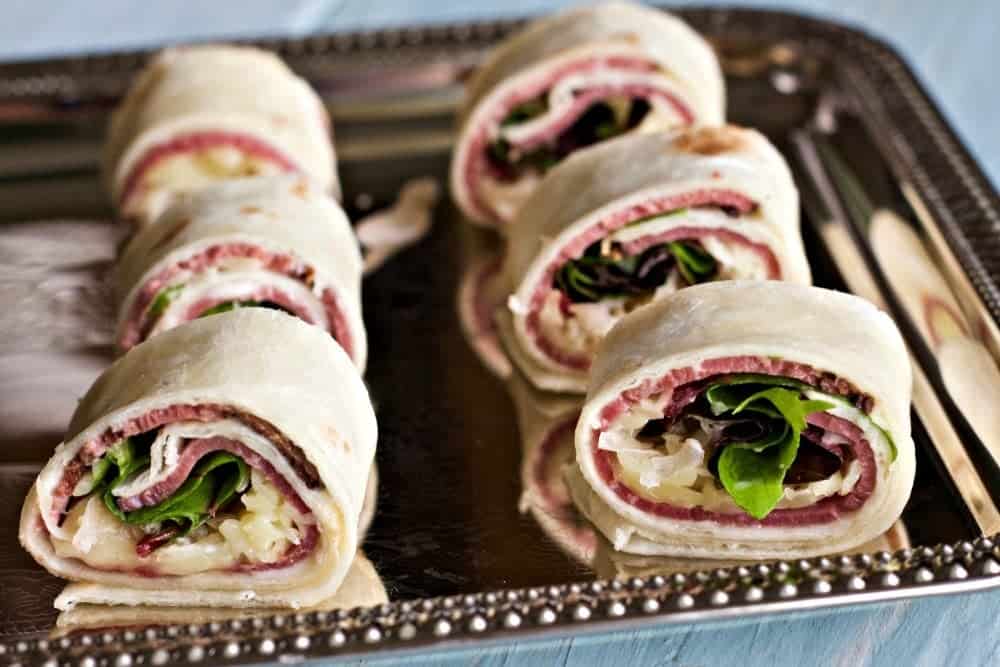 Do You Heat Tortillas For Wraps?
Tortilla wraps can be enjoyed either hot or cold making them an easy and very versatile appetizer that can be enjoyed in any setting. We love warming pastrami snacks because the meat is a form of brisket and it tastes amazing when it is warmed. The cheese will also melt and create a hot, melted brisket style wrap that is incredibly flavorful.
Other wraps that are made with cold cuts are better enjoyed cold, because the deli meats are not intended to be warmed. They are also usually made with sauces or spreads that need to stay cold, so you would not want to warm them and affect the flavor or texture.
Pastrami Pinwheels Recipe
The piquant flavor of the sauerkraut adds strength to the pastrami and Jarlsburg cheese blend. Together, these three unique flavors come together into a satisfying experience. Add the greens for color, nutrition and extra texture! Don't want to use mayo? Feel free to use your favorite spread for these pastrami wraps.
Lay the wrap flat
Spread with mayo base
Lay on the pastrami
Spread the shredded cheese and sauerkraut
Spread greens in a light layer on top
Roll the wrap
Microwave for about 20 seconds to just barely melt the cheese, or warm on a griddle and make a grilled pastrami wrap
Cut the wrap into 6 even pieces and serve
How To Roll Wraps:
For these tortilla wraps we use the Simple roll: This method is the most basic and quickest way to wrap a tortilla, suitable for smaller wraps with minimal fillings.
TIPS: Roll the tortilla tightly to prevent it from unraveling and to ensure that the fillings are securely enclosed. If you have a silicone mat, Roll on that as it will help the wrap grip for a tighter roll.
Start with the mayo. The mayonnaise will act as a glue to hole the tortilla together. So spread it evenly all over the wrap.
Place the fillings in the center of the tortilla. Be sure not to overfill the tortilla. We want a tight roll of even width from one end of the wrap to the other.
Roll up the tortilla tightly from one side to the other, creating a simple cylinder shape.
You can either leave the wraps whole or cut them like we did for finger food.
Serve immediately, or wrap them up and store in fridge several days (as long as the lettuce stays fresh).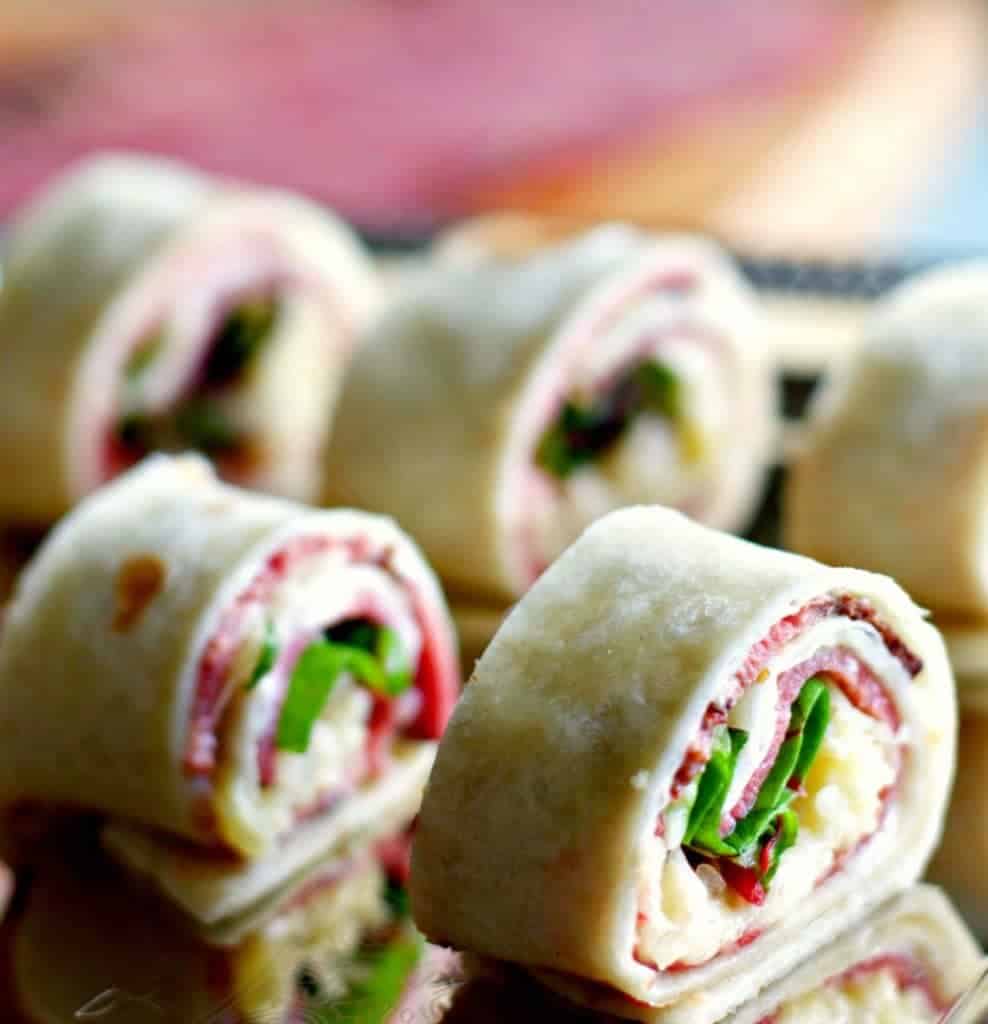 Can You Freeze These Wraps?
Yes, you can freeze these wraps filled.
Method for freezing These wraps:
Not all fillings, like lettuce and other greens, are suitable for freezing. They turn out soggy and limp when thawed. So for this recipe omit the greens if you plant to freeze the wraps.
Wrap tightly and individually: Once the wraps are assembled, do not cut them. Rather wrap them whole, tightly, in plastic wrap or aluminum foil. Make sure they are well-sealed to prevent freezer burn. It's a good idea to wrap each wrap individually to prevent them from sticking together.
Label and date: Label the wrapped wraps with the type of filling and the date of freezing so you can easily identify them later.
Store in the freezer: Place the wrapped wraps in an airtight container or a resealable freezer bag and store them in the freezer. It's best to consume the frozen wraps within 1-2 months for best quality.
Thaw in the refrigerator: When you're ready to pack the wraps for lunches, thaw them in the refrigerator overnight. Avoid thawing at room temperature, as this can lead to uneven thawing and potential food safety risks.
Cold pack for lunches: Once the wraps are fully thawed, you can cold pack them in a lunch box or cooler with ice packs to keep them chilled until lunchtime. Avoid packing them with other perishable items that may release moisture and make the wraps soggy.
Here is your printable recipe card
Delightfully flavorful Pastrami Wraps lunchbox, Snacks, Appetizer Recipe. This Low-​Carb, Low-​Sugar wrap is very tasty and easy peasy to make!
Ingredients
1 low carb tortilla
1 Deli Style Pastrami slice
1 Tablespoon Mayonnaise, or your favorite spread
1/4 Cup shredded Jarlsberg Swiss Cheese
1 Tablespoon sauerkraut
1/8 Cup baby greens
Instructions
Lay out the wrap
Spread the mayo to the edges of the wrap
lay the pastrami slice on the wrap (fold it if necessary)
spread the cheese evenly all over the pastrami in a thin layer
Drop sauerkraut in small amounts over the cheese
Add greens lightly to the top
Roll the wrap as tightly as you can.
Put in microwave for about 20 seconds. (Just long enough for the cheese to melt a tiny bit)
Lay the rolled wrap on a cutting board and cut into even sections.
Nutrition Information
Yield
6
Serving Size
1
Amount Per Serving
Calories

76
Total Fat

5g
Saturated Fat

2g
Trans Fat

0g
Unsaturated Fat

3g
Cholesterol

13mg
Sodium

141mg
Carbohydrates

3g
Fiber

1g
Sugar

0g
Protein

5g
More Delicious Wraps:
Follow Us:
We enjoy meeting you on our social networks. Follow us on Facebook, Pinterest, Instagram . Tag us with your pictures of our recipes and comment on how it went for you. We would love to see what you do with them.
We often like, comment and share your posts of our recipes on our daily Instagram stories.
Ask questions and rate the recipe in the comments section below. Please share what you did with this recipe. We are always looking for more and better ways to make homemade food. Other cooks love your ideas!
Recent Posts: