The crunchwrap supreme is a favorite indulgent menu item at Taco Bell. We prefer to make it at home where we can use the freshest ingredients.
This is a simple, delicious and versatile Mexican recipe that makes a nice filling lunch or dinner.
Your family will LOVE these homemade crunch wraps. Make them at home YOUR way.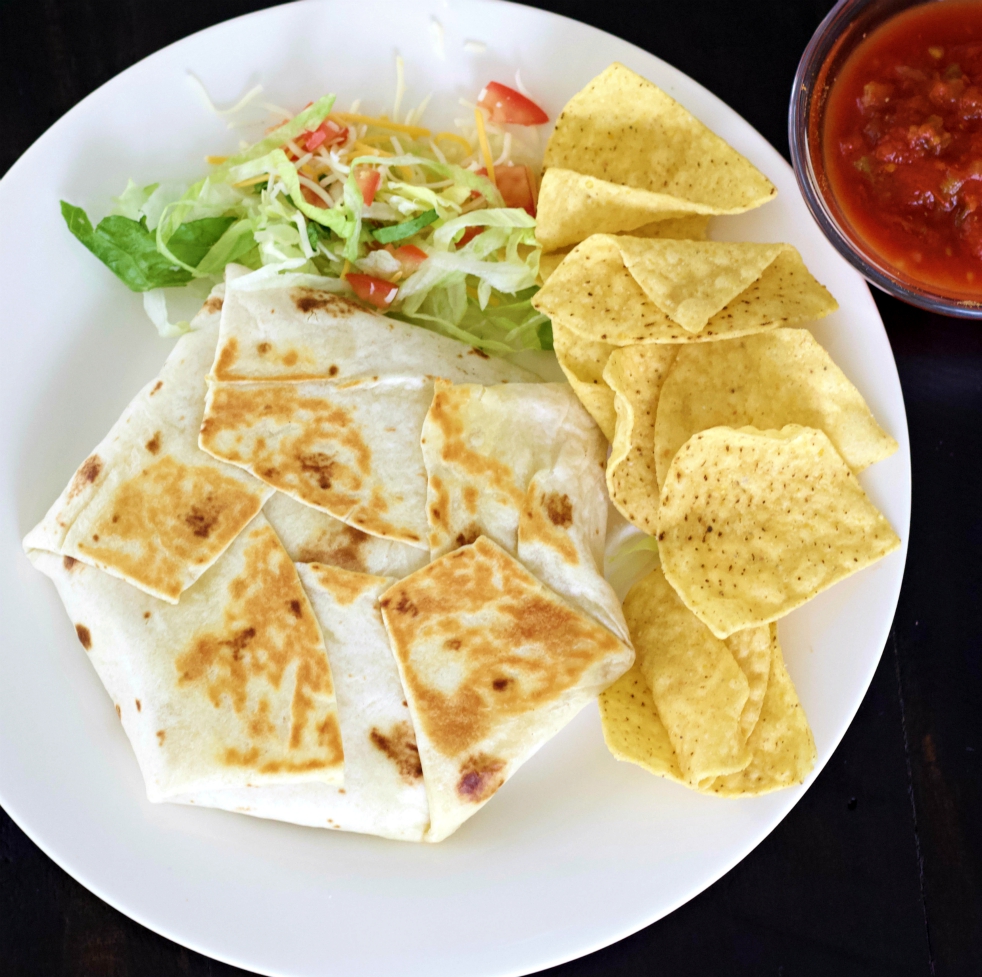 If you love Mexican cuisine you MUST try this Crunchwrap Supreme Recipe.
Getting bored with pizza night? Need a fun movie night or slumber party meal? The whole family will enjoy the satisfying crunchiness and delicious Mexican flavors.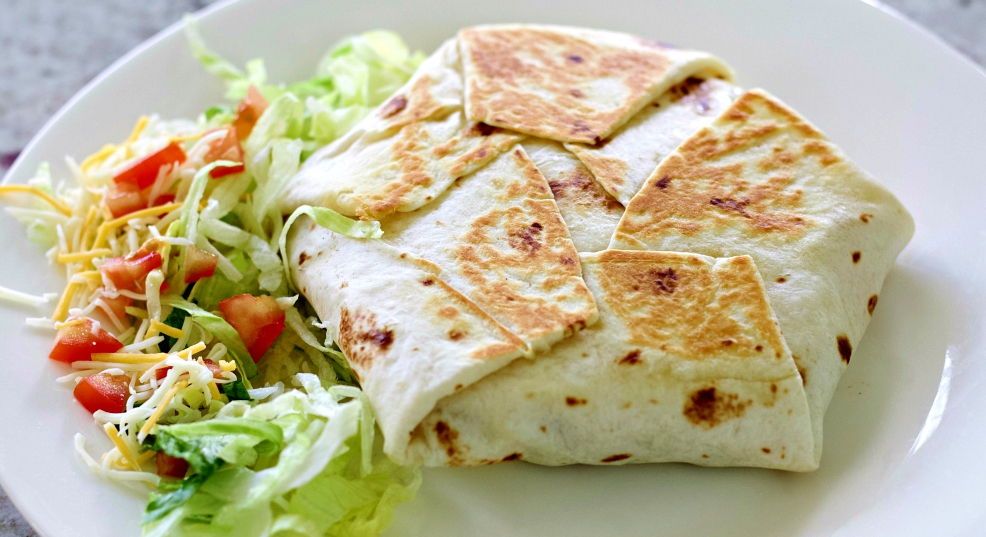 More Mexican Recipes:
More fun recipes to bring the Mexican vibe to your table.
How to Make a Crunchwrap Supreme: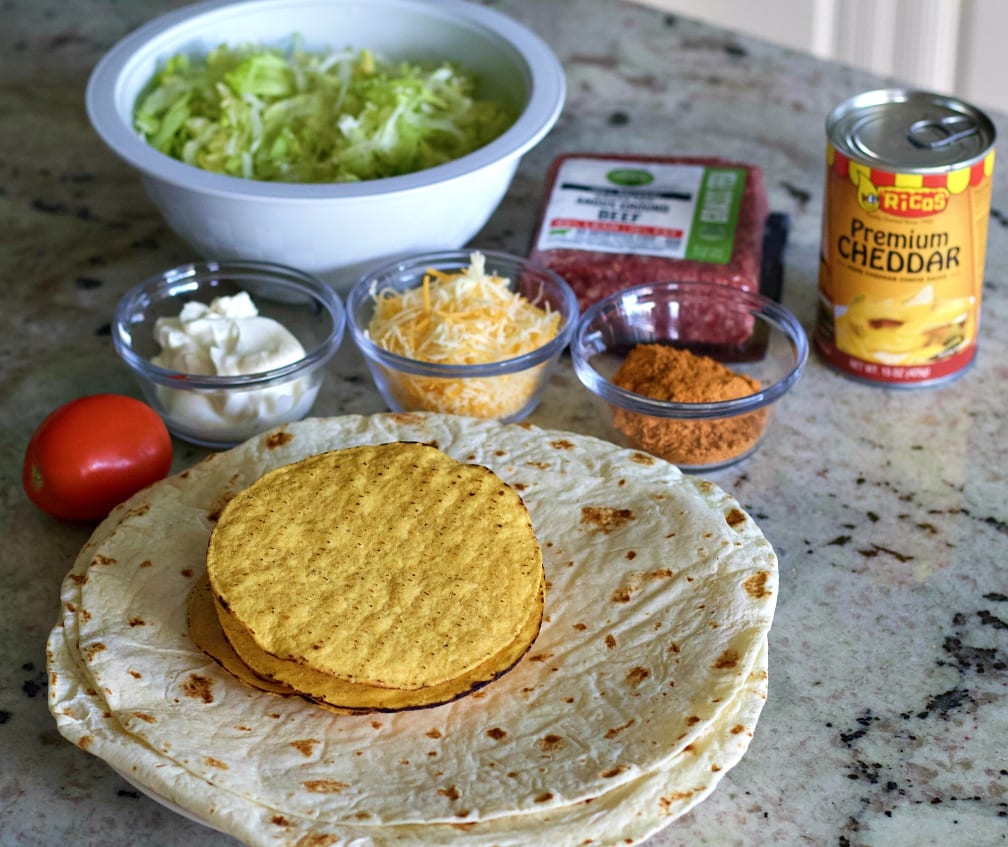 The Ingredients we used"
Ricos Nacho Cheese sauce
12 inch large tortilla-flour
6 inch corn tostada shell (for the crunch)
grass fed lean ground beef
Mexican cheese blend
taco seasonings
salt and pepper
sour cream
fresh shredded lettuce and diced tomato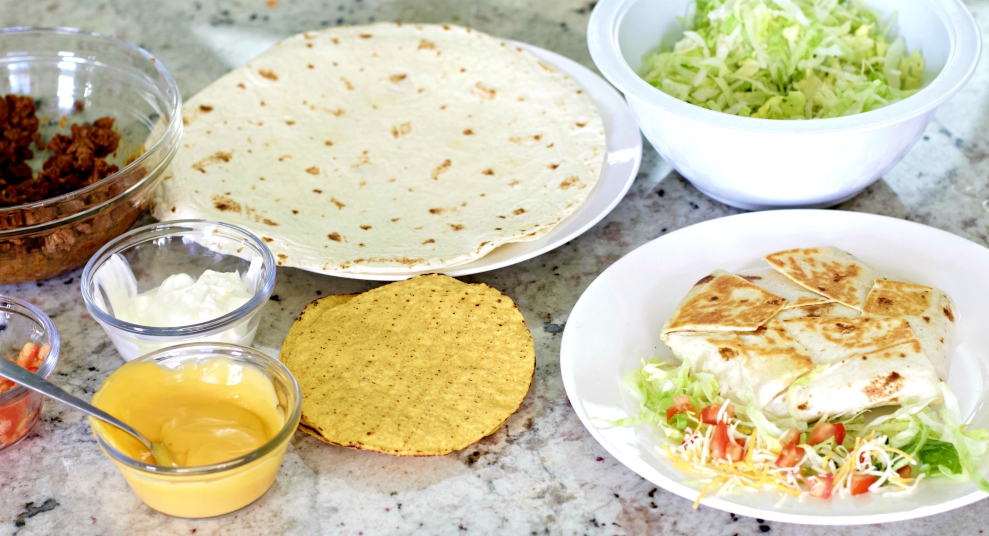 We LOVED this combo of ingredients. My husband is now a devoted fan of our homemade Crunchwrap supreme.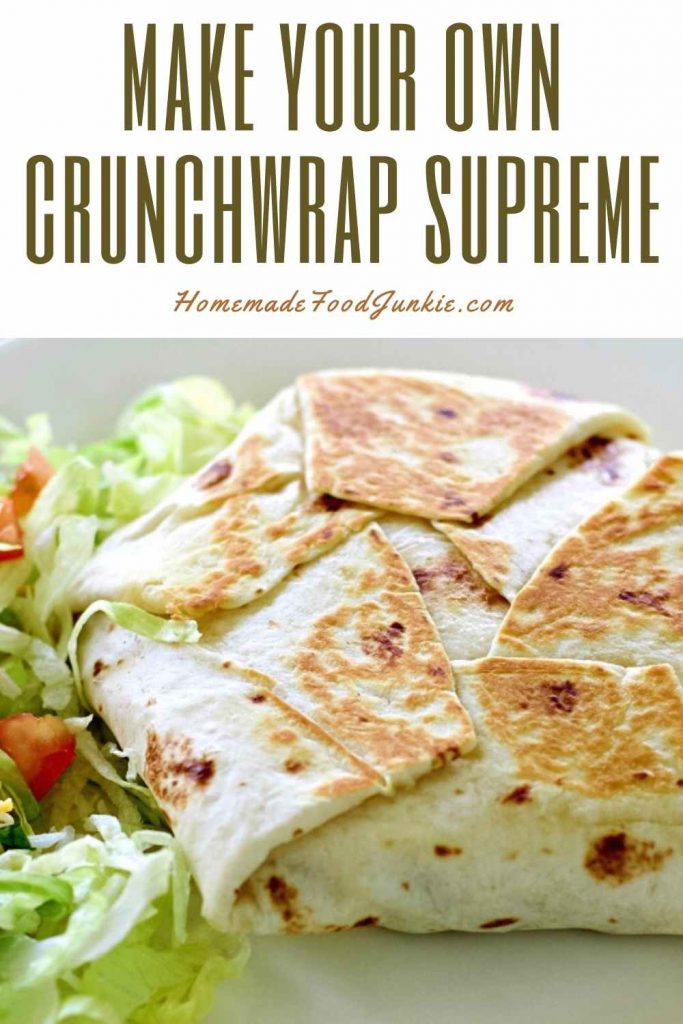 However, they are very high in calories. Want the crunchwrap without such a huge calorie count? Here are a few ideas to help you lower the calories but keep the flavor.
For a Lower Crunchwrap Supreme Calories Count:
Use a lean grass fed beef.
Choose Low carb or low fat tortillas (I have used low carb flour tortillas and they held up very well.)
Use non fat sour cream.
Choose a lower calorie cheese option (like a colby Monterey Jack blend)
Eliminate the nacho cheese sauce 🙁 (I'd keep it)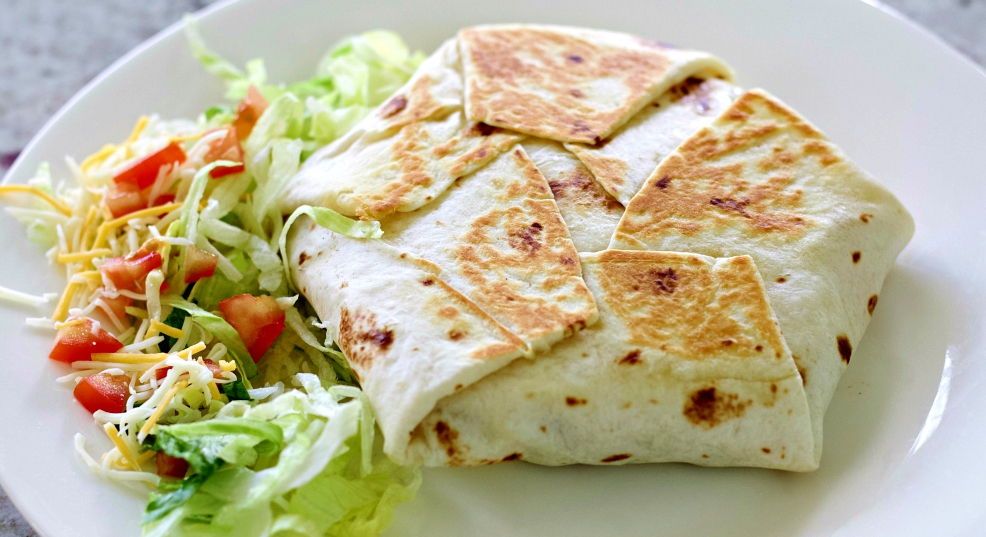 More Ideas on this recipe:
I added hot seeded peppers to the meat for a bit of extra kick . The result was a winner with my heat loving man.
Serve it stuffed with Mexican rice and beans for your non meat eating family members.
Serve the crunchwrap supreme with a serving of nonfat refried beans on the side, or tortilla chips and salsa.
Your Printable Recipe Card:
We NEVER do fast food. But Taco bell Crunchwrap Supreme is very easy to make at home. With healthier ingredients if you like. Try it!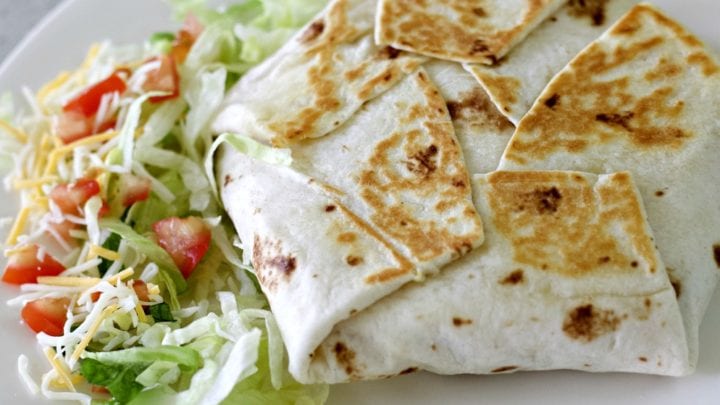 Yield:

4 crunchwraps
Homemade Crunchwrap Supreme Recipe
The crunchwrap supreme is a favorite menu item at Taco Bell. We prefer to make it at home where we can use the freshest ingredients right in your own kitchen. This is a simple, delicious and versatile recipe that makes a nice filling dinner. Your family will LOVE these.
Ingredients
1 lb. Ground beef
2 Tablespoons taco seasoning (1 packet)
1 Roma tomato
4 Cups shredded lettuce
1 Cup shredded Mexican blend cheese
8 oz. can nacho cheese sauce
4 oz. sour cream
4-12 inch flour tortilla
4-6 inch tostada
4-6 inch flour tortilla
1 tsp salt.
1 tsp. black pepper
Instructions
We HIGHLY recommend you watch our video recipe demonstration in the sidebar of this post or at the bottom of this printable recipe. This process is very simple but has several steps. The folding process is very easy to understand once you watch it done.

Prep:
Assemble Ingredients
Set a skillet over medium heat.
Brown the ground beef
stir in the taco seasonings
Dice the tomato and set aside
Shred lettuce and cheese if needed
Assembling and wrapping the Crunchwrap Supreme:
Lay the 12 inch flour tortilla on a flat plate or board.
Spoon 1/2 Cup of the cooked beef mixture onto the CENTER of the tortilla. Spread it no more than a six inch circle leaving the outer perimeter of the tortilla empty and clean.
Pour 1/4 Cup nacho cheese sauce (as desired) over the ground beef.
Place the tostada over the top of the beef/cheese sauce 6 inch circle.
Spread 1/4 Cup sour cream over the tostada to cover it completely.
layer 1 Cup shredded lettuce and 2 Tablespoons diced tomatoes over sour cream. (Keep it ALL on the tostada)
Sprinkle 1/2 Cup Mexican cheese on top of the lettuce/tomato layer.
Place the 6 inch tortilla on top of the layered tostada.
Pull up the large tortilla over the top of the small tortilla firmly and hold it in place.
Continue folding as you go around the outside of the large tortilla until the crunchwrap supreme is completely folded over the tostada and food layers. It forms a folded tortilla with all the fillings inside. You need to hold it in place until you set it in the skillet to cook.
Cook the Crunchwrap Supreme:
Heat an oiled skillet to medium heat.
Set the folded crunchwrap supreme FOLDS down on the skillet with a spatula.
Cooked until the folds are golden brown and the folds are sealed.(a minute or two)
Turn the crunchwrap supreme over and cook until the other side is also lightly browned.
Remove from heat and serve immediately.
Notes
TIPS:
Add your favorite additions to the meat as desired. Hot peppers can be chopped, deseeded and cooked in with the meat for more heat and flavor.
Add onions, garlic, fresh cilantro and your favorite Mexican seasonings to suit your family's tastes.
You can adjust the amount of servings this recipe makes to suit you family. Just choose different amounts of the fillings.
However, If you overfill the tortilla it will split at the sides and make it difficult to cook the crunchwrap supreme once folded.
At serving you can cut the crunchwrap in half and add more lettuce and tomatoes, cheese or other additions to make a fuller crunchwrap supreme. Or eat the extras on the side.

Serving Suggestions:

Serve with tortilla chips, salsa, refried beans and mexican rice. Add fresh cilantro as a garnish.
To LOWER the calories:
Choose a lean grass fed ground beef
Choose non fat sour cream
To make it really skinny eliminate the nacho cheese sauce and use lower calorie cheeses.

Nutrition Information
Yield
4
Serving Size
1
Amount Per Serving
Calories

530
Total Fat

21 g
Saturated Fat

6 g
Trans Fat

2g
Unsaturated Fat

13 g
Sodium

1200 mg
Carbohydrates

71 g
Fiber

15g
Sugar

9g
Protein

29g
This calorie count is VERY approximate. Your portions of ingredients and ingredient choices will have a large impact on the calories you actually ingest.
Follow Us:
We enjoy meeting you on our social networks. Follow us on Facebook, Pinterest, Instagram . Tag us with your pictures of our recipes and comment on how it went for you. We would love to see what you do with them.
We often like, comment and share your posts of our recipes on our daily Instagram stories.
Ask questions and rate the recipe in the comments section below. Please share what you did with this recipe. We are always looking for more and better ways to make homemade food. Other cooks love your ideas!
Recent Posts: