Baileys Apple Pie liqueur, Crown apple whiskey and caramel syrup blend together in this amazing Fall cocktail.
Comforting Fall apple flavors with cinnamon and spices are just right for sipping by the fire on a crisp Fall evening with your besties.
Baileys Apple liqueur is just out. We had to give it a try. Baileys Irish cream makes this drink so …creamy. The flavors are just perfect comforting Fall drink flavors.
More Crown Apple Drinks:
What to mix with Crown apple? Here are a few of our favorite mixer ideas.
Caramel syrup
cranberry juice
Sour Apple pucker
Baileys apple Pie liqueur
vodka
Apple cider
are all wonderful with Crown Royal Regal Apple Canadian whisky. We use some of ideas in this recipe and more in the ones pictured below. Enjoy!
Let us know your favorite ways to make Crown Regal Gala Apple Whiskey cocktails. We'd love to try your ideas too.
Visit our Cocktail Section for a complete listing of ALL our cocktail recipes.
Baileys Apple Pie Crown Royal Apple Drink Recipe:
This Baileys Apple drink recipe blends delicious Crown Regal Apple whisky, Baileys Apple Liqueur and caramel syrup.
Add a cinnamon sugar rim. Garnish and serve. So yum.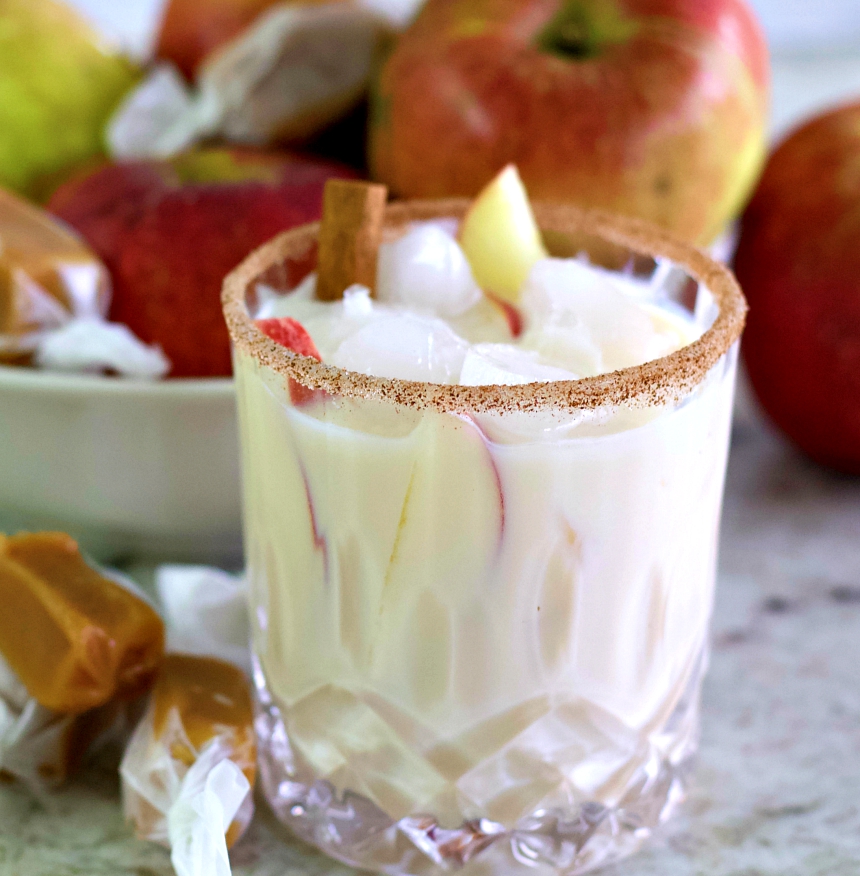 I added in the apple whiskey for a warmer tone. The caramel is an obvious sweet ornament for the apple overtones. I know you are going to love this drink.
Ingredients: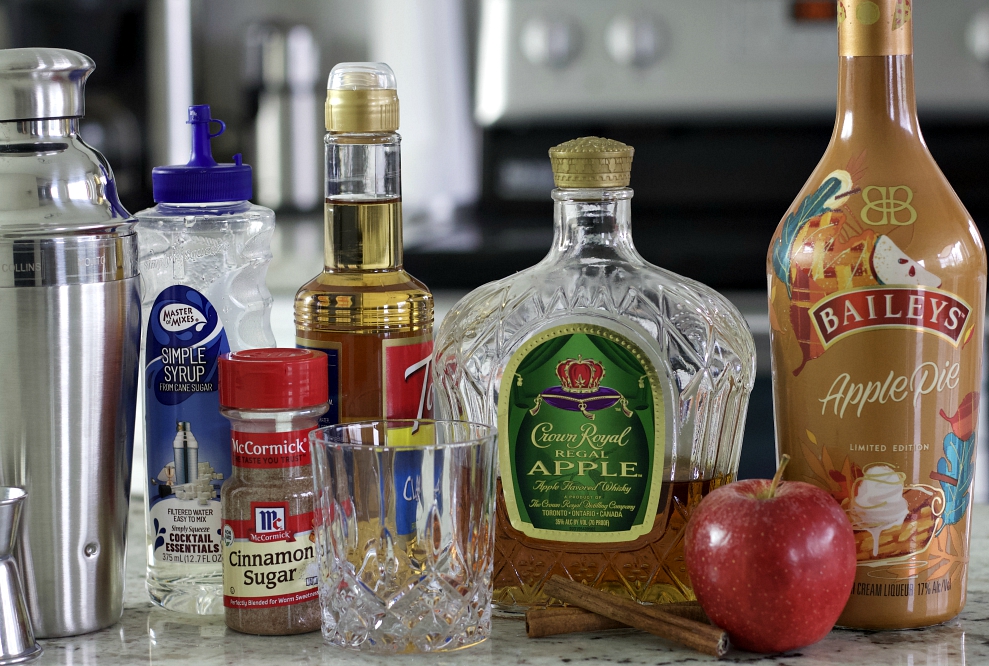 Cocktail Ingredients:
The Glass:
We used an 11 oz. whiskey glass. You can go smaller to 8 oz. if you prefer the larger single ice cubes.
Let us know how you like to present your drink. 🙂
Rimming the Glass:
Garnish Ideas for the Apple Pie Cocktail:
set apple slices in the glass
a cinnamon stick for stir stick
caramel candies on the side
Your Printable Recipe Card:
If you Print out the Baileys Apple Pie apple whiskey Drink recipe below the pictures will NOT print. This is to save you ink and paper.
Please watch our video recipe demonstration for a complete run through of this cocktail recipe.
Yield:

1 cocktail
Baileys Apple Pie Cocktail Recipe
Baileys Apple Pie liqueur, Crown apple whiskey and caramel syrup create an amazing Fall cocktail. Comforting apple pie flavors are built for sipping by the fire with your besties. rim the glass with cinnamon sugar, add apple slices and a cinnamon stick for a beautiful presentation.
Ingredients
For the Drink:
1 Cup ice for the shaker
1 1/2 oz. Baileys Apple Pie Liqueur
1 oz. Crown Royal Regal Apple Whiskey
For the rim:
1 tsp. Simple syrup (as needed to cover plate)
For Garnish:
4 Apple slices (as desired)
1 cinnamon stick
Ice to fill glass
Serve with caramel candies on the side.
Instructions
Rim the Glass:
Spread simple syrup on a small flat plate
Invert the glass rim into the simple syrup until the rim is evenly coated.
Spread cinnamon sugar mix on separate small flat plate.
Invert syrup coated glass rim into the cinnamon sugar until evenly coated.
Make the Apple Pie Drink:
Add ice to your cocktail shaker.
Measure out the Baileys apple pie liqueur, crown royal and caramel syrup into the shaker., , Seal and shake the cocktail shaker vigorously 30 seconds until very cold.
Strain out the cocktail into the rimmed glass.
Garnish:
Add ice until the drink is 1/2 inch below glass rim
Add apple slices and cinnamon stick.
Serve
Nutrition Information
Yield
1
Serving Size
1 drink
Amount Per Serving
Calories

285
Trans Fat

0g
Cholesterol

0mg
The garnish affects the calories in this recipe. The basic drink contains 281 calories. More calories are ingested if you eat the apple slices and the entire rim of the glass.