Cranberry Apple Whiskey Cocktail brings all the best vibes of winter. A delicious fizzy bit of excitement for your Fall and winter holidays.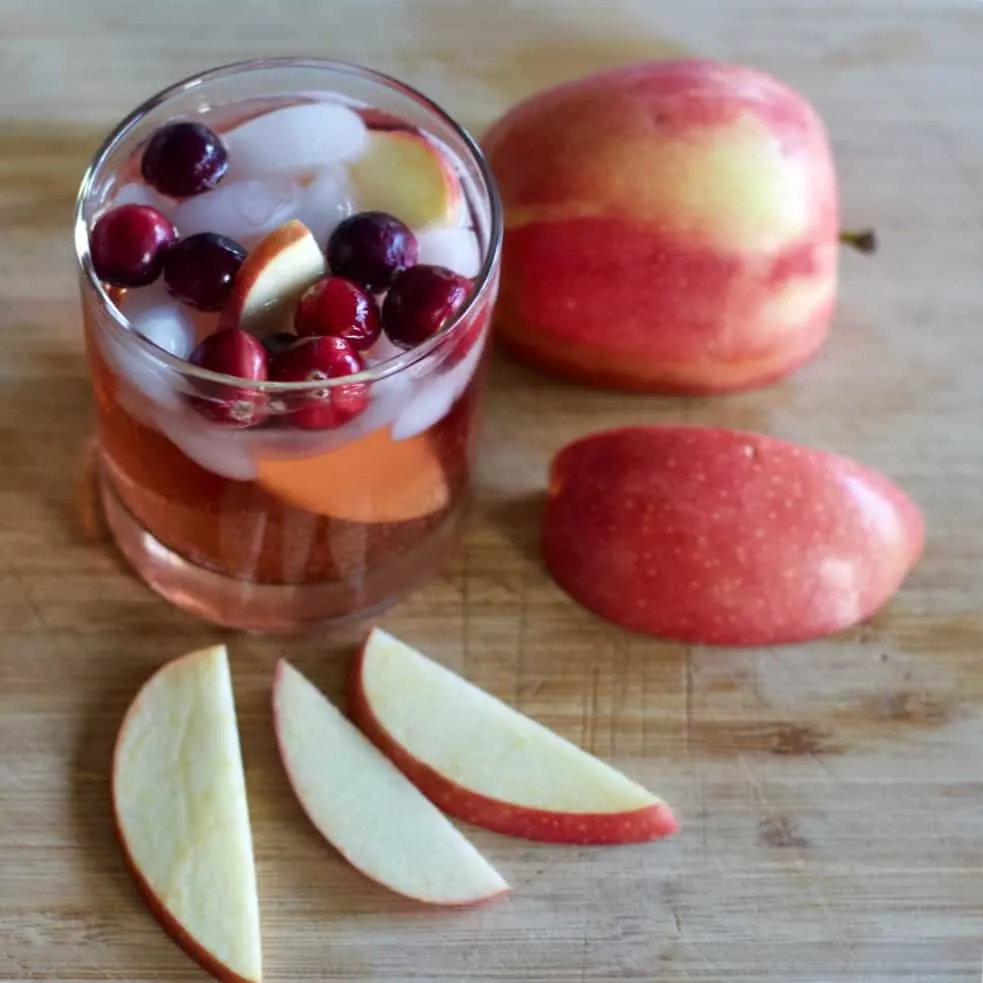 I love apple drinks with whiskey and cranberry juice. On a cold winter night this is a perfect sipping companion.
I created this recipe with unsweetened Cranberry Juice, Crown apple Whiskey and 7up. It couldn't be easier or more fun. I love the sweet cranapple fizz of this drink.
The garnish is nice too. The cranberries bob on top of the ice. I like to eat the apple slices. 🙂
More Crown Royal Apple Drinks:
Apple Whiskey drinks make wonderful Christmas cocktails. We've created several Crown apple cocktails this Fall because we like them. If you need more apple whiskey ideas for your winter cocktail list. Give these a try.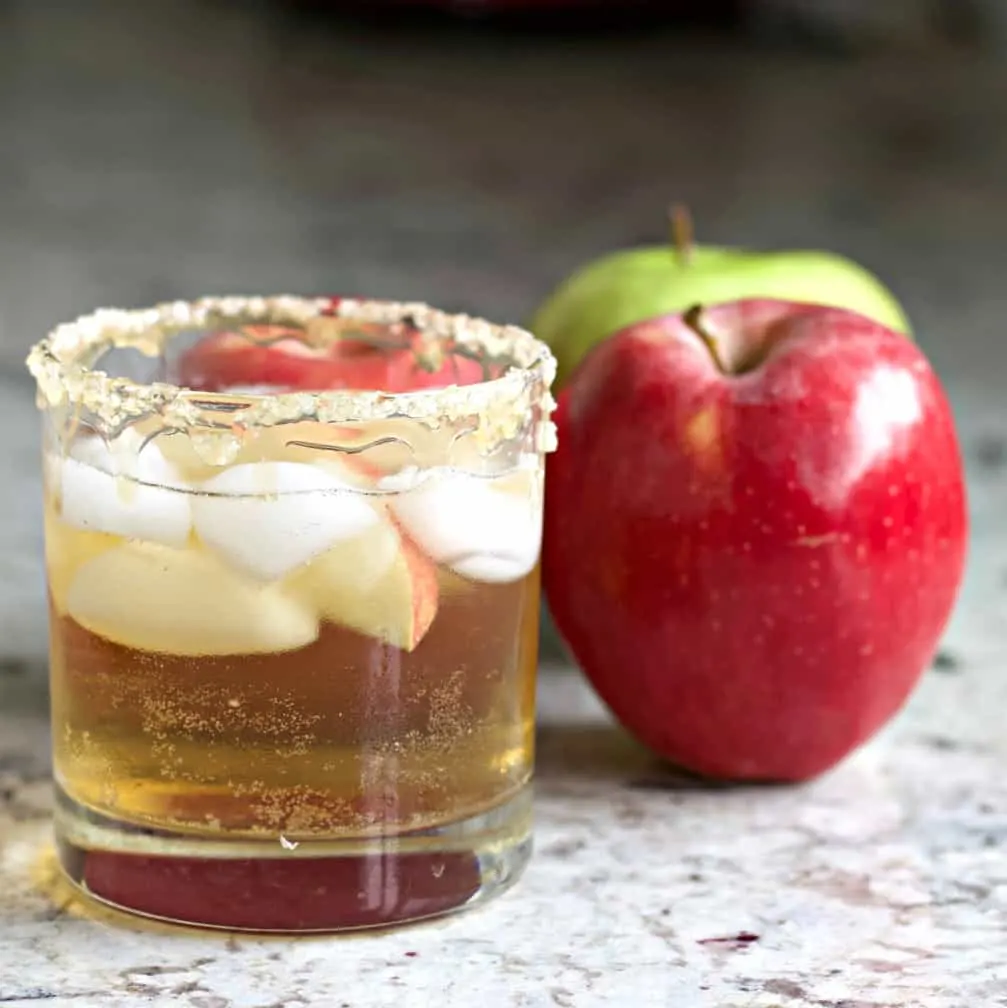 Visit our cocktail section for more great ideas for Fall and Winter Alcoholic drinks you will enjoy.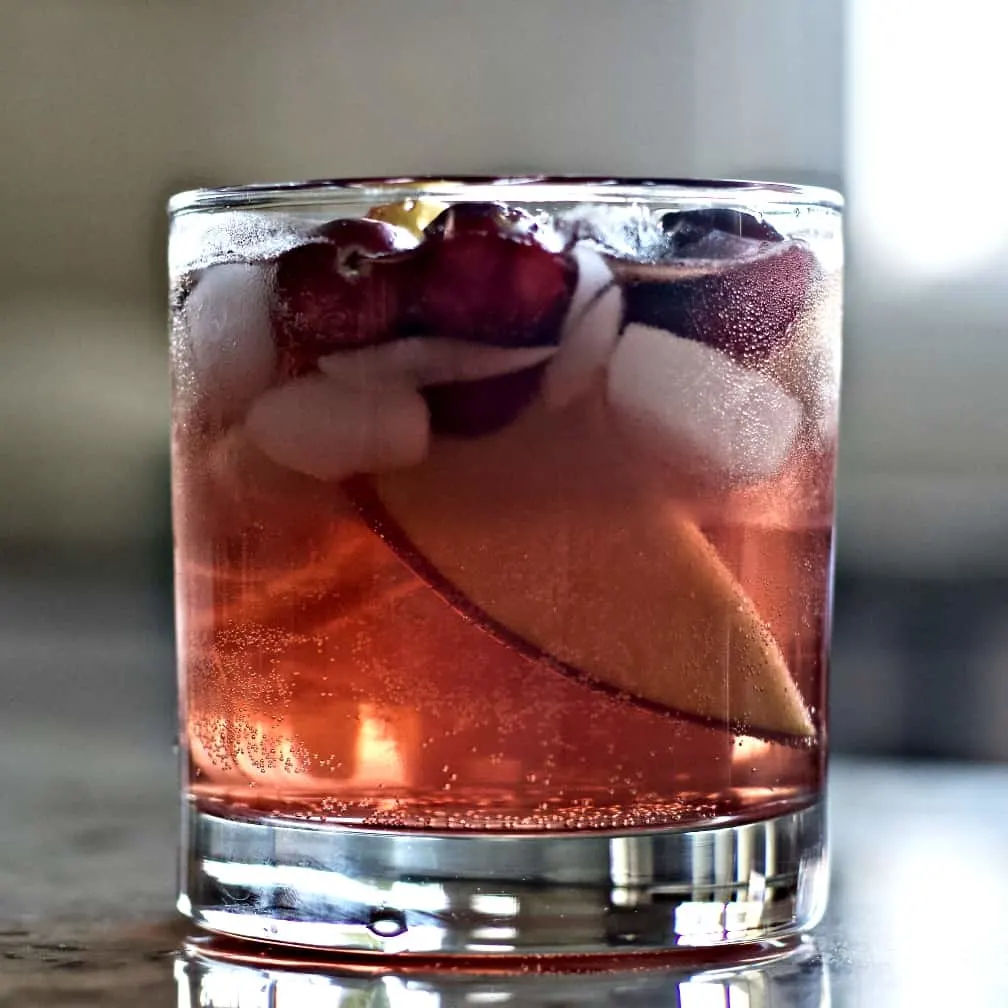 Apple Cranberry Cocktail Recipe
This is just a simple pour and drink recipe. You just need three easy to find ingredients. And a whiskey glass half filled with ice. Pour and enjoy a sweet fizzy sip for cozy night by the fire. Add this recipe to your Holiday cocktail drink list. Just pour it together, garnish and drink it up.
Does Whiskey mix well with Cranberry Juice?
Whiskey and cranberry juice mix really well together. We used Crown Apple for the whiskey in this recipe, the apple whiskies make a perfect cranberry-apple flavor combination. More whiskey options are Jack Daniels Tennessee Apple Whiskey, Black Velvet Apple Whiskey, or Jim Beam Apple Bourbon Whiskey.
What mixes good with Crown Apple?
Crown Apple mixes well with lots of flavors. This whiskey has a delicious apple flavor that can be enjoyed straight, or mixed into a cocktail. Here are a few of our favorite pairings:
Apple Cider
Sparkling Cider
Ginger Beer
7-up
Cranberry Juice
Cream Soda
Pineapple Juice
Orange Juice
Cinnamon Whiskey (fireball)
Lemonade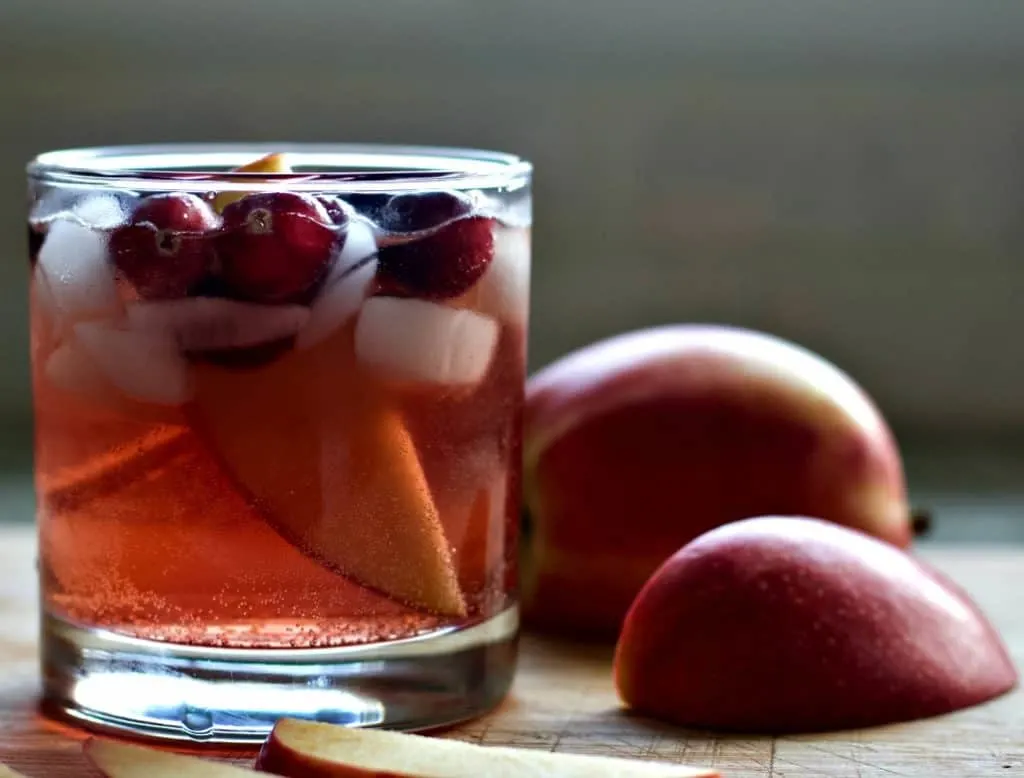 Make This Recipe as a Punch:
This cranberry drink is all about Fall Harvest flavors. This is a perfect punch choice for your Christmas holiday parties or Thanksgiving cocktail menu. It's fairly inexpensive and has large appeal.
You can adjust the proportions of the ingredients as you like. It's a dynamite flavor combination. Tweak it to your taste and let us know how it goes.
For Every 10 servings you will need:
15 oz. Apple Whiskey
8 oz. Unsweetened Cranberry juice
40 oz. 7UP (This is about 1 1/4 liter)
Just Chill all the ingredients ahead and make it immediately before serving at your party. Keep an ice bucket next to your punch bowl with tongs. No ice goes into the punch bowl or the drink will dilute. You don't want that.
Ingredients: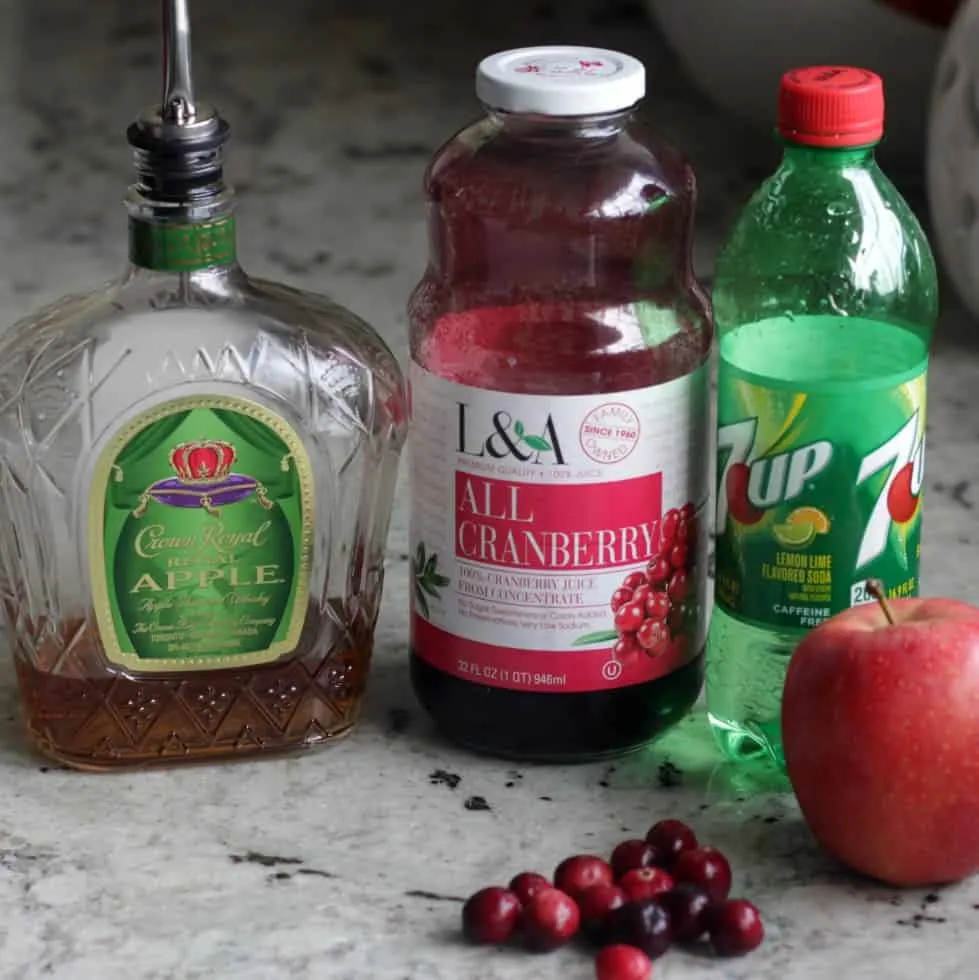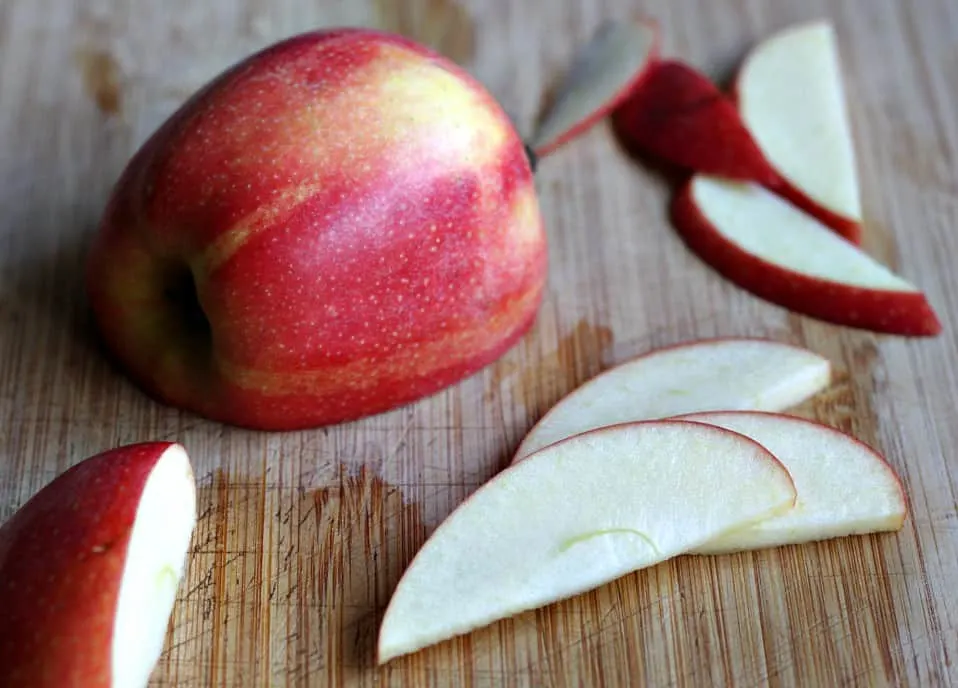 Garnishes: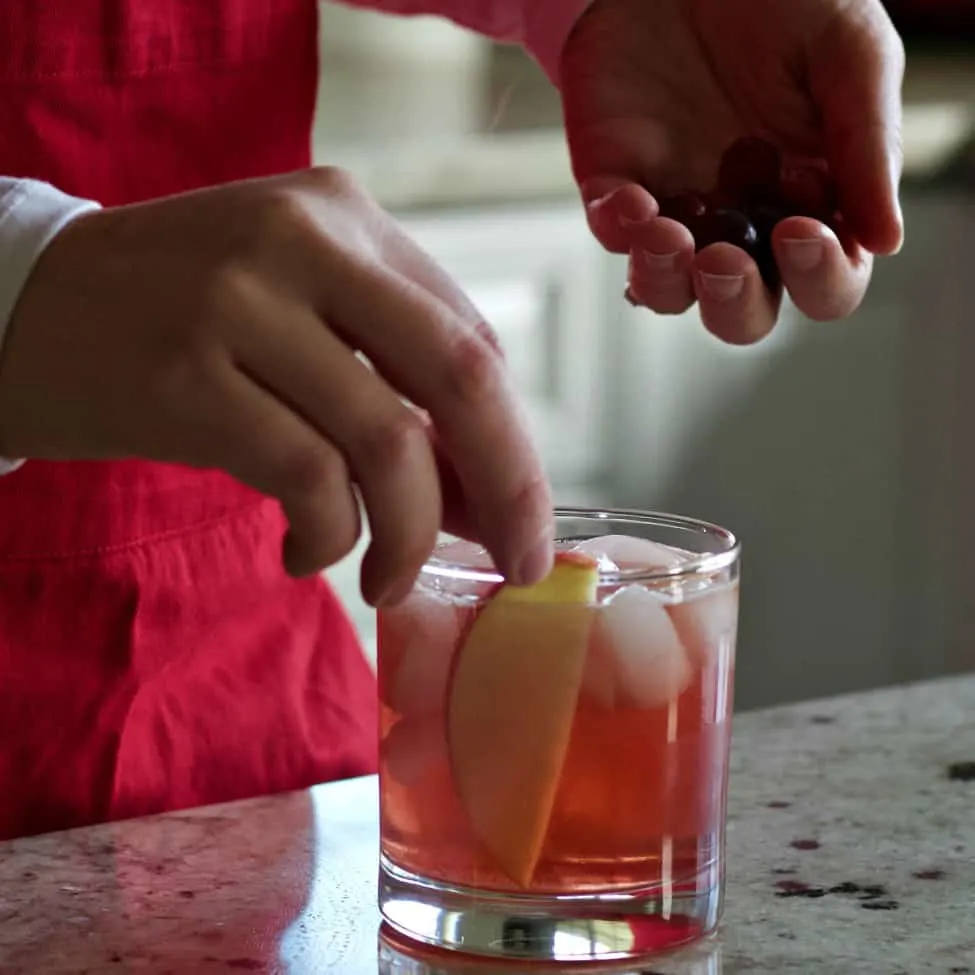 Whiskey:
This winter whisky cocktail is made with Canadian whisky. I'm sure any brand of apple whiskey will work for this drink. Jack Daniels just released their own Tennessee version and Jim Beam also has an apple whiskey. I can't wait to try both of them too.
Cranberry Juice:
I'm using an UNSWEETENED cranberry juice. It blends very well with the whiskey and 7up. The drink is not too sweet but also not tart. A sweetened cranberry juice will most likely work well but it will be a bit sweeter.
The Fizz:
7up adds a light sweet fizz to this drink. The sparkling bubbliness brings in a new and welcome element. The sweet counterpoints beautifully with the unsweetened cranberry juice. It's a great blend of flavors and textures.
The Method:
Just pour and garnish. This is a very simple cocktail. It's complete in about three minutes. Gathering the ingredients and slicing the apples is the longest part.
Here is your visual walkthrough of making this drink recipe. ALSO Watch the video demonstration to see me make this refreshing cocktail.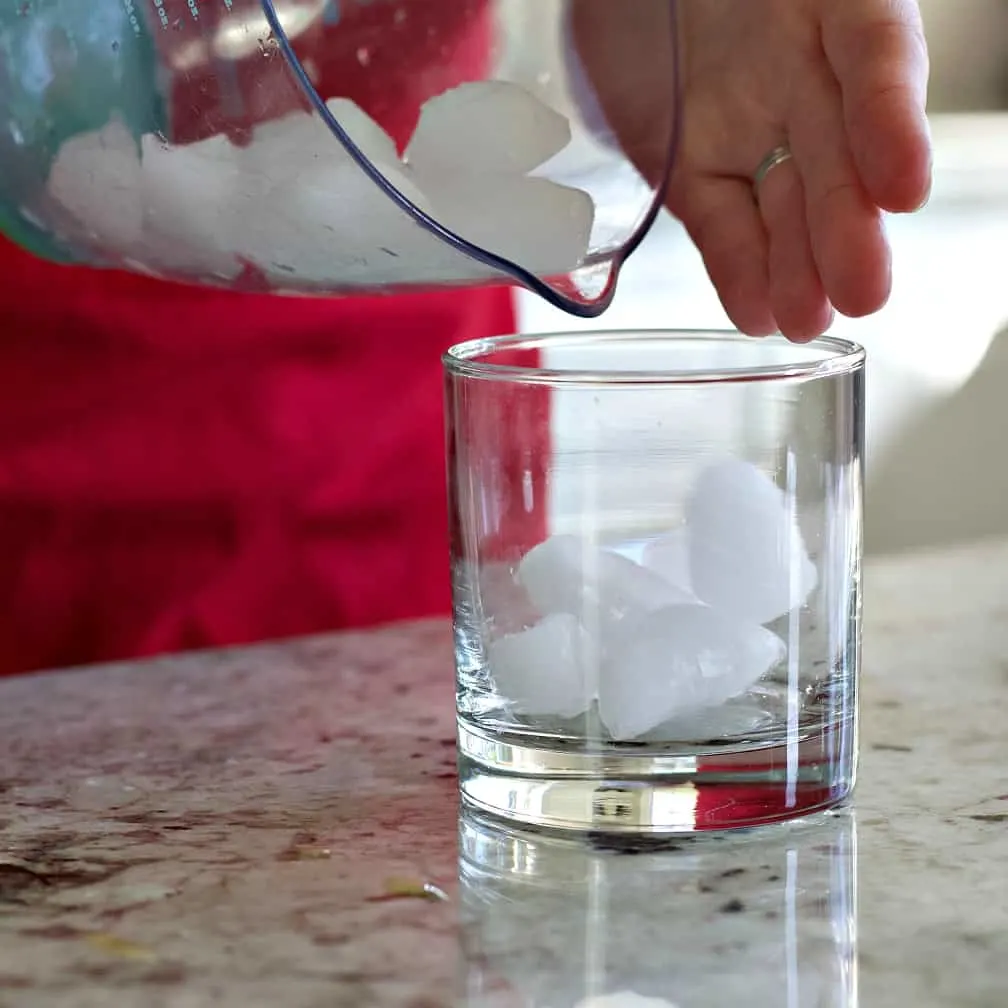 If you make your own version of our crown apple drinks with different ingredients or proportions please let us know how that goes for you. We love your comments and feedback on our drinks.
Your Printable Recipe Card: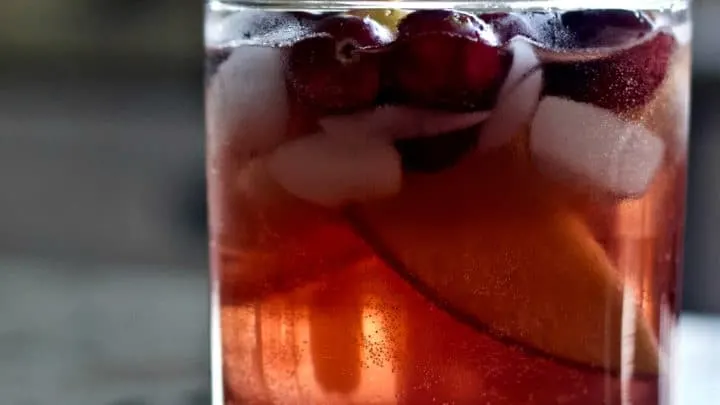 Yield:

1 cocktail
Cranberry Apple Whiskey Cocktail Recipe
Cranberry Apple Whiskey Cocktail brings all the best vibes of winter. A delicious fizzy bit of excitement for your Fall and winter holidays.
Ingredients
1.5 oz Crown Royal Apple
1/2 oz Pure Cranberry Juice
4 oz 7-UP
1/2 cup Ice
Instructions
The cocktail:
fill your whiskey glass half full of ice
Pour in the Crown Royal
Add the Cranberry juice
Fill to top with 7up.
Garnish:
Push several slices of red apples into the drink
Top with fresh cranberries.
Notes
We are using unsweetened cranberry juice and like it. If you have the sweetened on hand try it. It will make a sweeter cocktail but will still be tasty.
Garnish:
I garnished this drink with 5 fresh cranberries and 2 thin red apple slices
Recommended Products
As an Amazon Associate and member of other affiliate programs, I earn from qualifying purchases.
Nutrition Information
Yield
1
Serving Size
1
Amount Per Serving
Calories

248
Total Fat

0g
Saturated Fat

0g
Trans Fat

0g
Unsaturated Fat

0g
Cholesterol

0mg
Sodium

17mg
Carbohydrates

40g
Fiber

4g
Sugar

33g
Protein

1g
Follow Us:
We enjoy meeting you on our social networks. Follow us on Facebook, Pinterest, Instagram . Tag us with your pictures of our recipes and comment on how it went for you. We would love to see what you do with them.
We often like, comment and share your posts of our recipes on our daily Instagram stories.
Ask questions and rate the recipe in the comments section below. Please share what you did with this recipe. We are always looking for more and better ways to make homemade food. Other cooks love your ideas!
Recent Posts: