A messy, flavorful, delicious, South of the border, breakfast burrito that satisfies those morning munchies. Stuff it with fresh chorizo sausage.
Add cheddar cheese, peppers and scrambled eggs for a delicious Mexican style burrito. This is a filling, low carb, low sugar, handful of nutrition!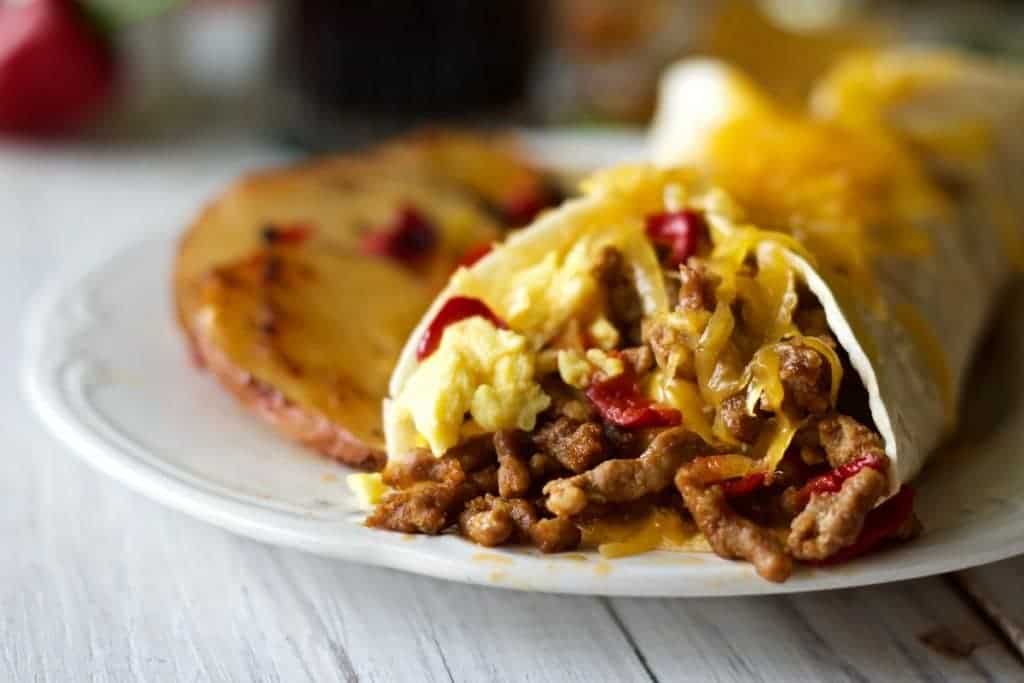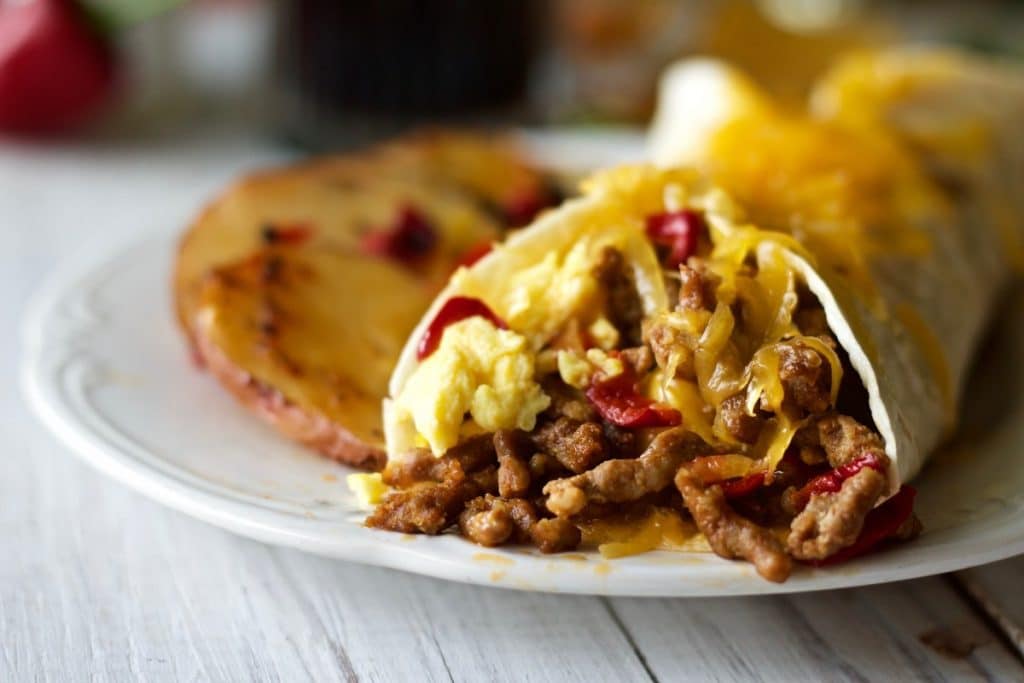 This breakfast Burrito recipe was birthed in a HUGE windstorm (60 mph winds) that knocked trees and heavy branches down like toothpicks all over our roads and power lines, for over a hundred miles around us.
Dave and I, all unknowing set out into that quite unexpected storm to run errands and go to a family birthday party. We had a wild ride indeed. The storm came up quick and violent.
Our first clue was the trees downed in our driveway. After we cleared those we progressed slowly toward our destinations. Trees and branches were coming down all around us.
Road were closed, trees were falling in the roads. We eventually, gratefully arrived at the party. No power there either.
Not everyone did get to the party. Kayti and Brian were stopped by a huge downed tree that nearly fell on their truck, right on a busy highway.
Several hours later, we approached our very dark, silent house. Isn't it errie when all the electronic white noise gives way to silence? …And then the neighbor started his generator. Loud, abrasive sound heard all over the neighborhood.
We broke out the camp lanterns and called it a night, serenaded by our neighbor's noisy, obnoxious generator.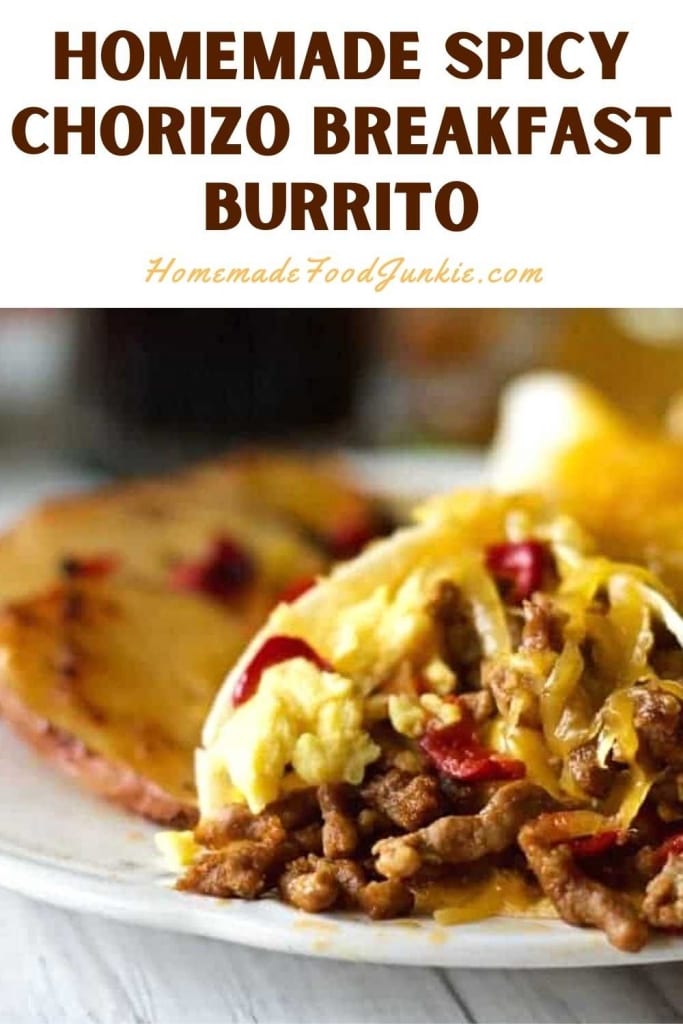 Next morning, the generator sounds woke us. The winds had died down, but No power yet.
So Kayti and Brian graciously invited us to breakfast to wait out our power outage at their fully powered home. But they had no food and the stores were all closed.
I cleaned out my rapidly warming fridge and we came up with a new breakfast idea for our family. We had never had breakfast burritos before and under the circumstances I invented this recipe on the fly.
I've seen breakfast burritos on pinterest for years so this seemed a stellar time to make our version. In fact, it was an excellent idea.
Breakfast Burrito Recipe Notes:
It was a rather hectic morning all in all. fortunately Kati had a large griddle and we just kept throwing up batches of food that needed to get used up. We were happy we had a whole houseful of people to dig in and eat it all.
How to make a Breakfast Burrito
Here is your visual walkthrough of this breakfast recipe. Followed by a list of the steps, recipe tips, and finally your printable recipe.
Tips:
Start with a great brand of fresh chorizo sausage. Get it frying on medium low.
Cut up some peppers and add them in when the sausage is about halfway done.
Whisk up some eggs and put them in a frying pan or griddle with a bit of butter or coconut oil.
Scramble the eggs until they are cooked as you like them. Season the eggs if you wish. We just added lemon juice.
Shred the cheddar cheese.
Heat your tortillas. We put ours on the griddle.
Assemble and eat.
Suggested Condiments and Add ins:
We all loved this chorizo sausage recipe just as you see it. This Mexican chorizo burrito is so flavorful even without salsa or hot sauce…or anything. But feel free to add your favorite burrito condiments.
Add your preferred extras before you wrap the burrito to protect your tortilla from breaking. Make your OWN flour tortillas here. The flavor is excellent!
Sour cream
Salsa
Fried potatoes (on the side)
Breakfast Burrito Nutrition:
Use a low carb flour tortilla for an outstanding low carb breakfast idea. This breakfast burrito calorie count is rather stiff. You won't require much else to sustain you through the day. The complete nutrition label is at the bottom of the printable recipe card below.
Your Printable Recipe Card:
Yield:

8
Breakfast Burrito
A messy, flavorful, delicious, South of the border, breakfast burrito that satisfies those morning munchies. Stuffed with chorizo sausage, cheddar cheese, peppers and scrambled eggs. This is a filling, low carb, low sugar, handful of nutrition.
Ingredients
8 flour tortillas
1 lb. chorizo sausage
1 pepper cut up small
1 Tablespoon coconut oil (OR avocado oil)
5 scrambled eggs
1 Tablespoon lemon juice
2 Cups shredded cheddar cheese
Instructions
In a large griddle or frying pan start the sausage on medium heat. stirring occasionally.
Chop up the peppers and shred the cheese.
Whisk the eggs with the lemon juice.
melt the coconut oil in the fry pan.
When the sausage is half done:
Add the chopped peppers in with the sausage and stir around for even cooking of the sausage.
Pour the eggs in a frying pan, or griddle, on medium low heat.
Scramble the eggs as the sausage is finishing.
Heat the tortillas
Assemble the burritos:
Set down a warm flour tortilla on a plate
Spread the cooked chorizo and peppers down the center
lay scrambled egg on evenly on top of the sausage.
Sprinkle shredded cheese on top of the egg
Roll up the burrito and top with cheese or salsa as desired.
Notes
Suggested Condiments:
Salsa
Sour cream
refried beans
Nutrition Information
Yield
8
Serving Size
1 burrito
Amount Per Serving
Calories

604
Total Fat

40g
Saturated Fat

17g
Trans Fat

1g
Unsaturated Fat

21g
Cholesterol

183mg
Sodium

1175mg
Carbohydrates

30g
Fiber

2g
Sugar

1g
Protein

28g
Pin It:
This recipe is published at Sense Or No Sense as part of 60 easy breakfast ideas.