These breakfast burritos are made with fresh chorizo sausage, peppers, eggs and cheese for a hearty meal that comes together quickly. We love burritos for the ease of filling options, assembly and the handy grab-and-go convenience if that's what you need.
This burrito recipe brings the flavor up from your traditional egg and sausage breakfast wrap. The chorizo adds a bit of heat that pairs wonderfully with your choice of peppers or salsa, while fluffy eggs and melted cheese round everything out.
We are sharing our favorite sides that you can enjoy alongside your breakfast wrap, as well as the various filling options that you could try! We also have a homemade flour tortilla recipe that makes any burrito absolutely divine. You can bake up a batch of those, or keep it quick with your favorite store bought wraps.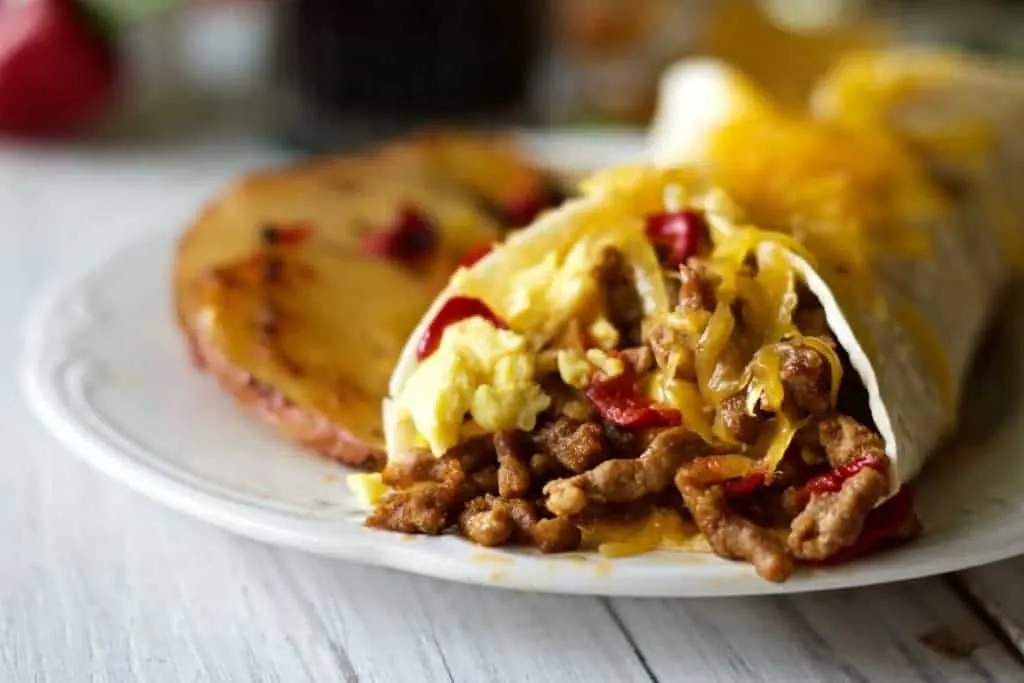 What is a breakfast burrito made of?
Breakfast burritos are well known and very much loved everywhere these days, and they can be made using just about any combination of ingredients you want. Traditionally breakfast burritos are of a Mexican origin and are made with chorizo, egg and salsa. The ingredients can of course be swapped out depending on individual preferences.
Most breakfast burrito fillings consist of eggs and potatoes, bacon, sausage, onions and cheese. They are often served with a salsa or hot sauce on the side.
What is the difference between breakfast burritos and breakfast tacos?
A breakfast taco and a breakfast burrito are commonly known and have only slight differences. Breakfast tacos are typically smaller, using fewer ingredients such as one egg as opposed to two or even three. Breakfast burritos can also include fillings such as refried beans, jalapeno peppers and tomatoes. Burritos are made using a larger flour tortilla while breakfast tacos are made in much small wraps and are most often served in trios.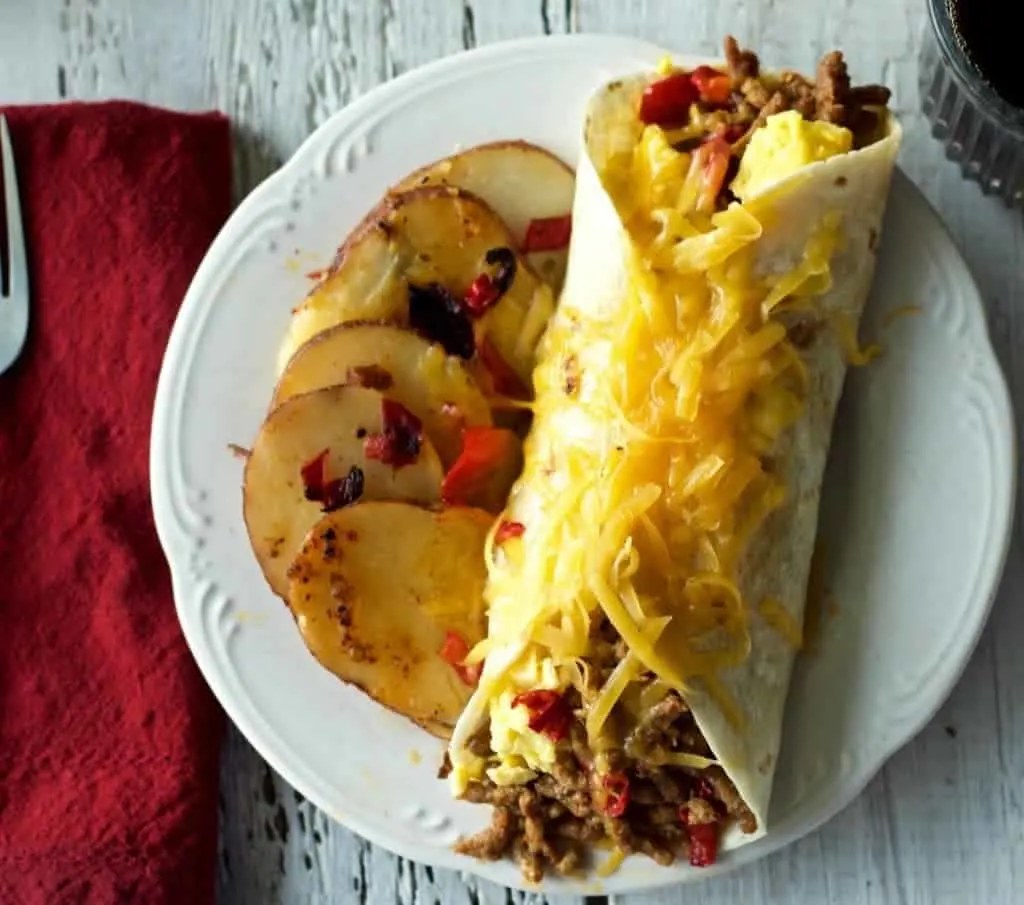 Is it cheaper to make your own flour tortillas?
Making your own flour tortillas is incredibly cost efficient and they will taste far better than any store bought brand. We have a simple flour and butter tortilla recipe that is easy to make and taste fantastic. Scratch made flour tortillas can be made very quickly and cooked right away for the absolute freshest wrap you could ask for.
How to make a Breakfast Burrito
Breakfast Burrito Recipe Notes:
Use a good quality brand of fresh chorizo sausage and cook on medium heat.
Cut up some peppers and add them in when the sausage is about halfway done.
Whisk up some eggs and put them in a frying pan or griddle with a bit of butter or coconut oil.
Scramble the eggs until they are cooked as you like them. Season the eggs if you wish. We just added lemon juice.
Shred the cheese.
Heat the pre-made tortillas or cook your homemade flour tortillas
Assemble and eat.
What sides go good with breakfast burritos?
Breakfast burritos are satisfying and filling all on their own, it's one of the best things about them. But they are elevated even more with delicious add-ons and sides. Below we are sharing some of our favorite extras and sides that we love with our breakfast burritos.
Fried potatoes or tater tots
Fresh pico de guillo
A side of fresh mango oranges and papaya
Cinnamon baked apples for a sweet side
Zucchini and corn fritters
Bacon croissant bites
Crispy sweet potato hash browns
How do you reheat breakfast burritos?
Breakfast burritos can make a super convenient make-ahead breakfast option. They are easy to store and a breeze to reheat and enjoy. Once you have cooked your filling, allow it to cool completely before you wrap it in the tortillas; this will prevent steam and moisture from getting trapped inside which will result in a soggy wrap.
Once they are assembled roll them tightly in plastic wrap followed by aluminum foil. Place them in ziploc bags taking care to remove all excess air from the bag before sealing them. Date the bags and write the name of the burrito on the bag as well. They can be stored for up to 3 months, longer than that could result in freezer burn or a dry burrito.
To reheat remove them from the freezer and allow them to thaw at room temperature. You can warm them on a griddle on your stovetop, flipping them to ensure even heat distribution. They can also be warmed in a toaster oven or microwave. For oven cooking a large batch place them on a baking sheet at 350 degrees F for 10-15 minutes or until warmed through.
Your Printable Recipe Card: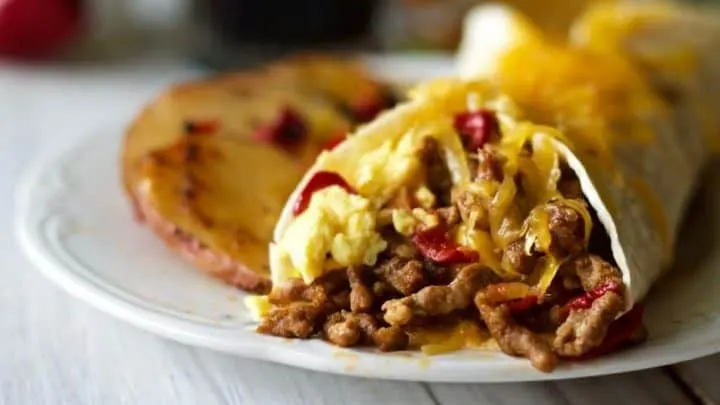 Yield:

8
Breakfast Burrito
A messy, flavorful, delicious, South of the border, breakfast burrito that satisfies those morning munchies. Stuffed with chorizo sausage, cheddar cheese, peppers and scrambled eggs. This is a filling, low carb, low sugar, handful of nutrition.
Ingredients
8 flour tortillas
1 lb. chorizo sausage
1 pepper cut up small
1 Tablespoon coconut oil (OR avocado oil)
5 scrambled eggs
1 Tablespoon lemon juice
2 Cups shredded cheddar cheese
Instructions
In a large griddle or frying pan start the sausage on medium heat. stirring occasionally.
Chop up the peppers and shred the cheese.
Whisk the eggs with the lemon juice.
melt the coconut oil in the fry pan.
When the sausage is half done:
Add the chopped peppers in with the sausage and stir around for even cooking of the sausage.
Pour the eggs in a frying pan, or griddle, on medium low heat.
Scramble the eggs as the sausage is finishing.
Heat the tortillas
Assemble the burritos:
Set down a warm flour tortilla on a plate
Spread the cooked chorizo and peppers down the center
lay scrambled egg on evenly on top of the sausage.
Sprinkle shredded cheese on top of the egg
Roll up the burrito and top with cheese or salsa as desired.
Notes
Suggested Condiments:
Salsa
Sour cream
refried beans
Nutrition Information
Yield
8
Serving Size
1 burrito
Amount Per Serving
Calories

604
Total Fat

40g
Saturated Fat

17g
Trans Fat

1g
Unsaturated Fat

21g
Cholesterol

183mg
Sodium

1175mg
Carbohydrates

30g
Fiber

2g
Sugar

1g
Protein

28g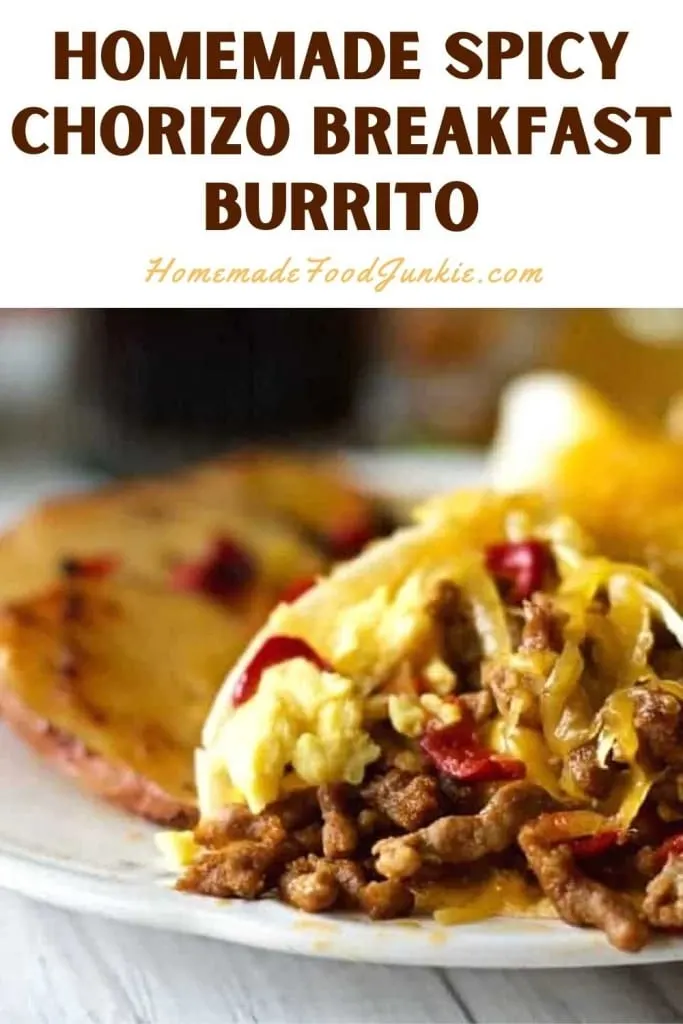 Follow Us:
We enjoy meeting you on our social networks. Follow us on Facebook, Pinterest, Instagram . Tag us with your pictures of our recipes and comment on how it went for you. We would love to see what you do with them.
We often like, comment and share your posts of our recipes on our daily Instagram stories.
Ask questions and rate the recipe in the comments section below. Please share what you did with this recipe. We are always looking for more and better ways to make homemade food. Other cooks love your ideas!
Recent Posts:
This recipe is published at Sense Or No Sense as part of 60 easy breakfast ideas.