Have you ever tried making a sourdough tortillas recipe using your discarded starter? If you're a sourdough baker, you need to give this recipe a try. Its delicious and very simple to do.
Adding sourdough discard to a regular flour tortillas recipe offers a unique flavor twist and texture that sets them apart from the usual tortillas made with butter, flour and salt.
Sourdough discard also adds a nutritional boost to the tortillas by breaking down the phytic acid in the flour, making it more easily digestible and increasing the availability of all the nutrients this recipe can offer.
Using sourdough is a great way to incorporate more natural fermentation into your cooking. Read my article on why sourdough is good for you. Truly your sourdough discard is a nutritional treasure. Here is just one more way to bring good cooking and health to your family.
In this post, we'll take you through a step-by-step process for making delicious sourdough tortillas that are perfect for tacos, enchiladas, pinwheels, burritos, our king ranch chicken Casserole and so many more delicious recipes with a south of the border flair.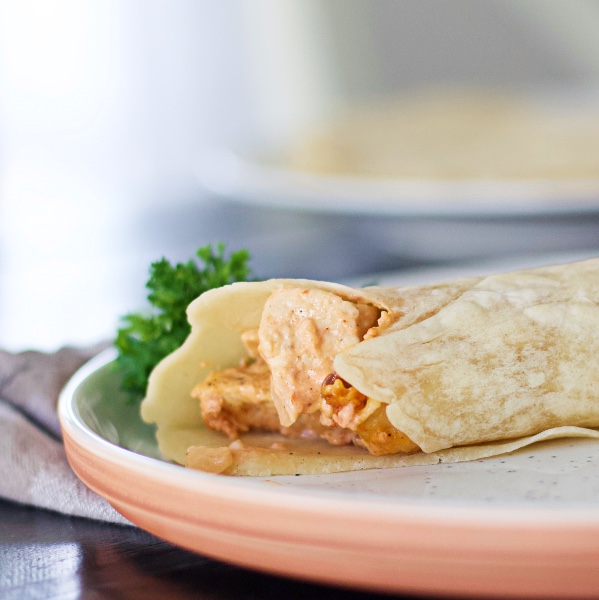 This recipe can be made by hand easily, as we show you in our short video. OR if you have a stand mixer or a food processor you can use those.
Just be careful to NOT OVERMIX the dough. Or over use the machine to knead the dough. Finish the dough by hand rather than rely on a machine so you know you have it right.
Recipe for Sourdough Tortillas Tips and Methods:
We are looking for a sourdough tortillas recipe result that produces tortillas that are delicious, soft and pliable. They need to remain tender, even after cooling, so we can fill them and enjoy the experience without the tortilla breaking into pieces or tearing.
To help you make the best of this sourdough tortillas recipe, follow these tips
Use recently fed sourdough discard: Using sourdough discard that has been recently fed, meaning it has been refreshed with new flour and water in the last day or so. This will ensure that the sourdough is active and can help the tortillas rise so as they cook they will form bubbles and have a lighter texture. Your starter may be very weak if it hasn't been fed in awhile or is very young. If so, add a teaspoon or so of baking powder to help the tortillas puff up.
Don't overwork the dough: It's important not to overwork the dough when kneading it, as this can lead to tough and dry tortillas. Only knead the dough until it becomes smooth and is no longer sticky. When working the dough by hand this is easy. But if you are using your food processor or a stand mixer for this recipe, don't over mix!
Let the dough rest: Allowing the dough to rest for 30 minutes after forming it into balls will make it easier to roll out and will help the tortillas stay pliable. If you wish or your time works out best, you can allow the dough to rest several hours. The dough will just get more tender and relaxed.
Roll them out – Size and Thickness: roll out the dough to the size and thickness you want. Taco size is about 6 inches, burritos are 10 to 12 inches. But you can make them any size or shape you like for your purposes. They may not be perfectly round but that is fine. This is homemade and doesn't need to look like they came from a factory. Just get them close to the pan size you chose so they cook evenly. Make them thin, but they need to be strong enough to be filled without breaking, so not too thin.
Use a non-stick skillet: A non-stick skillet is best for cooking the tortillas, as it will prevent them from sticking and tearing. This can include a well seasoned cast iron pan or any skillet that can cook the tortillas without them sticking. DO NOT ADD OIL to your pan. OR just brush on a minimal amount. You don't want oily tortillas. And they will crisp up if you add oil to the pan.
Get the heat right: Preheat your pan to the correct heat. Do NOT put in the tortilla while the pan preheats. You will have to know your stove for this and it may take a bit of experimentation. You need a heat hot enough to quickly cook the tortillas without burning them. We say medium heat. But your stove and tortilla thickness will determine the perfect heat you need. ALSO-Use a burner that is the correct size for your pan. The tortillas need even heat to cook perfectly.
Cook the tortillas until bubbles form: When cooking the tortillas, wait until small bubbles begin to form on the surface before flipping them. This will help ensure that they cook evenly and are fully cooked. But don't wait too long or the bubbles will quickly get large and the tortilla can over cook. If you do over cook the tortillas they can cook so long they get brittle and hard as they cool. We don't want that. So be sure to stay with the process. Don't leave them in the skillet unattended.
Quickly turn the tortillas after bubbles form: The whole process only takes a minute or so. And when you turn the tortilla it should take just another minute to complete it. Quickly remove it and start the next one until the batch is cooked.
Keep the tortillas warm: If you're making a batch of tortillas, keep them warm by wrapping them in a clean kitchen towel or placing them in a covered dish. This will help them stay soft and pliable until you're ready to serve them.
Why is My Tortilla Dough Too Sticky?
If your sourdough tortillas recipe is turning out dough that is too sticky, it could be due to a few different reasons:
Not enough flour: You may not have added enough flour to the dough. Try adding a little bit more flour to the dough, a tablespoon at a time, until the dough becomes less sticky.
Not enough kneading: If the dough has not been kneaded enough, it may still be too wet and sticky. Kneading the dough helps to develop the gluten and makes it less sticky. Try kneading the dough for a few more minutes until it becomes smooth and elastic.
Not enough rest time: Allowing the dough to rest for a few minutes after kneading can help it to become less sticky. Make sure to let the dough rest for at least 30 minutes before rolling it out. You can also make long fermented sourdough tortillas by allowing them to rest in the fridge up to 12 hours before rolling out and cooking them.
Humidity: If you're in a humid environment, the dough may absorb more moisture from the air, making it sticky. Try adding a little bit more flour to the dough or letting it rest for a longer period of time.
Type of flour: Different types of flour can have different levels of absorbency, which can affect the stickiness of the dough. If you're using a different type of flour than the recipe calls for, you may need to adjust the amount of water you use.
Sourdough starter: You may have to adjust the moisture of the recipe if your starter is very thick or very thin. We always suggest you feed your starter 1:1:1 ratio before using it in a recipe so you have a good consistency to work with. Read this post on how to properly feed your sourdough starter if you need help there.
By making these adjustments, you should be able to get your tortilla dough to the right consistency and make a delicious, homemade sourdough tortillas recipe every time.
What makes homemade flour tortillas hard?
To avoid making a batch of tortillas that come out hard, make sure to knead the dough only until it comes together and is no longer sticky, use enough water to make the dough pliable, roll the tortillas to an even thickness, cook them at a moderate temperature, and store them properly in an airtight container or plastic bag. Most tortilla problems are caused by…
Overworking the dough: Kneading the dough too much can develop the gluten in the flour, making the tortillas tough and chewy.
Using too little water: If the dough is too dry, the tortillas will be hard and difficult to roll out.
Rolling the tortillas too thin: If the tortillas are rolled out too thin, they will cook too quickly and become hard and crispy. Dry dough will also not puff as well when cooking and will tend to fall apart when you roll it out.
Cooking the tortillas at too high of a temperature: Cooking the tortillas at too high of a temperature can cause them to cook too quickly and become hard.
Not storing the tortillas properly: If the tortillas are not stored in an airtight container or plastic bag, they can dry out and become hard.
Is it better to use butter or oil for tortillas?
When making tortillas, you can use either butter or oil. Both options result in delicious tortillas. We choose butter for our sourdough tortillas recipe since butter adds a rich, creamy flavor to the tortillas and can make them slightly softer and more tender.
However, because butter has a lower smoke point than oil, it can burn more easily if the skillet is too hot. oil has a higher smoke point than butter, so it's less likely to burn. It can also make the tortillas slightly crispy and give them a more neutral flavor. Some people prefer using oil for this reason.
Ultimately, If you want a richer flavor and softer texture, use butter. If you prefer a more neutral flavor and slightly crispy texture, use oil. We recommend you use a healthy oil like coconut oil or avocado oil for this sourdough tortillas recipe. They both have high smoke points and will make a good sourdough tortillas recipe with excellent flavor and texture.
Storing and Freezing Sourdough Tortillas
Store them in an airtight container or resealable plastic bag at room temperature for up to 2-3 days. This keeps the tortillas soft and pliable and ready to eat.
To store this sourdough tortillas recipe in the fridge: (up to a week). Store them in an airtight container or resealable plastic bag to keep them fresh. Before using them, let them come to room temperature and then warm them up in a skillet or in the microwave.
To freeze the tortillas up to 2-3 months.
Place them in a resealable plastic bag.
Separate each tortilla in the bag with a piece of parchment paper or paper towel to prevent them from sticking together so you can easily remove one at a time.
Remove as much air as possible from the bag before sealing it. I suck out all the air through a small opening in the seal and then quickly close the seal.
Label the bag with the date and place it in the freezer.
To Defrost and Use Frozen Tortillas: When you're ready to use the frozen tortillas, remove them from the freezer and let them thaw at room temperature for about 15-20 minutes. Once they're thawed, you can heat them up in a skillet or in the microwave for a few seconds to warm them up.
You'll find our sourdough discard tortillas recipe in the recipe card below. It's a simple recipe. You may take a few times to get the hang of cooking them so don't be frustrated if the first couple have a few larger bubbles or char marks. They will still taste great.
Yield:

6
Sourdough tortillas Recipe
Delicious soft sourdough tortillas are deeply flavorful and perfect for tacos, enchiladas, casseroles and burritos. Or simply enjoying them their own. These tortillas use up your extra sourdough discard, are easy to make and so worthi it!
Ingredients
1 1/2 Cups all purpose flour
1 1/4 tsp. salt
1/4 Cup unsalted butter-softened
1/3 Cup water (more if needed)
1/2 Cup sourdough discard-recently fed (last two days)
Instructions
Whisk together the flour and salt in a medium bowl.
Cut butter in with a fork until combined.
Add sourdough discard and water.
Mix together until a shaggy ball forms
Place dough on floured board an knead until dough becomes smooth and sticky.
Roll dough into a long log and cut into 6 equal sections.
Cover the cut dough pieces and rest for 30 minutes or more.
Heat non stick skillet to medium heat.
While skillet is heating roll out the dough pieces into tortilla shapes.
Place a tortilla into the heated skillet.
When small bubbles form, quickly turn the tortilla and allow the other side to cook until edges firm and tortilla is slightly browned.
Remove from heat. Repeat process until all tortillas are cooked.
Serve immediately.
Notes
Please read our entire post for tips on how to get perfect tortillas every time.
Nutrition Information
Yield
6
Serving Size
1
Amount Per Serving
Calories

191
Total Fat

8g
Saturated Fat

5g
Trans Fat

0g
Unsaturated Fat

3g
Cholesterol

20mg
Sodium

508mg
Carbohydrates

26g
Fiber

1g
Sugar

0g
Protein

4g
More Fantastic Sourdough Discard Recipes:
We have so many recipes that use up sourdough discard and feed your family with love and care. Try our Sourdough Discard Pizza Dough, sourdough discard pancakes, sourdough banana bread with blueberries and all these recipe pictured below.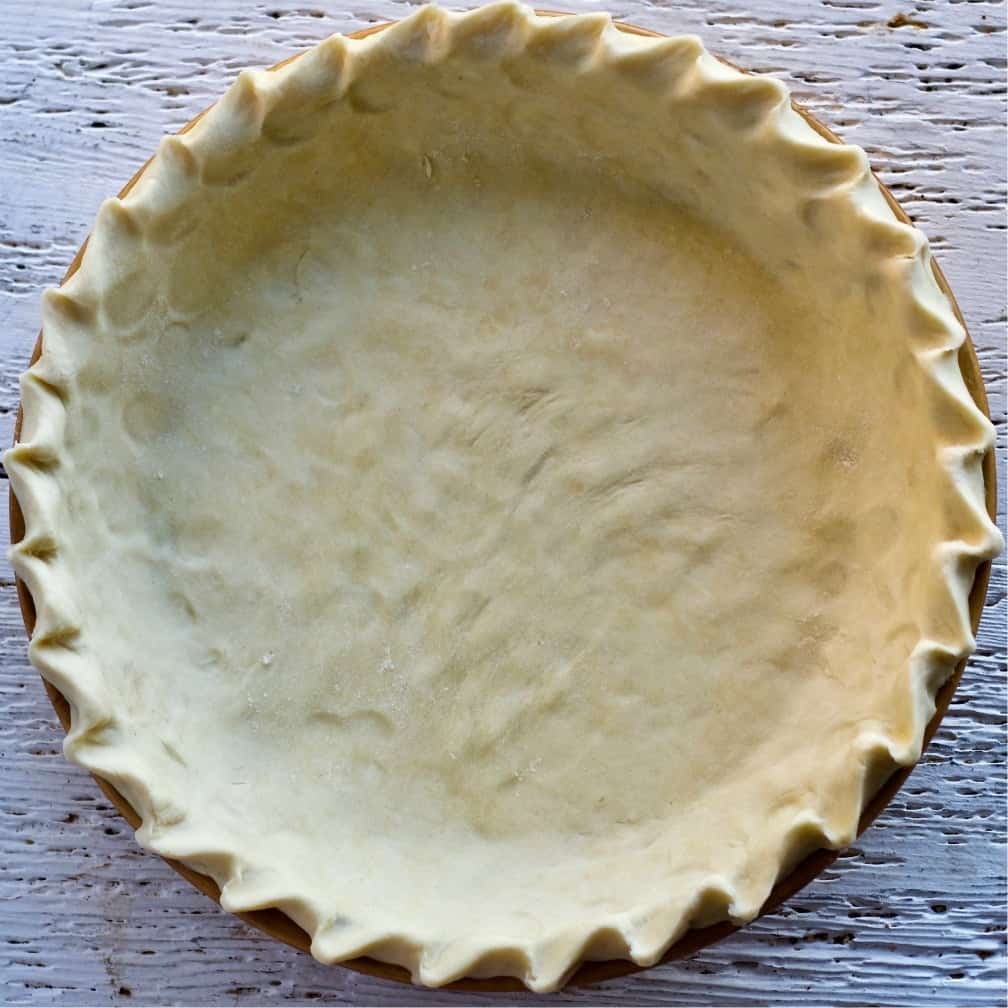 Follow Us:
We enjoy meeting you on our social networks. Follow us on Facebook, Pinterest, Instagram . Tag us with your pictures of our recipes and comment on how it went for you. We would love to see what you do with them.
We often like, comment and share your posts of our recipes on our daily Instagram stories.
Ask questions and rate the recipe in the comments section below. Please share what you did with this recipe. We are always looking for more and better ways to make homemade food. Other cooks love your ideas!
Recent Posts: