The sourdough Dutch baby pancake is a delicious and easy-to-make breakfast or brunch recipe that combines the tangy flavor of sourdough with the fluffy, puffy texture of a classic Dutch baby pancake.
We sourdough bakers are always looking for new ways to use up the discard after feeding your starter. More help on properly feeding your starter here if you need it. Throwing out sourdough discard is wasteful and unnecessary. Use it up in sourdough discard recipes like this one.
What Does a Dutch Baby Taste Like? Dutch baby flavor is complex. It has some flavor and texture elements of crepes, popovers, and traditional pancakes. Adding in sourdough starter gives it a deeper richer and tangier flavor.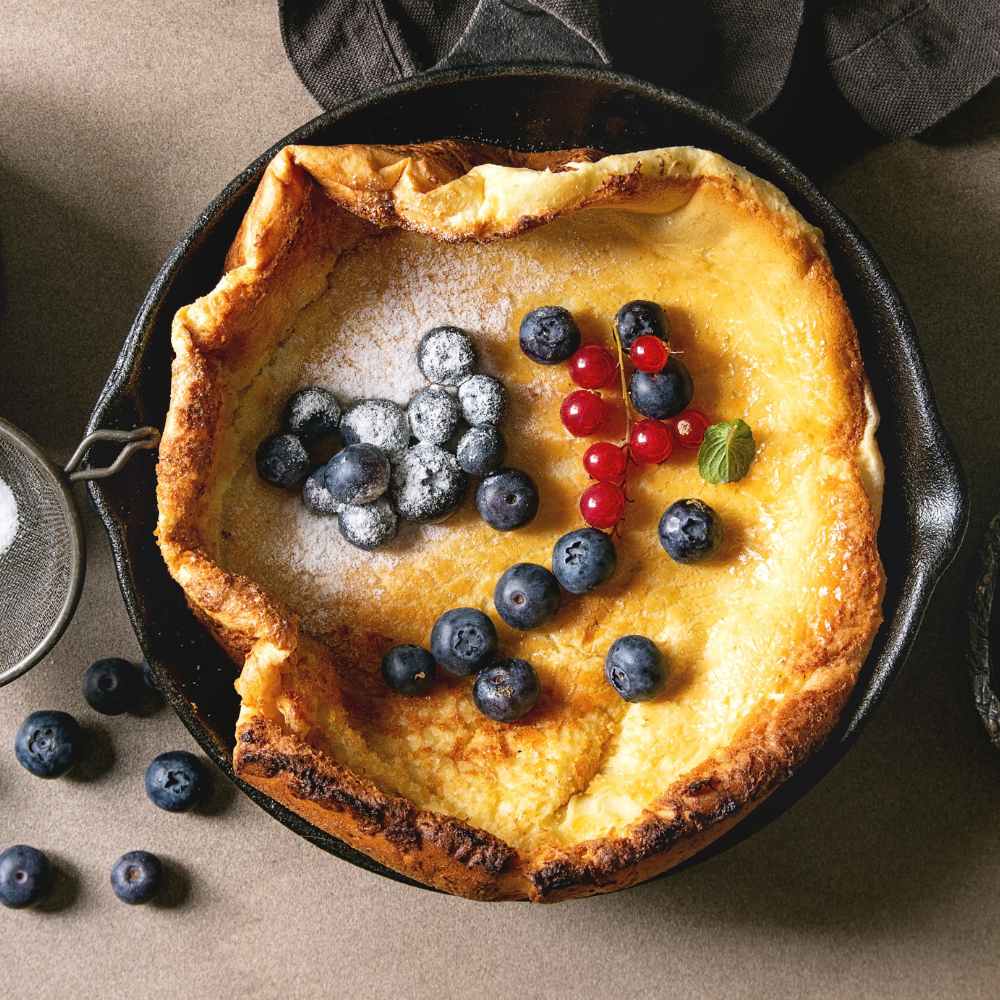 This sourdough Dutch Baby recipe is a fantastic twist on the traditional dutch recipe. Sourdough not only gives the pancake a unique flavor. Using ferments, like sourdough, will also improve the digestibility of the pancake.
Sourdough Dutch baby is a popular dish for weekend brunches. Serve it sweet with a variety of fruits, sweeteners and whipped cream, or enjoy your sourdough dutch baby savory with various cheeses, peppers and meats. This dish can go fancy or rustic. It's all in the presentation.
Why is a Dutch baby called a Dutch Baby?
The name "Dutch baby" probably is a mispronunciation of "Deutsch baby" or "Deutsch pancake." Although it's called a "Dutch baby," it's not actually Dutch in origin. 18th century German immigrants who settled in Pennsylvania, had a dish called a "Dutch puff" or "Deutsch puff," It has a fluffy, baby-like appearance, similar to the Dutch baby. This is most likely the origin. And the rest, as they say,…is history. 🙂
Sourdough Dutch Baby Recipe:
This is a very quick and easy dish to make. This is a simple blender recipe. Just throw everything in the blender, preheat your skillet in the oven, pour and bake. Cinchy.
The Sourdough Dutch baby is cooked in the oven rather than on the stovetop. It is normally baked in a cast-iron skillet that has been preheated in the oven to baking temperature. This improves the rise and fluff of the dutch baby and is more likely to give you the slightly crispy, pillowy exterior with a soft, custardy interior we are looking for in this recipe.
Can you make Dutch baby without cast-iron? Yes, you can make a Dutch baby without a cast-iron skillet, but it may affect the texture and rise of the pancake, depending on your choice or skillet or pan.
A cast-iron skillet is preferred for making Dutch babies because it retains heat well and helps the pancake rise and puff up. If you don't have a 12 inch cast-iron skillet, you can use any oven-safe skillet or baking dish.
What Are Dutch Babies Made Of?
One of the best things about this recipe for farm people with chickens is this recipe uses 6 eggs. And 2 CUPS of sourdough discard in any stage of fed. I'm always thinking up recipes that use a lot of eggs and discard. This one does.
The ingredients are not set in stone. I'm going through each of them so you can see how flexible this recipe is. For best results make sure your eggs, milk and starter are at room temperature when you begin the recipe.
Sourdough Starter: Your starter is the backbone of this recipe. What type of flour you have in the starter, how long it's been sitting unfed, how much percentage of hydration is in your starter, and how tangy your starter is will all play into how your dutch baby turns out. For a lighter, puffier pancake use a recently fed (last day) starter fed with all purpose flour at 1:1:1 ratios of water, flour and starter. When your starter is ready to bake bread it will give you the puffiest pancake.
Flour is not called for in this recipe but if your starter is runny, you may want to add in up to 1/2 Cup of flour to get the batter thick enough to rise well. To keep it light use all purpose flour, for a heavier, more flavorful and dense pancake with a bit more rustic look choose whole wheat.
The butter in this recipe is mixed with coconut or avocado oil. This gives you the butter flavor, but also ensures the butter won't burn while your pan is preheating.
Use any milk you prefer. This recipe is designed for cows milk, but any dairy or vegan choice will work.
This sourdough dutch baby does call for a lot of eggs but they do improve the fluff and puff of the pancake and add to the structure of this dish. You can substitute some of them if you prefer. Reduce the number of eggs to 3 or 4 and add in 1/2 Tablespoon of baking powder to the batter.
Variations:
to adjust this recipe to be a Vegan Sourdough Dutch Baby try this: Use a very strong starter, ready to bake bread. This will help maintain the structure and rise of the pancake. Eliminate three of the eggs and use your favorite vegan eggs and 1/2 tablespoon of baking powder to increase the rise without all the eggs. Replace the milk with your favorite nut milk. Use coconut or avocado oil to replace the butter.
An overnight sourdough Dutch baby allows the sourdough starter to ferment and develop more complex flavors, resulting in a tangier and more flavorful pancake. Just mix up your ingredients and when they are blended, set the blender jug in the fridge overnight. Next morning set the jug out at room temperature for 30 minutes, Preheat the oven and cast iron skillet according to instructions. Pour and bake. This cuts down the time in the morning on prep too.
Flavor and ingredient Variations on this recipe:
Fried Apple Dutch Baby: Thinly slice 2-3 apples and cook them in a skillet with 2 tablespoons of butter, 1/4 cup of brown sugar, and a pinch of cinnamon until the apples are soft and caramelized. Pour the batter over the apples and bake as directed.
Berry Dutch Baby: Add 1 cup of fresh or frozen berries, such as blueberries, raspberries, or strawberries, to the batter before baking. You can also sprinkle some extra berries on top before serving.
Cinnamon Dutch Baby: Mix 2 teaspoons of cinnamon into the batter before baking. Serve with powdered sugar and a drizzle of maple syrup.
Lemon Poppy Seed Dutch Baby: Add 1 tablespoon of poppy seeds and the zest of 1 lemon to the batter before baking. Serve with powdered sugar and a squeeze of fresh lemon juice.
Savory Dutch Baby: Instead of sugar and vanilla, add 1/4 cup of grated cheese, 1 tablespoon of chopped fresh herbs, and a pinch of salt to the batter. Bake as directed and serve with sautéed vegetables, cooked bacon, or smoked salmon.
Chocolate Dutch Baby: Mix 1/4 cup of cocoa powder into the batter before baking. Serve with whipped cream or chocolate chips on top.
These are just a few ideas to get you started, but you can get creative and experiment with different flavors and toppings to create your own unique Dutch baby pancakes.
Good Toppings For This dutch Baby Recipe:
There are many delicious toppings that you can use to serve with a sourdough Dutch baby pancake. Here are some ideas:
Fresh Fruit: Top your Dutch baby with a variety of fresh fruit, such as strawberries, blueberries, raspberries, sliced bananas, or diced mango.
Powdered Sugar: Dust the Dutch baby with a sprinkling of powdered sugar for a classic and simple topping.
Maple Syrup: Drizzle the pancake with warm maple syrup for a sweet and flavorful topping.
Whipped Cream: Add a dollop of whipped cream to your Dutch baby for a rich and creamy topping.
Nut Butter: Spread your favorite nut butter, such as almond butter or peanut butter, on top of the pancake for a delicious and protein-packed topping.
Jam or Jelly: Spread a spoonful of your favorite jam or jelly on top of the pancake for a sweet and fruity topping.
Cinnamon Sugar: Mix together some cinnamon and sugar and sprinkle it on top of the pancake for a sweet and spicy topping.
Chocolate Chips: Sprinkle some chocolate chips on top of the pancake for a delicious and decadent topping.
These are just a few ideas, but you can get creative and experiment with different toppings to find your favorite combination. We love this dish topped with blueberries, maple syrup and whipped cream. Yum!
Yield:

8 servings
Sourdough Dutch Baby
Ingredients
6 eggs
2 Cups Sourdough Starter (fed or unfed)
1/3 Cup milk
1/2 tsp. salt
1 tsp. vanilla
2 Tablespoons Maple syrup ( agave or honey are fine)
6 Tablespoons Butter (I used 50/50 butter/coconut oil)
Instructions
Preheat oven to 425 degrees F.
Place the butter/oil into your heat proof 12 inch skillet (cast iron is great since it will hold the heat and kick start the dutch baby, but us what you have).
Set the skillet in the hot oven and let the butter melt with the oil. Don't allow it to burn.
Crack the eggs into a blender with the vanilla, syrup, starter, milk and salt. Pulse until smooth and you can see the starter is well mixed throughout. Use a spatula if necessary to scrape down the sides.
Remove the hot skillet from the oven.
Immediately Pour the batter all at once into the butter/oil mix.
Return to oven and bake 15 to 20 minutes until the top is golden brown and a toothpick inserted into the middle comes out clean.
Cut and Serve immediately, straight from the skillet.
Notes
Since the oven is so hot cutting the butter by half and mixing in a high heat, smoke point, oil works best. You get the butter flavor and it wont burn. Either coconut oil or avocado oil are good choices. Olive oil and vegatable oil are not recommended as they may burn or cause an off flavor.
For more on variations, topping ideas and tips on the recipe and substitutions, be sure to read the entire post. Happy Baking!.
Nutrition Information
Yield
6
Serving Size
1
Amount Per Serving
Calories

343
Total Fat

17g
Saturated Fat

9g
Trans Fat

1g
Unsaturated Fat

7g
Cholesterol

218mg
Sodium

366mg
Carbohydrates

36g
Fiber

3g
Sugar

5g
Protein

12g
We have SO many more recipes that use up your extra discard and add value and flavor to your weekly menu. Sourdough Oatmeal Peanut butter cookies, Sourdough Waffles, sourdough pizza crust, sourdough pie crust, and so many more. Some of our more popular sourdough discard recipes are pictured and linked below. Enjoy!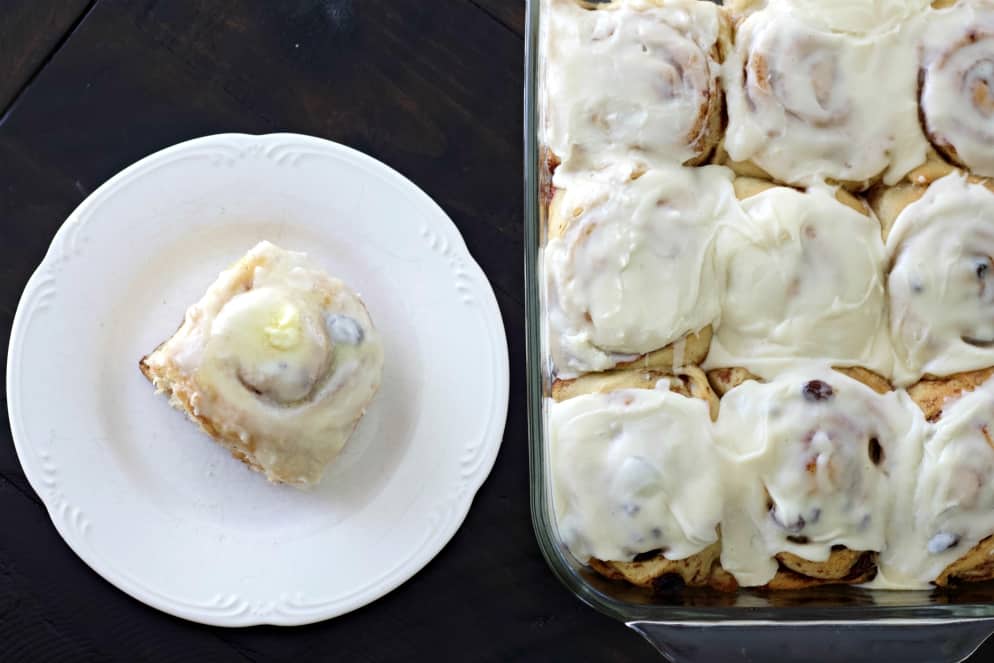 Recipe inspiration-Farmhouse on Boone