Our Sourdough White Chocolate Cookie recipe is made with white whole wheat, white chocolate chips and chopped walnuts for a delicious, nutty sweetness that adds a bit of crunchy texture to these cake like cookies.
This recipe is a great way to use up your extra sourdough discard. Sourdough discard gives a slight tang to baked goods, as well as a stronger texture and more cake like consistency for soft, chewy desserts.
We are sharing all of our tips for how to successfully bake with your sourdough discard.
What our step by step video tutorial for how to make these Sourdough White Chocolate Cookies
What can be made from Sourdough Starter?
Sourdough starter is a wonderful addition to a variety of baked goods. It brings depth of flavor, a stronger structure, and more cake like consistency to your usual desserts like cookies, crackers, pizza crusts, biscuits and pancakes.
Sourdough discard can also be used as a base for pastries like cinnamon rolls, bagels, pretzels and waffles. Click on any of the images below to explore these delicious sourdough discard recipes.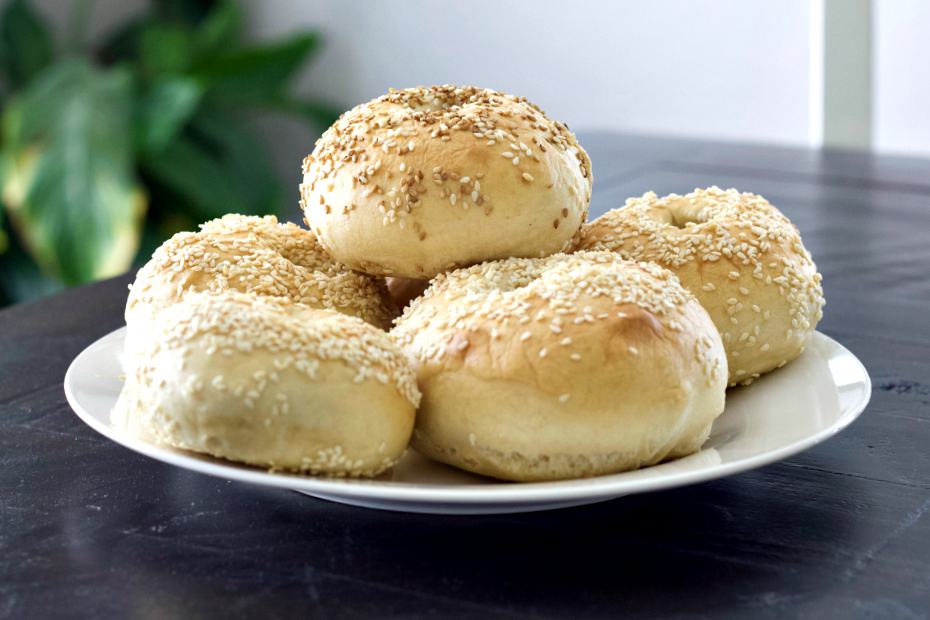 How long is Sourdough Discard good for?
Generally speaking most Sourdough Discard will be good when stored in the fridge for 1-2 weeks. By the end of that timeframe you will likely notice a grey hue to the discard, and a collection of liquid on the surface. The grey color is normal, and the liquid is called 'hooch' which is the fermented alcohol.
The longer you wait to use discard the stronger and more intense the tangy flavor will be. The liquid can either be mixed back into your discard to you can pour it off, whichever you prefer.
How can I make my Sourdough Cookies taste better?
Fresh, good quality ingredients is always best when making cookies. Reach for a good quality flour, butter, fresh eggs, and spices. Using good quality sweeteners will also have a tremendous affect on the flavor and texture of your cookies.
For this recipe we eliminated all the sugar except the white chocolate chips, and opted to use a good quality pure maple syrup and sugar free sweetener. Maple syrup adds a wonderful sweet richness to the cookies which balances the strong starter.
Additional flavor extracts can also be used to deepen the flavor in cookies. We added a bit of almond extract to these cookies which brought in a warm, familiar flavor complexity.
For thick, fluffy cookies there are a few different baking techniques that are important to use.
Softened, not melted, butter. Melted butter will change the consistency of the cookie dough and yield flat cookies.
Measuring the sugars and flours properly. Too much sugar will lead to flat, heavier cookies. Not enough flour will leave the cookie dough thin with a weak consistency.
Be careful not to over mix the cookie dough. Over mixing will break down the cookie dough, resulting in thin, flat and dense cookies.
Follow the proper bake time and temperature suggestions for the specific recipe. Over baking will lead to tough, chewy cookies. Under baked cookies can also be flat because they have not had enough time to properly rise through the baking process.
What can I add to White Chocolate Chip Cookies?
White chocolate chips are a delicious alternative to dark or semi sweet chocolate chips for cookie recipes. We love the soft, sweet nature of the white chocolate chips. They work well in regular cookie dough as well as chocolate cookie doughs. Here are some other add ins you can try if you are looking to dress up this Sourdough White Chocolate Chip Cookie recipe.
Walnuts, macadamia nuts, hazelnuts, and chopped pecans
Bits of dried fruits like raspberries, cranberries, or strawberries
Butterscotch chips
Crushed peppermint candies for a festive holiday cookie
Reeses pieces or Heath candies
Soft caramel bits
Cookies freeze and store very well. For this recipe, bake as the directed and allow the cookies to cool completely. Place cookies in freezer safe airtight bags, and store the bags in a freezer safe container to prevent the cookies from getting squished and broken.
These cookies can be frozen for up to 6 months when stored properly. When ready to eat, remove from the freezer and allow to thaw at room temperature for at least 1 hour. To warm the cookies, lay them on a parchment covered baking sheet and reheat in the oven at 350 degrees F for 10 minutes or until warmed through.
Sourdough White Chocolate Cookie Recipe
The texture of these cookies has a nutty crunch, and sweet bits of white chocolate, yet the cookie batter is cake like and fluffy. For an even softer cookie we recommend sifting the dry ingredients. Sifting the dry ingredients together is the best way to blend them and will give your cookies a softer texture.
Your Printable Recipe Card:
Yield:

50 cookies
Sourdough White Chocolate Cookies
Use up your sourdough discard with this amazing Sourdough cookie recipe. White chocolate chips and chopped nuts add a delicious sweetness and bit of crunchy texture to these cake like cookies.
Ingredients
Wet Ingredients:
3/4 cup coconut oil, softened
1/2 cup sugar Free Nectiva (stevia syrup blend)
1/2 cup Sugar free Maple syrup
2 eggs
1 cup active sourdough starter (older discard starter will work but give you less rise)
1 tsp vanilla
1/2 Tsp. Almond Flavoring
Dry ingredients:
2 1/2 Cups whole wheat white flour
1 Cup all purpose flour
1 tsp baking powder
1 tsp baking soda
1/2 tsp salt
Add Ins:
1 Cup chopped nuts
2 Cups White chocolate chips (reduce by half if desired)
Instructions
Preheat oven to 325 degrees F.
In a large bowl sift together the flour, baking soda, baking powder and salt.Throw out large wheat grinds if any.
Make a well in the dry ingredients.
Pour all the melted coconut oil, Nectiva (Agave may be substituted here), maple syrup in a medium bowl(or batter bowl with a spout. Whisk in the egg. Add the sourdough starter on top and gently whisk until broken into small lumps.
Pour the wet ingredients into the well of the large dry ingredients bowl.
Mix by hand with a large wooden spoon. (The dough will seem wet until the whole wheat flour absorbs some of the liquid.)
Fold in your nuts and chips.
Place by spoonfuls (I use a medium cookie scoop) onto a cookie sheet and bake 10 minutes, or until just golden brown around the edges.
Remove from oven and let set a minute or two. Remove to cooling racks.
Notes
You can use an all purpose flour to replace the soft white wheat in this recipe.
Recommended Products
As an Amazon Associate and member of other affiliate programs, I earn from qualifying purchases.
Nutrition Information
Yield
50
Serving Size
1 cookie
Amount Per Serving
Calories

94
Total Fat

5g
Saturated Fat

3g
Trans Fat

0g
Unsaturated Fat

2g
Cholesterol

4mg
Sodium

51mg
Carbohydrates

12g
Fiber

1g
Sugar

3g
Protein

2g
Follow Us:
We enjoy meeting you on our social networks. Follow us on Facebook, Pinterest, Instagram . Tag us with your pictures of our recipes and comment on how it went for you. We would love to see what you do with them.
We often like, comment and share your posts of our recipes on our daily Instagram stories.
Ask questions and rate the recipe in the comments section below. Please share what you did with this recipe. We are always looking for more and better ways to make homemade food. Other cooks love your ideas!
Recent Posts: