Whether you are looking to use up your own home grown pumpkins, or purchasing fresh pumpkins from your local grocer; processing pumpkins is a great skill to have. Homemade Pumpkin Puree can be frozen and stored to use throughout the year, or used to make a variety of delicious recipes.
From pies and muffins, to smoothies and savory pumpkin bisque; pumpkin puree is immensely beneficial to have on hand and very easy to incorporate into your menu.
We are walking you through the very best way to puree and store fresh pumpkins with no stringy, dry strands. Only tender, creamy pumpkin that is ready to use whenever you are ready.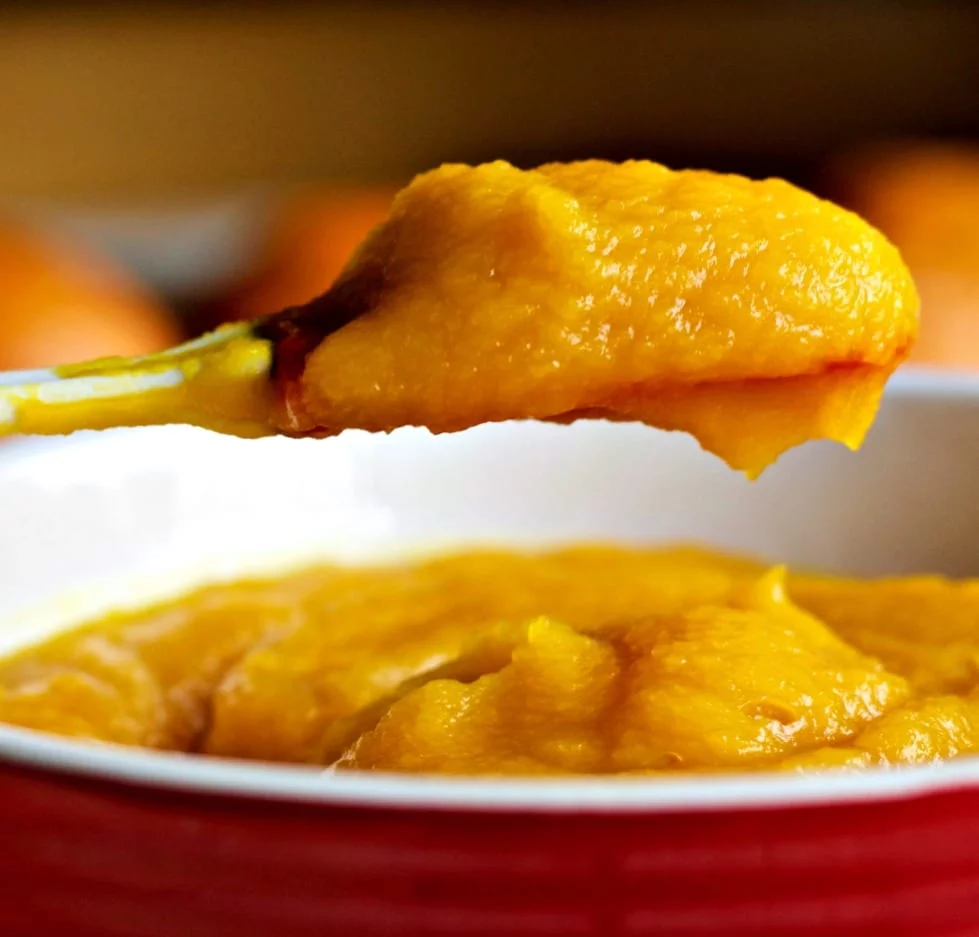 Watch this video to see the complete process of how to make pumpkin puree in your oven.
Did you know that you can use your Instant Pot to make Pumpkin Puree for larger batch preparation when you have a lot to do in a hurry? Follow the same instructions I use in this post on how to cook sweet potatoes in the instant pot.
Which pumpkins are best for making puree?
While every variety of pumpkin is edible, smaller pumpkins like Sugar Pie, Cinderella and Jarrahdale will be better for cooking and baking with. Specific varieties are grown for eating because they have a creamier flesh with a sweeter flavor profile.
Larger field pumpkins will have a stringy, watery flesh that are better to use for decorating or feeding livestock.
All of these delicious recipes can use roast pumpkin puree. Roast puree gives these recipes a nice deep flavor a store bought canned pumpkin doesn't have. It will make a noticeable difference in the flavor of your recipes.
Are Pumpkins a good source of nutrition?
Like all winter squashes, pumpkin is very good for you as it is rich in vitamins and antioxidants. They are also a great source of fiber while being low in calories, so they are satisfying and sustaining. Pumpkins have cancer fighting agents, can improve eyesight, and are high in calcium and magnesium.
Pumpkin seeds are also known to fight against gut parasites while delivering zinc and a variety of vitamins to help boost the immune system. Shelled and baked pumpkin seeds are great to add to your diet in trail mixes, smoothies, and salads. You can also enjoy them Roasted Sweet or Savory, which is one of our family's fall favorites.
For more on the health benefits of Pumpkin read this SF Gate article on the health benefits of pumpkin puree .
We grow our own pumpkins and squash every year. Depending how they do in the garden, we have lots of pumpkins to share with our kids and decorate with the grandkids. We have a large selection of pumpkin desserts and recipes that you can explore including our Pumpkin Cheesecake Bars, Pumpkin Cream Cheese Muffins, and Butternut Pumpkin Soup.
Steaming Pumpkins
We recently made sweet potato puree in the Instant Pot. It is extremely easy to steam pumpkins that way for puree and we absolutely recommend utilizing your pressure cooker if you have one.
When you have a large amount of pumpkins to process it's much quicker! Go to the post on Instant Pot Steamed Sweet Potato Puree for instructions for the instant pot and a video help too!
The pumpkin consistency will be a bit looser and wetter than if you roasted it, and the flavor is more bland. The roasting method is preferable for a denser, sweeter result similar to the canned pumpkin we often use in pumpkin pie recipes.
Roasting Pumpkins
Fresh Sugar Pie Pumpkins are sweet and have fine grained flesh that make a good quality baking puree. This is the variety we recommend for best results with this puree recipe, but any similar baking variety will work beautifully.
How do you Roast Pumpkins?
Roasting pumpkins is a very easy process that you can do with any root vegetable. You will have to adjust the cooking time depending what you are roasting, but the process is the same. Your squash will be done when it is fork tender.
Preheat your oven to 400 degrees
Cut the pumpkins in half and deseed.
place on a baking sheet cut face down.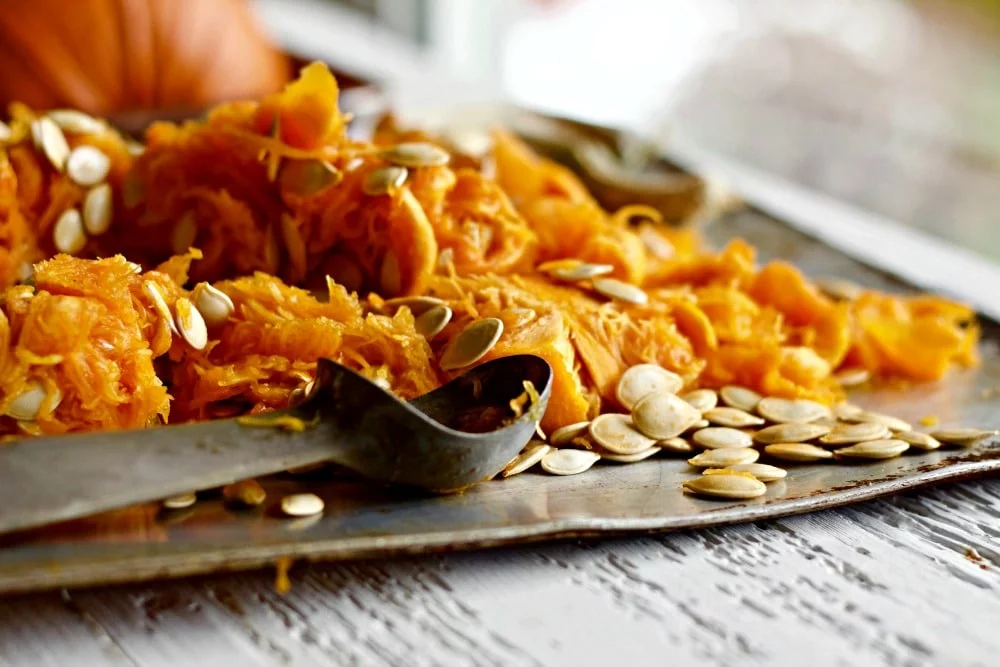 Bake 40 minutes or until the pumpkins are tender when pierced with a sharp knife or fork.
Remove from the oven and cool to a slightly warm temperature.
Using a serrated or very sharp knife cut off the pumpkin skins. The better cooked the pumpkin, the easier they are to peel.
Place the skinned pumpkin pieces into a food processor and pulse until the pumpkin chunks become a fine grained smooth puree. We put the roasted pumpkin pieces into the food processor in 2 to 3 inch chunks.
Do not add liquid to the food processor, this will make your puree too thin.
Continue to process the puree until it is completely and evenly processed into puree.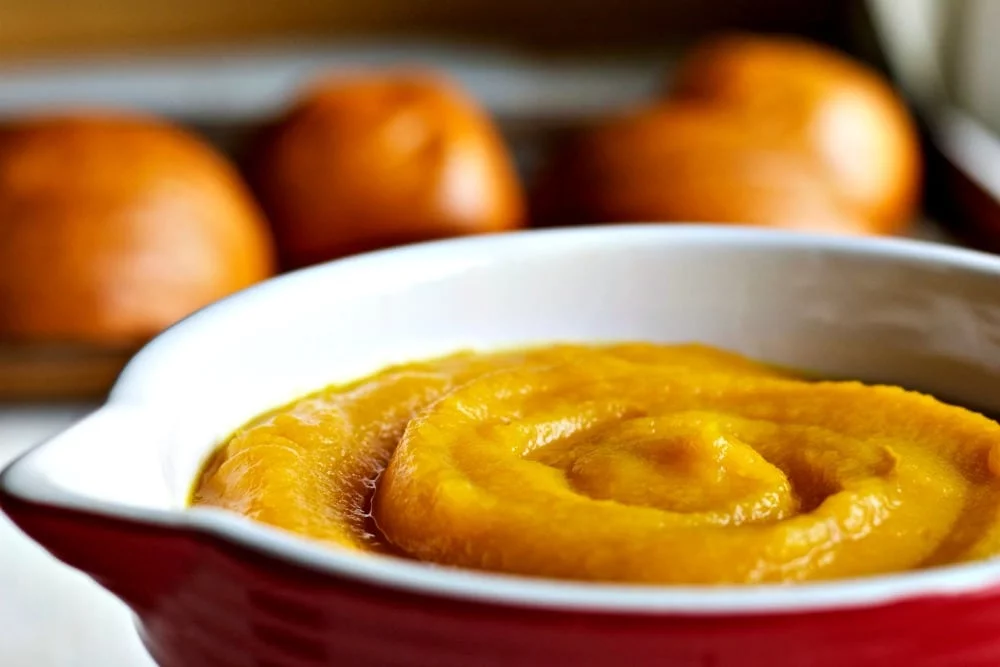 Freezing fresh Pumpkin Puree
Using a wide mouth canning funnel pour the pumpkin puree into quart sized Ziplock freezer bags and remove all of the excess air.
Label and date the sealed bags laying them flat on a baking sheet.
Place in your freezer on the baking sheet until the bags are frozen solid, then remove the baking sheet. This ensures easy stacking in the freezer and provides fewer edges for bag breakage.
The pumpkin puree can be stored in the freezer for six months up to a year. Once you are ready to use, remove the bag of puree from the freezer and place in your fridge or on your counter, allowing it to slowly thaw. Drain excess liquids off the puree as necessary for your preferred puree.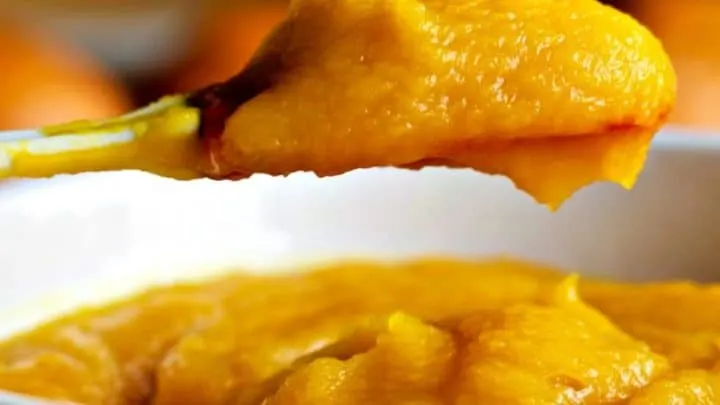 Yield:

1 quart of puree
Homemade Roasted Pumpkin Puree
homemade pumpkin puree is a good way to preserve your extra pumpkin harvest. This post show you how to puree pumpkin and roast it in your oven. Freezing instructions are also included.
Ingredients
1 Sugar Pie Pumpkin, cut in half and deseeded
Instructions
Preheat your oven to 400 degrees (use convection roast settings if you have it)
Cut the pumpkin in half, deseed and place on a baking sheet cut face down.
Bake 40 minutes or until the pumpkin halves are tender when pierced with a sharp knife or fork. The skins will brown and lift off the pumpkin a bit when done.
Remove from the oven and cool to handleable temperature.
Using a serrated or very sharp knife cut off the pumpkin skins.
Place the skinned pumpkin pieces into a food processor and process until the puree is smooth.
Notes
Just follow the instructions as you would for sweet potatoes.
Nutrition Information
Yield
8
Serving Size
1/2 Cup
Amount Per Serving
Calories

42
Total Fat

2g
Saturated Fat

0g
Trans Fat

0g
Unsaturated Fat

1g
Cholesterol

4mg
Sodium

40mg
Carbohydrates

6g
Fiber

0g
Sugar

4g
Protein

1g
Follow Us:
We enjoy meeting you on our social networks. Follow us on Facebook, Pinterest, Instagram . Tag us with your pictures of our recipes and comment on how it went for you. We would love to see what you do with them.
We often like, comment and share your posts of our recipes on our daily Instagram stories.
Ask questions and rate the recipe in the comments section below. Please share what you did with this recipe. We are always looking for more and better ways to make homemade food. Other cooks love your ideas!
Recent Posts: