Looking for ways to use your pumpkin? Here's how to make homemade pumpkin puree by roasting it in your oven. Freeze this flavorful pumpkin puree and use it in LOTS of yummy pumpkin puree recipes throughout the year.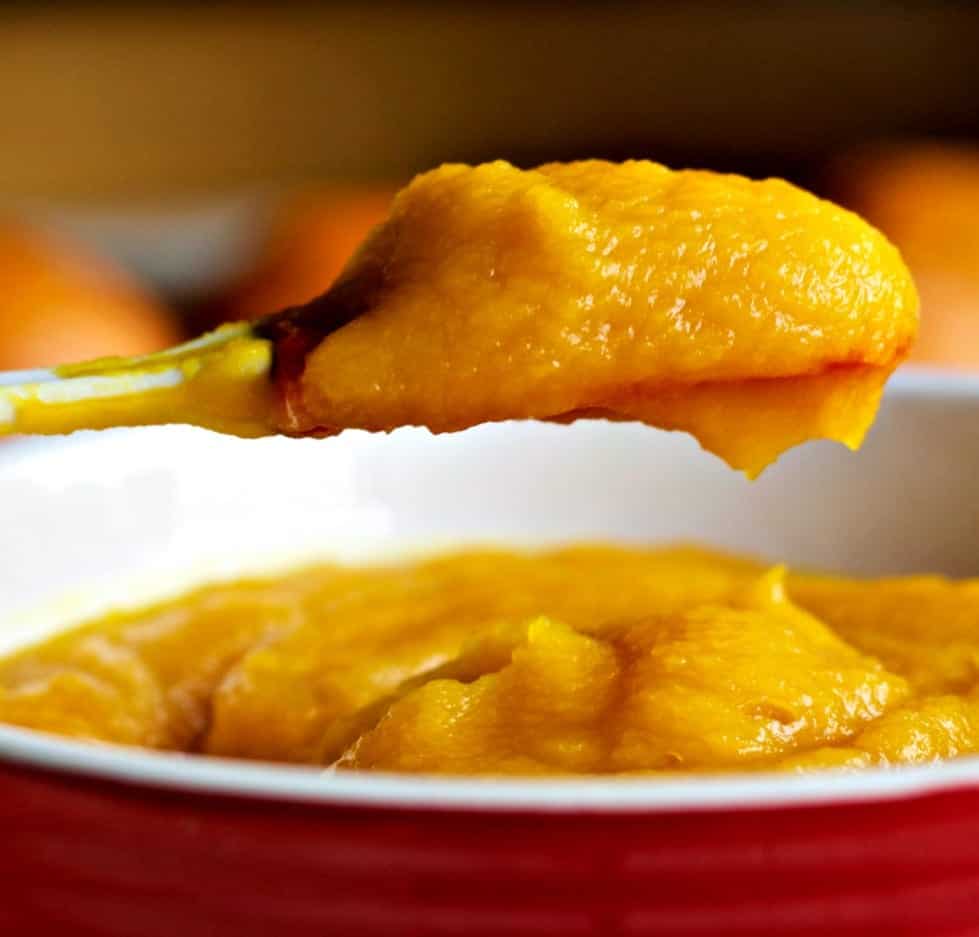 Pumpkin is a healthy and versatile basic ingredient to put in your freezer. Watch this video to see the complete process of how to make pumpkin puree in your oven.
You can also use your Instant Pot for Pumpkin puree for larger batch preparation when you have a lot to do in a hurry. Follow the same instructions I use in this post on how to cook sweet potatoes in the instant pot.
Roast pumpkins give pumpkin puree a very deep and intense flavor. That is especially yummy in pumpkin pie filling. Roasting is the preferred method for pies.
Roasted Pumpkin puree tastes marvelous just plain and heated with a bit of butter and salt and pepper as a side dish. It's so good with Meatloaf or other meaty meals.
More Pumpkin Puree Recipes
All of these delicious recipes can use roast pumpkin puree. Roast puree gives these recipes a nice deep flavor a store bought canned pumpkin doesn't have. It will make a difference in your recipes.
NOTE: Roasted puree has a denser pulp more like canned. Steamed puree is looser and has a higher water content with less flavor.
Fresh Pumpkin goes either savory or sweet. It has so many uses.
Pumpkin Puree Nutrition:
ALL winter squashes are very good for you. The fiber alone is an excellent reason to make pumpkins a regular on your winter menu plan.
Pumpkin has very few calories but satisfies the appetite with the fiber and flavor it offers.
Pumpkin is also full of Beta-Carotene. For more on the health benefits of Pumpkin read this SF Gate article on the health benefits of pumpkin puree .
A full nutrition label is found at the bottom of our Printable Recipe Card.
We grow our own pumpkins and squash. Every year, depending on how they do in the garden, we have lots of pumpkins to share with our kids and decorate with the grandkids.
We also have plenty to roast and process into pumpkin puree and roasted seasoned pepitas. (Here is how you process pumpkin seeds into tasty roasted pumpkin seeds)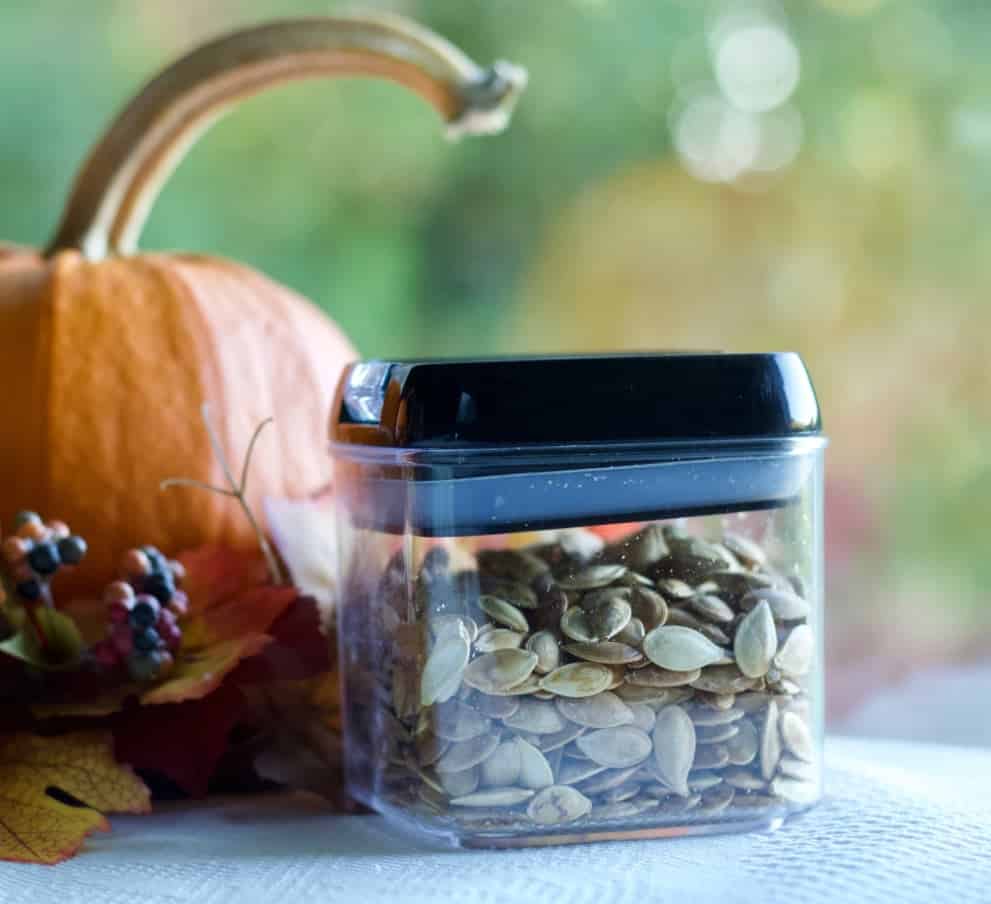 I freeze roast pumpkin puree for yummy sweet potato pumpkin pie and other recipes throughout the year when canned pumpkin vanishes from the store shelves.
NOTE: The huge pumpkins we decorate and cut into ghoulish Halloween decorations are Jack O Lanterns. These are not baking pumpkins. Jack O Lanterns CAN be processed. But don't bother. The flesh is stringy and flavorless. Not worth the effort. Promise!
Steaming Method:
I recently made sweet potato puree in my instant pot. It is extremely easy to steam pumpkins that way for puree.
This is the method I recommend when you have a large amount of pumpkins to process. It's much quicker! Go to my post on Instant Pot Steamed Sweet potato Puree for instructions for the instant pot and a video help too!
HOWEVER, the pumpkin is a bit looser and wetter than roasting it and the flavor is more bland. I prefer this roasting method for a denser, sweeter result similar to the canned pumpkin we often use in pumpkin pie recipes.
How to make Pumpkin Puree- Roasting Method
Fresh Sugar pumpkins (about 4 to 6 pounds each ) are sweet and have fine grained flesh that make a good quality baking puree. This is the variety I recommend for best results with this puree recipe.
Roasting the pumpkin concentrates the sugar in it and makes a lovely sweet healthy puree.
Instructions:
Note: You can also roast any root vegetable with this technique. you will have to adjust the cooking time but the process is the same. You want to cook them to fork tender.
Preheat your oven to 400 degrees
Cut the pumpkins in half and deseed.
place on a baking sheet cut face down.
Bake 40 minutes or until the pumpkins are tender when pierced with a sharp knife or fork.
Remove from the oven and cool to handleable temperature.
Using a serrated or very sharp knife cut off the pumpkin skins. The more cooked the pumpkin, the easier they are to peel. Just sayin.
Place the skinned pumpkin pieces into a food processor and process until the pumpkin chunks become a fine grained smooth puree. I put the roasted pumpkin pieces into the food processor in 2 to three inch chunks and whirl away.
If your pumpkin chunks stay on the top of the puree in the processor Use your pulse button until they go down.
Do NOT add liquid to the food processor. It will make your puree too thin.
I took a rubber spatula and encouraged my pumpkin chunks down into the blades. Careful with that!
Continue to process the puree until it is completely and evenly processed into puree.
Watch for chunks that need further processing. That's how to make pumpkin puree.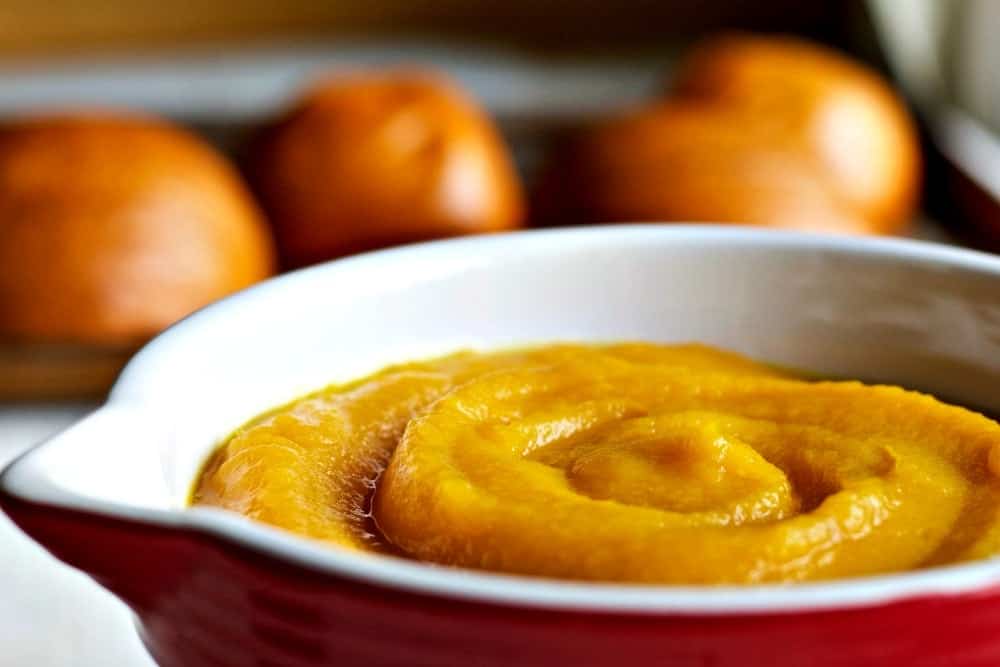 Now you have homemade Roasted Pumpkin puree. Cook with it fresh or freeze it for later.
Freezing Pumpkin Puree:
Using a wide mouth canning funnel pour the pumpkin puree into quart sized Ziplock freezer bags (or vacuum seal them).
Remove as much air as possible from the bags as you seal them to prevent freezer burn. (I suck the air out as I seal the bags. A straw works well for this)
Label the sealed bags and lay them flat on a baking sheet.
Place in your freezer on the baking sheet until the bags are frozen solid, then remove the baking sheet. This ensures easy stacking in the freezer and provides fewer edges for bag breakage.
The pumpkin should remain good in the freezer 6 months or even up to a year. To use the pumpkin thaw in a large bowl on the counter for use that day or overnight in the fridge. Drain excess liquids off the puree as necessary for your preferred puree.
Yield:

1 quart of puree
Homemade Roasted Pumpkin Puree
homemade pumpkin puree is a good way to preserve your extra pumpkin harvest. This post show you how to puree pumpkin and roast it in your oven. Freezing instructions are also included.
Ingredients
1 Sugar Pie Pumpkin, cut in half and deseeded
Instructions
Preheat your oven to 400 degrees (use convection roast settings if you have it)
Cut the pumpkin in half, deseed and place on a baking sheet cut face down.
Bake 40 minutes or until the pumpkin halves are tender when pierced with a sharp knife or fork. The skins will brown and lift off the pumpkin a bit when done.
Remove from the oven and cool to handleable temperature.
Using a serrated or very sharp knife cut off the pumpkin skins.
Place the skinned pumpkin pieces into a food processor and process until the puree is smooth.
Notes
Just follow the instructions as you would for sweet potatoes.
Nutrition Information
Yield
8
Serving Size
1/2 Cup
Amount Per Serving
Calories

42
Total Fat

2g
Saturated Fat

0g
Trans Fat

0g
Unsaturated Fat

1g
Cholesterol

4mg
Sodium

40mg
Carbohydrates

6g
Fiber

0g
Sugar

4g
Protein

1g
Pin it: