Overnight Steel Cut Oats Breakfast is amazingly easy and good for you and your family. Do a few minutes work the night before and this no-cook, gluten-free, dairy-free, vegan. Breakfast will be ready in under five minutes in the morning. A filling, delicious way to start your day.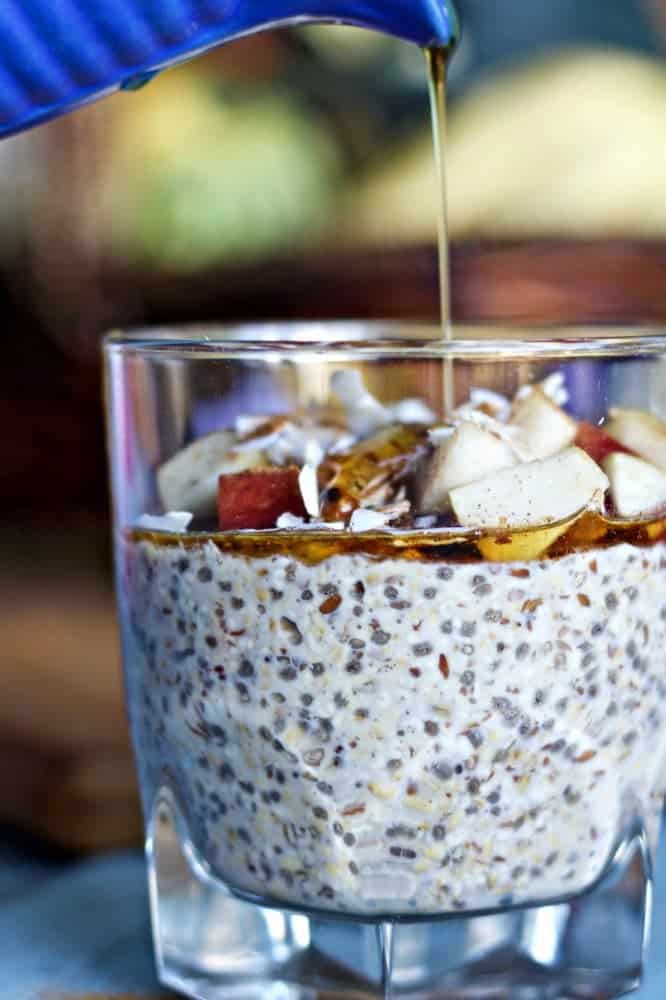 Overnight Steel Cut oats breakfast is no bake! No cook! You can microwave it but even that is optional. It's healthy and yummy. Great for frantically busy mornings.
This breakfast is another of my overnight breakfast recipes. I love them! Do the work in the evening and wake up to breakfast ready to bake or eat.
My other overnight breakfast casseroles are for large crowds and require some time in the oven. But they are scrumptious too and disappear fast.
Easy Healthy Breakfast
Got a houseful of kids heading out the door? this is a healthy breakfast for kids. Try this!
Set a Line of these oat cups on the table. Stick a spoon in them. This is on par with the prep for a bowl of cereal but incredibly more nutritious.
What's not to love. In a pinch it can go in the car with you! But don't forget the wipes 🙂
In my life, this easy breakfast recipe fits right in. Imagine Dave's surprise when I delivered his breakfast in a cup rather than a plate.
He couldn't figure out how I had produced a rather cute, complete, filling breakfast with coffee in the same amount of time as his morning toast. And he loved it! So did I.
Steel cut oats are my favorite type of oats for my homemade granolas and this breakfast. They have a nutty flavor and chewy texture I love. I am not a fan of slimy gelatinous cooked rolled oats.
The Chia and flax add fiber and more nutrients. Apples, cinnamon and unsweetened coconut flakes top it off. The only sweetener is pure organic maple syrup. Way better than a bowl of frosted flakes 🙂 And this breakfast is filling.
These carbs are good carbs with fiber that digests slowly and keeps you going. This breakfast won't drop you on your butt craving a candy bar in two hours.
Easy Overnight Steel Cut Oats Breakfast:
THE NIGHT BEFORE:
With Just a few minutes easy work and off to bed you go. The next day's breakfast is almost completely done!
Combine the Steel Cut Oats, flax, and chia seeds into a 4 cup container.
Mix it up with a fork.
Pour the Almond milk over the dry mix and mix it with the fork.
Store the covered container in your fridge (or on the counter) until morning.
IN THE MORNING:
Finish the breakfast in about five minutes. Use any fruits your family enjoys for the toppings. The oats are great even without fruit.
Here's what to do:
Remove the oats concoction from the fridge and divide it into (up to) four 12 oz. cups; about 3/4 cup of oatmeal in each.
microwave it two minutes. (or you may prefer to eat it cold. This breakfast tastes fine either way).
While it's heating chop up a medium sized apple as fine as you like.
Top the cups with the chopped apple, shredded unsweetened coconut and Pure Organic Maple syrup to taste.
This steel cut oats recipe is so easy and SO nutritious! What a great way to start the day. This overnight oats breakfast is versatile. Top it any way you like and then come tell me what you did! I love new ideas 🙂
Here is you printable Recipe. Enjoy!
Yield:

4 servings
Overnight Steel Cut Oats Breakfast Recipe
Do a few minutes work the night before and this no-cook, gluten-free, dairy-free, vegan, breakfast will be ready in under five minutes in the morning. A filling, delicious way to start your day.
Ingredients
1 Cup steel cut oats
2 Cups almond milk
1 1/2 Tablespoon Chia
1 Tablespoon flax
Toppings:
2 Tablespoons maple syrup
1 Chopped fresh apple
1/2 tablespoon Cinnamon or apple pie spice
Instructions
Pour the steel cut oats, milk, Chia and flax into an airtight container and let set overnight in your fridge.
In the morning chop the apple into whatever size chunks you prefer, or slices.
Sprinkle with large unsweetened coconut flakes.
Pour the Maple syrup over all.
Sprinkle with apple pie spice or plain cinnamon as you prefer.
Nutrition Information
Yield
4
Serving Size
1
Amount Per Serving
Calories

340
Total Fat

10g
Saturated Fat

2g
Trans Fat

0g
Unsaturated Fat

7g
Cholesterol

0mg
Sodium

73mg
Carbohydrates

58g
Fiber

9g
Sugar

20g
Protein

8g
Pin it: