This Overnight Steel Cut Oats recipe is amazingly easy and makes a delicious, healthy breakfast or post workout meal. Do a few minutes of work the night before, and you will have scrumptious, hearty oats that you can dress up however you want. Peanut butter, protein powder, fruit and chia seeds; it's the perfect choice for a high protein, healthy carb meal.
Our recipe combines steel cut oats, almond milk, chia seeds and flaxseed meal for a hearty base. We top it with apples, cinnamon and pure maple syrup for a crunchy, sweet texture.
Our overnight oats recipe is a great option for everyone. It is vegan as well as gluten and dairy free, so special dietary needs can be easily managed depending how you top your oats. We love how versatile overnights can be, they can be enjoyed in a variety of ways depending on your needs and preferences.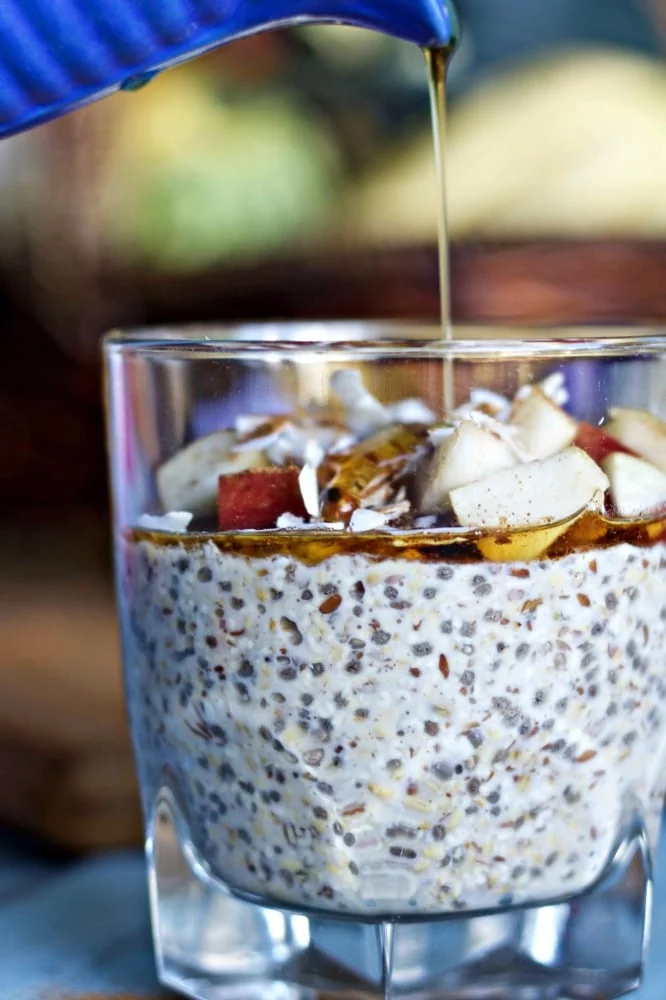 Is it okay to soak steel cut oats overnight?
Because of their natural heartiness, soaking steel cut oats is a fantastic way to achieve a softer, tender, easier to digest oatmeal. Steel cut oats are much heartier and dense than the typical rolled oats. This is because they are cut as the whole grain groat, rather than rolled, leaving them with a thick, chewy texture.
Overnight soaking will afford the oats that fluffy, creamier texture that we all find so pleasant. They will also cook much faster, so it is a wise choice that will save you time and present a much more pleasant eating experience.
What type of oats are best for overnight oats?
When trying to decide which oats to use for your overnight oats recipe, it really comes down to two; steel cut or old fashioned, and deciding between the two is largely a personal preference for texture as well as cooking style. Quick oats are not a good option for overnight oats as they will absorb too much liquid making them soggy.
Old fashioned oats are the most popular choice, as they present a pleasant texture with very little effort once they are soaked. Steel cut oats can be eaten without cooking once they are soaked, but some may still find the texture too intense. They can be cooked after soaking, but it's an extra step that you may wish to avoid. However, steel cut oats have a nuttier flavor and present a heartier experience that many love, making them an option for overnight oats.
We have a few overnight breakfast casseroles that are perfect for large crowds. From sweet or savory to a meatless option, you're sure to find one you love.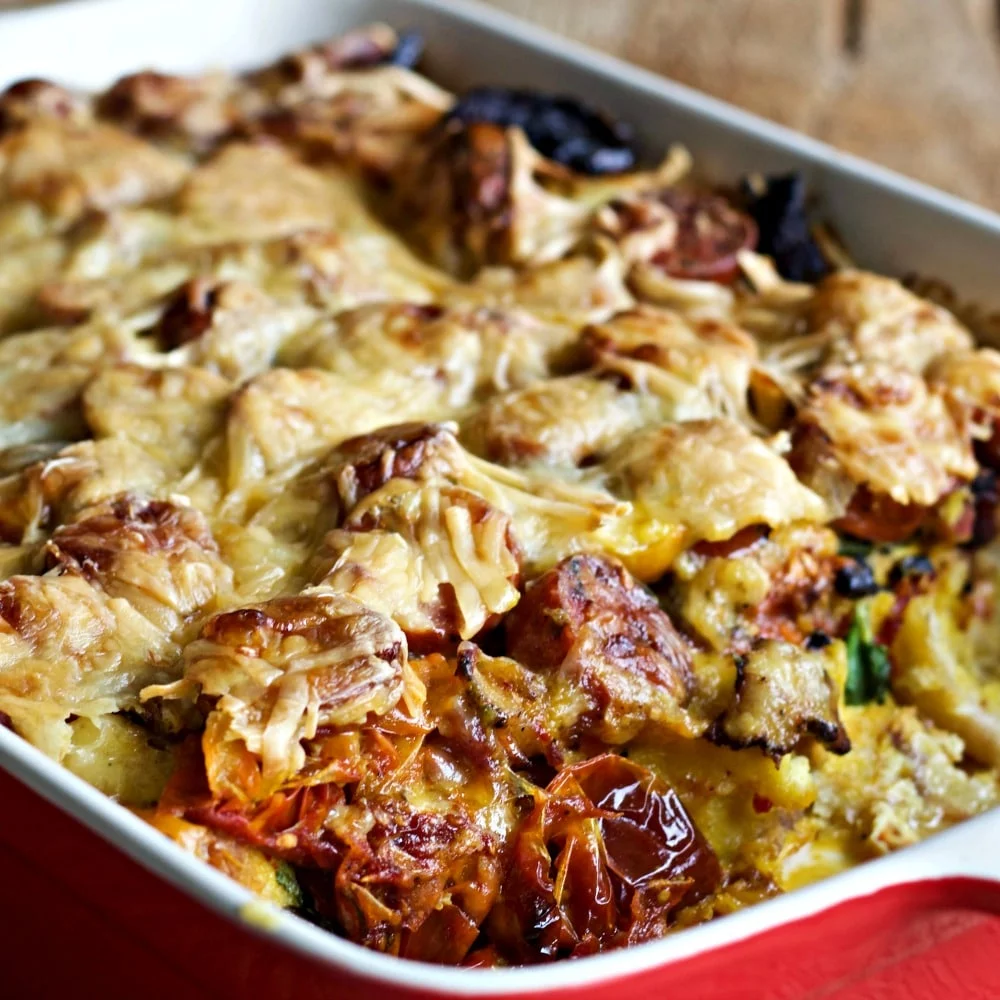 Are steel cut oats better for you than rolled oats?
Of the three style of oats, old fashioned, rolled and steel cut; steel cut is the least processed. Not by a lot, but because of this it is believed that steel cut oats contain a bit more fiber than rolled or old fashioned.
Steel cut oats also have a slightly lower glycemic index meaning you will digest and absorb them a bit slower, which will support a slower rise in blood sugar. Quick, high spikes in blood sugar happen when you eat things like candy bars and foods with a high glycemic index.
Steel cut oats will provide a slow, steady release of energy for you, and can support lower blood sugar levels. This definitely makes them a smart choice, but it's important to remember the difference between the styles of oats is only slight. All oats are a fantastic carb choice that provide fiber and a steady energy release for you.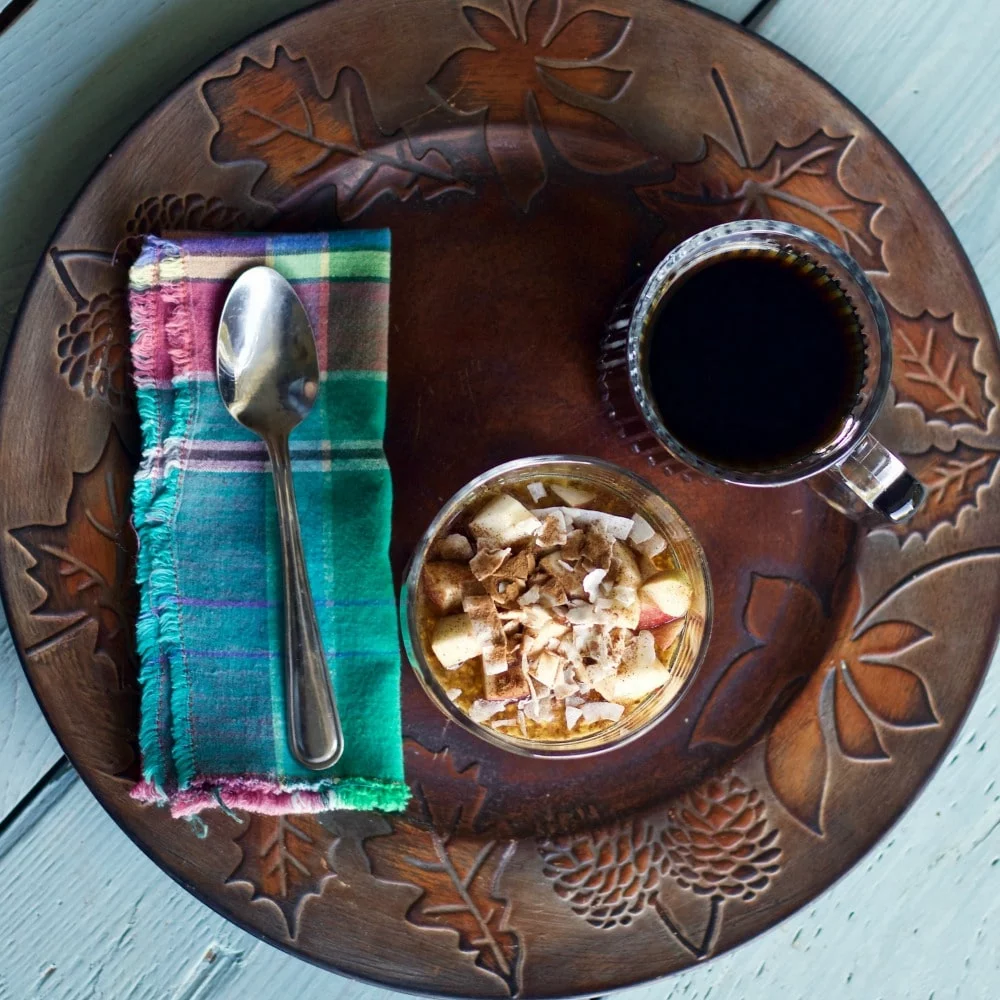 Steel cut oats are a favorite choice of oats for my homemade granolas too. They have a nutty flavor and chewy texture is enjoyable when made into a tasty granola bars.
Chia seeds and flax add even more fiber and nutrients. Apples, cinnamon and unsweetened coconut flakes top it off. The only sweetener is pure organic maple syrup if you desire
What can I eat with steel cut oats?
Steel cut oats are a fabulous choice of carbs, and you can very easily add protein and healthy fats, making them a very versatile and easy base for your breakfast or post workout meal. Some great ideas for either adding to your oats, or enjoying alongside them are
Fresh seasonal fruit
Nut butters and crushed nuts
Protein powders
Fresh jams or applesauce
Yogurt or a splash of heavy cream
A side of cottage cheese
Cheesy eggs
A side of bacon or sausage for added protein
Cinnamon and pure maple syrup
Pumpkin seeds, chia seeds and flaxseed meal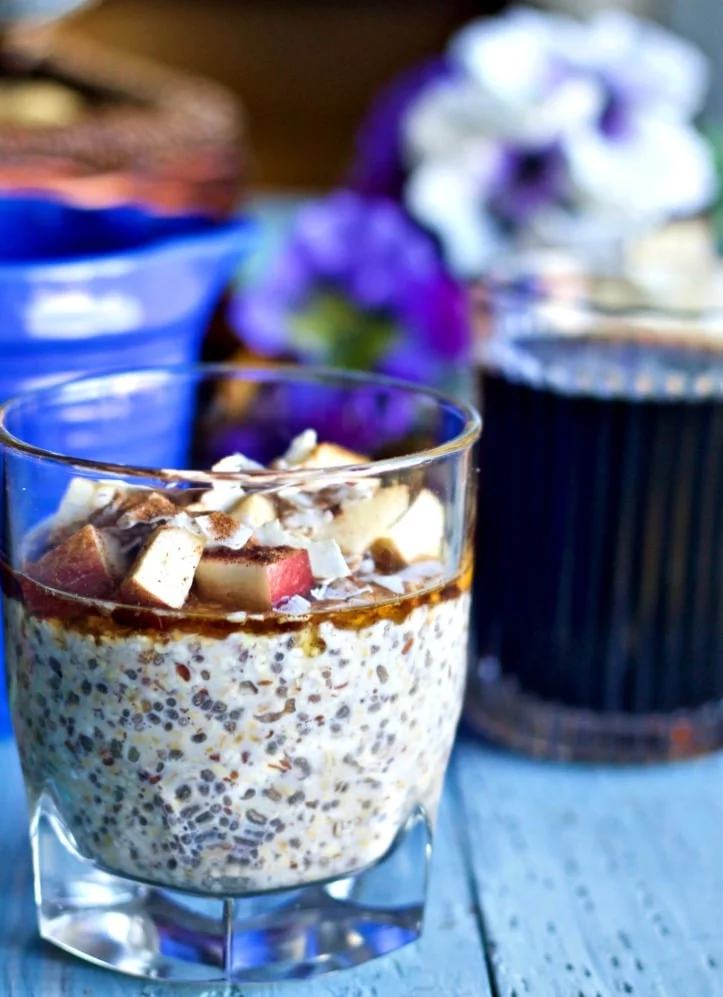 Easy Overnight Steel Cut Oats Breakfast:
THE NIGHT BEFORE:
With Just a few minutes easy work and off to bed you go. The next day's breakfast is almost completely done!
Combine the Steel Cut Oats, flax, and chia seeds into a 4 cup container.
Mix it up with a fork.
Pour the almond milk over the dry mix and mix it with the fork.
Store the covered container in your fridge (or on the counter) until morning.
IN THE MORNING: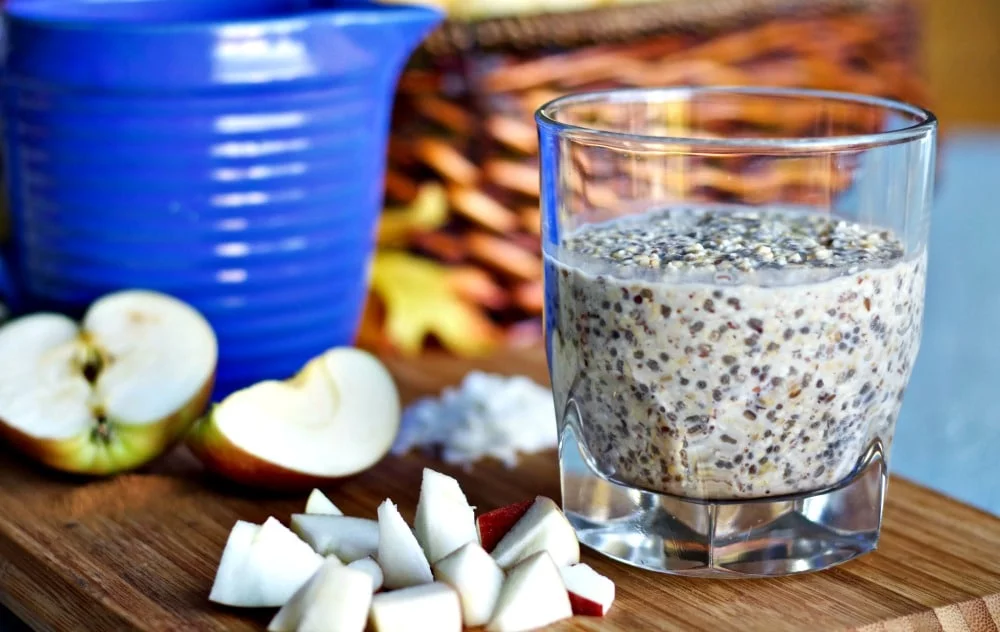 Finish the breakfast in about five minutes. Use any foods your family enjoys for the toppings. The oats are great even without cooking, but you can pop them into your oven for a softer texture if you desire.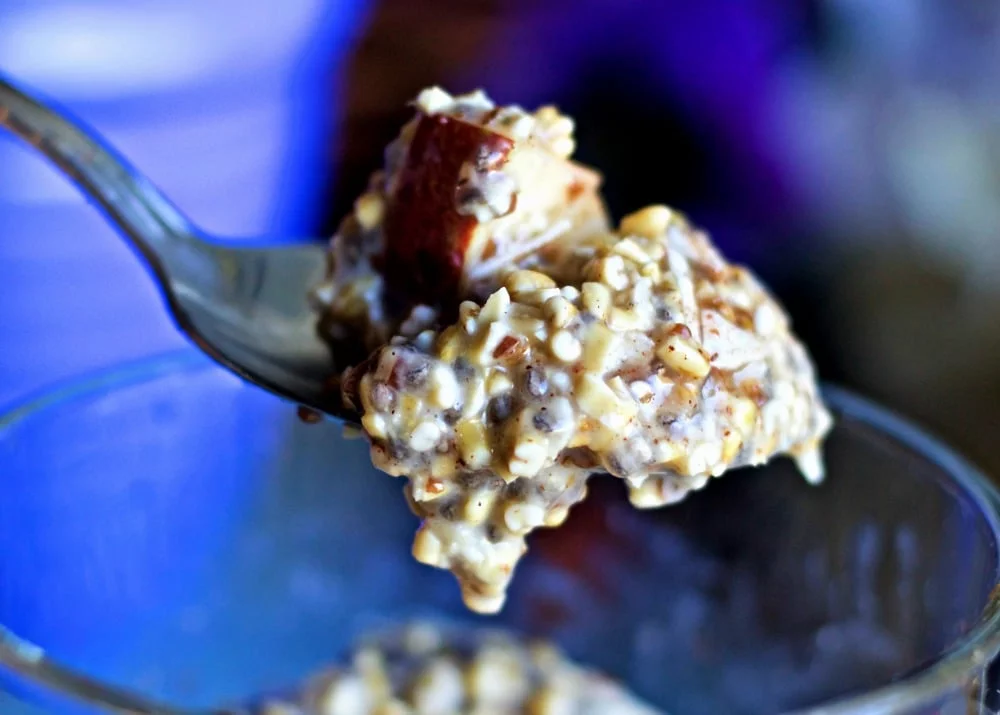 Here's what to do:
Remove the oats concoction from the fridge and divide it into (up to) four 12 oz. cups; about 3/4 cup of oatmeal in each.
Microwave or heat on your stovetop for two minutes. (you may prefer to eat it cold, this breakfast tastes fine either way).
While it's heating chop up a medium sized apple as fine as you like.
Top the cups with the chopped apple, shredded unsweetened coconut and pure organic maple syrup to taste.
This steel cut oats recipe is so easy and very nutritious! What a great way to start the day. This overnight oats breakfast is versatile, allowing you many options to top it any way you like.
Here is you printable Recipe. Enjoy!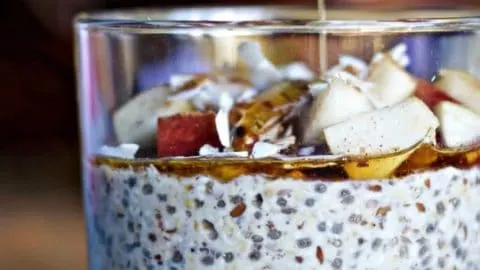 Yield:

4 servings
Overnight Steel Cut Oats Breakfast Recipe
Do a few minutes work the night before and this no-cook, gluten-free, dairy-free, vegan, breakfast will be ready in under five minutes in the morning. A filling, delicious way to start your day.
Ingredients
1 Cup steel cut oats
2 Cups almond milk
1 1/2 Tablespoon Chia
1 Tablespoon flax
Toppings:
2 Tablespoons maple syrup
1 Chopped fresh apple
1/2 tablespoon Cinnamon or apple pie spice
Instructions
Pour the steel cut oats, milk, Chia and flax into an airtight container and let set overnight in your fridge.
In the morning chop the apple into whatever size chunks you prefer, or slices.
Sprinkle with large unsweetened coconut flakes.
Pour the Maple syrup over all.
Sprinkle with apple pie spice or plain cinnamon as you prefer.
Nutrition Information
Yield
4
Serving Size
1
Amount Per Serving
Calories

340
Total Fat

10g
Saturated Fat

2g
Trans Fat

0g
Unsaturated Fat

7g
Cholesterol

0mg
Sodium

73mg
Carbohydrates

58g
Fiber

9g
Sugar

20g
Protein

8g
Follow Us:
We enjoy meeting you on our social networks. Follow us on Facebook, Pinterest, Instagram . Tag us with your pictures of our recipes and comment on how it went for you. We would love to see what you do with them.
We often like, comment and share your posts of our recipes on our daily Instagram stories.
Ask questions and rate the recipe in the comments section below. Please share what you did with this recipe. We are always looking for more and better ways to make homemade food. Other cooks love your ideas!
Recent Posts: