Overnight Smoky Zucchini Breakfast Casserole is a perfect harvest recipe. This casserole is easy to make ahead and have ready for an easy 'Pop it in the oven' breakfast or brunch.
This was my lunch today. Are you jealous? You should be 🙂 It's so cheesy, smoky and filling. This casserole is full of healthy proteins and there is bacon! The leftovers are fantastic. It holds well all week in the fridge!
I have a good deal of energy at night. I'm married to Mr. Morning. So we have learned over the years to adjust ourselves to each other's Biorhythms. I must have my bedtime stories. So he's learned to sleep with the light on. And I have learned I have to get up on sometimes fours hour of sleep! Which may be why I hate morning.
I am forever grateful to whoever it was that thought up overnight breakfast casseroles. It had to be a night person. Someone like me who tells the hubby to go to sleep at 10:30 at night so she can cook. 🙂
This week I'm starting to feel the pressure. Harvest time is upon us! My counters are loaded with fresh veggies. Zucchini's are stacked everywhere right next to bowls of fresh tomatoes, cucumbers and peppers. We love eating fresh veggies raw, in salads, sandwiches and just plain with ranch dressing, but the scales are tipping. Even green juicing (which uses a lot of our garden goodies) will not keep up right now!
Time to get serious about freezing zucchini, and tomatoes need to go into the food dryer soon! I'm also freezing whole tomatoes in gallon bags. So handy to have them quick to hand when I need to add whole tomatoes to a soup or crock pot recipe. So far this harvest, I have ignored the growing piles of produce…especially the zucchini!
The other crop overrunning my fridge just now is eggs! Holy moly. Seven hens and two people… I have three dozen eggs in the fridge right now. If you stop by, you won't go home empty-handed!
I went into the kitchen to start the morning coffee at ten O'clock at night. My kitchen screamed at me from all directions to DO something with all this wonderful food. And a recipe started to form in my head. I had bacon and lots of cheeses… And there was the last of a loaf of excellent artisan french bread on the counter. Breakfast casserole is the answer!
It all went together beautifully in this tasty dish. I felt immensely relieved when I snuggled down w my book next to my sleeping hubby. I made headway on the harvest. Best of all, breakfast is ready!
Overnight Smoky Zucchini Breakfast Casserole Recipe:
This recipe is easy to make.
Cook up the bacon and veggies in a skillet
Slice the bread
Whisk the eggy milk mixture
Put it all together.
Next day pop it in the oven until it's browned and bubbly.
This recipe makes fantastic leftovers! I love it for a quick healthy lunch, or even a light dinner.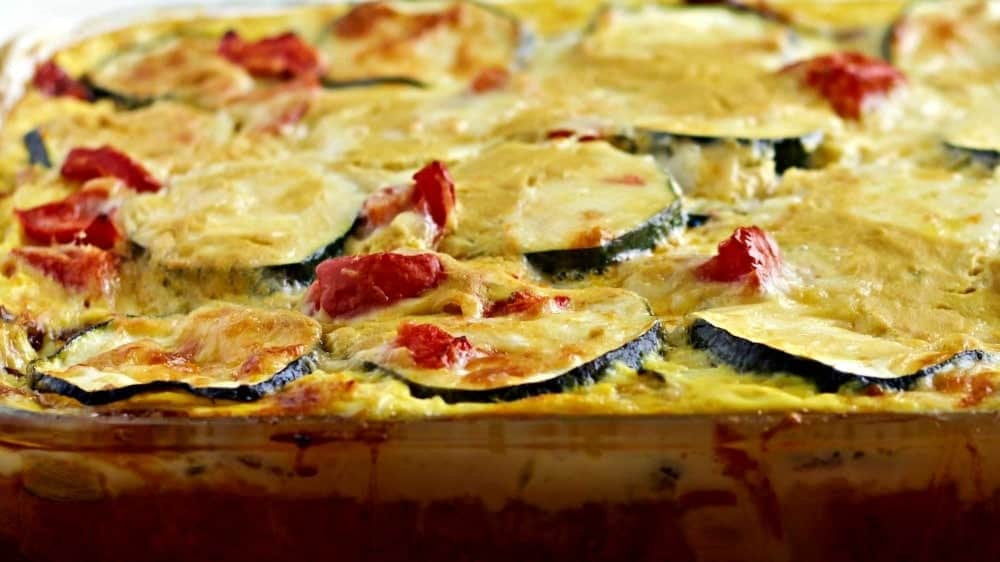 Your Printable Recipe Card:
Yield:

12
Overnight Smoky Zucchini Breakfast Casserole
Total Time:
9 hours
25 minutes
Overnight Smoky Zucchini Breakfast Casserole is a perfect Garden to Table harvest recipe. This recipe is easy to make the night before for an easy 'Pop it in the oven' breakfast or brunch. Cheesy, smoky and filling.
Ingredients
8 slices bacon
12 eggs
1/4 Cup dijon mustard
2 cups whole milk
5 oz. Asiago cheese
4 oz smoked gouda cheese
4 Cups Zucchini-one medium sized tender zucchini
1 fresh tomato
1 roasted pepper cut into strips
1 fresh pepper chopped
1 medium white onion chopped small
1/2 loaf french bread cut into 1/2 inch slices
Instructions
Oil a 13 x 9 x 2 baking dish.
In a large skillet over medium heat, cook bacon strips, onions, 2 cups of the zucchini seeded and chopped small, and the roasted and fresh peppers.
Meanwhile, Cut the remaining zucchini into rounds and set aside.
Cut the tomato into chunks and set aside.
Grate all the cheese and set aside.
in a medium bowl beat the eggs, mustard and milk together.
Place the slices of bread into the bottom of the baking dish until there is one layer of tightly packed bread on the bottom of the baking dish. Rip bread to fit.
Remove the cooked bacon and vegetables and lay the bacon strips flat onto the bread. Spread the cooked vegetables over the bacon strips.
Pour 1/2 of the milk mixture over the bread, bacon, veggies.
lay the zucchini rounds in row over the top. Arrange the tomato chunks in and around the zucchini rounds.
Spread the two cheeses evenly over the top.
Pour the remaining milk mixture of the top of the cheese (the mustard may separate. If this happens use a spatula and drizzle it evenly over the top.
Cover the casserole tightly with foil and place in the fridge overnight.
Next day preheat the oven to 350 degrees F.
Bake covered 45 minutes. Remove the cover and continue baking another 15 minutes or until the casserole is browned and bubbly.
Recommended Products
As an Amazon Associate and member of other affiliate programs, I earn from qualifying purchases.
Nutrition Information
Yield
12
Serving Size
1 slice
Amount Per Serving
Calories

297
Total Fat

16g
Saturated Fat

7g
Trans Fat

0g
Unsaturated Fat

8g
Cholesterol

218mg
Sodium

739mg
Carbohydrates

18g
Fiber

2g
Sugar

6g
Protein

21g
Pin it: