Pumpkin Zucchini Bread is one of the best things about Fall. Combining rich pumpkin puree, zucchini, spices and pure maple syrup together creates a moist, rich quick bread or dessert. If you are a gardener, this recipe is the perfect way to use up that pumpkin and zucchini harvest from your garden.
It can also easily be made using canned pumpkin and fresh zucchini found at your local grocers. We are sharing two methods for making this recipe; as a quick bread and as a delicious cake with a rich pumpkin spice frosting. Both ways are scrumptious and everyone will love them.
The pumpkin spice cream cheese frosting adds the extra bit of decadence a good cake needs. Like all quick breads you can make this ahead and freeze it to share with friends and family, or save it to enjoy at a later date.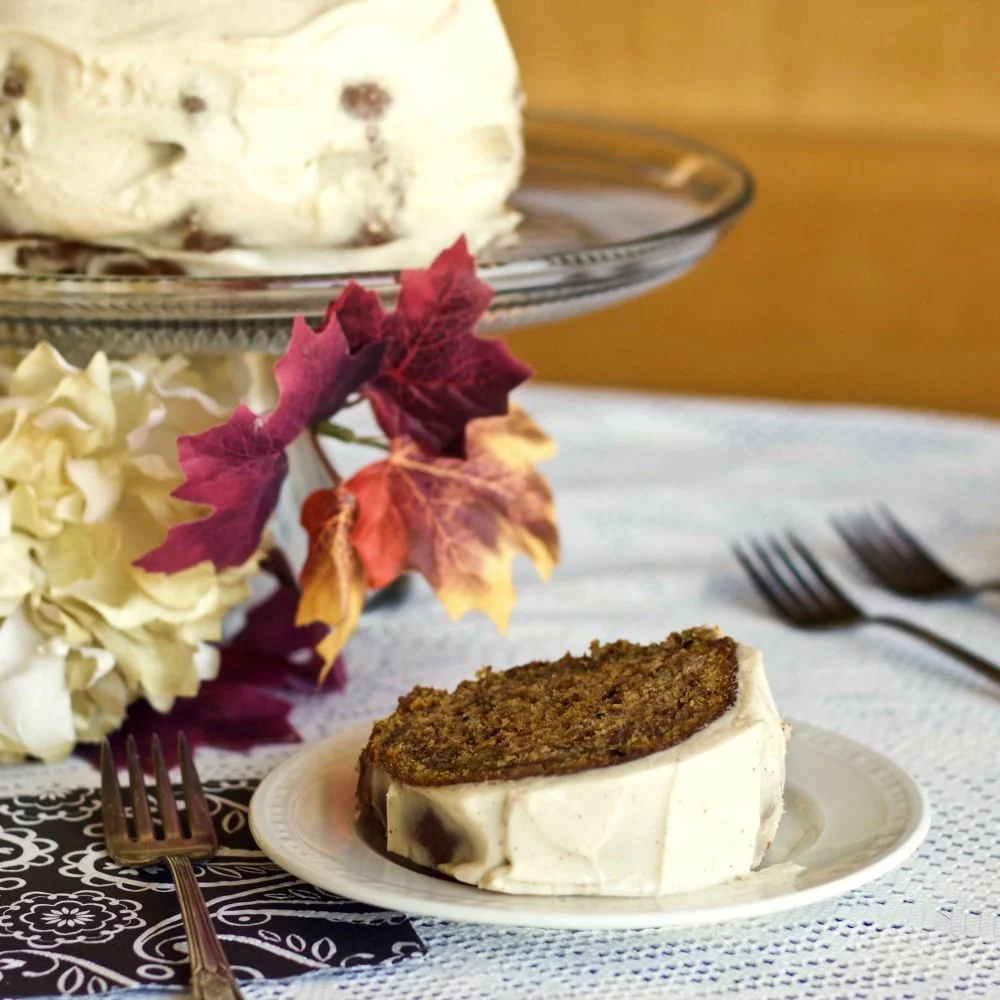 Do you remove the seeds from Zucchini when baking with it?
No, zucchini is a very versatile and pleasant squash that is easy to cook with seeds and all. You do not need to worry about removing the seeds, or peeling the skin first. To bake with zucchini simply grate the zucchini into small, thin strips and add it to your recipe.
Zucchini has a mild flavor and texture that bakes soft and becomes unnoticeable.
If you are looking for more zucchini recipes, click on the pictures below
Why is my Pumpkin Zucchini Bread soggy?
Because you are making a quick bread with two squashes, it can be challenging to keep the moisture balanced. Both pumpkin and zucchini have a moderate water content that can overload the dry ingredients if the ratio is off.
For these breads it is important to remove as much excess water from the fresh grated zucchini as possible. To do this, grate the zucchini and sprinkle some salt over it in order to pull more water from the zucchini. Let it sit for a bit and then pat it dry with a paper towel. Another tip is to not allow the batter to sit for long periods of time before baking. As the the batter warms it may release more liquid which will pool as it bakes.
Baking powder and baking soda are important ingredients in these breads as they will help the bread rise and bake fluffier. Finally, the bake time is vital, be sure to follow the recipe and give the bread plenty of time to fully bake. These breads are done when a toothpick inserted in the middle of the loaf comes out clean.
How do I make my own Pumpkin Spice Frosting?
Making your own Pumpkin Spice frosting couldn't be easier. Begin with a simple buttercream frosting, add pumpkin pie spices, a bit of almond and vanilla extract and there you go! A scrumptious pumpkin flavored frosting that will compliment any dessert.
Pure Maple Syrup as a sweetener
The maple syrup called for in this recipe can be replaced with either sugar or raw honey if you prefer, but the dry ingredients may have to be adjusted slightly. Here is why we love using it as often as possible in our baked goods.
It adds a lovely, warm almost caramel touch to this recipe.
It is a little lower on the glycemic scale than granulated sugar.
We prefer its flavor and properties much more than processed sugar.
Zucchini Cake
This recipe makes the perfect bundt cake that showcases beautifully during the Fall season.
Make the recipe
Oil a 10 inch bundt pan
Bake as directed
Use the toothpick test to determine doneness.
Cool completely before frosting.
Pumpkin Zucchini Bread Recipe Notes
Be careful not to over bake or under bake. Use the toothpick test to determine the doneness of this quick bread.
Quick breads often look under baked when they are really fully baked. If you keep it in too long the bread will dry out.
If the toothpick does not come out clean, allow the bread to bake a bit longer, otherwise you risk it being heavy and dense.
Be sure to set your timer as directed and then test the bread. Oven temps can vary greatly and the level of moisture in your batter will also affect how long the bread needs to bake.
Working with fresh garden Zucchini
If you have very young, tender zucchini it may be very wet. To work with zucchini that is full of moisture put it in a bowl with a teaspoon or sugar or salt and let it sit for 20 minutes or so. Now squeeze out the moisture and continue the recipe.
As the season ages, so does zucchini. Zucchini becomes coarser textured and drier throughout the season. If your zucchini is old, shred the zucchini fine and don't bother pulling out the liquid.
If you are using your frozen shredded zucchini defrost the zucchini to room temperature. Lightly squeeze it out and use as fresh.
Fresh Pumpkin tips
If you have fresh pumpkin and want to use them I have a quick tutorial on how to prepare fresh pumpkin for recipes in this Processing Pumpkin Tutorial. Use this method for prepping fresh pumpkin for all kinds of pumpkin recipes.
If you use fresh pumpkin rather than canned, watch the consistency of the batter. Your batter should be like a very lumpy pancake batter.
If the batter is loose add in a small amount of flour and be diligent with the toothpick test to make sure the loaves are properly baked.
How do I freeze Pumpkin loaves?
Quick breads are very easy to freeze and store for long periods of time. They make wonderful make ahead treats and gifts to share with family and friends. When stored properly pumpkin loaves can be frozen for up to 3 months without compromising flavor or texture.
Allow the loaves to cool completely and then wrap them individually in plastic wrap, ensuring there is no air under the wrap. Wrap them again in aluminum foil and store in an airtight, freezer safe plastic zipper bag. Label and date the bag before placing them on a flat surface in the freezer.
To defrost, remove the loaves from your freezer and place them in the fridge until they have fully thawed. To rewarm a loaf or individual slice we recommend warming on a baking sheet in your oven at a low temperature for about 10 minutes. Do not microwave pumpkin breads as they tend to try out using this method.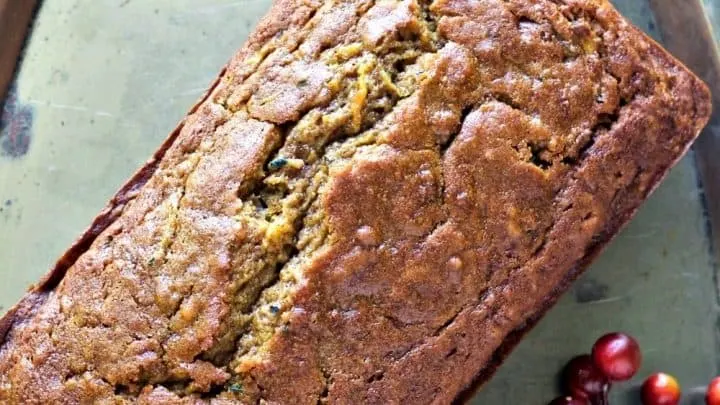 Yield:

24 slices
Pumpkin Zucchini Bread (or cake)
Total Time:
1 hour
20 minutes
This zucchini bread recipe Combines warm rich pumpkin and zucchini. A beautiful rich, moist Fall breakfast or dessert.
Ingredients
3 1/2 cups all-purpose flour
1 1/2 tablespoons pumpkin pie spice
1 teaspoon baking soda
1 teaspoon baking powder
3 eggs Large
1 cup white sugar
1 Cup maple syrup
1/2 cup melted coconut oil
1 cup canned pumpkin
2 tsp. vanilla extract
1 tsp.almond extract
3 cups grated zucchini
1 cup chopped walnuts (optional)
For the Pumpkin Spice Frosting:
2 Cups confectioners sugar
2 Tablespoons heavy cream (Or more to adjust the consistency)
2 tsp. Pumpkin pie spice (or equivalent)
1 tsp. vanilla
1/2 tsp. almond extract
Instructions
Preheat oven to 325 degrees F.
Grease one 10 inch bundt pan or two 9 x 5 loaf pans ( I use coconut oil and do not flour the pans)
Mix flour, pumpkin pie spice, baking soda, and baking powder together in a large bowl.
With an electric mixer, Beat eggs, maple syrup,sugar, melted coconut oil, pumpkin, vanilla and almond extracts together in a second bowl until mixture is thick and pale yellow
Stir in the zucchini and walnuts with a large mixing spoon.
Add the flour mixture into the Zucchini mixture a third at a time, stir until combined. Repeat until the flour mixture is incorporated.
Divide batter into the oiled baking dishes.
Bake in the preheated oven until cake is lightly browned and a toothpick inserted into the center comes out clean, about 60 minutes.
Allow to cool 10 to 20 minutes before removing from pans to finish cooling.
Invert onto cooling rack and then quickly turn the loaves or cake right side up and finish cooling on the rack to room temperature.
For the Pumpkin spice frosting:
Whisk together the sugar and spice.
Add the vanilla, almond extract and heavy cream
Whisk until combined. Now ADD more cream as needed(by tablespoons) to get a good pouring consistency. You want the frosting thick enough to stay on the cake but loose enough to easily spread on the cake with just a bit of ridging down the sides.
Notes
To Make This Recipe into a Zucchini Cake:
Make the recipe
Grease a 10 inch bundt pan
Bake as directed
Use the toothpick test to determine doneness.
Cool completely before frosting.
To Freeze This Recipe:
Cool the loaves completely
Wrap the bread in plastic wrap tightly with no air bubbles.
Double wrap in foil
Label the foil with recipe name and date.
Freeze up to 6 months.
To Defrost:
Let the loaves sit on your counter of in the fridge until room temperature.
Remove wrappings and slice.
NOTE: Do NOT unwrap your frozen loaf and microwave to defrost. It will dry out.
Nutrition Information
Yield
24
Serving Size
1
Amount Per Serving
Calories

267
Total Fat

9g
Saturated Fat

5g
Trans Fat

0g
Unsaturated Fat

4g
Cholesterol

25mg
Sodium

86mg
Carbohydrates

43g
Fiber

1g
Sugar

27g
Protein

4g
Follow Us:
We enjoy meeting you on our social networks. Follow us on Facebook, Pinterest, Instagram . Tag us with your pictures of our recipes and comment on how it went for you. We would love to see what you do with them.
We often like, comment and share your posts of our recipes on our daily Instagram stories.
Ask questions and rate the recipe in the comments section below. Please share what you did with this recipe. We are always looking for more and better ways to make homemade food. Other cooks love your ideas!
Recent Posts: