Homemade Pumpkin Pie from fresh pumpkin puree is a delicious dessert you can be proud of. The flavor of fresh roasted pumpkin puree is full bodied and intense, yielding scrumptious pies with delicious texture.
Combining fresh spices and using this Homemade Coconut Oil Pie Crust, this recipe is a family favorite that we are happy to share. There is nothing quite like scratch made pies for the holidays, and if you're a gardener it is a great way to use up your pumpkin harvest.
If you don't grow your own pumpkins, no problem! Just run down to your local grocers and purchase a few organic pie pumpkins, or any other eating variety pumpkin and you're set.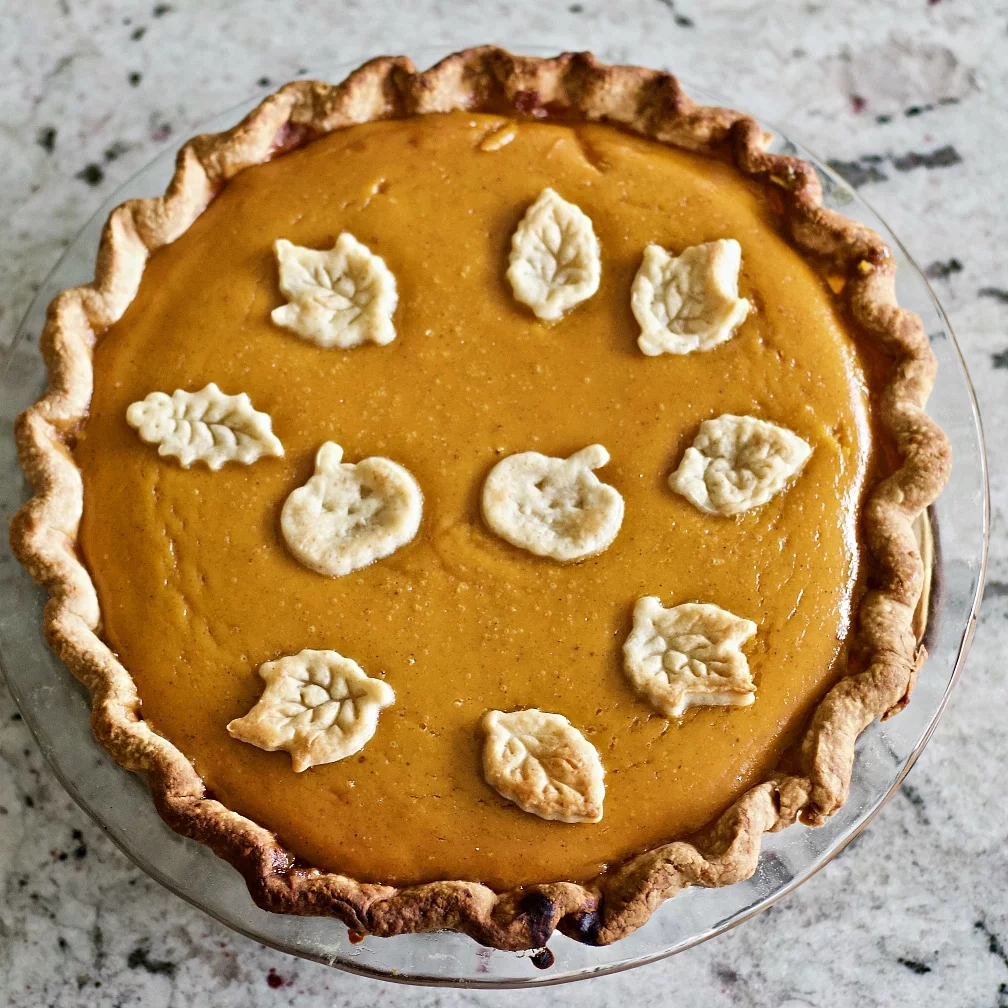 We grew some nice sugar pie pumpkins in our garden. The grandkids have had their fun decorating and now it's time to make pie!
If you are looking for more ways to bake with pumpkin, check out these recipes!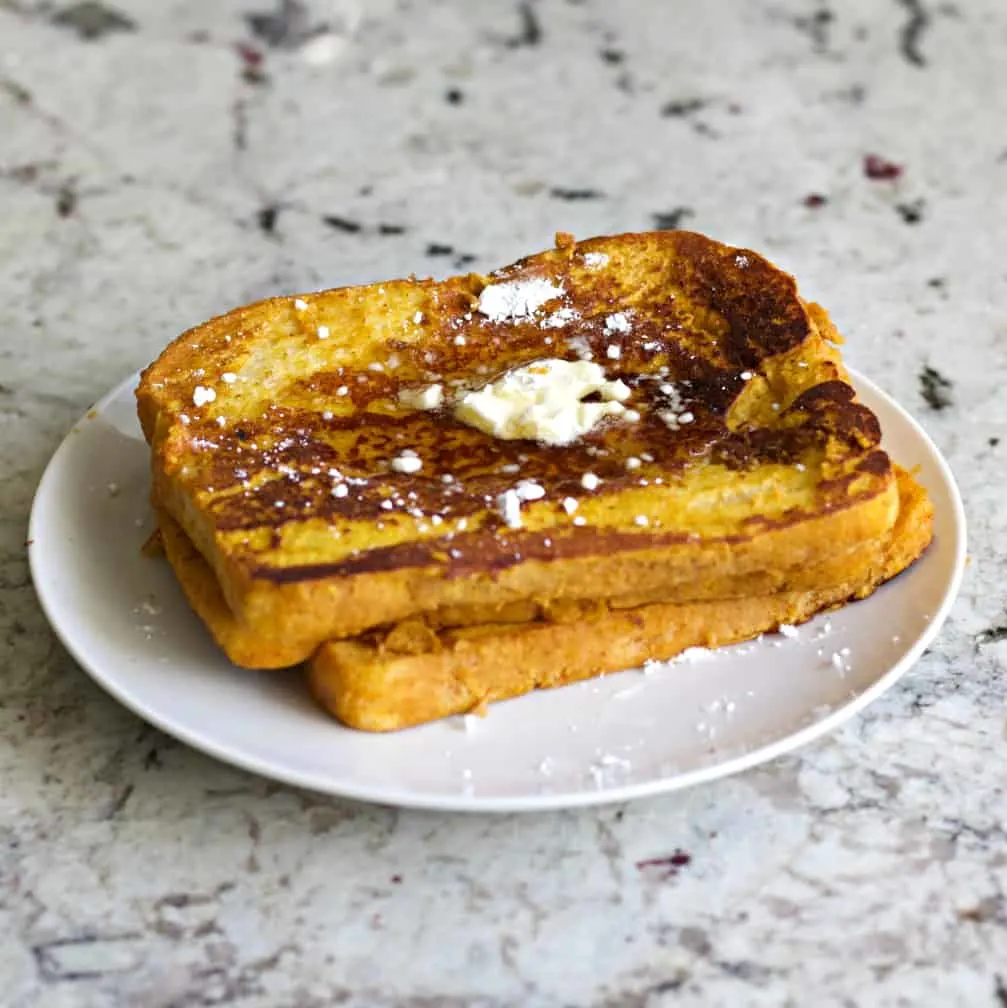 Can all Pumpkins be used to make pies?
The simple answer is, no, not all pumpkins are good for eating. When selecting pumpkins to cook and bake with, choose varieties that have been bred for nutrition, flavor and texture. Some of the best pumpkins to eat include Cinderella pumpkins, Jarrahdale, Sugar Pies, and Peanut. These are the most common and will yield creamy eats with a robust flavor and beautiful color.
Larger pumpkins that are intended for decorating are hollow, flat bottomed, stringy in texture and lack flavor. They are best used for Jack O Lanterns and front porch displays.
Our Pumpkin Pie Recipe
There is hardly a more iconic and widely sought fall dessert recipe than the traditional Pumpkin Pie.
The best pastry for Pie Crust
A rich, thick, custard pumpkin pie filling baked in our flaky Coconut Oil Crust, Sourdough Pie Crust or whatever pie crust you prefer will always be a welcomed treat on the dessert table. Homemade pie crusts tend to have a fresher, deeper flavor with beautiful lamination that is often lacking in store bought crusts.
If you need to use a pre-made crust, not to worry, there are many to choose from. We recommend selecting a good quality brand that will be stronger and easier to work with, while also giving you that flaky texture that we all love about pies.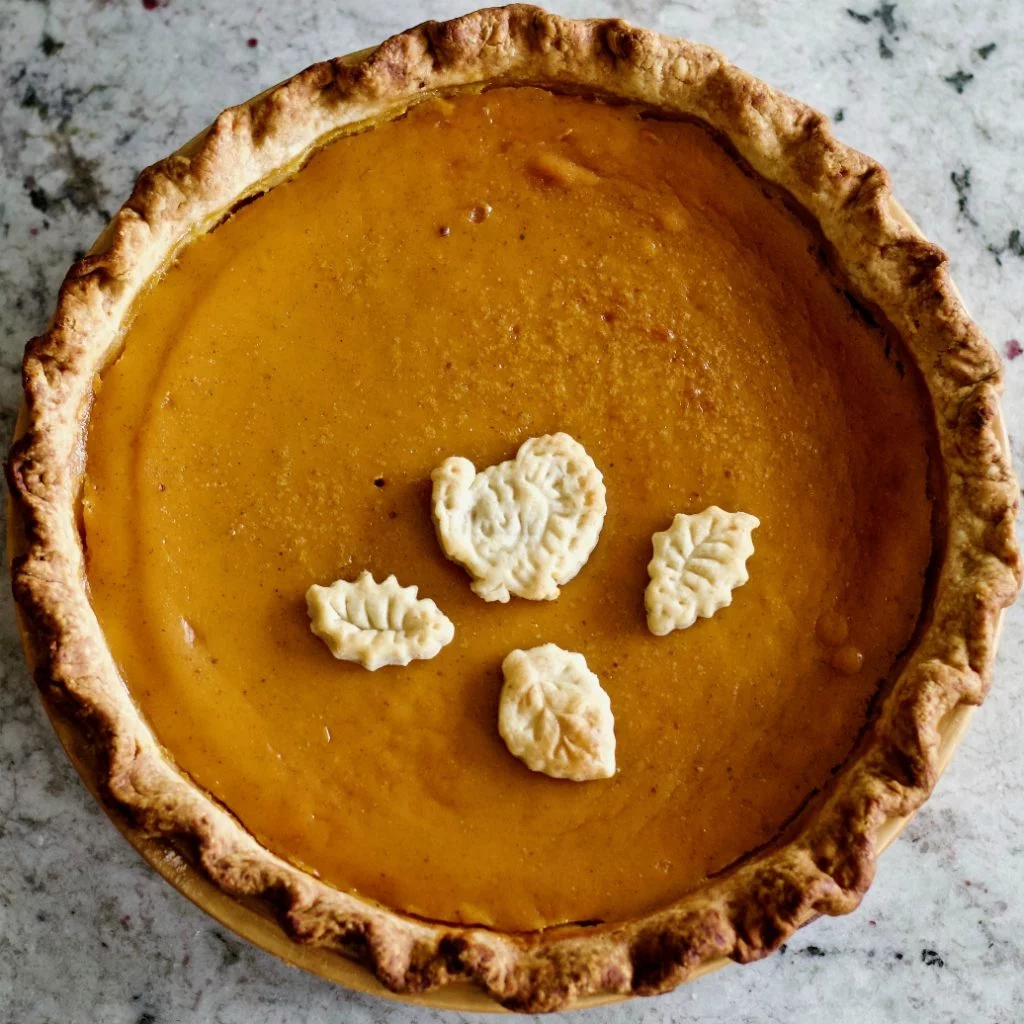 What are the best spices to use in Pumpkin Pie?
Cinnamon, ginger and nutmeg are the star aromatics that season Pumpkin Pies along with brown sugar and sometimes a dash of pure vanilla extract. If you don't have these spices on hand you can always use a pre-made pumpkin pie spice mix for a quick 'one and done' dash of seasoning.
Tips For Using Fresh Pumpkin Puree in Pumpkin Pie
Only use pie varieties of pumpkins. The huge Jack O Lanterns and decorative pumpkin varieties are not meant for pie and will give poor, watery flavor and stringy texture.
Use our recipe for Roasted Pumpkin Puree for best texture and flavor. Steamed pumpkins give the pumpkin puree a lot of extra liquid and it is tricky to get the correct texture. Roasting your pumpkin adds deep flavor and makes the baking much easier.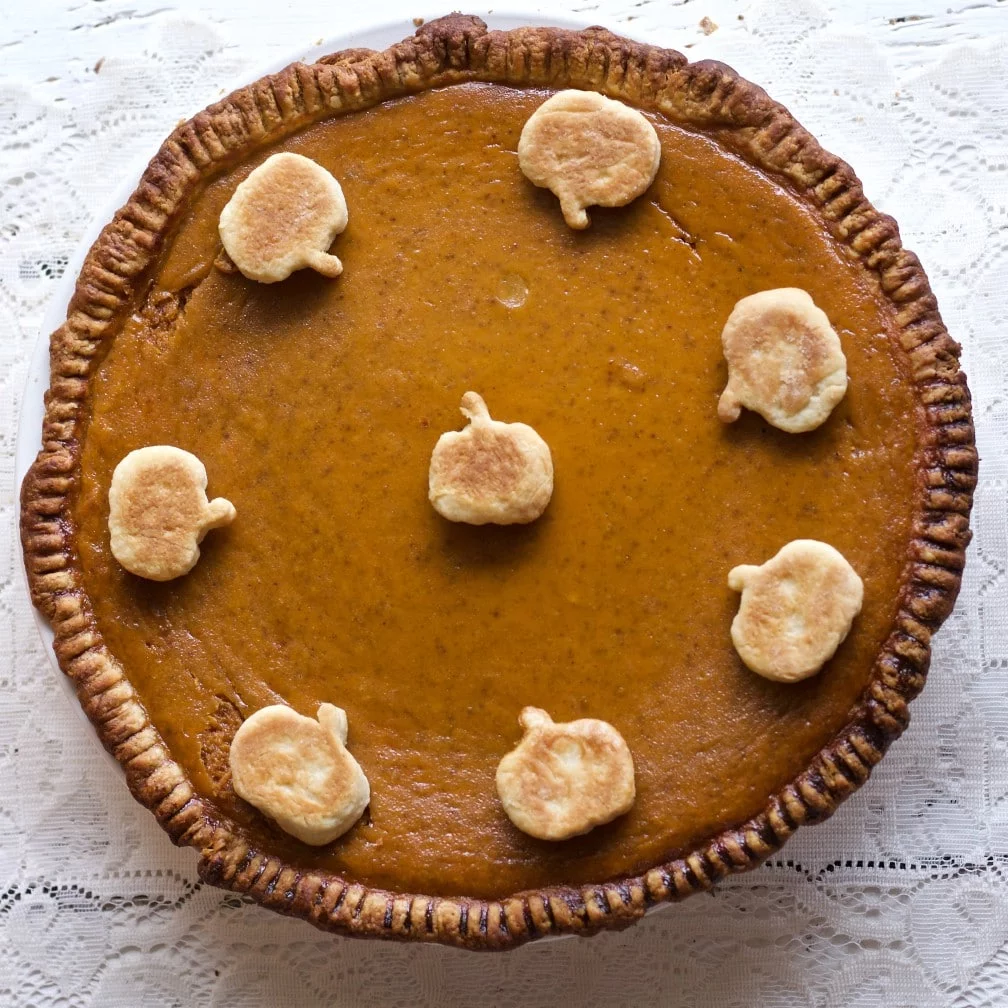 If you are looking for ways to use your pumpkin seeds, consider Roasting your Pumpkin seeds for an excellent, healthy snack. Pumpkin seeds are famous for their health benefits and anti parasitic qualities.
How to make Pumpkin Pie from fresh pumpkin
Processing a fresh pumpkin into pumpkin puree is not difficult and can be done several different ways. To make a fresh Pumpkin Pie filling just follow these tips.
To use frozen homemade fresh pumpkin puree in this recipe
Thaw it at room temperature in a big bowl and pour out any extra fluid. You want a fairly thick puree for this recipe. Refer to the puree in the recipe video to see the correct consistency for the puree.
If the puree is loose for pie when thawed, strain it through a cloth or tight sieve until you like the density.
Canned pumpkin puree will work fine in this recipe but adjust the pumpkin spices to taste.
To protect your pie crust from over browning during baking, make pie shields with tinfoil or purchase silicone pie shields.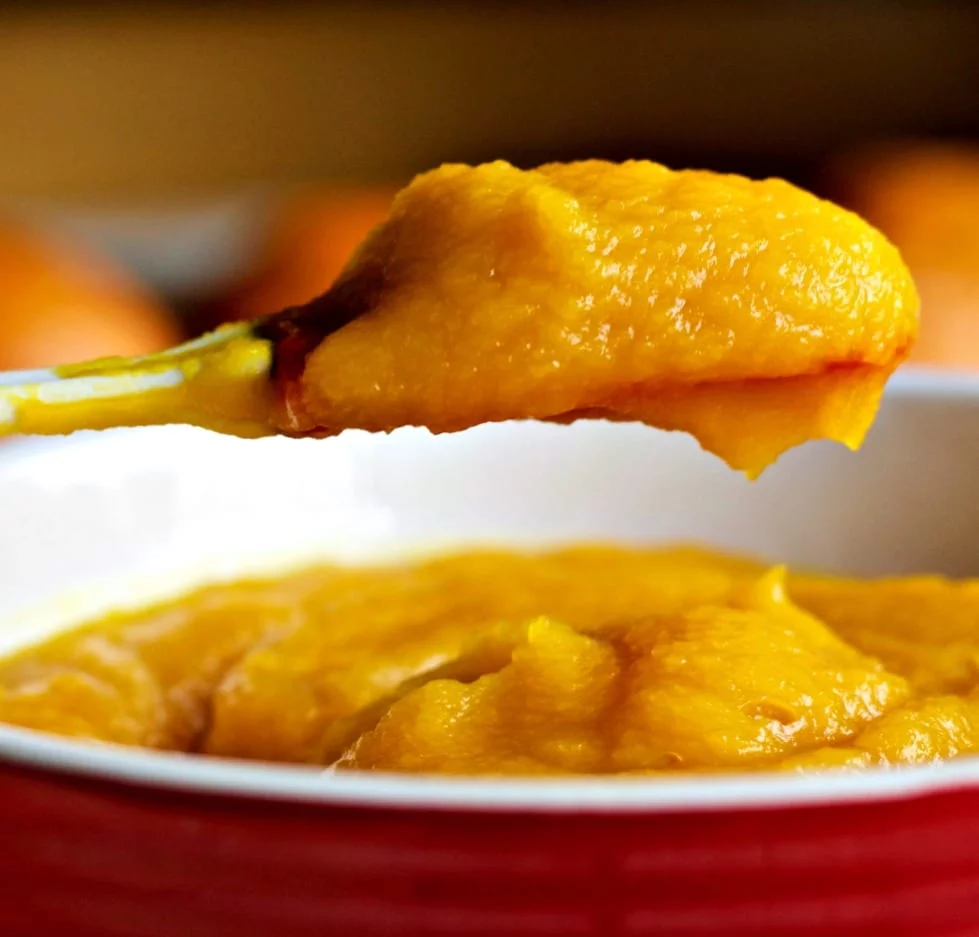 Pie Crust two ways
If you're a sourdough baker try our sourdough pie crust. It's an easy sourdough discard recipe made in your food processor and uses butter for beautiful lamination and buttery flavor. The dough freezes well, is easy to work with and the sourdough flavor is perfect with pumpkin pie.
Our coconut oil crust is amazingly flaky and light. This recipe has been well loved in our family for years now and is completely vegan, so it can be served to everyone. It is a simple recipe that is great for beginners and always yields a strong, easy to work with dough that won't break apart.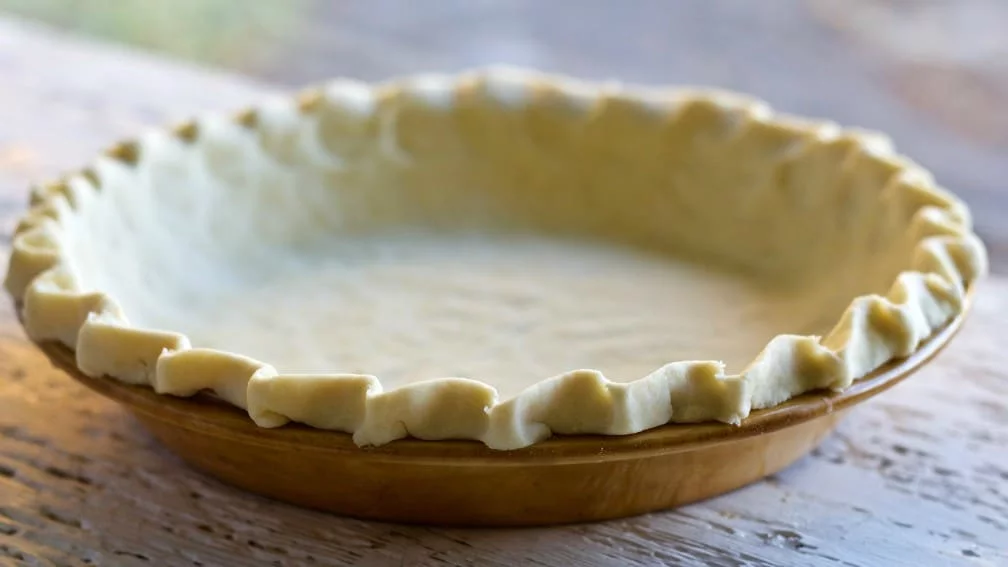 Ideas for decorating a Homemade Pumpkin Pie
Want to elevate your homemade pie and add a cute seasonal fall theme? Use Fall Dough Cut Outs. They are quick and easy to make using any leftover pie crust scraps, and finish your pies with an adorable adornment that everyone will enjoy.
To bake the dough cutouts into your pie
Keep your dough scraps from rolling out your pie crusts. Set it aside while you complete the pie and put it in the oven to bake.
While you pies bake roll out the scraps and press the dough cut outs into the dough to make the shapes you prefer. Set them on a piece of parchment.
15 minutes before your pies are finished baking, remove them from the oven and lay the dough shapes onto the pie top. Be careful the pies are hot and unset. So once the shapes are placed do not move them.
Here's your Printable:
Yield:

16 slices
Pumpkin Pie from fresh or canned puree
Total Time:
1 hour
45 minutes
This lovely traditional pumpkin pie has a Rich, thick, custard pumpkin filling made from either fresh, frozen homemade roasted puree or canned pumpkin. Add dough toppers for fun. Video instructions included. This recipe makes two 10 inch pumpkin pies.
Ingredients
4 Cups roasted pumpkin purée, or Canned pumpkin
2 12 ounce oz.cans evaporated milk
4 eggs , lightly beaten
1 1/2 Cup brown sugar
1 tsp. ground cinnamon
1 tsp. ground nutmeg
1 tsp. ground ginger
(or replace spices with 3 tsp. pumpkin pie spice
Instructions
Preheat oven to 425 degrees
Oil your pie plates.
Prepare Pie crusts, lay them in the pie plates and Set aside.
In a large bowl beat pumpkin with evaporated milk, eggs, brown sugar, spices and salt. .
Mix well and pour into a prepared crust. You will have enough filling to fill two regular depth 10 inch pie plates.
Bake 15 minutes. REDUCE heat to 350 degrees F. Bake 40 minutes or until a knife inserted one inch from the edge comes out clean.
Notes
Using fresh pumpkin puree made in a steamer is looser and less successful in this recipe. For best results follow the easy instructions for Homemade Roasted Pumpkin Puree. This will give you a rich flavor and good texture too.
Nutrition Information
Yield
16
Serving Size
1 slice
Amount Per Serving
Calories

182
Total Fat

7g
Saturated Fat

3g
Trans Fat

0g
Unsaturated Fat

3g
Cholesterol

60mg
Sodium

140mg
Carbohydrates

27g
Fiber

1g
Sugar

23g
Protein

6g
Follow Us:
We enjoy meeting you on our social networks. Follow us on Facebook, Pinterest, Instagram . Tag us with your pictures of our recipes and comment on how it went for you. We would love to see what you do with them.
We often like, comment and share your posts of our recipes on our daily Instagram stories.
Ask questions and rate the recipe in the comments section below. Please share what you did with this recipe. We are always looking for more and better ways to make homemade food. Other cooks love your ideas!
Recent Posts: