Homemade pumpkin pie from REAL fresh pumpkins is a delicious holiday dessert you can be proud of.
The flavor of fresh roasted pumpkin puree is more full bodied and intense than canned.
Add this Simple homemade coconut oil pie crust and the flavor is so outstanding you will make it all through the Fall Holidays.
Recipes like this pumpkin pie made with fresh pumpkin are all about the harvest. If you're a gardener and grow your own sugar pie pumpkins read on for tips and information on how to use them in this recipe.
If you have a store bought pumpkin you chose for Fall decorating….
… I hope you have the sugar pie pumpkin variety. It's the very best choice to make the dense sweet pumpkin puree a pie really needs.
Carving Jack O Lanterns are too stringy and flavorless to make good pie. Best use canned pumpkin instead.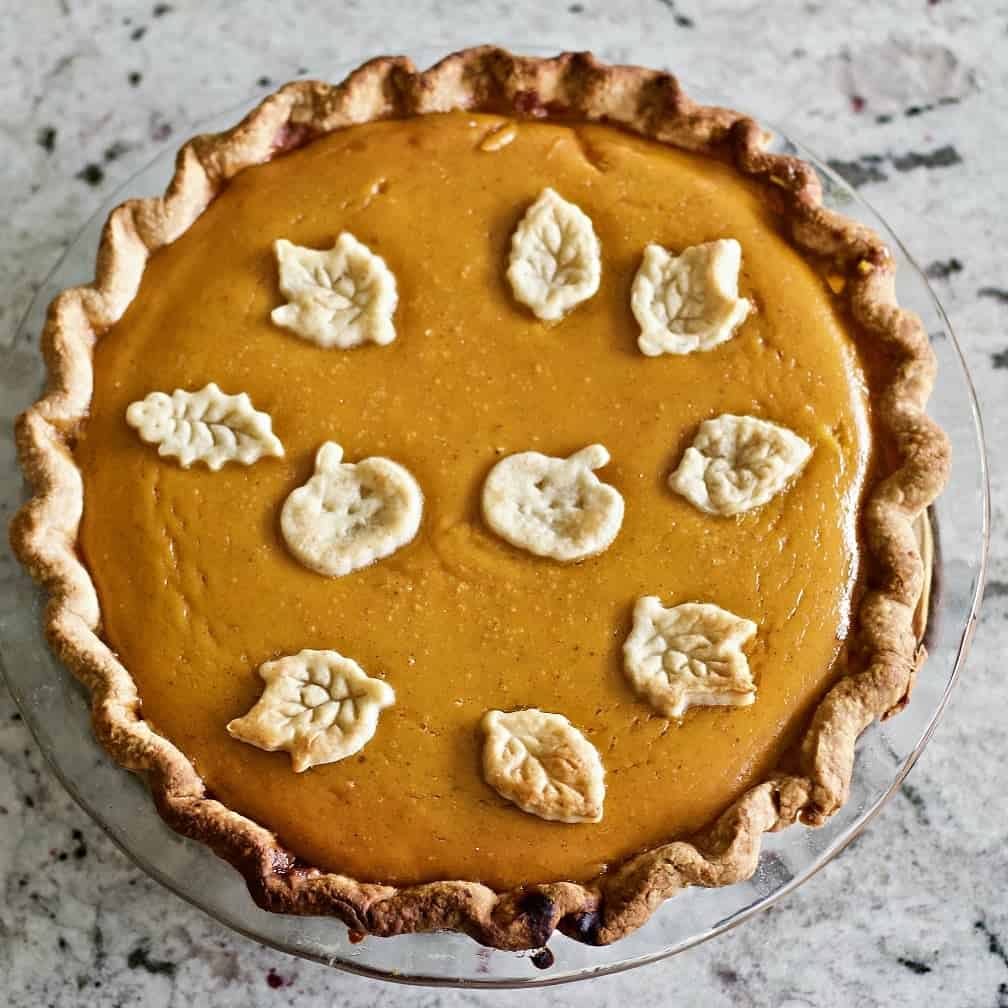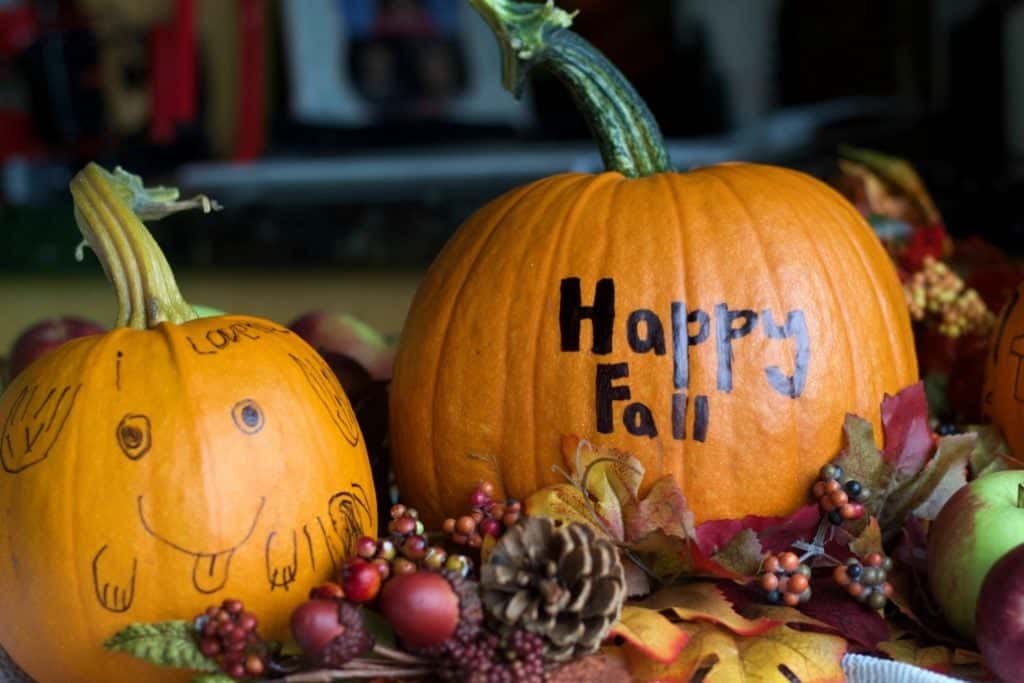 We grew some nice sugar pie pumpkins in our garden. The grandkids have had their fun decorating and now it's time to make pie!
The beauty of having a freezer full of pumpkin puree is year round pumpkin recipes. Good luck finding canned pumpkin in the grocery stores in summer.
Pumpkin Pie Recipe
There is hardly a more iconic and widely sought fall dessert recipe than this one.
A Rich, thick, custard pumpkin pie filling baked in our flaky coconut oil crust, sourdough pie crust or whatever pie crust you prefer. Your family will love this pie.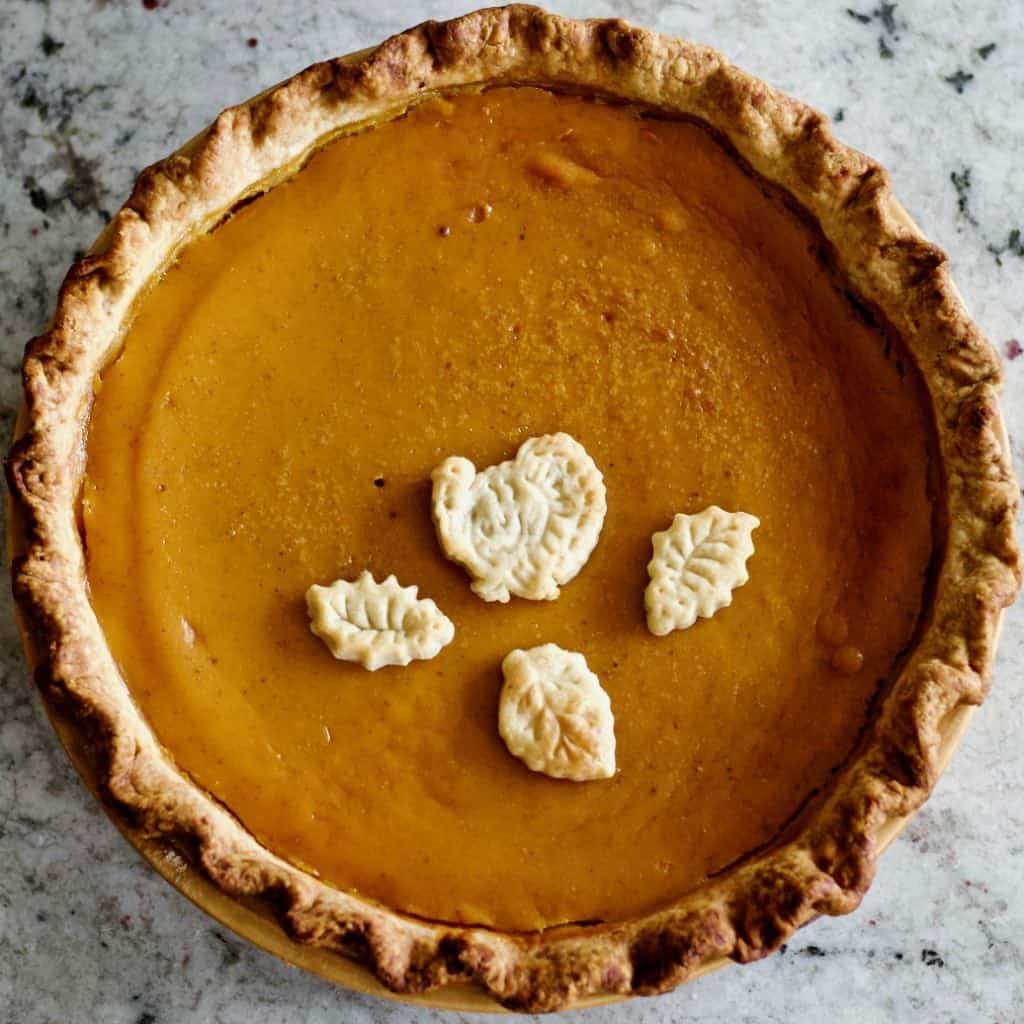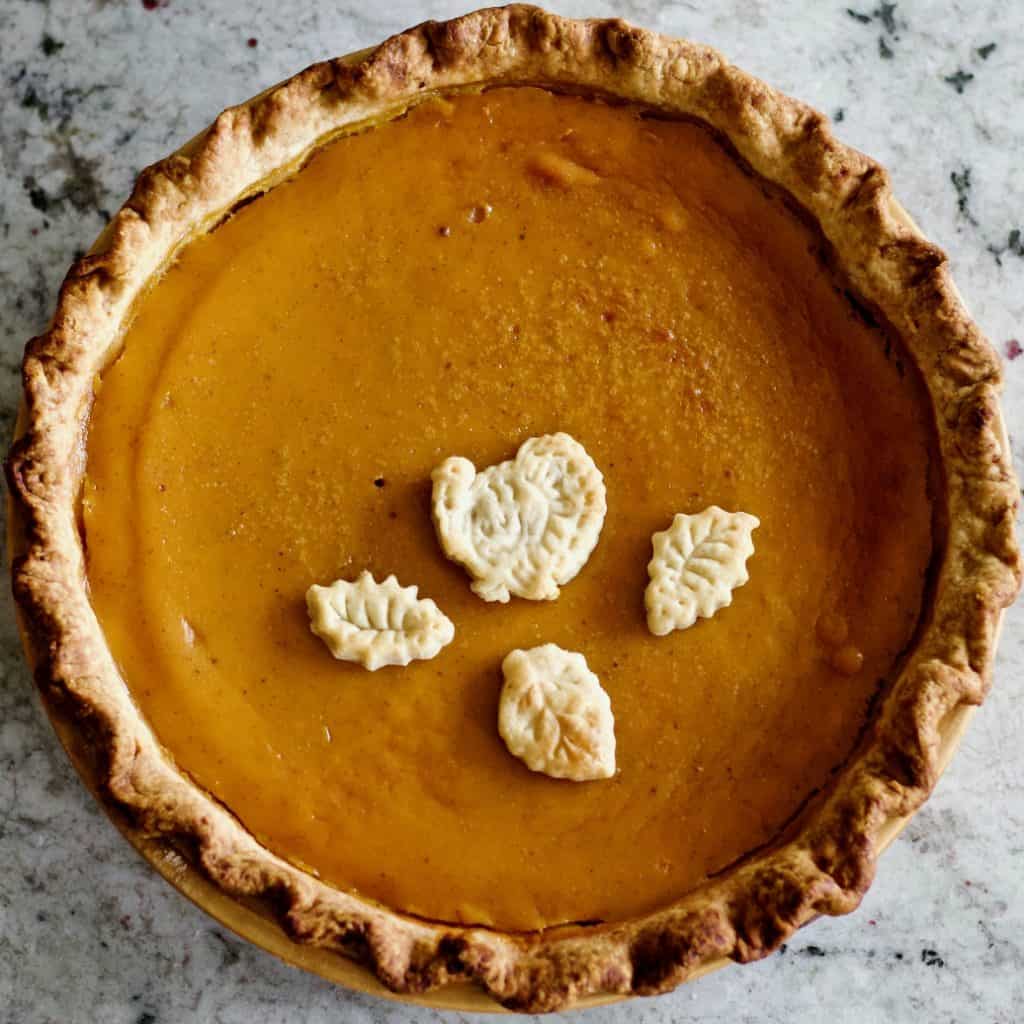 Cinnamon, ginger and nutmeg spices scent the air while this lovely homemade pumpkin pie bakes in your oven.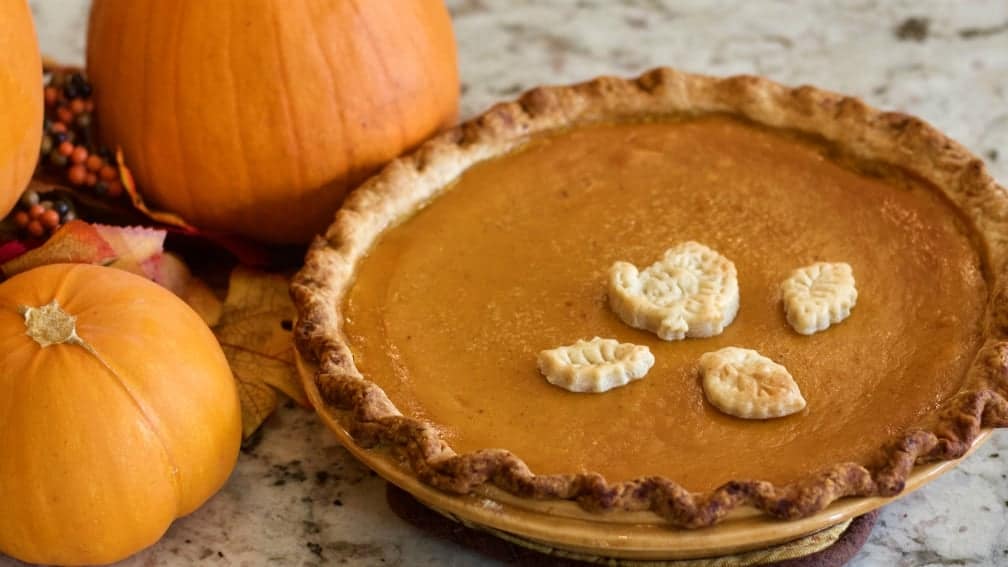 TIPS For Using Fresh Pumpkin Puree in Pumpkin Pie:
Only use the sugar pie variety of pumpkins for pie. The huge Jack O Lanterns and decorative pumpkin varieties are not meant for pie. They give poor watery flavor and stringy texture.
Use our recipe for Roasted Pumpkin Puree for best texture and flavor. Steamed pumpkins give the pumpkin puree a lot of extra liquid and it is tricky to get the correct texture. Roasting your pumpkin really adds flavor and makes the baking much easier.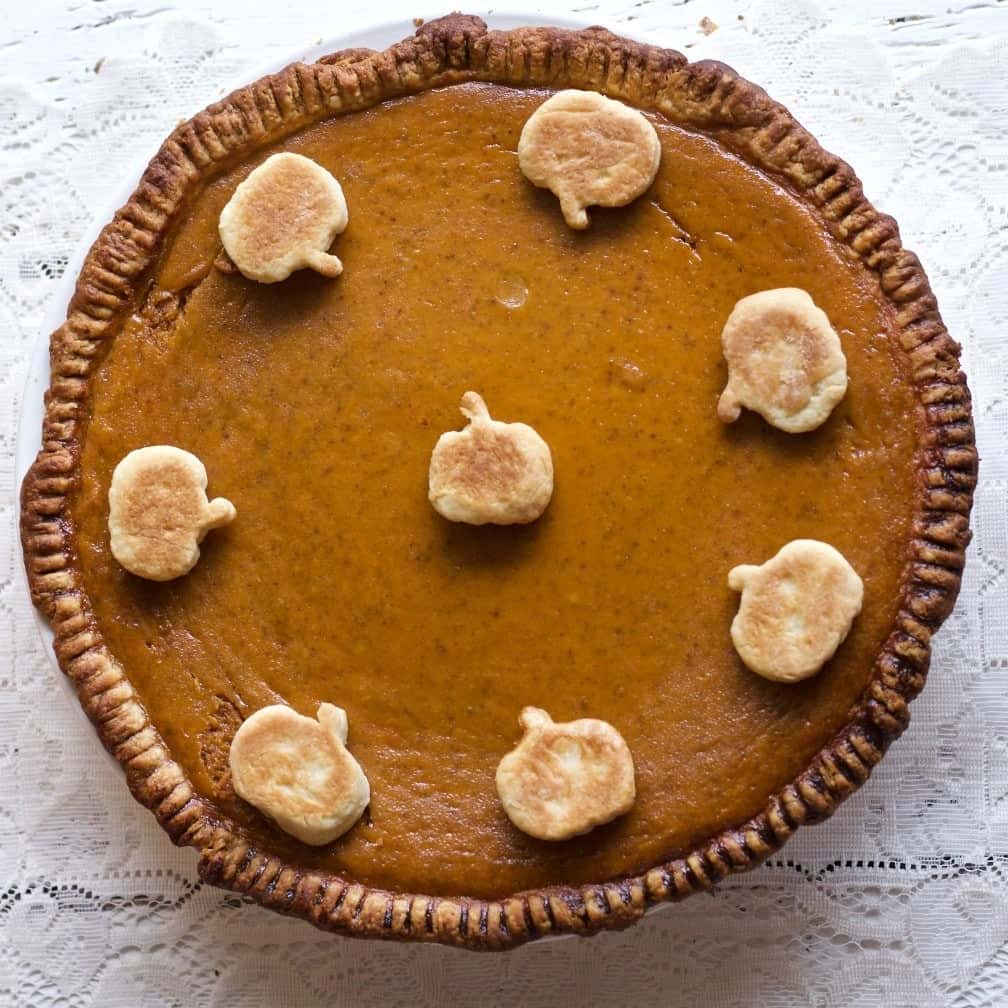 And don't forget to Roast your Pumpkin seeds for an excellent healthy snack. Just click the link to see how to roast the seeds.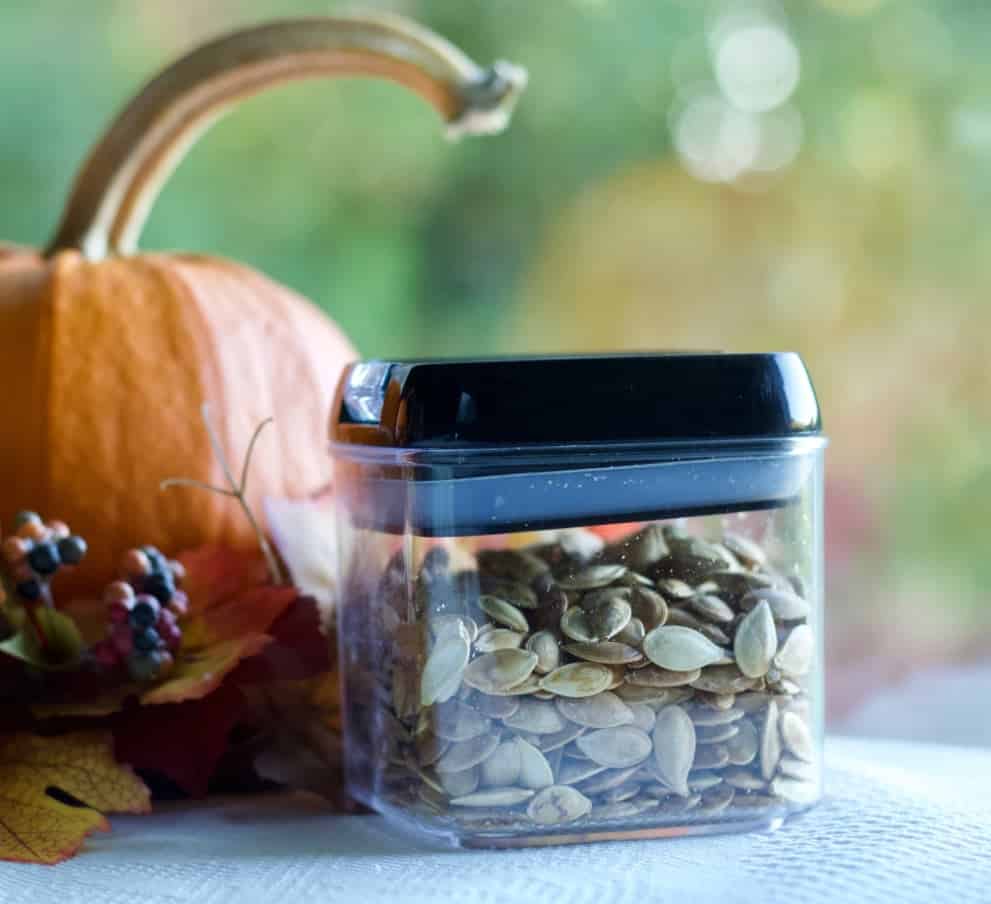 Pumpkin Pie From Fresh Pumpkin:
Processing a fresh pumpkin into pumpkin puree is not difficult and can be done several different ways. To make a fresh pumpkin pie filling please follow these tips.
To use frozen homemade fresh pumpkin puree in this recipe:
Thaw it at room temperature in a big bowl and pour out any extra fluid. You want a fairly thick puree for this recipe. Take a look at the puree I'm using in the recipe video to see the correct consistency for the puree.
If its too loose for pie when thawed strain it through a cloth or tight sieve until you like the density.
FYI: Canned Pumpkin puree will work fine in this recipe but adjust the pumpkin spices to taste.
To protect your pie crust from over browning (like mine did) make pie shields with tinfoil or purchase silicone pie shields. I wish I had these. They are So handy!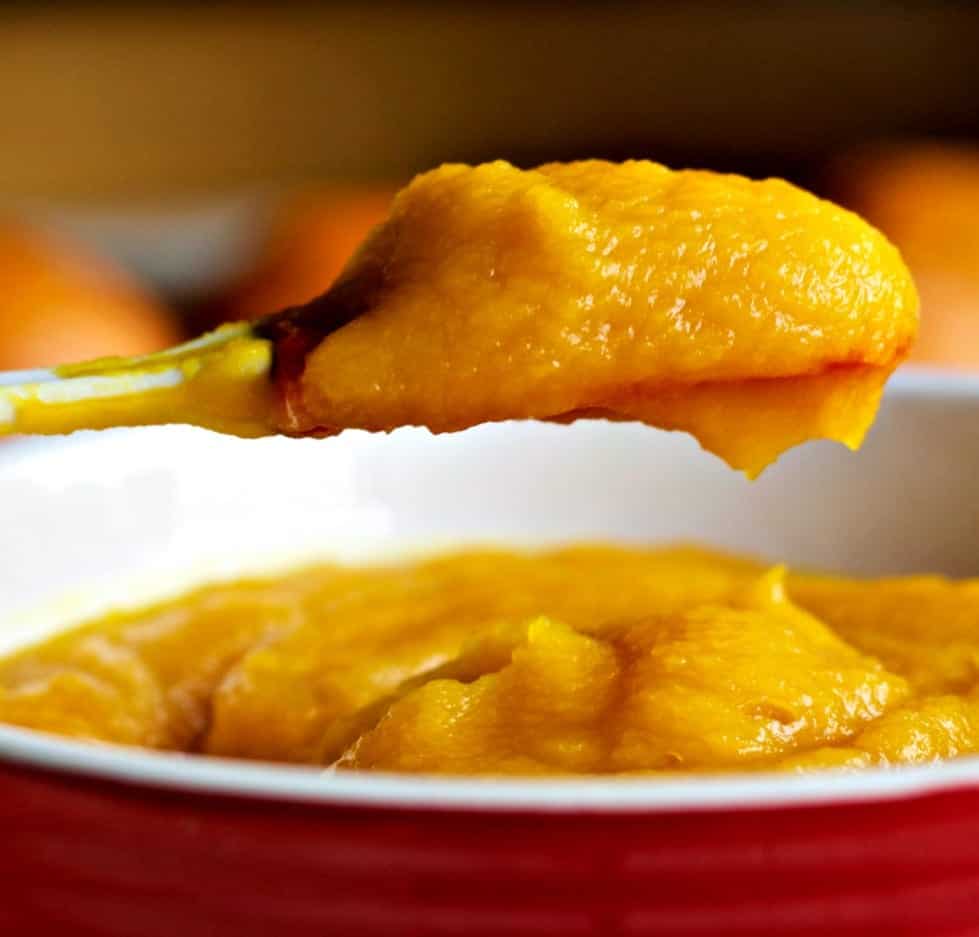 Two good pie crust recipes
Both of these pie crust recipes are AMAZING with pumpkin pie filling. The pies I have pictured here use one of these crusts. They offer great flavor for this filling and make pumpkin pie in to a wonderful Thanksgiving dessert.
If you're a sourdough baker try our sourdough pie crust. It's an easy sourdough discard recipe made in your food processor and uses butter. What flavor!! The dough freezes well, is easy to work with and the sourdough flavor is perfect with pumpkin pie.
Whichever pie crust you choose, Grab a fresh sugar pie pumpkin, turn it into homemade pumpkin puree and make this delicious filling recipe.
Decorating your pie top:
Want To add a cute seasonal Fall look to your pie?
Use Fall dough cut outs. These are mine. I've used them several times over two pie seasons. They work great and wash up well.
To bake the dough toppers into your pie:
Keep your dough scraps from rolling out your pie crusts. Set it aside while you complete the pie and put it in the oven to bake.
While you pies bake roll out the scraps and press the dough cut outs into the dough to make the shapes you prefer. Set them on a piece of parchment.
15 minutes before your pies are finished baking, remove them from the oven and lay the dough shapes onto the pie top. Be careful the pies are hot and unset. So once the shapes are placed do not move them.
Aren't those dough toppers cute?
Here's your Printable: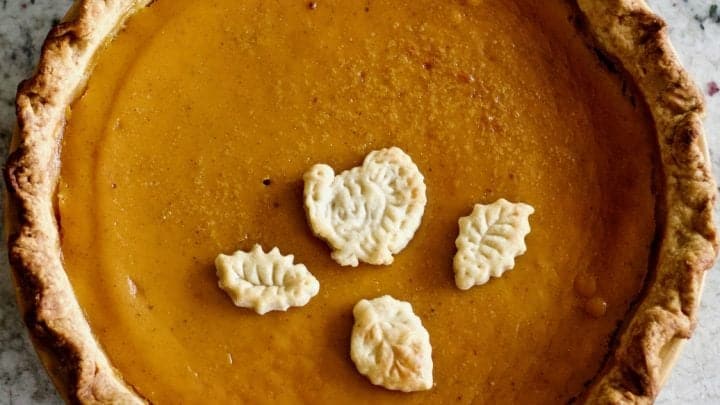 Yield:

16 slices
Pumpkin Pie from fresh or canned puree
Total Time:
1 hour
45 minutes
This lovely traditional pumpkin pie has a Rich, thick, custard pumpkin filling made from either fresh, frozen homemade roasted puree or canned pumpkin. Add dough toppers for fun. Video instructions included. This recipe makes two 10 inch pumpkin pies.
Ingredients
4 Cups roasted pumpkin purée, or Canned pumpkin
2 12 ounce oz.cans evaporated milk
4 eggs , lightly beaten
1 1/2 Cup brown sugar
1 tsp. ground cinnamon
1 tsp. ground nutmeg
1 tsp. ground ginger
(or replace spices with 3 tsp. pumpkin pie spice
Instructions
Preheat oven to 425 degrees
Oil your pie plates.
Prepare Pie crusts, lay them in the pie plates and Set aside.
In a large bowl beat pumpkin with evaporated milk, eggs, brown sugar, spices and salt. .
Mix well and pour into a prepared crust. You will have enough filling to fill two regular depth 10 inch pie plates.
Bake 15 minutes. REDUCE heat to 350 degrees F. Bake 40 minutes or until a knife inserted one inch from the edge comes out clean.
Notes
Using fresh pumpkin puree made in a steamer is looser and less successful in this recipe. For best results follow the easy instructions for Homemade Roasted Pumpkin Puree. This will give you a rich flavor and good texture too.
Nutrition Information
Yield
16
Serving Size
1 slice
Amount Per Serving
Calories

182
Total Fat

7g
Saturated Fat

3g
Trans Fat

0g
Unsaturated Fat

3g
Cholesterol

60mg
Sodium

140mg
Carbohydrates

27g
Fiber

1g
Sugar

23g
Protein

6g