Pumpkin Butternut squash soup recipe is thick, warm, creamy and slightly sweet. It's a delicious fall soup. Enjoy the pleasure of this comforting soup made from fresh butternut squash and fresh or canned pumpkin.
If you've been reading this blog for any length of time it's pretty obvious we're nuts about squash. Delicata, acorn, butternut, pumpkin and loads of others as well.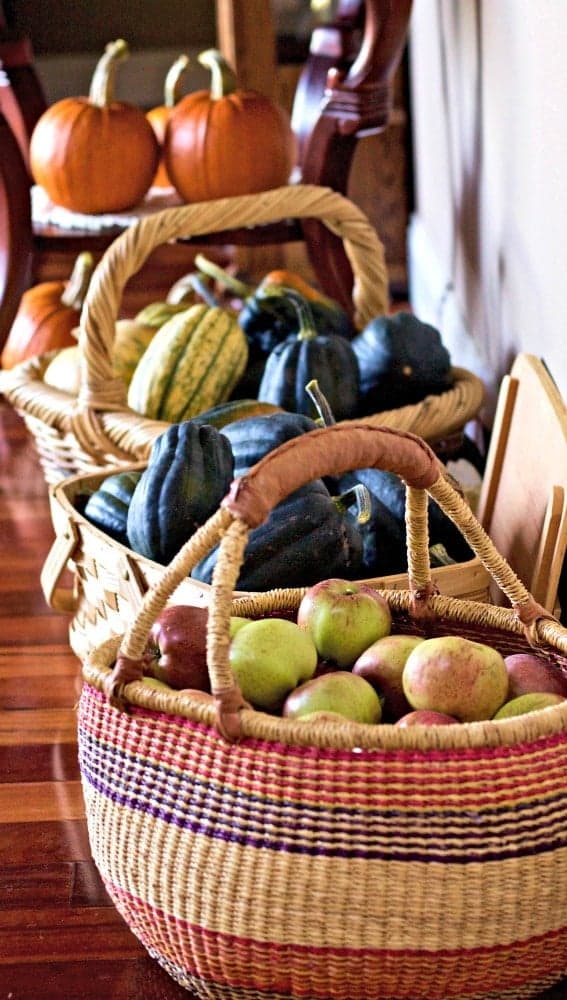 I have baskets full of squash we grew that need using. I put up posts about processing a fresh pumpkin into homemade Roasted pumpkin puree and roasted pumpkin seeds.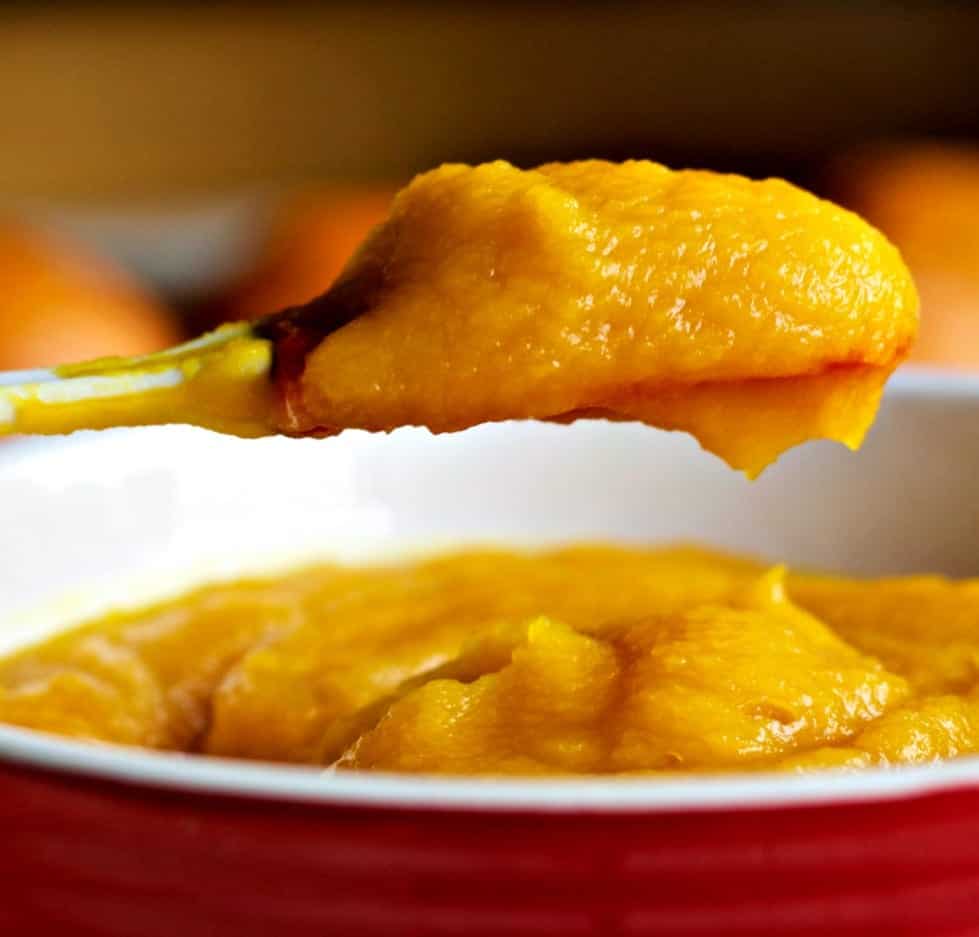 The pumpkin puree is so useful to have on hand in your freezer for meals like this one throughout the winter. You can roast and puree any squash like this.
More Squash Recipes
Pumpkin and butternut recipes you may have missed.
Fall For Squash
Squash of all varieties are very healthy for you. Full of fiber and nutrients the body finds easy to digest.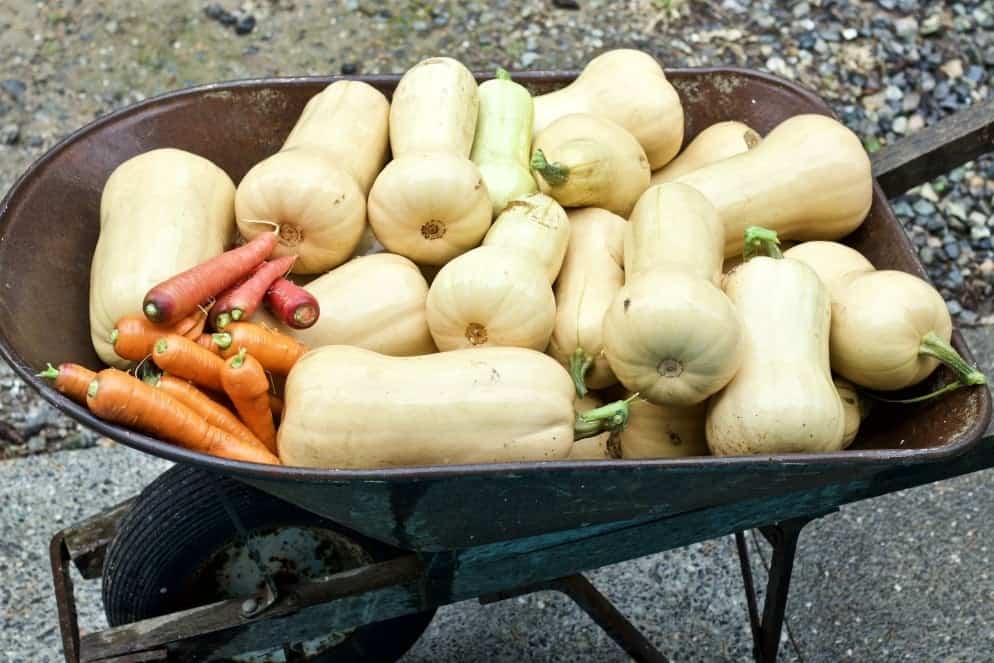 Your dogs will also love the squash guts and raw seeds for a healthy treat.
Winter squash are chock full of healthy fiber. They are all so good for you.
This butternut pumpkin soup is a winner. Squash is always a healthy choice.
This easy to make butternut pumpkin soup is great for lunch, a light dinner, or a soup course to a bigger menu. I love the flavor combination in this recipe.
The rich squash flavor compliments beautifully the sweet cider and mild curry.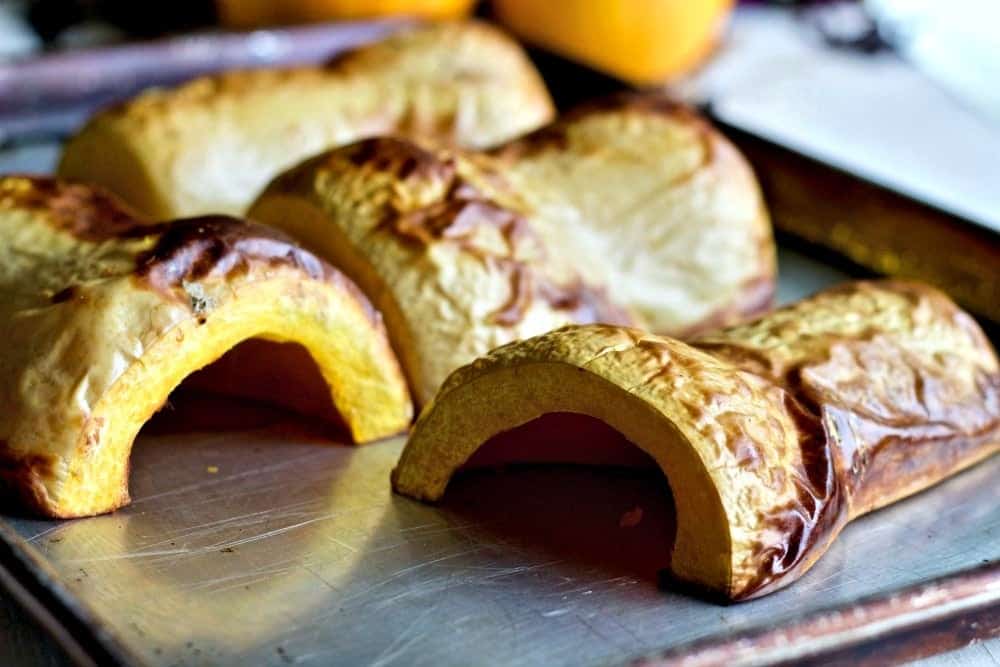 In this recipe We combine fresh Butternut with either canned pumpkin or Homemade Roasted Pumpkin Puree. Both will work just fine in this roast pumpkin soup recipe.
When you scoop out the seeds be sure to roast them for a family treat.
Our family enjoys crockpot soups like this one and hearty stews that can easily be ladled into a cup or bowl for a quick snack, fast meal at home, or a microwavable lunch at work.
Pumpkin Butternut Squash Soup Recipe:
This winter squash soup fits the bill for a warm, easy to make, harvest soup recipe.
Remember: cooking with squash is not an exact science. The squashes come in all shapes and sizes. The roasted butternut squash I used in this recipe was on the small side, about 4 cups of puree. If you use huge squash adjust the other ingredients accordingly.
RECIPE TIPS:
Use Homemade Applesauce instead of Apple cider in a pinch. It works fine but the soup is thicker.
The Curry is NOT hot. The mild curry (any mild curry will do) called for just adds richness and fullness to the soup flavor. The curry itself stays in the background.
You can control how loose you want this soup by adjusting the liquids in this recipe. I have made it both thick and looser. We loved it both ways.
Yield:

6 servings
Butternut Pumpkin Soup
Butternut pumpkin soup. Thick, warm, creamy, slightly sweet, richness. Delicious fall soup! Enjoy the pleasure of this comforting soup made from fresh butternut squash and fresh or canned pumpkin!
Ingredients
1 Butternut Squash
2-15 oz Cans Pumpkin Puree( or 4 cups fresh pumpkin puree)
2 cups Vegetable Broth
1 1/2 cup Apple Cider
1 1/2 cup Heavy Cream
2 tbsp Honey
1/4 tsp Curry Powder
1/2 tsp Cinnamon
1 tsp Salt
1/2 tsp Black Pepper
Pumpkin Seeds (for garnish)
Instructions
Roast Butternut and pumpkin
Preheat oven to 350.
Cut the squash in half, seed and lay face down on a baking sheet.
Put in the oven for 40 minutes until fork tender
Remove from oven and allow to cool at least 10 minutes.
Remove peel easily with a knife.
Puree in blender or food processor.
Soup Preparation:
In a large soup pot, combine butternut squash puree, pumpkin puree, vegetable broth, apple cider and cream.
Bring to a low boil over medium heat.
Add honey and spices and simmer for 10 minutes.
Garnish:
Garnish with pumpkin seeds and cinnamon as desired.
Notes
The thickness of this soup is easily adjusted to suit your tastes. Simply increase the liquids or the squash amount as you prefer.
Nutrition Information
Yield
6
Serving Size
1
Amount Per Serving
Calories

367
Total Fat

24g
Saturated Fat

14g
Trans Fat

1g
Unsaturated Fat

8g
Cholesterol

67mg
Sodium

639mg
Carbohydrates

36g
Fiber

8g
Sugar

19g
Protein

6g
Pin it: