Our Roasted Butternut and Pumpkin Squash Soup is made with fresh roasted squash, vegetable broth, apple cider, cream and honey. Finished with a blend of aromatic spices for the right balance of savory and sweet, this soup is perfect for fall.
What is the best way to cook Squash?
Squash can be steamed, roasted, or sauteed depending on your preference and the type of recipe you are making. We prefer roasting over any other method because roasting produces a fantastic flavor due to the sugars crystalizing. Roasting also helps retain the moisture which yields a soft, creamy texture that blends beautifully for soups.
Roasting is a simple process that is done in your oven. Simply slice the squash in half lengthwise, remove the seeds and inner membranes and place upside down on a baking sheet. Bake for 30-40 minutes with a bit of water in the bottom of the pan. The squash is done when you can easily insert a fork through the skin.
Is Butternut Squash a superfood?
Like most squash, butternut squash is packed full of nutrition and provides a healthy carb source. It is known to help restore the body at the cellular level, reduce inflammation, and deliver antioxidants to the body which can reduce chronic disease. Squash is a fantastic vegetable to enjoy in your diet.
We have grown a variety of squash in our garden over the years, and we love creating recipes from the fall harvest that we reap. If you don't grow your own, check out your local farmers market or pickup some organic squash from your grocer.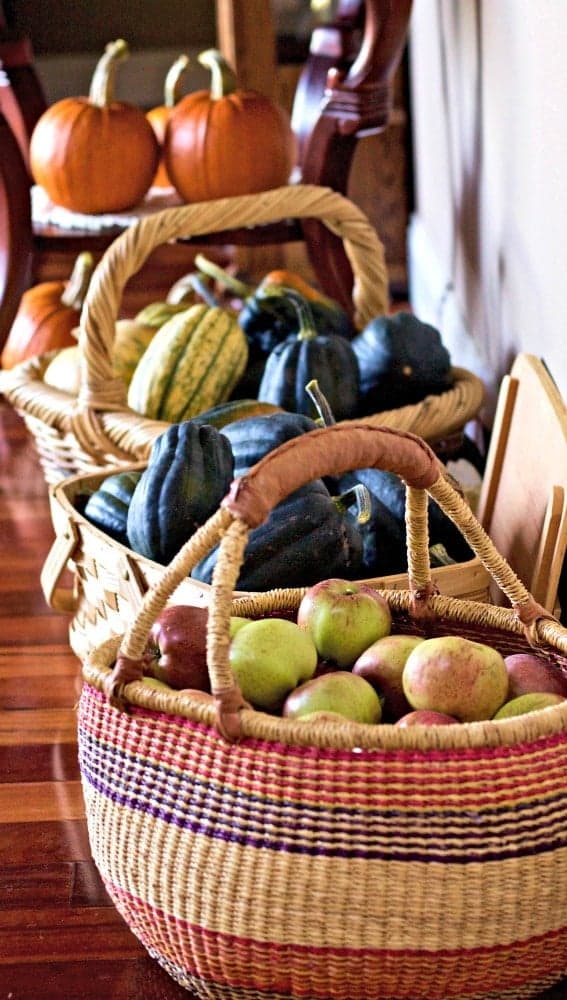 What goes with Butternut Soup?
Butternut Soup can be enjoyed with a large variety of other foods. It's mild, nutty flavor pairs well with both savory and sweet foods, while the creamy consistency compliments hearty textures. Some of our favorites include
Fresh green salads
Roasted potatoes
Crispy kale or veggie chips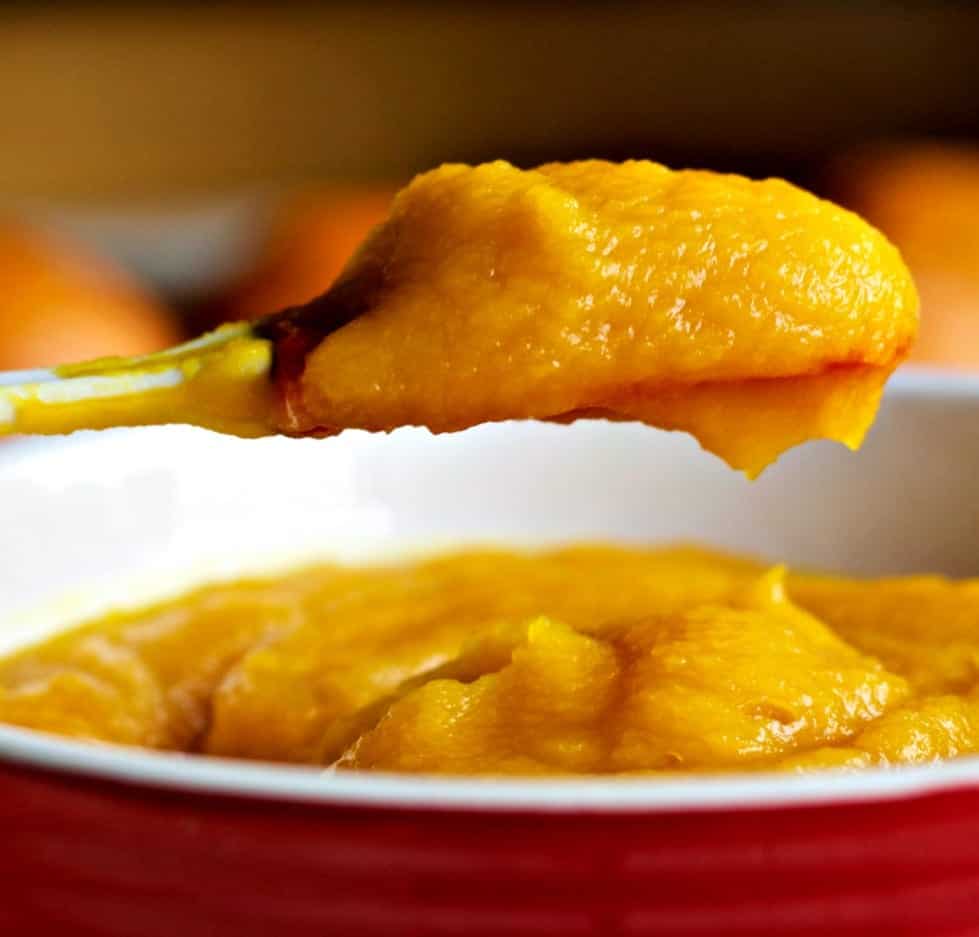 Do Pumpkin and Butternut Squash taste the same?
The differences between pumpkin and butternut are slight, which is why they pair so well together. Butternut squash is slightly sweeter and has a creamier, less stringy texture than most pumpkins. Pumpkin squash has a nutty, rich and slightly sweet flavor but is a bit more savory than butternut.
We combined the two in this soup because they balance one another and create a thick, creamy soup that is flavorful and perfect for fall.
What can I cook with Squash?
Squash is a generic term for a large vegetable family that includes pumpkin, butternut, acorn and more. Because squash is so versatile and mild in flavor and texture, it is easy to create a variety of meals both savory and sweet using squash. Some of our favorites are shared below. Just click the photo to open up the recipe.
This easy to make butternut pumpkin soup is great for lunch, a light dinner, or a soup course to a bigger menu. The rich squash flavor compliments beautifully the sweet cider and mild curry.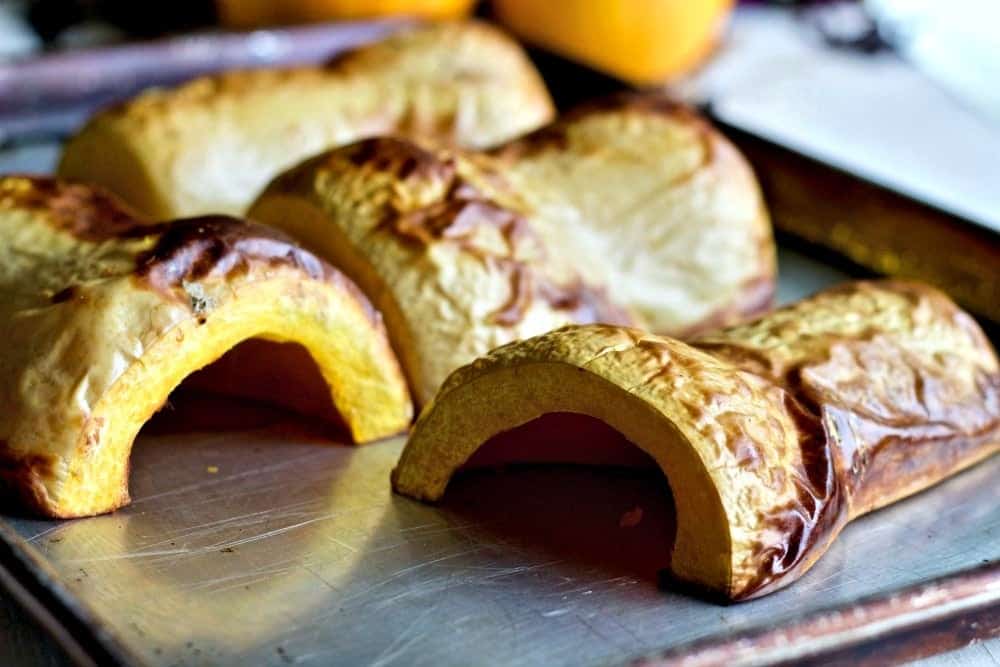 Can you eat Squash seeds?
All winter squash seeds are edible and very nutritious so be sure to set them aside for a nutritious snack. When you remove the seeds allow them to dry and then check out our Roasted Pumpkin Seeds Recipe. This recipe will work for any squash seed and gives you the option for a sweet or savory snack.
Pumpkin Butternut Squash Soup Recipe
In this recipe we blend fresh butternut with either canned pumpkin or Homemade Roasted Pumpkin Puree. Either will work just fine in this Roasted Squash Soup recipe.
This winter squash soup fits the bill for a warm, easy to make harvest soup recipe.
RECIPE TIPS:
Use Homemade Applesauce instead of apple cider in a pinch. The soup will be thicker but just as delicious.
The curry is not hot and won't add a spicy element to the soup. The mild curry called for just adds richness and fullness to the soup flavor.
You can control how loose you want this soup by adjusting the liquids in this recipe.
Yield:

6 servings
Butternut Pumpkin Soup
Butternut pumpkin soup. Thick, warm, creamy, slightly sweet, richness. Delicious fall soup! Enjoy the pleasure of this comforting soup made from fresh butternut squash and fresh or canned pumpkin!
Ingredients
1 Butternut Squash
2-15 oz Cans Pumpkin Puree( or 4 cups fresh pumpkin puree)
2 cups Vegetable Broth
1 1/2 cup Apple Cider
1 1/2 cup Heavy Cream
2 tbsp Honey
1/4 tsp Curry Powder
1/2 tsp Cinnamon
1 tsp Salt
1/2 tsp Black Pepper
Pumpkin Seeds (for garnish)
Instructions
Roast Butternut and pumpkin
Preheat oven to 350.
Cut the squash in half, seed and lay face down on a baking sheet.
Put in the oven for 40 minutes until fork tender
Remove from oven and allow to cool at least 10 minutes.
Remove peel easily with a knife.
Puree in blender or food processor.
Soup Preparation:
In a large soup pot, combine butternut squash puree, pumpkin puree, vegetable broth, apple cider and cream.
Bring to a low boil over medium heat.
Add honey and spices and simmer for 10 minutes.
Garnish:
Garnish with pumpkin seeds and cinnamon as desired.
Notes
The thickness of this soup is easily adjusted to suit your tastes. Simply increase the liquids or the squash amount as you prefer.
Nutrition Information
Yield
6
Serving Size
1
Amount Per Serving
Calories

367
Total Fat

24g
Saturated Fat

14g
Trans Fat

1g
Unsaturated Fat

8g
Cholesterol

67mg
Sodium

639mg
Carbohydrates

36g
Fiber

8g
Sugar

19g
Protein

6g
Follow Us:
We enjoy meeting you on our social networks. Follow us on Facebook, Pinterest, Instagram . Tag us with your pictures of our recipes and comment on how it went for you. We would love to see what you do with them.
We often like, comment and share your posts of our recipes on our daily Instagram stories.
Ask questions and rate the recipe in the comments section below. Please share what you did with this recipe. We are always looking for more and better ways to make homemade food. Other cooks love your ideas!
Recent Posts: