Delicious Delicata Squash Sautè with dates and pomegranate seeds creates a wonderfully flavorful, sweet side dish or even light dinner. Infused with pure maple syrup and gently pan seared this recipe is simple to make, and can be prepared with butternut or hubbard squash if you don't have the delicata variety on hand.
This is a vegan meal that will work with a variety of dietary needs; it is full of fiber, vitamins, complex carbs and natural sugars. We are walking you through all of our tips and techniques to prepare this recipe, and we know you will love it as much as we do.
Prepare this vegan side dish for a family Holiday gathering, enjoy is as a light meal on a chilly Winter evening, or serve it alongside roasted chicken or braised beef at your next dinner party.
This is a healthy side dish recipe. Pan cooked delicata squash recipe is light and full of delicious ingredients. It only take a few minutes on your stove top.
Watch me Make this Recipe. In the video I show you how to seed a pomegranate easily, and how to cook Delicata squash in a skillet in just a few minutes.
Looking for more yummy recipes? Explore our Appetizers, Side Dishes, Salads, and Desserts libraries for a wide variety of options.
What does Delicata Squash taste like?
Delicata is a truly lovely winter squash. With it's beautiful striped skin, oblong shape and showy ridges they stand out in the squash crowd. This squash is similar to butternut and acorn squash in that it has a subtly sweet flavor that many folks love. It doesn't require much in the way of extra seasonings as its natural flavor is creamy and pleasant.
What flavors go with squash?
Most squash is mild in flavor with a pleasant creamy texture, making them very versatile in the food world. Squash is often used as a way to replace refined carbs in otherwise heavy meals. Many squash can hold their own flavor wise, but they are very enjoyable when paired with herbs and ingredients that elevate their natural flavors.
Things like basil and rosemary, parmesan cheese, honey and cinnamon all bring beautiful depth and complexity to every squash dish. Squash also pair well with rice, cooked apples, goat cheese, nuts and Brussel sprouts making it a great option for veggie casseroles or roasted sautes.
This recipe will also work with Butternut and Hubbard squash
As a side dish or light meal this Winter squash recipe is one of the best for several Winter squashes with a few adjustments.
Delicata makes a really lovely presentation you won't easily replicate with other winter squash. However, If you have a butternut or hubbard you can use them in this recipe too.
You will need to cut them into small 1/2 inch pieces or longer strips of about that thickness. Then just follow the recipe.
Recipe notes for Delicata Squash Sautè
We recommend organic extra virgin olive oil, avocado oil or coconut oil. All of these oils have beneficial properties and great flavor to add to this recipe.
Prepping Tips for the ingredients in this recipe are all shown in the recipe video
Delicata Squash:
Slice the squash into 1/4 inch thick rounds and leave the skin on . Fortunately the beautiful striped skin cooks tender and tastes great so we can enjoy those pops of color right through to the table. And the ridges add so much to the look of this dish.
With a spoon scrape the seeds out of the rounds
Pomegranate-remove the seeds:
Score the pomegranate skin all the way round
Cut (or twist) the pomegranate in half
Take one half of the pomegranate and invert it with your hand over a bowl
With a heavy spoon tap the pomegranate and let the seeds fall into the bowl.
Prep the ginger:
With a sharp knife peel the ginger skin off to reveal the inner flesh.
Cut the ginger across the grain and then dice into small parts.
Seed the dates:
Cut each date lengthwise to reveal the seed
remove the seed and cut the date into slices for the sautè
The dates, ginger and pomegranates go in right at the end to just warm them up a bit as the squash is cooked. All of the flavors will blend and deepen, complimenting one another beautifully. We love these delicious bohemian squash with pomegranate seeds and medjool dates.
What protein goes well with squash?
Thanks to its mild flavors and pleasant, creamy texture squash pairs well nearly any protein you desire. Popular options would be roasted chicken or turkey, pork dinners, ham or even prime rib making this a great side dish for a full meal such as a Holiday dinner or formal dinner party.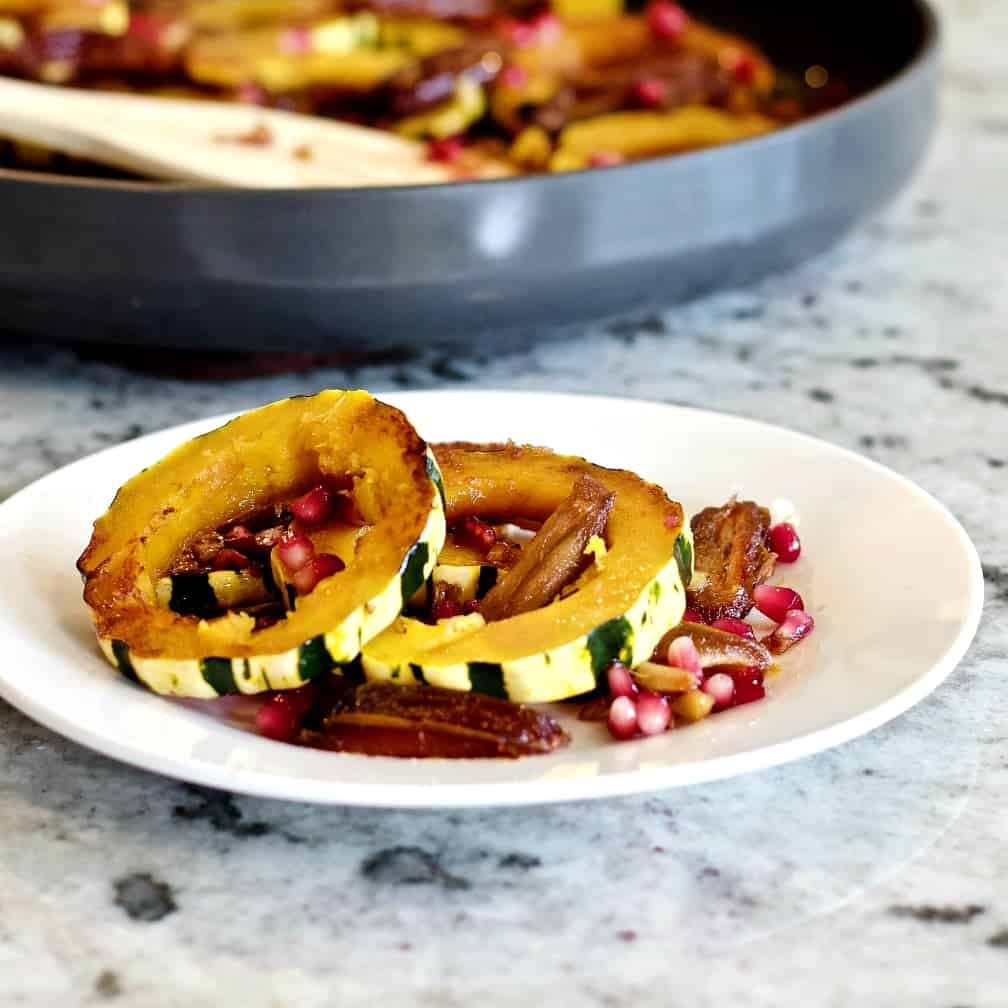 This lovely side dish contains several antioxidants and many nutrients. Sautè Delicata with pomegranate seeds, fresh ginger and medjool dates in a healthy oil for a scrumptious meal that satisfies and nourishes.
Delicata Squash Nutrition:

Lower in carbs than sweet potatoes and high in fiber.
Like most squash it is loaded with vitamins A and C.
Delicata squash makes a great base for many healthy dishes with its pleasant, sweet flavor.

Ginger Nutrition: We actually wrote an entire post you can read on 10 Natural Benefits of Ginger.
Pomegranate Nutrition: pomegranates contain fiber, potassium and other healthy nutrients.
Medjool Dates Nutrition: Dates are full of fiber and also contain potassium, copper and other nutrients.
Your Printable Recipe:
Follow Us:
We enjoy meeting you on our social networks. Follow us on Facebook, Pinterest, Instagram . Tag us with your pictures of our recipes and comment on how it went for you. We would love to see what you do with them.
We often like, comment and share your posts of our recipes on our daily Instagram stories.
Ask questions and rate the recipe in the comments section below. Please share what you did with this recipe. We are always looking for more and better ways to make homemade food. Other cooks love your ideas!
Recent Posts: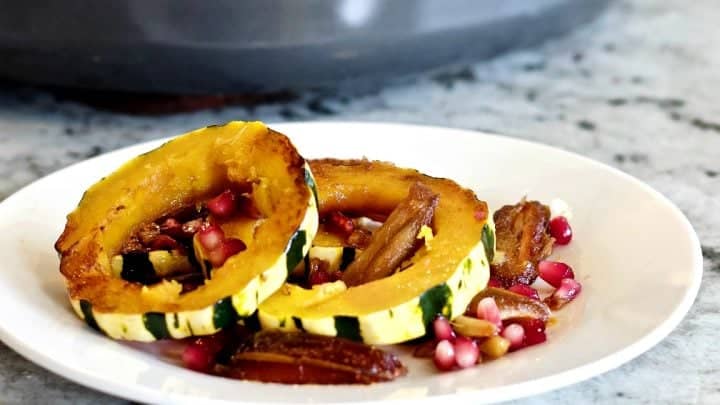 Yield:

4 servings
Delicata Squash Sautè
A lovely healthy vegetarian side dish with beautiful color and texture. This beautiful winter squash is caramelized and gently sauteèd with other healthy ingredients.
Ingredients
A lovely healthy vegetarian side dish with beautiful color and texture. This beautiful winter squash is caramelized and gently sauteèd with other healthy ingredients.
1 large Delicata squash sliced into rounds and seeded
1/2 cup pomegranate seeds
1/4 cup sliced medjool dates
1 tsp. Fresh ginger sliced and diced
1 Tablespoon pure maple syrup
1 Tablespoon coconut, olive or avocado oil
Instructions
Prep the veggies
Heat the oil in a large skillet set to medium,
Place the squash rounds flat in the skillet and cook until brown.
Now turn the squash and add the dates, diced ginger, pomegranate seeds and maple syrup.
Continue to cook until the squash is browned on both sides and soft.
Nutrition Information
Yield
4
Serving Size
1
Amount Per Serving
Calories

147
Total Fat

5g
Saturated Fat

1g
Trans Fat

0g
Unsaturated Fat

3g
Cholesterol

0mg
Sodium

13mg
Carbohydrates

28g
Fiber

5g
Sugar

19g
Protein

2g
Resources for nutritional information: