One of the best things about carving pumpkins is roasting pumpkin seeds. Try them smoky, spicy or sweet. We have simple ideas for roasting up healthy pumpkin seeds either spicy or sweet or both.
You can use the seeds from any squash. I haven't used them all but I plan to get around to it eventually. My house has baskets of acorns, Delicatas and butternuts decorating it.
Pumpkin Seeds Health Benefits:
We look forward to the Pumpkin seeds benefits to our health. Plus we just love them as snacks. Pumpkin seeds are full of healthy fats, magnesium and zinc.
WhFoods.com An indepth article all about pumpkin seeds, history, and health benefits.Livestrong.com A short article on the health benefits of all squash seeds.
Pumpkin Recipes
I hope you are also roasting pumpkin for pumpkin puree for LOTs of great pumpkin recipes. It freezes so well it will last you 6 months to a year. Check out our post and take a look at the video in this post to learn how to process a pumpkin.
Make pumpkin puree for all these recipes and much more. It freezes well and makes delicious recipes all year long.
How to Make Pumpkin Seeds:
First cut the pumpkin in half and dig in to separate those seeds from the pumpkin goo!
These are the pumpkin Guts, so to speak. A messy job it is to separate the seeds from the slimy innards they are attached to. The kids were drafted to this job when they were small enough to boss around 🙂 Now I get the honors.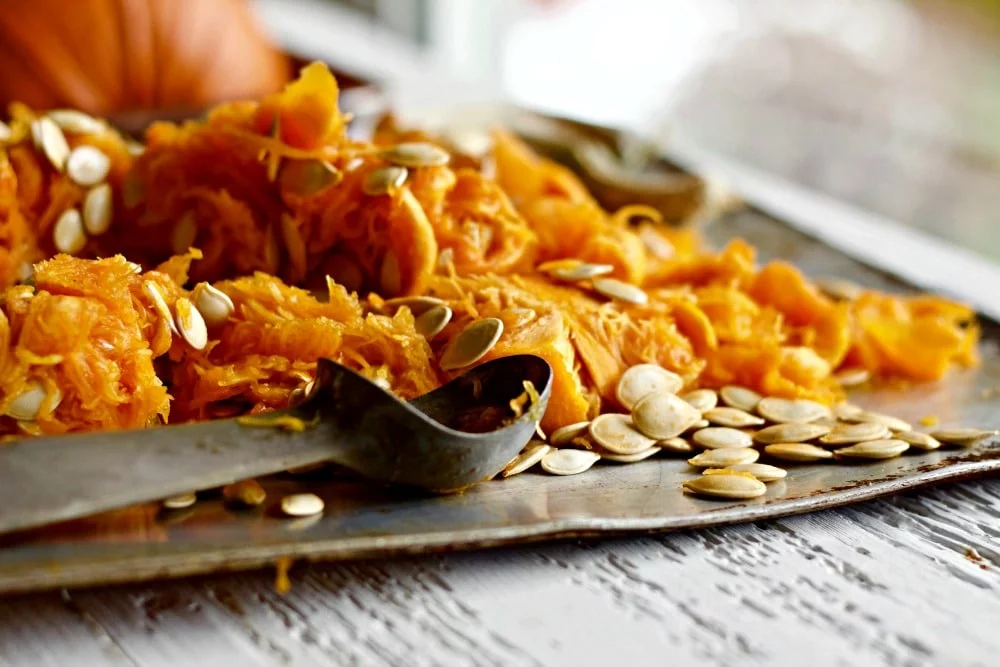 Because I was processing several pumpkins to make Homemade Pumpkin Puree I had a BIG pile of pumpkin Goo to sort out. This is a good task for social groups.
This work is way more fun when talking and laughing with a friend or two while immersing yourself in this yucky task. If you're alone, as I was, read the articles I linked at the bottom of this post while you sort to keep reminding yourself this treasure hunt is worth it!
A note on the shells around those seeds. Eat Them too! The shells provide lots of extra crunch and fiber. Trying to shell pumpkin seeds is just ridiculously hard. And why do it? They are another element of goodness.
You CAN purchase pumpkin seeds without the shells and roast them just like you see here. But if you do that be SURE to keep the roasting temperature under 200 degrees for under 20 minutes.
The fats in pumpkin seeds will be harmed by excessive heat for an extended period of roasting time. Especially true for shelled seeds.
Roasted Pumpkin Seeds Recipes
When you bake pumpkin seeds at high heat you are roasting them. Using a lower heat is preferred to save the healthy fats but you won't get the crispness in the shells.
Instructions:
Put the cleaned seeds into a small pan of salted water
Boil the seeds for ten or 15 minutes until the seeds turn translucent, then drain them and place them on an oiled cookie sheet with some oil (I use coconut oil).
Coat the seeds with your favorite seasonings , (my favorite is Costco's Sweet Mesquite). But any seasoned salt or just plain sea salt will work, pick your favorite. (See the sweet pumpkin seed recipe below too)
Bake the seeds for about 20 minutes at 350 degrees. It's recommended to actually reduce the heat to 190 degrees F. to protect the healthy fats in the seeds. I prefer the higher temperature to crisp the seeds.
Remove the baking sheet and cool, then remove the seeds to a bowl for a healthy treat or pack them up for lunches, hikes and picnics.
Set those Delicious Roasted Seeds out on the counter where everyone passing by can grab a handful. These are great party or movie night snacks too.
Variation:
Sweet and Spicy Pumpkin Seeds:
Preheat oven to 300 degrees F (150 degrees C). oil a baking sheet or use silicone mat or parchment.
In a large bowl, stir together whichever of the following you prefer. Set aside.
Suggested Spices for this sweet pumpkin seed variation:
Use whichever of these suggested spices you enjoy. All of them together may not give you optimum results. You may also adjust the amounts to suit your tastes
3 tablespoons melted butter (OR melted coconut or avocado oil)
2 tablespoons of brown sugar,
1/4 teaspoon cumin
1/4 teaspoon nutmeg
1/4 tsp allspice
3/4 Teaspoon cinnamon
1/4 Teaspoon ginger
OR eliminate all but the cinnamon and brown sugar and add 1/2 teaspoon pumpkin pie spice.
1/8 teaspoon cayenne pepper.
Roasting Instructions:
Boil the pumpkin seeds with 1 tsp of salt in a pan for 10 minutes.
Cool, drain and pat dry the seeds.
Place the boiled dry pumpkin seeds in a bowl with the butter, brown sugar and spices you chose.
Place the pumpkin spiced seeds on the prepared baking sheet.
Bake the seeds in preheated oven until golden. (about 20 to 25 minutes).
remove from heat. Cool and serve.
Here's a printable Instruction sheet for you.
Yield:

2 Cups roasted Seeds
Roasted Pumpkin Seeds Recipe
Lightly seasoned Roasted Pumpkin seeds fresh from a pumpkin, or any squash, make a healthy snack the whole family can enjoy.
Ingredients
2 Cups pumpkin seeds from a fresh pumpkin
1/8 Cup sea salt
1 Tablespoon Avocado or peanut oil
1 Tablespoon seasonings of your choice
Instructions
Separate the seeds from the pumpkin fibers
Put the cleaned seeds into a small pan of salted water
Boil the seeds for ten minutes.
Drain the seeds and dry them with a paper towel.
Put the seeds in a bowl and mix with the oil.
Coat the seeds with your favorite seasonings. (I use sweet mesquite) any seasoned salt or cajun seasonings will work). pick your favorite.
Place them on an oiled cookie sheet.
Bake the seeds for 15 to 20 minutes at 350 degrees or less until lightly browned
Remove the baking sheet and cool, then remove the seeds to a bowl for a delicious, healthy treat
Notes
Try these variations:
Sweet Mesquite
SmokeHouse Maple
Any cajun seasonings
You can also make your seeds sweet.
Instead of salt in the boil use an equal part sugar.
Use the seasonings mentioned above or choose your favorite pumpkin pie spice or use 1 tsp each of cumin, cinnamon and ground ginger.
For a bit of spicy zing with your sweet add 1 tsp. cayenne powder.
Bake as directed in the recipe.
Nutrition Information
Yield
8
Serving Size
1
Amount Per Serving
Calories

77
Total Fat

3g
Saturated Fat

1g
Trans Fat

0g
Unsaturated Fat

2g
Cholesterol

0mg
Sodium

1701mg
Carbohydrates

10g
Fiber

3g
Sugar

1g
Protein

3g
Follow Us:
We enjoy meeting you on our social networks. Follow us on Facebook, Pinterest, Instagram . Tag us with your pictures of our recipes and comment on how it went for you. We would love to see what you do with them.
We often like, comment and share your posts of our recipes on our daily Instagram stories.
Ask questions and rate the recipe in the comments section below. Please share what you did with this recipe. We are always looking for more and better ways to make homemade food. Other cooks love your ideas!
Recent Posts: