This Pumpkin Pie French Toast is perfect for a scrumptious, comforting breakfast or brunch. Made with pumpkin puree and pumpkin pie spices, this recipe brings all of the flavors of fall that we know and love. We take a traditional French toast and bring it up a notch with heavy cream, pure maple syrup, and a dusting of powdered sugar.
French toast is a familiar and favorite breakfast item that is believed to have originated in Rome. It is said that it was created as a way to use up old bread, rather than discarding it. The original name is 'pan dulcis or pain perdu' which roughly translates to "another sweet dish".
It is no surprise the recipe was passed down through the generations, with countries putting their own cultural spin on the sweet bread recipe. From simple and traditional with a cinnamon sugar egg wash, to indulgent and unique like our pumpkin pie version; everyone enjoys this popular breakfast treat.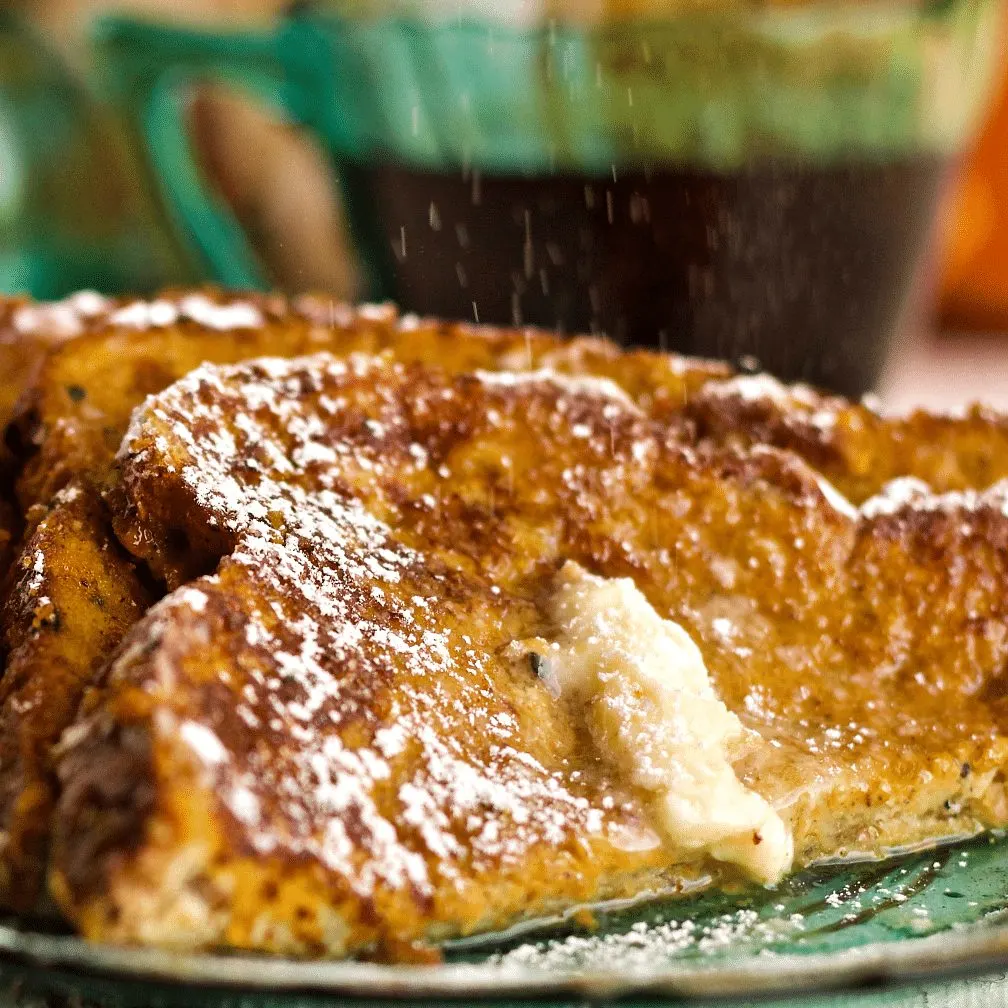 watch our complete tutorial on how to make this delicious French toast
What are the secrets to making the best French toast?
Although simple in its ingredients, French toast does require some attention to detail as well as some commonly overlooked techniques in order to make it the very best it can be. Here is our list of top tips to follow when making French toast.
Use the right bread. Yes, you can make French toast with any kind of bread you choose, but it will greatly affect the texture, flavor, and overall experience of this dish. Thick, soft white breads like Texas toast or Brioche are often used for French toast because they yield a wonderfully indulgent texture.
Don't overdo the dairy or sugar in the egg wash. You want the egg wash to have the right balance of ingredients for the best flavor and toasted crust. Not enough spice or sugar and the toast will lack flavor, too much of either will overpower the balance of flavor and possibly create a very thick crust that is prone to burning.
Be sure to soak the bread thoroughly. Under soaking the bread will affect the texture of the toast, the flavor, and how well the bread toasts. If there are dry spots on the bread from not soaking it enough, those dry spots will remain soft and dry even after it has been toasted. Thoroughly soaking the bread will also intensify the flavor.
Make sure the griddle is preheated and properly oiled. The griddle needs to be hot and prepped with both butter, and a good quality high heat cooking oil. Placing the toast on a hot griddle will create a crust, and toast the exterior of the bread without drying out the inside. Using butter will infuse a delicious flavor, while a good quality cooking oil like coconut or avocado will keep the toast from sticking to griddle.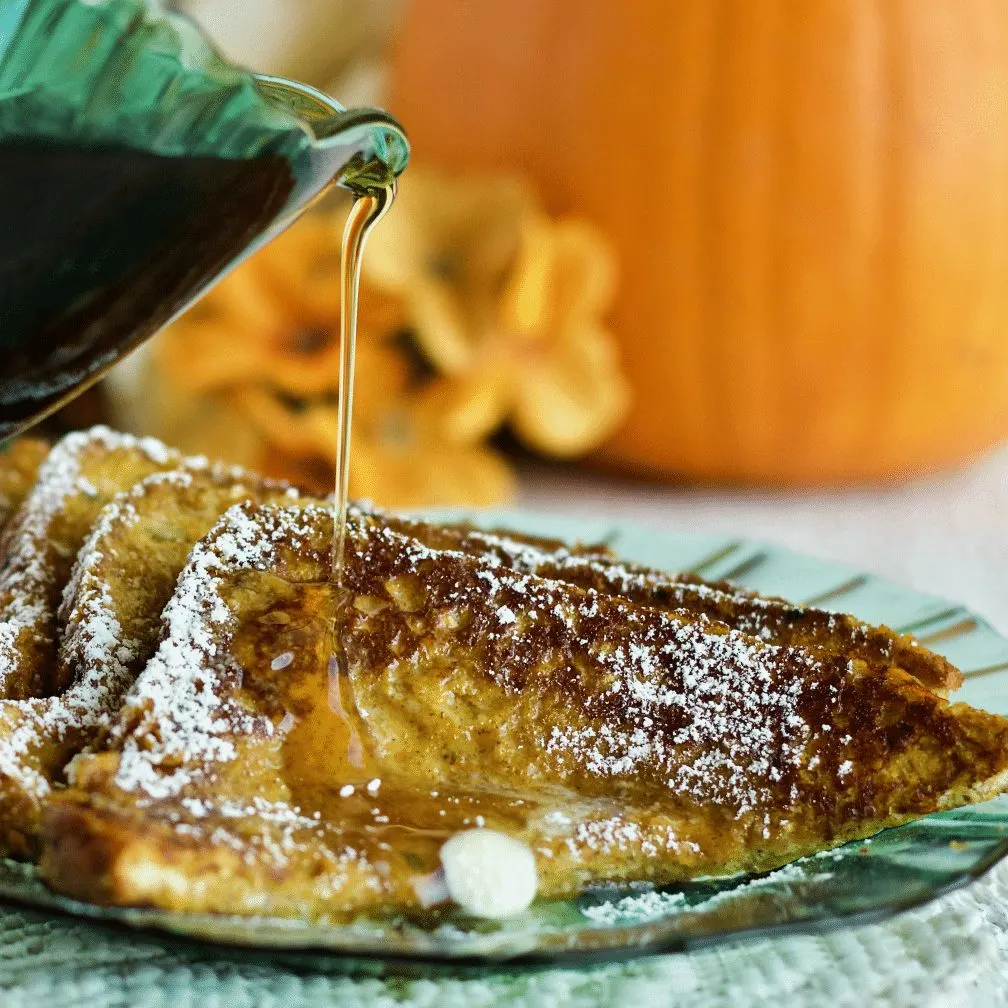 Pumpkin pie French toast is a fun breakfast to share with friends and loved ones. It's perfect for the day after a slumber party, on a holiday morning, or as the main dish for a delicious brunch.
This recipe is incredibly easy which makes it a great choice for a large crowd breakfast. When you're having overnight guests this is a quick impressive special breakfast.
Pumpkin Pie French Toast Recipe
This pumpkin pie French toast breakfast is simple to prepare, and can be enjoyed with an array of toppings. It's perfect for a fall morning when you want to enjoy the spices of the season.
Instructions
Get out your favorite non-stick griddle and set the temperature to medium
Whisk up the pumpkin pie french toast batter
Dip the bread on both sides, be sure to allow it soak in the egg wash
Lay the coated bread slices on your preheated griddle
Give the toast about 5 minutes a side to cook completely
You will want to lift the edge of your toast up and check before you flip it
When it's golden brown flip it with a sharp spatula and cook it on the other side
Stack the slabs of cooked pumpkin french toast on a plate
Top them as desired with butter, maple syrup, and powdered sugar and serve
What goes with French Toast
This pumpkin pie French toast makes a delicious main course for a breakfast or brunch spread. Serve with your favorite sides, both sweet and savory, to compliment this indulgent recipe.
Offer a platter of sausages or bacon for a savory bite
Serve with an array of fresh fruit
Enjoy a homemade parfait made with Greek yogurt on the side
Serve along with a dish of fried potatoes and eggs
Enjoy with your favorite mimosa
Transform this recipe into a delicious pumpkin french toast casserole, or french toast bake
Your Printable Recipe Card: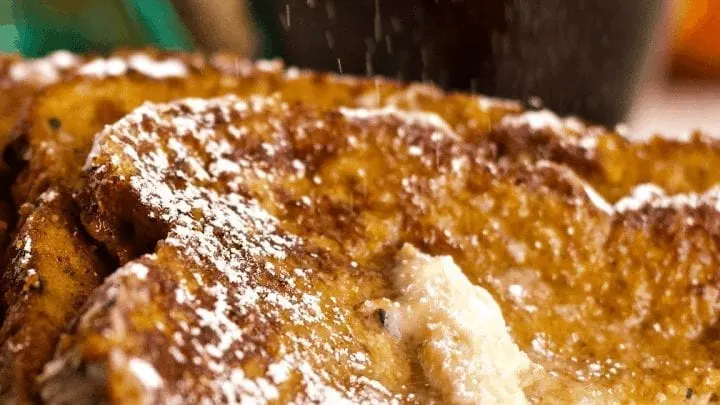 Yield:

12 toasts
Pumpkin French Toast Recipe
Update boring old French toast with this Delicious Fall Pumpkin Pie French Toast Recipe. This version of french toast is Very popular with adults and kids alike. A tasty, crowd pleasing breakfast or brunch. The leftovers are great and hold several days in the fridge.
Ingredients
Ingredients:
3 large eggs
1 Cup Pumpkin Puree , fresh or canned
1 tsp. Pumpkin Pie Spice
1/2 Cup Heavy Cream
1/4 Cup Pure Maple Syrup
12 slices bread
Instructions
Instructions:
Set Griddle to medium heat
Whisk eggs, pumpkin puree, spices, cream, and maple syrup together in a medium bowl.
Pour the batter into a shallow bowl wide enough to lay the bread slices into (The bread will float on the batter)
Once the bread is coated on one side, flip the bread over with a fork or spatula and coat the other side.
Move the bread slice to the griddle carefully so it doesn't break. I use a fork or spatula to help support the slice.
Repeat until the griddle is full of battered bread slices.
Cook the bread slices until golden (about 5 minutes but check them). Flip the slices over and cook on the other side until golden.
Remove the cooked toast to a serving plate and garnish as desired.
Notes
Serving Suggestions:
We love our pumpkin pie french toast with a bit of butter and a sprinkling of powdered sugar.
Top it off with a Nice slide of pure Maple syrup right down the middle of the stack. Nothing compares to the flavor of pure Maple syrup. Do NOT buy a cheap sugar water syrup for this recipe.
If you have extra whipped cream whip it up with a bit of pumpkin spice and maple syrup. Dollop a bit on top of your french toast for pure decadence.
Replace the Maple syrup with Homemade Buttermilk Caramel Sauce for a completely different flavor experience.
Recommended Products
As an Amazon Associate and member of other affiliate programs, I earn from qualifying purchases.
Nutrition Information
Yield
8
Serving Size
1
Amount Per Serving
Calories

239
Total Fat

9g
Saturated Fat

4g
Trans Fat

0g
Unsaturated Fat

4g
Cholesterol

87mg
Sodium

262mg
Carbohydrates

33g
Fiber

2g
Sugar

10g
Protein

7g
Be sure to try these delicious breakfast or brunch recipes too!
Follow Us:
We enjoy meeting you on our social networks. Follow us on Facebook, Pinterest, Instagram . Tag us with your pictures of our recipes and comment on how it went for you. We would love to see what you do with them.
We often like, comment and share your posts of our recipes on our daily Instagram stories.
Ask questions and rate the recipe in the comments section below. Please share what you did with this recipe. We are always looking for more and better ways to make homemade food. Other cooks love your ideas!
Recent Posts:
This recipe was originally published September of 2014. It's a favorite of ours.