The men at our place all love this meaty Low-​Carb, Dairy-​Free, Gluten-​Free, low sugar meatloaf. I enjoy making a regular meat and potatoes dinner for them once in a while.
Tonight this easy meatloaf recipe is accompanied by garden fresh cooked carrots and baked, seasoned, red potatoes. Happy guys at this meal!
This easy healthy recipe is a cooks best friend when it's time to whip up a filling meal in a hurry. Ten minutes prep and it's in the oven. Throw a few sides together and dinner is easily served in under an hour.
Learn how to make meatloaf in our video demonstration:
Now that school has started, and I'm taking care of my grandkids. There's a bit of a scheduling crunch at dinner time around here. I'm coming home to a hungry, impatient household.
Yes, they can cook. Of course I made sure of that. They all know how to use the microwave and heat leftovers. My homemade cooking skills didn't rub off on all of my family members 🙂
The crock pot and instant pot recipes and fast meals like this oven method meatloaf, hamburger soup, Shepherds pie, and stuffed pasta Bell Peppers will play a pretty big part on our dinner menus this fall.
How I learned to make meatloaf:
When I was a young teen, My mom worked a demanding job. As a single young widow, she needed a backup cook at home. That was me. I learned to make easy dinners early on. This simple Meatloaf recipe was an old standby she taught me. I make it to this day. That's a legacy for you. Thanks mom.
Mom didn't make frilly meatloaf with lots of add ins and folderols for our weeknight dinners. She made it just like I'm making it for you. Plain and basic. That's why it's also healthy.
I can still remember her side dishes. The fresh cut carrot and celery sticks floating in a pan of water. Bread on a plate and butter. All Perfectly served at our dining room table. We always had a home baked dessert of course. 🙂
Hamburger meat recipes like this one benefit from a plain Jane approach. Keep it simple. The sides are where you can get fancy if you like. Our family likes meatloaf with steamed carrots and potatoes. Pretty easy meal.
Back in the day it was appropriate to serve meatloaf at dinner parties (Invite the boss or pastor over kind of thing) all dressed up pretty.

It still is! Check out my Meatloaf for a dinner party. It's easy to do (I make it in a springform pan) and ever popular. It's so RETRO!
This is a REALLY good beginner cook low carb dinner recipe if you have kids interested in cooking. It's a simple recipe with just a few basic ingredients. Kids enjoy the messy process of mixing by hand. They also love meatloaf so they want to make it.
I cook at home from scratch even when life is hectic. That means planning ahead. Or building a repertoire of easy, fast dinners. That's a much more likely scenario in my kitchen.
I most often forget to get anything out of the freezer for dinner and have less than an hour to get it on the table. Cooking on the fly here. Fast easy dinners find their way to our dining table over and over.
Meatloaf is a good low carb recipe for meal planning. It makes great leftovers. And Meatloaf sandwiches are always a lunchbox winner.
My Italian Stuffed meatloaf Sandwich is especially pleasing to a large manly appetite. Lots of flavor and juiciness.
Let's Make Meatloaf!
Word of caution:
Meatloaf is very dense.Depending on how much hamburger you use and how much fat it has the baking time may change. If you have a slower oven or put closer to 2 lbs of hamburger in this recipe. REMEMBER TO ADD extra baking time. Up to 20 minutes. You may also cover the meatloaf with tinfoil and raise your oven temperature to 375 degrees f.
Be SURE your meatloaf is perfectly baked through with NO pink in the middle. Hamburger requires thorough cooking every time so its safe for your family.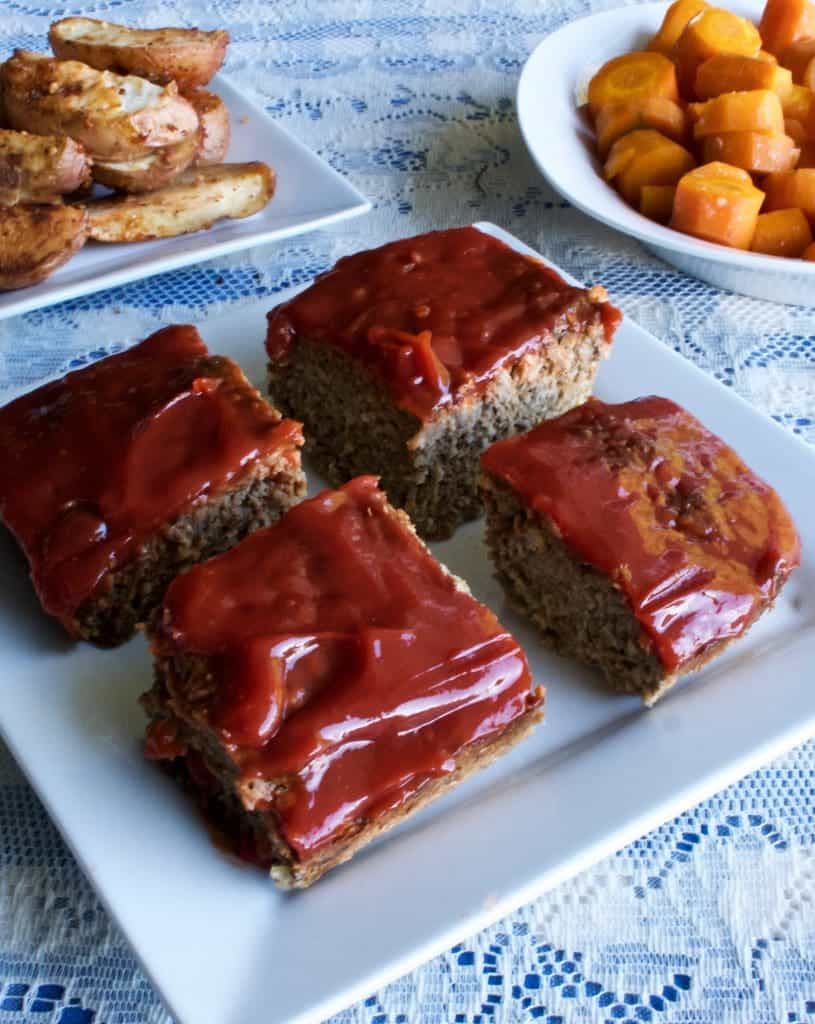 We use very lean organic grass fed hamburger. So I DON'T drain our meatloaf. It's not necessary if you start with a good quality lean hamburger. If you choose a high fat hamburger you will have to drain off the excess fat after baking.
Note for special dieters:
This recipe works well for many special diets in its original form. If you need to avoid gluten, are diabetic or a low carb dieter please be careful about your additions to this meatloaf recipe. With that in mind…
Feel free to change this versatile recipe with your favorite meatloaf add ins:
I have added in MANY extras over the years. We still prefer it just basic mostly. I like this dinner quick and easy. Don't overcomplicate meatloaf. However, meatloaf is user friendly. This is a 'use what you have' cooking experience. Find your humor, creativity and courage and head into the kitchen. Now get out your meat loaf pan. Enjoy!
Here are a few of the ingredients I have found that work well with meatloaf if you want to give them a try or need a substitution.
Brown sugar (a tablespoon or so if you like sweeter meatloaf)
Use barbeque sauce instead of ketchup as a topper after baking or in the last five minutes of baking.
Out of oatmeal? panko bread crumbs, crushed croutons or stale crumbled breads of all sorts including gluten free bread can replace the oats.
Dried seaweed (NOT kidding. It's salty and kind of good… and very healthy.)
Worcestershire sauce. Add a teaspoon or two for a cowboy flavor. People with Celiac disease want to read the labels. Certain brand do contain gluten.
What do you like to add into your meatloaf? Share your favorite extras in the comments section below. We'd love to hear from you!

Low carb Meatloaf is a big plus for a quick dinner choice. Whatever you have on hand can be put into this recipe and made to work. What's in the fridge?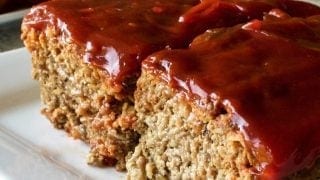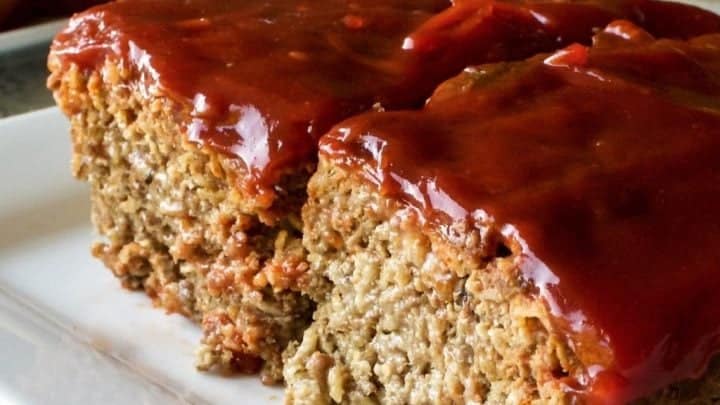 Yield:

8 servings
Meatloaf
A meaty Low-​Carb, Low-​Sugar, Dairy-​Free, Gluten-​Free meal. Once in a while, I make a regular meat and potatoes dinner.
Ingredients
1 1/2 lb. raw, uncooked Hamburger
1/2 onion (diced or 1 tsp. powdered)
2 cloves garlic (as desired, minced or 1 tsp. powdered)
1/2 cup oatmeal
2 eggs
1/2 Cup ketchup (what I used) or barbeque sauce to cover the top as desired.
Instructions
Preheat oven to 350 degrees.
Put all ingredients, except the ketchup, in a large bowl and mush it together with your hands until thoroughly blended.
Pat into an oiled 8 x 8 pan
Bake 30 to 40 minutes until brown, bubbly and done in the center.
At serving, spread ketchup or barbecue sauce evenly over the top.
Nutrition Information:
Yield:
8
Serving Size:
one slice
Amount Per Serving:
Calories:

255
Total Fat:

11g
Saturated Fat:

4g
Trans Fat:

0g
Unsaturated Fat:

6g
Cholesterol:

92mg
Sodium:

496mg
Carbohydrates:

23g
Fiber:

0g
Sugar:

5g
Protein:

15g
Pin it:
Recipe source: My mother:)