This Italian Meatloaf Sandwich makes the perfect lunch. The meatloaf is juicy, manageable on a sandwich, and a meal in itself. Just add bread, mayo and ketchup, and maybe some fresh peppers, pickles or red onions for a bit of crunch and heat.
This sandwich is similar in taste and style to an Italian meatball sub, but with more flavor and loaded up with extra ingredients for a hearty bite. A simple, rustic meatloaf will work just as well if you want a lighter sandwich. The bread can be a traditional roll or sub, a hearty multi grain bread like we used.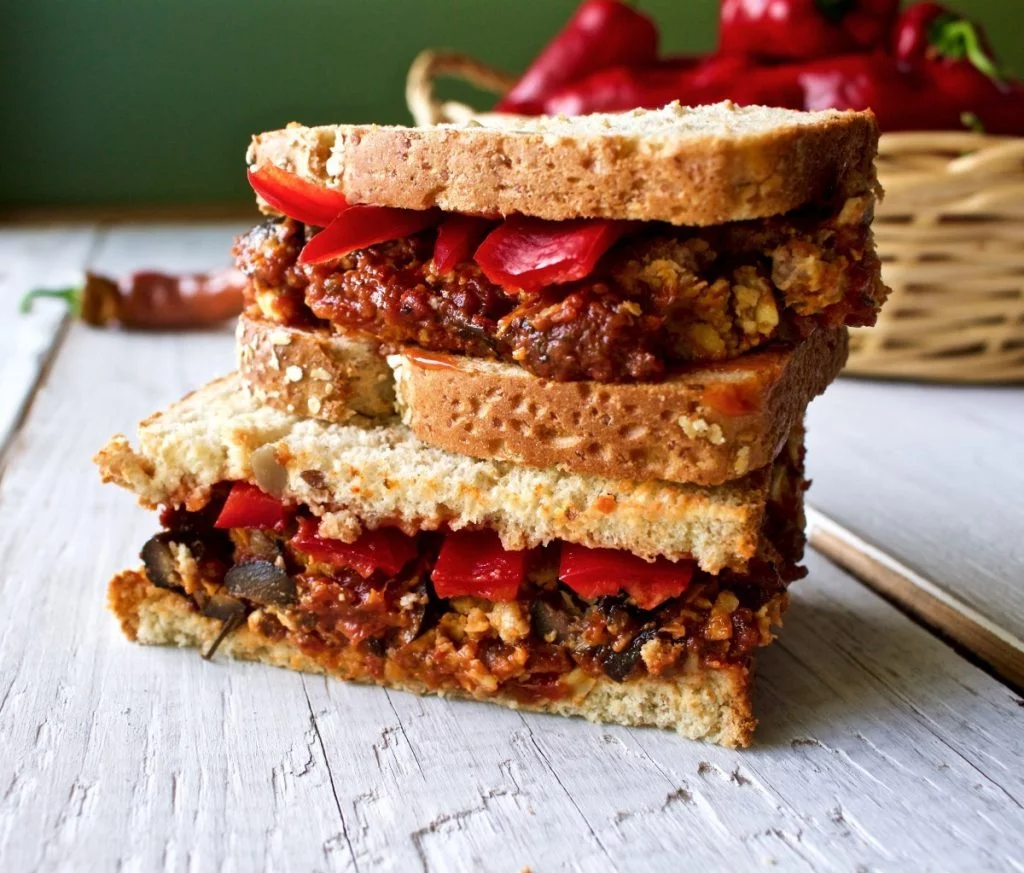 Is a Meatloaf Sandwich a burger?
No, meatloaf sandwiches cannot be classified as burgers because meatloaf is different from a ground beef patty. Meatloaf is made with oatmeal or bread crumbs and egg to hold it together. The use of a slice of meatloaf on this sandwich disqualifies it from the burger category. You can enjoy it on a bun, a roll, or two slices of bread; it's still a sandwich.
What can you put on a Meatloaf Sandwich?
Mayo is a popular choice of condiment to enjoy on this sandwich, but extra ketchup and even mustards have been known to make an appearance.
Fresh veggies like tomato, red onion, lettuce, jalapeno, peppers, even mushrooms are delicious on a meatloaf sandwich. The added crunch and flavor complexity is a welcomed experience because this sandwich is otherwise very soft and can lack variety of texture.
The bread is another personal choice. Crispy French breads are popular to use, but ciabatta rolls, burger buns, and simple white breads are all common ways you will find this rustic sandwich served. We also love it on hearty sourdough slices or multi grain breads for flavor depth.
What is the best Meatloaf?
This particular Italian Meatloaf recipe is juicy and full of cheese and rich Italian flavor. It brings the majority of flavor to the sandwich which means you don't need a lot of extras. Of course, if you prefer a loaded sandwich with lot's of fresh, crunchy extras you could use our Simple Meatloaf.
Those of you who are looking for a hearty meatloaf with a different flavor profile could try the food network stuffed meatloaf. It is a combination of beef, pork and veal; traditional spices and provolone cheese. What really makes it stand out is the ciabatta stuffing with chestnuts and pancetta.
How can I spruce up my Meatloaf Sandwich?
If you are looking to add some flair to this hearty sandwich we have some ideas. Here is a list of our favorite suggestions to get you going.
Serve it on a buttered and toasted bread
Make a meatloaf melt with extra cheese and thin sliced meatloaf
Add some heat with chipotle, hot sauces, or peppered cheeses
Make it a loaded meatloaf sandwich by adding bacon
Serve as an open faced meatloaf melt on a sub roll with melted cheese
Add caramelized onions and BBQ sauce
Italian Stuffed Meatloaf Sandwich
This meatloaf sandwich is made from our Italian Stuffed Meatloaf recipe. A beautiful meatloaf full of Italian cheeses, homemade marinara sauce, herbs and olives! The red pepper is a Krimson Lee roasting pepper for a tasty bit of crunch, just the right companion to this meatloaf!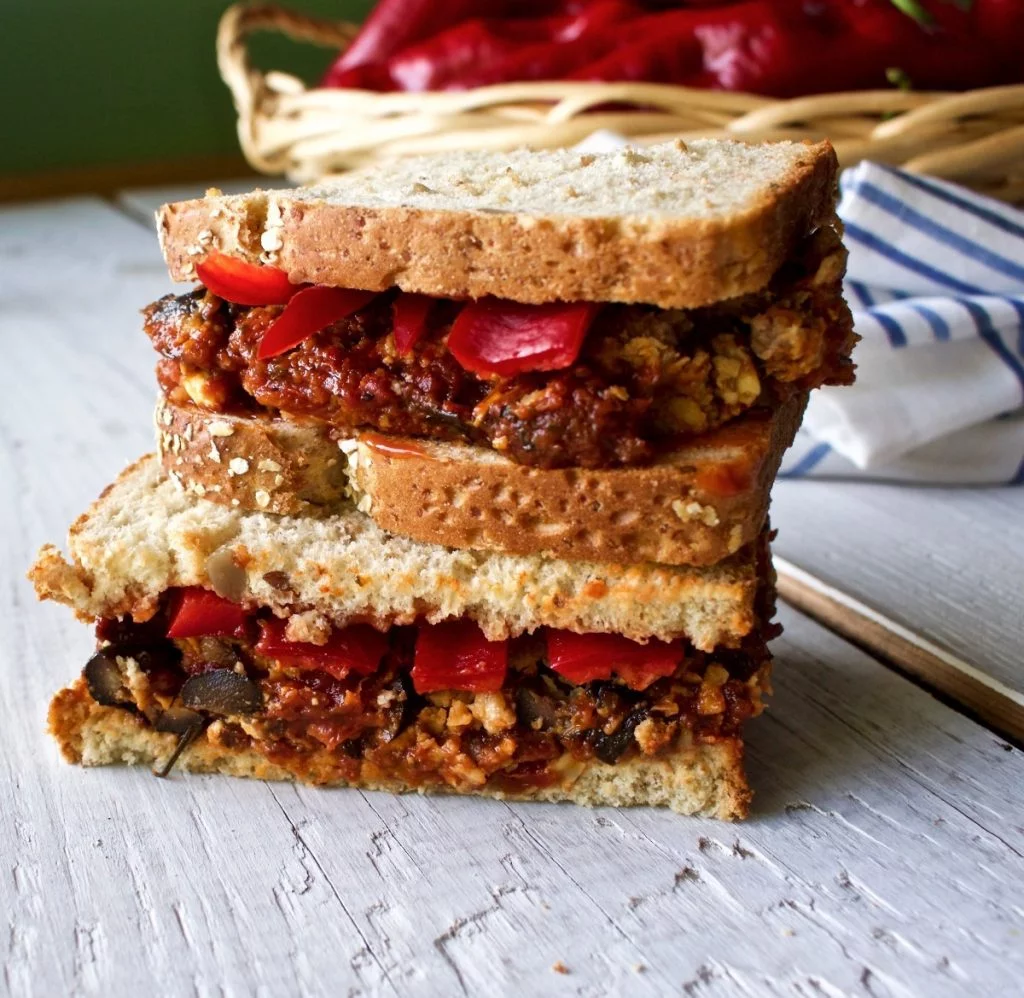 Your Printable Recipe: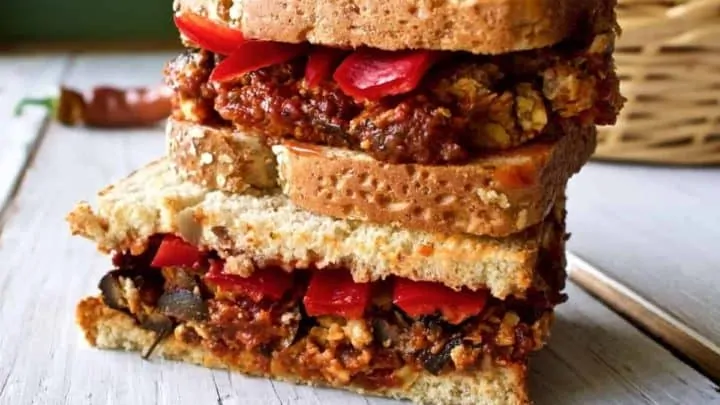 Yield:

1 serving
Italian Stuffed Meatloaf Sandwich
Italian Stuffed meatloaf Sandwich makes the perfect lunchbox manwich! The meatloaf is juicy, manageable on a sandwich, and a meal in itself. Just add bread, mayo and ketchup, and maybe some passilla type peppers for a crunchy bit of zing.
Ingredients
1 slice meatloaf
2 pieces of whole wheat bread
one passilla pepper
1 Tablespoon mayonaise
1 tsp. ketchup
Instructions
Lay your bread pieces side by side, on a board
Slather on mayo and ketchup to taste
Slice the pepper into strips
Cut a bread sized slab of Italian stuffed meatloaf, and lay it on one slice of the prepared bread
Lay the pepper strips on top of the meatloaf
Set the last piece of bread onto the top, making a sandwich!
Nutrition Information
Yield
1
Serving Size
1
Amount Per Serving
Calories

597
Total Fat

31g
Saturated Fat

8g
Trans Fat

1g
Unsaturated Fat

19g
Cholesterol

129mg
Sodium

1271mg
Carbohydrates

44g
Fiber

6g
Sugar

10g
Protein

35g
Follow Us:
We enjoy meeting you on our social networks. Follow us on Facebook, Pinterest, Instagram . Tag us with your pictures of our recipes and comment on how it went for you. We would love to see what you do with them.
We often like, comment and share your posts of our recipes on our daily Instagram stories.
Ask questions and rate the recipe in the comments section below. Please share what you did with this recipe. We are always looking for more and better ways to make homemade food. Other cooks love your ideas!
Recent Posts: