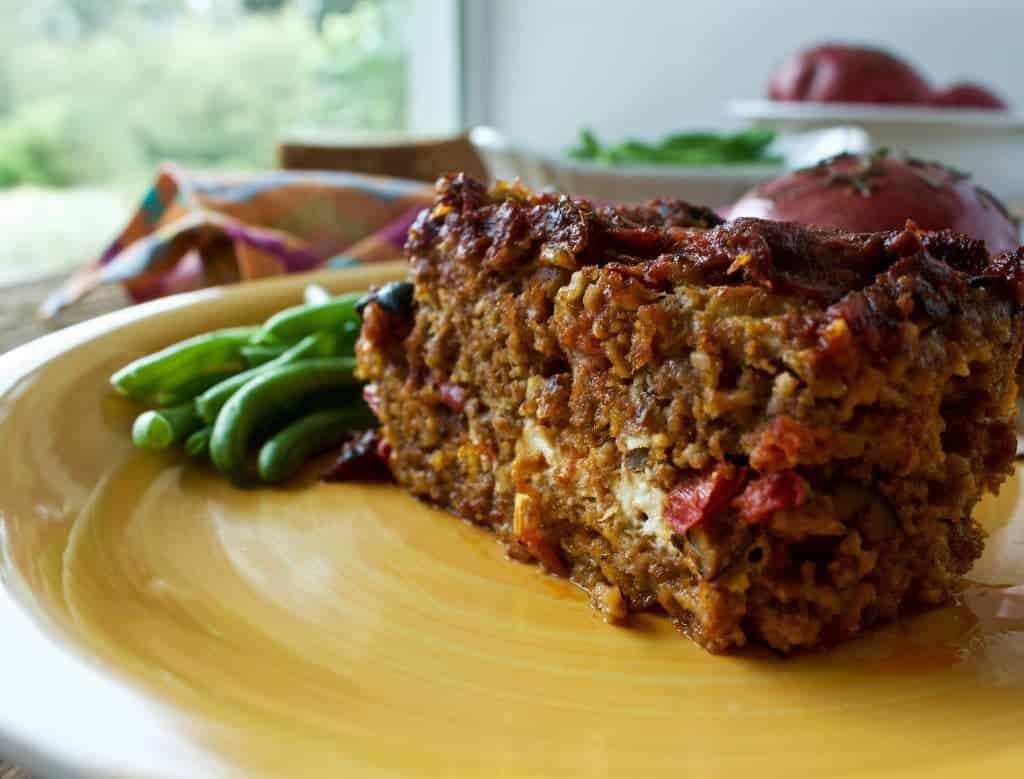 Yield:

9 servings
Italian Stuffed Meatloaf Recipe
Total Time:
1 hour
5 minutes
Meatloaf with an Italian twist. Italian Stuffed Meatloaf is delicious and filling, full of cheese and garnished with olives!
Ingredients
1 lb. hamburger
1 12 oz. can olives, sliced
1 cup mozzarella
1 cup grated parmesan cheese
1 29 oz. jar spaghetti sauce
1 egg
1/2 tsp. pepper
1/2 Cup onion, chopped
1 cup oats
Instructions
Preheat oven to 350 degrees
Grease 8 x 8 baking dish
Mix the hamburger, egg, oats, onion, pepper and parmesan cheese thoroughly
Press 1/2 of the hamburger mixture into the bottom of the baking dish
Sprinkle 1/2 of the mozzarella cheese over the hamburger to within one inch of the outside perimeter
Spread 1/2 of the olives, 1/2 of the mozzarella and 1 cup of the spaghetti sauce over the cheese
Place the remaining hamburger mixture over the filling and press the edges closed
Smooth the top.
Sprinkle the remaining mozzarella cheese and olives over the top. Pour the remaining spaghetti sauce over all and smooth it with a spatula
Bake for 45 minutes or until it bubbles
Nutrition Information
Yield
9
Serving Size
1
Amount Per Serving
Calories

349
Total Fat

19g
Saturated Fat

7g
Trans Fat

0g
Unsaturated Fat

10g
Cholesterol

69mg
Sodium

1206mg
Carbohydrates

29g
Fiber

4g
Sugar

6g
Protein

17g
Meatloaf with an Italian twist. Italian Stuffed Meatloaf is delicious and filling, full of cheese and garnished with olives!
This is one of my recipes that came from my friend Betty. She gave me`several recipes I am very happy to share with you all. Italian stuffed meatloaf is one of them. Easy, delicious and different; this popular dinner is a fun way to dress up meatloaf.
Turn the leftovers into a delicious Italian Stuffed sandwich. The guys in our family all love this meatloaf recipe and the sandwich! That makes me a happy cook!
The directions are really simple but different from regular meatloaf. I am using my homemade Marinara sauce in this recipe. Outstanding Flavor boost! Also homemade sun dried tomatoes would be great layered into the filling layer. I also used some of my dried herbs from the garden. Fresh is best anytime. The flavors of these homemade condiments and sauce was just WOW!
Italian Stuffed Meatloaf Recipe:
I've made this recipe many years using store bought marinara sauce and it turned out fine. So don't stress …but if you happen to have the homemade ingredients on hand, I highly recommend them.
Make the hamburger mixture and split it half
Press the bottom patty into your baking dish evenly
Sprinkle the filling ingredients over the bottom patty to within one inch of the edge
Layer the top patty over the bottom patty and press the outer edge closed
Sprinkle the top layer ingredients over all and bake!
That's all there is to it! Go ahead and adjust the filling ingredients to whatever you have on hand. This recipe is easy, delicious and pretty versatile. Try peppers and hot sauce, Italian seasonings and various white or smoky cheeses. It all works if you like it, and it will still be Italian. Enjoy your meatloaf!
If you have leftovers; make a meatloaf sandwich!