Mini Cranberry Raspberry Tarts are adorable and scrumptious. This is an easy raspberry tarts recipe with cranberry sauce mixed in to bring out the holiday vibe. You'll enjoy serving these mini tart desserts at a small dinner party or holiday gathering.
They are the perfect size for a single serving. Add them to your menu as a special dessert for your next holiday event, winter bridal shower, girls night, or a special treat for the family.
These tarts are made with a creamy cheesecake filling, enveloped in a simple press in pan crust, and topped with a delicious cranberry raspberry sauce. These tarts are sure to be a hit and can be garnished to fit your aesthetic for a an impressive centerpiece display.
Raspberry tarts with cranberry sauce added are a scrumptious pastry dessert. The crust is fairly thick so these tarts are easy to serve. These tarts are of the sweet kind that consist of a fruit sauce sitting on top of a cheesecake filling.
These tasty treats can be made as whole tarts similar in size to a full sized pie, or as delicate mini tarts that work beautifully for events and gatherings as easy to serve individually sized desserts.
How is a Tart different than a Pie?
Tarts and pies are very similar desserts. Both are made with a pastry crust, filled with a sweet or savory filling, and either fully or partially baked.
The only notable differences are that tarts always have only a bottom crust while pies most often have a top crust as well as bottom. The crust of tarts is also much thicker than the crusts on pies.
What is Tart filling made of? Tarts are usually filled with a custard or pastry cream made from milk, eggs, sugar, vanilla, butter, and cornstarch. They can also be made as a cheesecake tart with a cream cheese based filling, like we are doing for this recipe. If you prefer the traditional method these could easily be made as cranberry curd mini tarts.
We made our mini cranberry raspberry tarts with a cheesecake filling. The fruit is cooked separately and layered over the filling after it cools.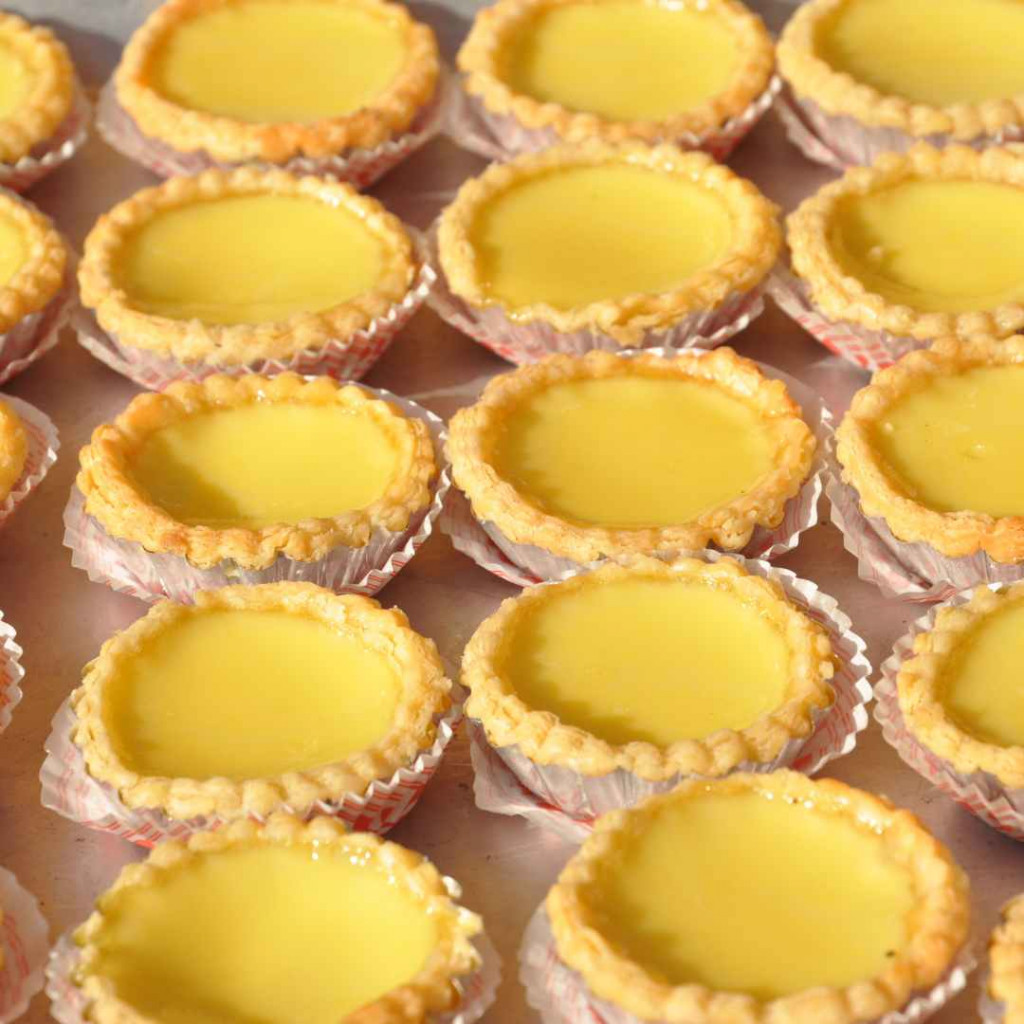 What Dough is Most Commonly Used for Tarts? Shortcrust pastry dough is the most popular choice for tarts of all kinds including cranberry mini tarts and a whole cranberry tart. Shortcrust is usually made with a lower fat to flour ratio, creating a crisp and crumbly texture.
We often use our simple Coconut Oil Crust for this dessert. It is a very easy crust that comes together quickly and bakes beautifully.
This raspberry tarts recipe uses a press in the pan crust. It's yummy and simple to make. No rolling needed. Just mix and press to fit the mini tart pans.
Recipe for Mini Cranberry Raspberry Tarts
Feel free to use any press in crust you prefer, just press it into the tart pans (about 6 mini tart pans) and bake it at 350 degrees for 10 minutes.
While they are baking make the cheesecake filling.
When the mini tarts come out of the oven pour the cheesecake filling into each of the tart pans right over the warm crust and pop them back into the oven for about 20 minutes.
Meanwhile, make your cranberry raspberry sauce. Set it aside to cool and thicken.
When the cheesecake filling is baked, set it aside to cool.
Once cooled serve your cranberry raspberry mini tarts with the cooled cranberry raspberry sauce on top.
These can be made as fresh raspberry tarts or you can use frozen raspberries.
How do you Garnish Cranberry Raspberry Tarts?
Garnishing these tarts is a fun, creative process that can be decadent or simple depending on your aesthetic and the mood you are trying to create. From a beautiful display of assorted mini tarts, or an individual cranberry tart; how you display them will surely stand out. Here are some ideas to get you going
If serving for the holidays top with sugared cranberries and rosemary sprigs, and a dusting of powdered sugar.
Use shaped meringues to accentuate the theme of your event or gathering.
Place fresh whole fruits atop the tarts to let folks know what they are made of.
Use toasted pecans or walnuts as a garnish.
Top the tart with fresh raspberries.
Can You Freeze These Tarts?
You can freeze these tarts for up to 3 months. Here's How:
Completely cool the tarts.
Set them uncovered on a baking tray.
Place them in your freezer on the baking tray so they stay level and untouched.
Allow the tarts to freeze solid. (2 to 4 hours usually)
Remove the baking tray with the frozen tarts to your counter.
Individually wrap the tarts in plastic wrap. Place the wrapped frozen tarts in a gallon ziplock freezer bag and gently stack them on their side until the bag is full.
Remove (suck out) all the air from the ziplock bag.
Store in the freezer flat.
To defrost the tarts. Unwrap the tarts you plan to serve. Set in the fridge up to a day before serving to come to fridge temperature. Or use the counter to defrost to room temperature.
How to Make Raspberry Tarts:
Yield:

6 servings
Cranberry Raspberry Mini Tarts
Total Time:
2 hours
10 minutes
Cranberry raspberry mini tarts are adorable and scrumptious. One tart is the perfect size for a single serving. Add them to your menu for a special dessert or upcoming holiday event. They make an impressive display on a side board buffet tray or formal table setting.
Ingredients
Press In Crust:
1.5 cups all-purpose flour
1.5 tsp granulated sugar
1 tsp salt
1/2 cup melted coconut or avocado oil
2 tbsp milk
Cheesecake Filling:
8 oz. softened cream cheese
1/2 Cup granulated Sugar
2 eggs
1 tsp. vanilla
Cranberry-Raspberry Sauce:
1 can whole cranberry sauce
1 1/2 Cup raspberries, fresh or frozen unsweetened
1/4 Cup sugar
Instructions
Preheat oven to 350 degrees
Grease six 4 inch mini tart pans
Crust:
Make the crust, press it into your mini tart molds, bake and set aside.
Mix together flour, salt, and sugar in a pie pan.
Stir in milk and slowly add oil.
Keep stirring until the dough forms
Mix well with a fork
Press the dough into the bottom and up the sides of your tart pans.
(try to press it in evenly so it will bake evenly.)
poke the crust bottom with holes.
Set the tarts on a baking sheet.
Bake tarts at 350 for 10 minutes or until barely set.(crust will complete baking with the filling in).
Remove from heat and allow to cool while making the filling.
Cheesecake Filling:
Using an electric or stand mixer, or food processor, mix the softened cream cheese on medium speed until smooth. (pulse until smooth if using a food processor)
Add the Sugar and blend together.
Add the eggs, and vanilla. Beat until smooth.
Pour cream cheese mixture over warm crust.
Bake at 350 degrees for 20 minutes or until the crust is firm and barely browned
Set aside to cool
Cranberry-Raspberry Sauce:
In a two quart saucepan combine 1 can whole cranberry sauce and 1 1/2 Cup fresh or frozen unsweetened raspberries and sugar.
Cook over medium heat, stirring often, until the sauce thickens and is bubbly.
Remove from heat and let cool. The sauce will thicken as it cools
Place a dollop of the sauce over each mini tart.
Serve chilled.
Nutrition Information
Yield
6
Serving Size
1
Amount Per Serving
Calories

344
Total Fat

15g
Saturated Fat

8g
Trans Fat

0g
Unsaturated Fat

5g
Cholesterol

100mg
Sodium

145mg
Carbohydrates

50g
Fiber

3g
Sugar

43g
Protein

5g
More Tart Recipes:
Follow Us:
We enjoy meeting you on our social networks. Follow us on Facebook, Pinterest, Instagram . Tag us with your pictures of our recipes and comment on how it went for you. We would love to see what you do with them.
We often like, comment and share your posts of our recipes on our daily Instagram stories.
Ask questions and rate the recipe in the comments section below. Please share what you did with this recipe. We are always looking for more and better ways to make homemade food. Other cooks love your ideas!
Recent Posts: