Zucchini Bread with pineapple is a moist delicious quick bread. Serve it for breakfast, a party or snacks.
Zucchini Pineapple bread has a moist crumb with delicious bits of sweet juicy pineapple. This bread is a great way to enjoy leftover zucchini from the garden. Filled with raisins, nuts, and pineapple this zucchini bread is a favorite for everyone to enjoy.
You can swap ingredients out to fit dietary needs. substitute the raisins out for other dried fruits if you prefer.
The pineapple adds a nice bump of sweet flavor to this delicious quick bread recipe.
Our zucchini plants in our garden are overwhelming us this year. Not a shocking problem with this prolific vegetable.
I bake lovely fragrant zucchini loaves like this one (and many other zucchini recipes) every harvest season.
More Delicious Zucchini Recipes:
We love zucchini baked goods in lots of different ways. This wonderful vegetable has so many uses. Zucchini bread freezes really well.
Dave and I really appreciate having zucchini bread on the counter when we wake up. Just whack off a piece, grab a cup of coffee and breakfast is served.
Most days, this time of year, that's my breakfast menu. This is a nutritious, high energy food to start your day. Great for snacks, lunch and dessert.
What can I make with fresh Zucchini?
Zucchini is one of those garden vegetables that loves to keep on producing! One plant can produce 3-10 pounds of zucchini. If you have been blessed with an abundance of zucchini, here are a few ways to use up your harvest:
Should I leave the Skin on the Zucchini for Zucchini bread?
The skin can be left on the zucchini when making zucchini bread. Zucchini has a very thin outer later that melts into the bread when cooking. Simply grate the fresh zucchini into small bits and add it straight in to the batter. Removing the skin is an unnecessary and time consuming step.
How much Zucchini is needed for Zucchini Bread?
You can make zucchini bread with 1-2 medium sized zucchinis. If you have very large zucchini, you may only need 1 zucchini or even 1/2. Young small zucchini will have a large amount of water in it that will need to be squeezed out prior to baking. Older large zucchini are dry and won't need to be squeezed. Just make sure you remove any seeds that are in a large and old zucchini, they can make the bread bitter.
This easy dessert is wildly popular everywhere it goes. Take it to Tailgate parties, potlucks, or any group occasion.
This zucchini bread will be a hit at your summer and fall parties. I suggest you cut each slice down the middle to double the servings for a party.
Zucchini Bread with Pineapple Recipe:
Recipe yield: 2-9 x 4 loaves or 24 slices
Pineapple is a delightful flavor and texture combination with zucchini, raisins, and nuts. You can use either fresh or canned pineapple.
Either chunk or crushed pineapple will work great in this bread. The chunks give you more of a flavor pop but the crushed blends into the bread much better.
I tell you how to prep the fresh pineapple in the printable recipe card.
Below is our visual guide and walkthrough of this recipe. We used canned chunk pineapple for the demonstration.
Prepping Young Zucchini:
This step is not necessary in the later season when large zucchini gets drier. But for young fresh zucchini full of juices use this method to prepare it for this zucchini bread recipe. Otherwise your bread will not bake properly.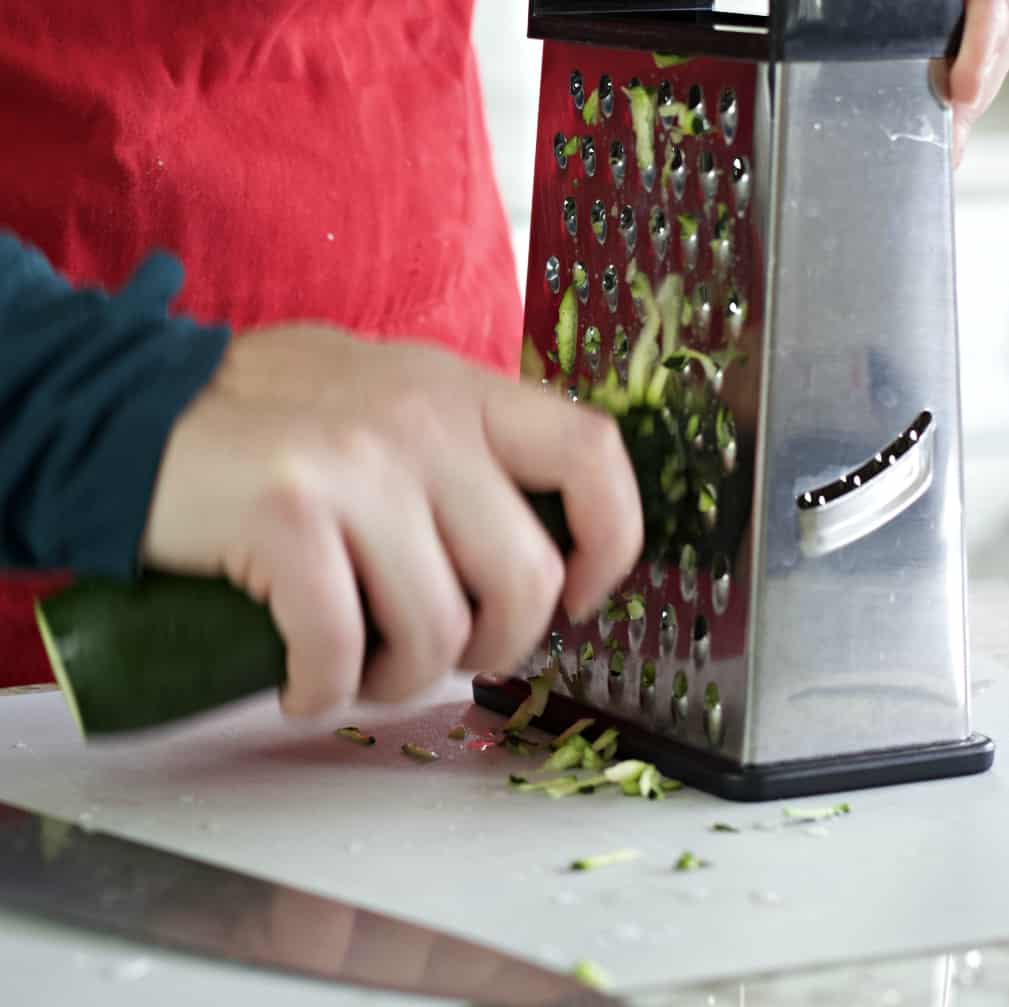 Please also watch our recipe demonstration video in the sidebar and in the recipe card.
Making Zucchini bread with pineapple:
The walnuts and raisins are optional. If your not a fan, omit them. This bread will still be delicious.
Instructions for mini loaf pans are in the notes section of our printable recipe card.
Helpful Amazon Links:
Your Printable Recipe Card:
Yield:

2 - 9 x 5 inch loaves
Zucchini Bread with Pineapple
Total Time:
1 hour
50 minutes
Zucchini Bread with pineapple makes a moist, delicious quick bread loaf. Great for breakfast, a party tray or snacks. The fresh or canned pineapple adds a little bump of flavor to this delicious quick bread recipe.
Ingredients
4 eggs
1 Cup Coconut oil-softened
2 cups Sugar
1 1/2 tsp. vanilla
1/2 tsp. almond extract
2 Cups coarsely grated zucchini
1 8 oz. can crushed pineapple drained, or 1 Cup cubed fresh pineapple
3 Cups all purpose flour
2 tsp. baking soda
1 tsp. salt
1/2 tsp. baking pwd
1 1/2 tsp. cinnamon
3/4 tsp. nutmeg
1 cup chopped walnuts (optional)
1 cup raisins (optional)
Instructions
Preheat oven to 350 degrees
For best results Prep young zucchini to remove excess liquid. SEE Notes.
In a mixer, beat eggs. Add oil, sugar, and vanilla. Continue beating until thick and foamy.
Stir zucchini and pineapple into the egg mixture with a large wooden spoon.
In a separate bowl, combine flour, baking soda, baking powder, salt, cinnamon, and nutmeg.
Add the dry ingredients into the wet in small batches and stir in.
Fold in the walnuts and raisins.Stir together.
Divide the batter evenly into your oiled 5 x 9 inch baking pans.
Bake for 1 hour or until a toothpick inserted into the middle come out clean.
Cool in pans for 10 minutes. Turn out onto wire racks to completely cool.
Notes
Prep the zucchini:
Young tender zucchini is full of juice that can make the bread very difficult to bake properly. The steps below are necessary to remove some of that liquid so the bread bakes well. Don't bother with this step if you're using later season zucchini that is already pretty dry. If you are using a dry zucchini shred it fine to more easily incorporate it into your loaf.
To Remove the excess juice:
Place the shredded zucchini on a plate with 1 tsp. sugar for 20 minutes.
Then squeeze the wet zucchini it release the excess juice. The recipe calls for the squeezed quantity.
Set aside until needed in the recipe.
To use fresh Pineapple:
Cut the ends off the pineapple and the skin.
Cut the pineapple from top to bottom in half and then half again.
Now cut out the thick hard inner core. This leaves you with the tender outer flesh.
Cut this outer ring of pineapple flesh into cubes. You will only need 1 cup of cubed pineapple.

To use shredded FROZEN ZUCCHINI.
Thaw and Drain your shredded frozen zucchini ahead of time.
Ignore the instructions to PREP the zucchini.
Just lightly squeeze out the water after it's drained and use as if it's fresh.

The Fats:
Coconut oil significantly improves the flavor of most baked goods, in my opinion. Replacing the butter with coconut oil makes this loaf dairy free. Another oil that works beautifully in this recipe is Avocado oil. I was worried the flavor would be affected but it's not. And what a great heart healthy oil.
Mini loaf pans:

divide the batter into 4 mini loaf pans. Bake 30 minutes or until a toothpick in the center comes out clean. Cool.
For a party tray:
Double the servings for a party tray. Just slice the loaf as normal. Now slice the slices in half down the middle. They lay out better on party trays and go further with your guests.
Nutrition Information
Yield
24
Serving Size
1 slice
Amount Per Serving
Calories

282
Total Fat

13g
Saturated Fat

8g
Trans Fat

0g
Unsaturated Fat

4g
Cholesterol

31mg
Sodium

216mg
Carbohydrates

38g
Fiber

1g
Sugar

23g
Protein

4g
Follow Us:
We enjoy meeting you on our social networks. Follow us on Facebook, Pinterest, Instagram . Tag us with your pictures of our recipes and comment on how it went for you. We would love to see what you do with them.
We often like, comment and share your posts of our recipes on our daily Instagram stories.
Ask questions and rate the recipe in the comments section below. Please share what you did with this recipe. We are always looking for more and better ways to make homemade food. Other cooks love your ideas!
Recent Posts: