Zucchini Fries recipe uses coconut flour and crushed Foccacia croutons for a bit of healthy crunch! This recipe is yet another way to enjoy this healthy versatile vegetable. Just add ketchup! A tasty, healthy side to a light summer meal. Delicious!
I'm drowning in Zucchini! Every day or so I receive another load from our two hills of zucchini out in the garden. I'm constantly investigating new ways to introduce this old standby vegetable to our family in meals.
Currently, I'm lost in a jungle of hills full of green oblong, large vegetables! Zucchini tend to multiply like rabbits and they are wilier than a coyote. Every time I think I'm ahead of the crop, those sneaky veggies reproduce under their huge concealing leafy hills.
Fortunately zucchini is about the most versatile vegetable known to man. I Never get bored baking, making skillet meals and casseroles with this vegetable. Some of my favorite recipes are Savory Zucchini tart, savory zucchini bacon cheese muffins, pineapple zucchini bread and Chocolate Zucchini Cake . Just search zucchini if you need more recipe ideas.
Enjoy your garden harvest in a fun way that is good for your family. Zucchini Fries make a tasty, healthy side dish for a light summer meal.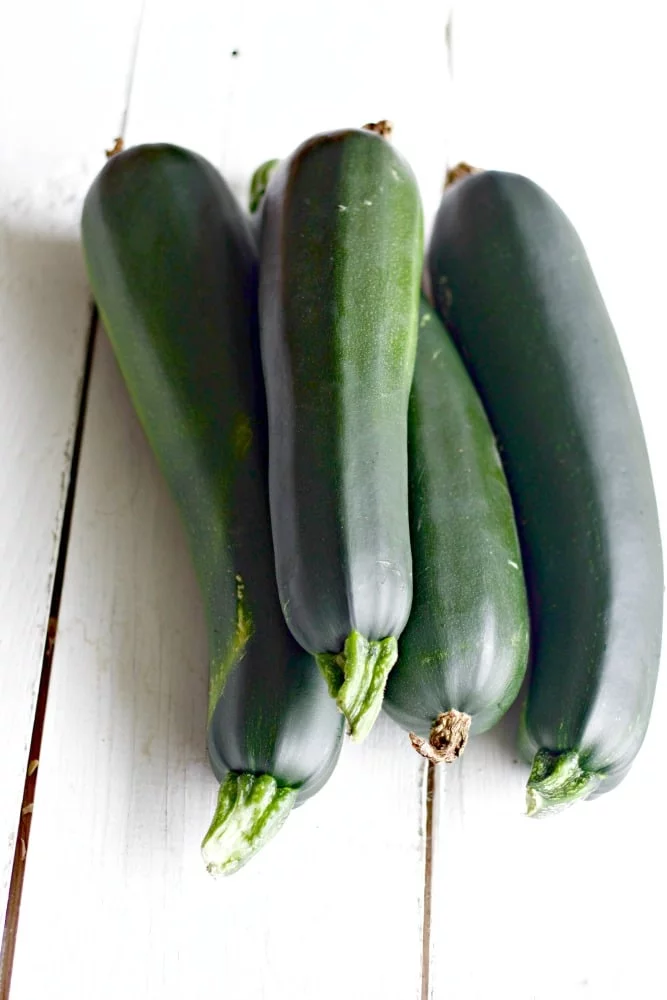 Garden Fresh Zucchini
Zucchini Fries are not even close to potato fries. So don't expect that. This recipe is a fun way to eat zucchini though. And they are good with a hamburger and ketchup!
Coconut flour is a gluten free option. The foccacia Croutons are not. So if you need gluten free, choose a gluten free crouton.
Zucchini Fries Recipe:
Zucchini fries is a good side dish to add to just about any summertime meal. I'm using coconut flour and crushed foccacia croutons just keeps the gluten down and build the flavor. Feel free to use Panko bread crumbs one to one with the flour and crushed croutons if you prefer.
Some people add Ranch dry mix (a tablespoon should do it) to zip up this basic recipe. Let me know how your family likes it. What a great way to get them to eat their vegetables!
Use a 1 lb. zucchini with small seeds. Remove the seeds with an ice cream scoop. The meat and skin of the zucchini is tender and delicious. Slice it into fries, bread it and bake it.
RECIPE NOTE: I used my food processor to blend all the ingredients together and attain a fine texture on the breading. This helps is stick to the fries.
You need to set up an assembly line to make this efficient.
Put the eggs in a shallow bowl,
next the crumbs in another bowl,
and finally the tinfoil (or silicone mat) covered cookie sheet with a wire rack(spray the rack with a cooking oil) on it to help the fries bake properly.
NOW…
Dip the zucchini strips in the eggs,
roll them in the crumbs,
and place them close together, but with a little space on those wire racks.
Bake!
Zucchini Fries are good but not salty (unless you add the salt which is up to you). They benefit from a dipping sauce to bring out the flavor just like french fries.
Ketchup worked fine and so will many other sauces. I tried my homemade Asian orange sauce just to be bizarre. That worked… but ketchup is my favorite.
Store the leftovers in the fridge with plastic wrap. Reheat about 10 minutes at 425 degrees to crisp them up.
Nutritional Information:
Recipe Yield approximately 50 zucchini fries
42 Calories / 5 zucchini Fries
Fat: 2 Grams
Carbs: 3 Grams
Protein: 3 Grams
Your Printable Recipe: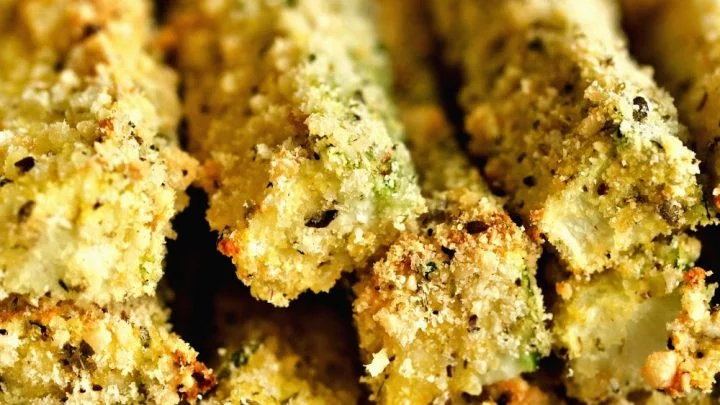 Yield:

10 5 Fries servings
Zucchini Fries
A fun way to use up your extra zucchini and encourage the family to eat their vegetables. These yummy garden snacks are quick to make and a VERY healthy Grill side or snack when made as directed.
Ingredients
1/8 cup coconut flour, or any flour you choose
1/2 cup crushed croutons
1/2 cup parmesan cheese
1 Tbsp Italian seasoning blend
1 large egg
Instructions
Preheat your oven to 425 degrees.
Line a baking sheet with tinfoil or a silicone liner.
Spray a cooling rack with non stick oil and set over the liner.
Rinse and dry the zucchini.
Cut the ends off the zucchini.
Cut the zucchini in half lengthwise and deseed each half with an ice cream scoop.
Cut each half into strips, approximately 1/4 to 1/2 inch thick.
In a wide, shallow bowl combine the crushed croutons, flour, salt, parmesan cheese, and Italian seasoning. Stir to combine.
In a second wide, shallow bowl, whisk a raw egg with about 1 Tbsp of water until fairly smooth.
One by one, take each zucchini strip and dip it in the egg and then the seasoned bread crumb mixture.
Place the breaded zucchini on the wire cooling racks. The wire racks keep the zucchini up off of the baking sheet and allows hot air to circulate underneath, which will prevent soggy bottoms. Also make sure there is a small amount of space between each strip to allow circulation.
Once all of the zucchini strips are breaded, bake them for approximately 20 minutes or until they are a medium golden brown color. Cooking time will vary with the thickness of your zucchini strips, so keep a close eye.
Serve with ketchup or your favorite dipping sauce. Enjoy!
Notes
Add your own touches to the breading to your family's taste. Some suggestions include adding salt into the breading or Dry Ranch Dressing mix. Also experiment with your favorite dipping sauces.
Leftovers can be wrapped tightly and stored in the fridge. At serving Reheat by baking 10 minutes at 425 degrees F. To crisp them.
Nutrition Information
Amount Per Serving
Calories

42
recipe source :recipefavorite.com