Light, moist lemon zucchini bread is a delicious farm to table recipe. If you have fresh zucchini and lemons make this bread. It's so good.
This lemon bread is perfect for breakfast, lunch box, party. The optional sweet lemon glaze livens the flavor and adds sweetness.
Zucchini makes delicious quick breads, cookies and muffins. And so much more. Search zucchini on this blog to find LOTS of great ways to use up your garden harvest.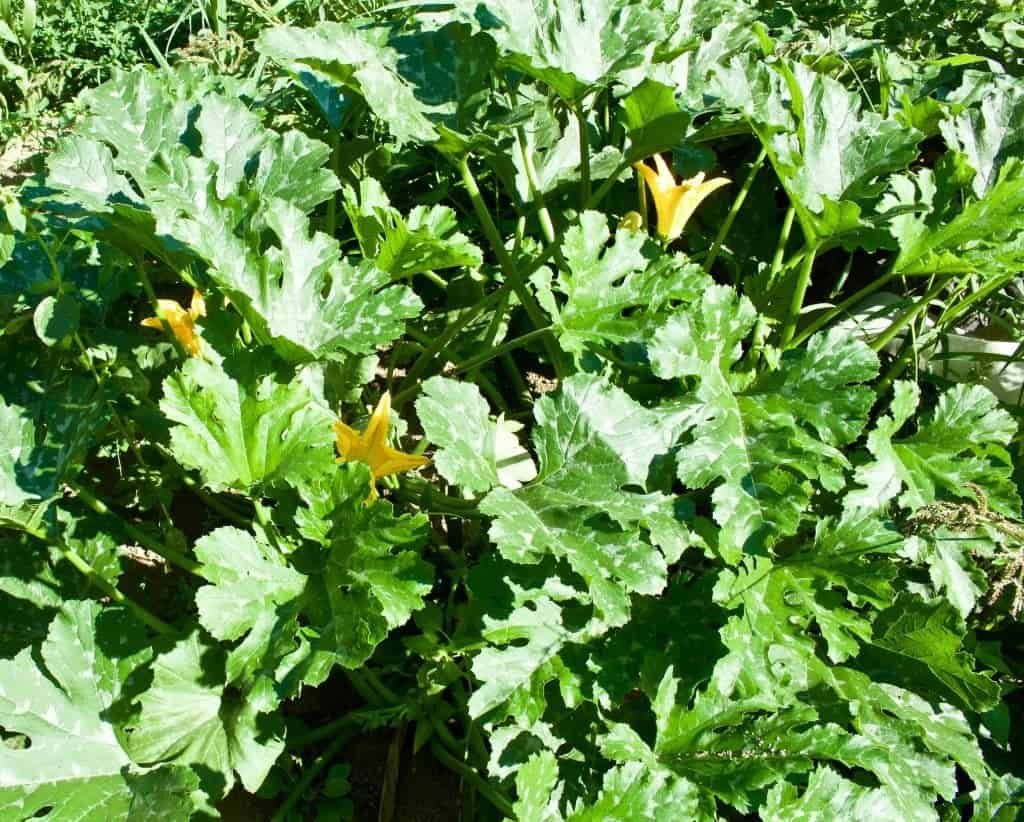 Every year I look forward to the zucchini harvest. And every year I say we planted too much. It's so easy to go overboard with zucchini.
Just one hill can produce more than a family can eat fresh. I freeze zucchini every year so I can make zucchini bread mid winter.
We love zucchini bread in every version I have mastered. If you love lemon this variation is for you.
More Zucchini Bread Recipes:
If you are looking for zucchini bread recipes here are a few more you may enjoy. Also check out my pumpkin zucchini and Zucchini Cake.
They all make great breakfast, lunch and party foods.
Make this lemon bread as muffins for an easy grab n go breakfast or snack.
Zucchini bread is perfect for camping, hikes and the lunch box. It travels well in muffin form.
Lemon zucchini bread looks pretty at a party. The glaze really dresses it up. And adds delicious sweet tangy flavor.
Lemon Zucchini Bread Recipe Notes:
This recipe uses cornstarch to help hold the crumb together. So it cuts very well and presents well on party trays.
Preparation:
There are a few steps of preparation for this recipe. They all have a purpose and don't take long if you work out the timeline.
Prep Steps:
These are small things. It will not ruin the bread if you skip them. However, each of these steps has a purpose. To give you the best lemon zucchini bread.
So before you make the batter I recommend you do these things.
Grate the zest off the lemon. In a small bowl combine the lemon zest and sugar and mix well. Set aside.
Add juice of the lemon to the milk in a separate small bowl. Let stand. (The milk curdles like buttermilk).
In a large bowl Sift the flour, cornstarch and baking powder together. Set aside.
Zucchini must be shredded and drained of its water for a truly light loaf.
I made zucchini bread for years and never knew about removing some of the juices from zucchini. My bread was always good. BUT it took FOREVER to bake.
The finished bread was heavy, crumbling and often not done in the middle. I finally found this method to properly prepare zucchini for bread recipes.
If your zucchini is older and dry you can skip this step.
NOTICE the crumb of the lemon loaf pictured above is different from the heavier, moister crumb of the green zucchini pics.
Everytime you make this bread the zucchini will determine how moist and heavy your recipe is. IF you don't follow the process below.
Now you can adjust the recipe by taking out however much extra zucchini juice you need to.
The Process:
Use tender, ripe, fresh zucchini
Cut out the seeds and grate it.
Frozen grated zucchini can also be used if thoroughly drained.
Set the grated zucchini onto a bowl with a teaspoon of salt or sugar tossed into it.
Let sit for about 30 minutes.
Drain the water out of your zucchini. Squeeze it Lightly.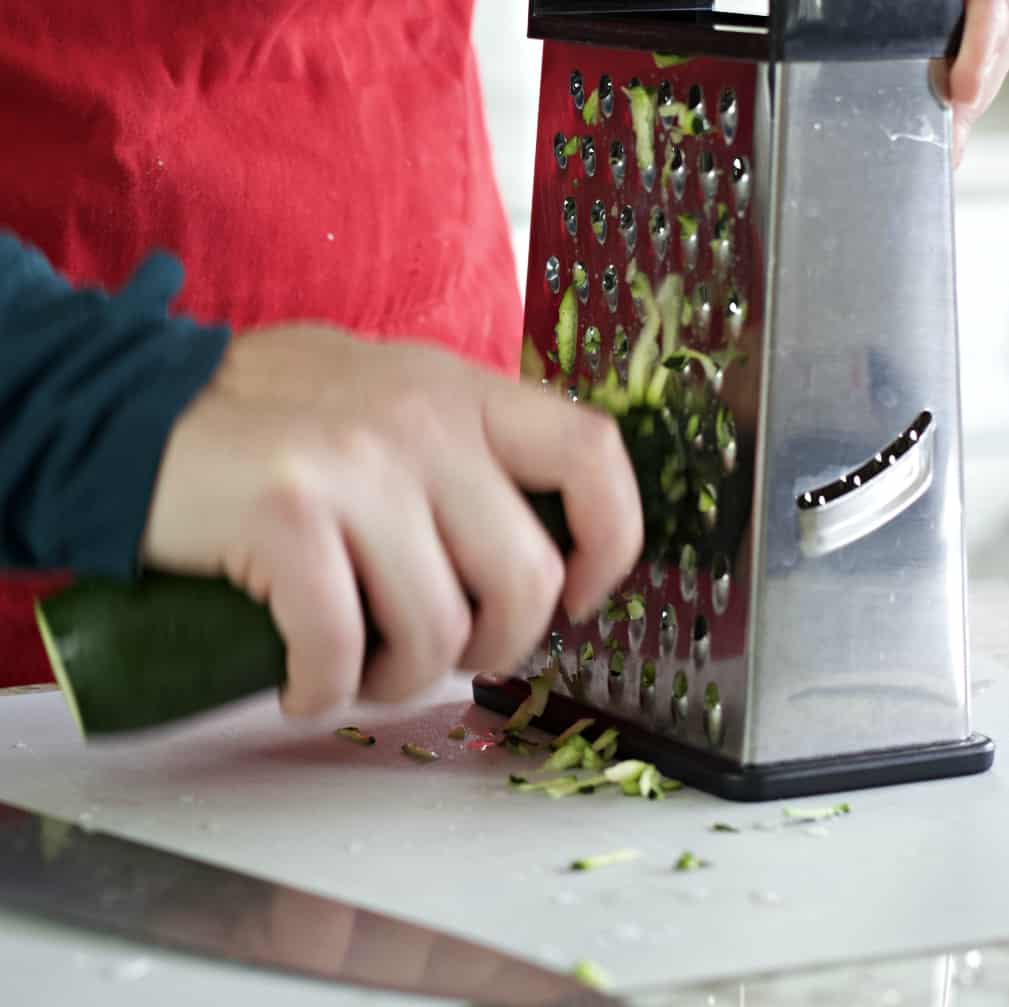 More Tips:
Here's how To make a truly light loaf of zucchini bread. Beat together the eggs, sugar and oil until they are pale and thick like yellow cake batter.
This step improves the texture and flavor of the loaf. Just follow the recipe instructions and your loaf will have a light lemon flavor and delicious texture.
The glaze is totally optional. We ate the first batch without glaze and it went fast. The glaze is a nice finishing touch for more lemony sweet tang.
Moist zucchini breads like this stand alone just fine.
Freezing Instructions:
Cool the loaf completely.
Do NOT glaze before freezing for best results. (the glaze will harden and flake)
Wrap the bread in foil.
Wrap the foil tightly in plastic wrap, an old plastic bag or heavy duty ziplock freezer bag. (preferred for long term freezing over two months)
Freeze for up to one year.
DEFROST by setting the frozen wrapped loaf in the fridge or on the counter. For quick defrost unwrap the loaf and set on your counter an hour or so.
Defrosting in a microwave is problematic. It may cause the bread to dry out so I don't recommend this method.
Your Printable Recipe Card: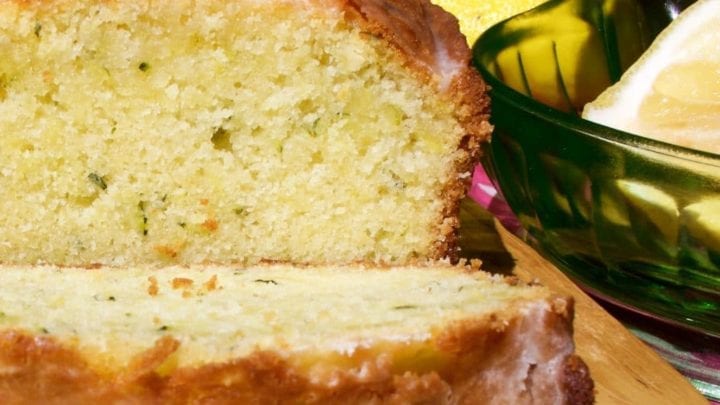 Yield:

2 loaves-24 slices
Lemon Zucchini Bread Recipe
Total Time:
1 hour
20 minutes
Light, moist lemon zucchini bread is a nice variation on the standard zucchini bread. Lemon bread with a lemon glaze for an added pop of sweet flavor. It's perfect for breakfast, lunch box, parties or after school snacks.
Ingredients
Bread ingredients:
3 1/3 Cup all purpose flour
2/3 cup corn starch
4 tsp. Baking powder
4 eggs
1 Cup coconut oil (softened to almost liquid)
2 2/3 Cup sugar
1 whole large lemon (you will need the zest and the juice)
1 Cup milk
2 Cups Zucchini
For the optional Glaze:
1 cup powdered sugar
2 TB lemon juice
1 TB milk
Instructions
Preparation:
Preheat oven to 350 degrees
Prepare zucchini by grating it.
and tossing it in a bowl with one tsp. salt.
Let sit about 30 minutes until water is released. Squeeze the zucchini to release some of the juices. You need to be a bit discerning here. Some zucchini is dryer than others.
Oil two 9 x 5 loaf pans or two twelve hole muffin tins
Grate the zest off the lemon. In a small bowl combine the lemon zest and sugar and mix well. Set aside.
Add juice of the lemon to the milk in a separate small bowl. Let stand. (The milk curdles like buttermilk).
In a large bowl Sift the flour, cornstarch and baking powder together. Set aside.
Make the batter:
In a large mixing bowl mix together the eggs and coconut oil with a large whisk or electric mixer.
Add the lemon zest infused sugar and whisk until thick and pale lemon color.
Pour in the lemon milk.
Add in sifted dry ingredients slowly and mix until just blended.
Fold in zucchini.
Baking and cooling Instructions:
Pour the batter into the greased loaf pans
Bake 60 minutes until a toothpick comes out clean. Remove from heat
Cool on rack for ten minutes and then invert the pans to release the bread.
Thoroughly cool the loaves on the rack and then glaze with the lemon glaze if desired.
For the glaze:
Whisk together the ingredients as listed. Adjust the liquid to make the glaze your desired consistency.
The glaze may be spooned on, poured on or drizzled. To drizzle the glaze put the glaze in a sandwich bag a with a teeny hole cut in the corner so you can better control the glaze if desired.
Notes
TIP: If the bread sticks to the pans after cooling 10 minutes run a knife around the sides of the loaf to release the bread form the bread pan. If the loaf still sticks on the bottom use a spatula to slide under the loaf to release it.
For Muffins:

This recipe makes about 24 muffins. Bake muffins 20 minutes at 350 degrees F. They are done properly when a toothpick inserted into the middle of the muffin comes out clean.
Cool ten minutes and then remove from tins to cooling racks until room temperature.
Freezing Instructions:
Freeze without the glaze after the bread is cooled completely.
Wrap the bread in foil (or plastic wrap)
Wrap the foil in tightly in plastic wrap, a plastic grocery bag or heavy ziplock freezer bags for long term freezing. (over two months)
Nutrition Information
Yield
24
Serving Size
1
Amount Per Serving
Calories

283
Total Fat

10g
Saturated Fat

8g
Trans Fat

0g
Unsaturated Fat

1g
Cholesterol

32mg
Sodium

101mg
Carbohydrates

45g
Fiber

1g
Sugar

27g
Protein

3g
Adapted from: Lilluna.com