Looking for more ways to use up your zucchini harvest? Here you go! Zucchini Cookies with Pumpkin spice frosting taste like a bite of fall. Soft doughy cookies with frosting! Oh my heaven good!
Zucchini cookies frosted with Pumpkin Spice Frosting make a delicious treat. I recently discovered Pumpkin spice and zucchini to be great flavor partners. I made Pumpkin zucchini bread recently and decided to add the spice into the frosting for these cookies. Excellent! True tastebuds friends!
This is a harvest recipe for all that zucchini floating around in your kitchen. At least that's what is happening at my house:) If it's a delicious sweet treat your wanting, these are the ticket.
Zucchini cookies unfrosted are still yummy!
Cookies with zucchini? Zucchini is so magical that way. You can make anything with it! When Dave brought in three more large zucchini and laid them out on the counter in all their glorious green, enormous, vegetable beautiousness… at a loss for words. Time for a new zucchini recipe.
Zucchini cookies caught my eye as I was traveling the cyber highway the other day. Me+cookies=LOVE. After playing around a bit in my kitchen last night I have found a new cookie love… zucchini cookies!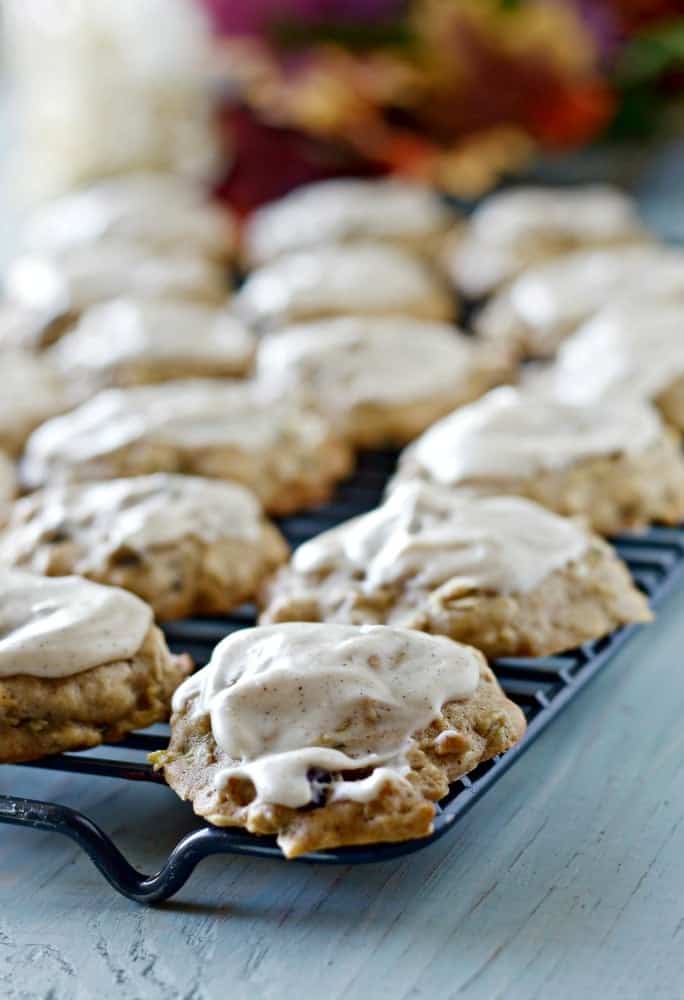 Zucchini cookies with pumpkin spice frosting, truly delicious!
I've been making zucchini bread, zucchini casserole, stuffed zucchini, raw sliced on a platter with dip, and zucchini in every stir fry. We had zucchini fries the other night. Excellent side dish, by the way. Freezing zucchini? Our freezer is looking a bit too green on the inside. So a new fun recipe with this delicious vegetable that won't quit growing in our garden? Definitely a yes!
These zucchini cookies remind me of eating pumpkin or molasses cookies. Big, soft, doughy goodness, slightly spiced and slightly sweet.
I frosted about half the batch of cookies. We like them both ways. The frosting takes them up to a whole new level of yummy, though. No contest! All my taste testers were given a zucchini cookie unfrosted and they all liked them. Then I had them try a frosted one. The eyes popped open and they said Yeah!!
Zucchini cookies are soft and moist. They really taste great alone.
If you're not a huge sweet fan they might be surprisingly tasty alone. This recipe uses coconut oil and honey to tone up the nutrition factor a bit. They are still Carby cookies, though, so be careful how you're getting your vegetables with these!
Zucchini Cookies with Pumpkin Spice Frosting:
These cookies are easy to make. Sort of like making zucchini bread batter. But you don't have to prep the zucchini. Instead just let it sit in the bowl and moisten the oats as instructed.
Frosting these cookies makes them hard to store in a cookie jar. The frosting sets but doesn't harden so they smash and get kind of messy. Best keep them on a tray on the counter and let people graze on them 🙂
Unfrosted zucchini cookies store just fine in a cookie jar. Enjoy!
Zucchini Cookies with Pumpkin spice Frosting
Zucchini Cookies-Pumpkin Spice Frosting Recipe
Yield:

36 cookies
Zucchini Cookies-Pumpkin Spice Frosting Recipe
Zucchini cookies frosted with Pumpkin Spice Frosting make a delicious Fall treat. Pumpkin spice and zucchini are great flavor partners. Soft, cake like cookies
Ingredients
2 cups flour
1 cup honey (or sweetener of your choice equivalent)
½ teaspoon Baking Soda
½ teaspoon salt
¼ teaspoon nutmeg
¾ teaspoon cinnamon
3/4 cup melted coconut oil
1 egg
1 cup grated zucchini
1 tsp. vanilla
1/2 Tsp. Almond extract
1¾ cups regular oats
INGREDIENTS FOR THE FROSTING:
2 Tablespoons milk (adjust consistency to your preference)
11/2 teaspoons vanilla
1/2 tsp. almond extract
1 Tsp. Pumpkin spice Seasoning
2 cups powdered sugar
Instructions
For the Cookies:
Preheat oven to 350 degrees
Put grated zucchini into a large mixing bowl with the oats, oil, honey, vanilla, almond extract and egg.
Mix thoroughly with a wooden spoon and let sit until oats are thoroughly moistened and soft.
Whisk together the dry ingredients.
Mix the zucchini mixture until smooth.
Slowly add the dry ingredients one cup at a time with a wooden spoon.
Put the bowl in the fridge for 15 minutes or until the batter is semi stiff.
Remove to counter and drop teaspoons of dough onto a cookie sheet. (I use silpat silicone sheets on my baking sheets. Makes baking cookies a dream)
Bake at 350 degrees for 10 minutes
For the Frosting
In a deep bowl, add the confectioners sugar, pumpkin pie spice and vanilla. Whisk together until smooth.
Add milk one tablespoons at a time whisking until smooth and desired frosting consistency.
Frost the cooled cookies.
Notes
The frosting is delicious and tastes great on these cookies. It will set but NOT harden so these cookies are best served flat on a tray rather than stacked in a jar.
Nutrition Information
Yield
36
Serving Size
1 frosted cookie
Amount Per Serving
Calories

153
Total Fat

4.7g
Carbohydrates

24.9g
Protein

1.9g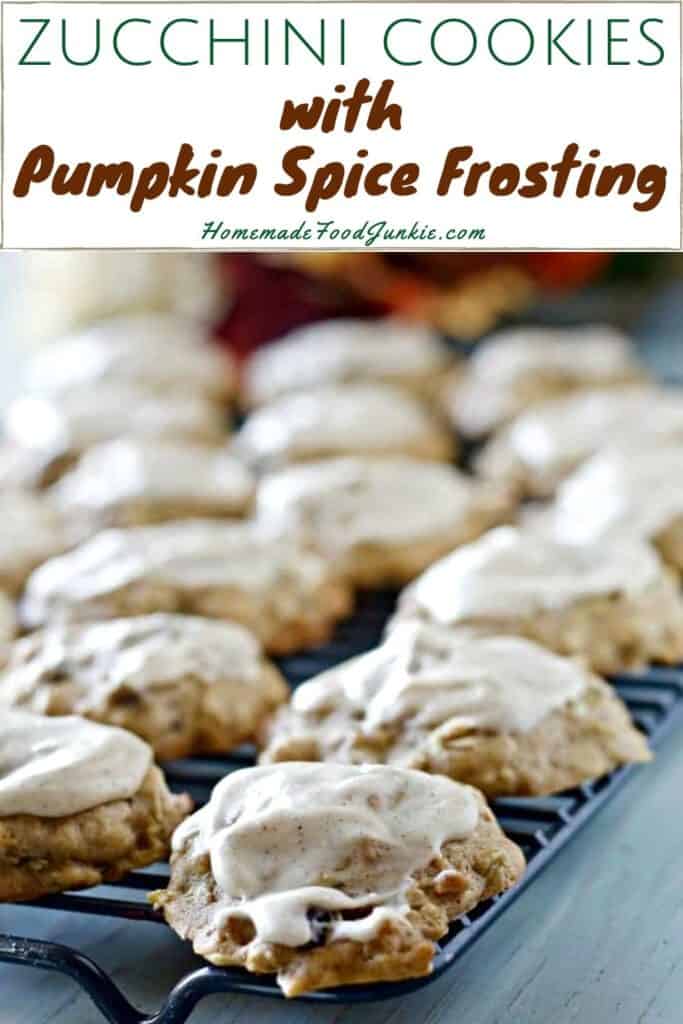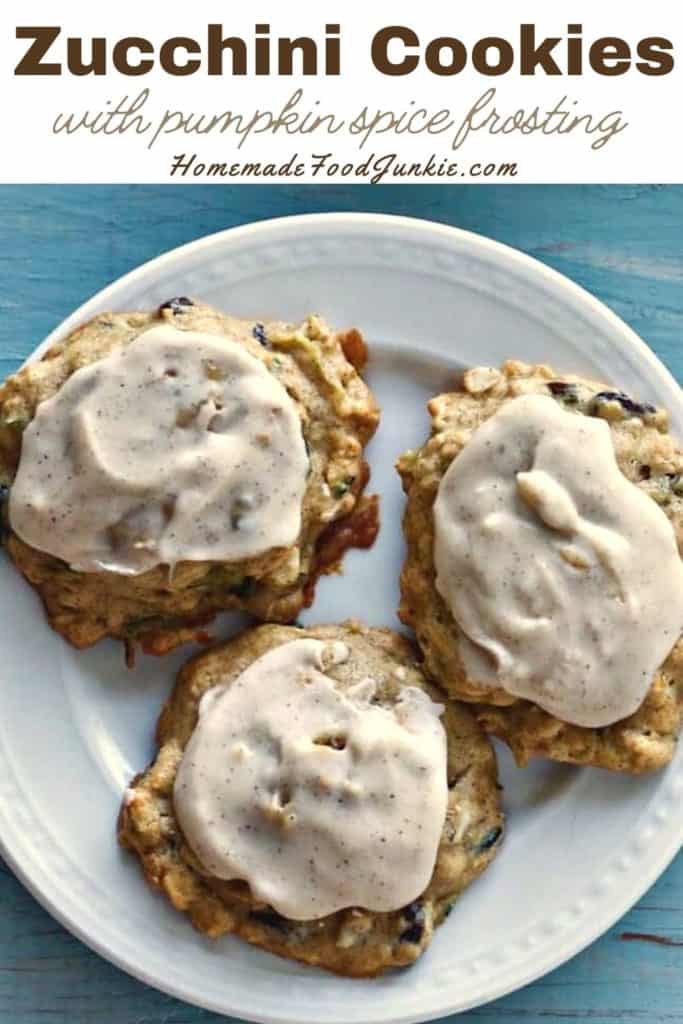 source-Adapted from:.chef-in-training.com