These cookies and cream cookies are a genius blend of two amazingly popular flavors. Oreo cookies and Hersheys Cookies and Cream bars. Put them together in this yummy drop cookie and enjoy the crunchy chocolate cookie bits baked into a soft cookie infused with cookies and cream. Yes it is delicous. You need to try these!
Is Cookies and Cream Just Oreos? Pretty much. There are many foods that imitate that famous chocolate cookie with its luscious creamy interior. For example commercial milkshakes, ice cream and other desserts use the oreo flavors (including the cookies sometimes) but use the name cookies and cream to avoid licensing issues. Wikipedia has more on this interesting topic.
Our cookies are also a take off on those famous cookies flavor profile. By crushing the oreos and mixing them into drop cookie dough with ANOTHER Oreo inspired candy…we are doubling down on the cookies and cream flavor. It produces a good cookie with bits of all our childhood memories stashed inside. 🙂
What is Cookies and Cream Flavor?
The signature taste of Cookies and Cream is a luscious combination of chocolate cookie crunchiness with a creamy and sweet counterpoint. Oreo cookies separate the cookie from the cream by using their soft white vanilla cream to separate the two crunchy chocolate wafers. For the cookies and cream bars, the cookies are crushed and suspended in a white chocolate bar to give you the cookies and cream flavors in one lovely hunk.
For our cookies and cream cookie recipe, we mix the crushed bars in with crushed cookies and put them into a cookie dough to bind it all together. Then we add cookies and cream pudding to emphasize that cookies and cream taste even more. Talk about doubling down on a flavor profile. We tripled it!
What Does Cookies and Cream Have in it?
Hershey Cookies and Cream bars flavor is a mash up of the Oreo cookie. So you get a chocolate and cream flavored bar. It is a mix of the flavors rather than a homogenized blend. They take rich chocolate cookies, crushed them into bits and mix the bits into a creamy white chocolate candy bar.
Cookies and Cream Cookies Recipe:
This is a really simple drop cookie recipe. The only thing to add to mixing the dough is the crushing of the cookies and cutting up the bars. How much you crush and cut determines how rumply your cookies will be and how much of each cookie and cream element you will taste as you chew through the cookie.
Big pieces will give you a more distinct flavor of the Oreo chocolate cookie and some of the bar as well. You do you!
Variations:
Cookies and Cream Cheesecake Cookies: Add 4 oz. of softened cream cheese into the cookie dough with the butter and sugars. This adds extra creaminess to your cookies.
Double Chocolate Cookies and Cream Cookies: Add 1/4 to 1/2 cup of cocoa powder to the original recipe to make it even more chocolatey. You can also include white chocolate chips along with the Hershey's cookies and cream bars for a double chocolate effect.
Chocolate Chip Cookies and Cream Cookies: Mix in a generous amount of chocolate chips or chunks (semi-sweet or milk chocolate) into the original cookie dough to blend chocolate chip and Cookies and Cream flavors. (This may be rich so dont overdo).
Nutty Cookies and Cream Cookies: Add 1/2 to 1 cup of chopped nuts (such as walnuts or pecans) to original recipe for some added crunch and nutty flavor.
Mint Cookies and Cream Cookies: Include 1/2 to 1 teaspoon of peppermint extract in the dough and mix in some green food coloring for a minty twist on Cookies and Cream. Crush up some peppermint candy to throw a bit more mint and color into the mix.
Peanut Butter Cookies and Cream Cookies: Blend 1/2 to 3/4 cup of peanut butter into the cookie dough for a combination of peanut butter and Cookies and Cream flavors. You can also add peanut butter chips for more peanut butter goodness.
M&M's Cookies and Cream Cookie: Mix in mini M&M's candies to your dough along with the Hershey's cookies and cream bars for colorful and candy-filled cookies.
Substitutions:
Butter Substitution: You can substitute some or all of the butter with unsweetened applesauce, coconut oil or mashed bananas.
Sugar Substitution: You can use alternative sweeteners like coconut sugar or maple syrup as a substitute for brown or granulated sugar. Keep in mind that this may slightly change the flavor and texture of the cookies.
Flour Substitution: You can use a gluten-free flour blend instead of all-purpose flour. Make sure it's a 1:1 substitute for all-purpose flour to maintain the proper texture.
Egg Substitution: If you want to make the cookies vegan, you can replace each egg with a flax egg (1 tablespoon ground flaxseed mixed with 2.5 tablespoons of water). This will bind the ingredients together.
Pudding Mix Substitution: If you can't find instant Oreo cookies and cream pudding mix, you can use vanilla or white chocolate pudding mix as a substitute. This will change the flavor slightly but still taste good and give you that desireable creamy texture.
Mix-Ins: Get creative with your mix-ins. Try different types of chocolate chips (dark, white, or milk chocolate), chopped nuts, or other favorite cookie pieces or candy bars.(see our list of variations for ideas)
Tips for Cookie-Making:
Room Temperature Ingredients: Butter must be properly softened to room temperature. This will help with the creaming process and result in better texture.
Proper Mixing: Cream the butter and sugars together until light and fluffy. This may take a few minutes and is key to achieving the right texture in your cookies.
Chop Ingredients Evenly: When incorporating cookies and cream bars or other mix-ins, chop them into relatively uniform pieces to ensure even distribution throughout the dough.
Cookie Size: Use a consistent portion size for your cookie dough to ensure even baking. You can use a cookie scoop to make this easy.
Baking Time: Keep a close eye on the cookies as they bake. They should be lightly browned around the edges but still slightly soft in the center when you remove them from the oven. They will continue to set as they cool.
Cooling Time: Allow the cookies to cool on the baking sheet for a few minutes before transferring them to a cooling rack. This helps them set properly.
Storage: Store your Cookies and Cream cookies in an airtight container to keep them fresh. They can also be frozen for longer storage.
Yield:

24 cookies
Cookies and Cream Cookies Recipe
A tasty blend of Crushed Hersheys Cookies and Cream bars and bits of Oreo cookies in a yummy drop cookie. These indulgent treats will have your family and friends raving for more!
Ingredients
1 Cup unsalted butter (softened)
1/2 Cup light brown sugar (firmly packed)
1/2 Cup granulated sugar
2 eggs
2 1/4 Cups all purpose flour
1 tsp. baking soda
1 tsp. salt
1 packet instant Oreo cookies and cream pudding
1/2 Cup Hersheys cookies and cream bars (chopped)
1/2 Cup Oreo cookies (crushed)
Instructions
Preheat oven to 350 degrees F.
In a large mixing bowl, cream butter and sugars together.
Add the pudding mix and blend until combined.
Beat in eggs and Vanilla.
Whisk together flour, baking soda and salt in a small bowl.
Pour into wet ingredients and mix well.
Fold in the crushed Orea cookies and the cookies and cream bar pieces.
Drop teaspoon sized balls (cookied scoops get the most even sizes) onto your oiled or lined baking sheet.
Bake 8 to 10 minutes until cookies are lightly browned and set.
Remove from heat and allow to cool on the baking sheet for a few minutes.
Transfer the baked cookies to a cooling rack.
Serve!
Notes
These cokies hold well in an air tight container or cookie jar at about 5 days. For longer storage freeze them.
Freeze cookies flat on a baking sheet and then Add cookies to a ziplock freezer bag or other air tight freezer container and stack them flat. Freezes well up to two months. Defrost at room temperature before serving.
Nutrition Information
Yield
48
Serving Size
1
Amount Per Serving
Calories

104
Total Fat

6g
Saturated Fat

3g
Trans Fat

0g
Unsaturated Fat

2g
Cholesterol

19mg
Sodium

100mg
Carbohydrates

12g
Fiber

0g
Sugar

6g
Protein

1g
More Fantastic Cookie Recipes:
You can never have enough cookies. Throughout the year you'll need recipes for easy sweet treats. Here are a few of our cookie recipes that fit the bill for any event, family snacks, or personal indulgences. Take a taste of our cookie recipes.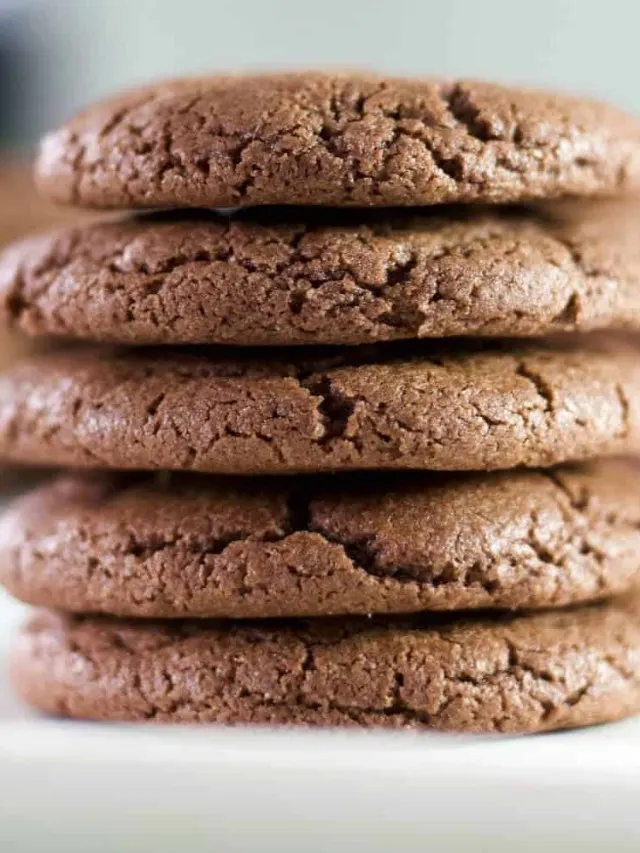 Follow Us:
We enjoy meeting you on our social networks. Follow us on Facebook, Pinterest, Instagram . Tag us with your pictures of our recipes and comment on how it went for you. We would love to see what you do with them.
We often like, comment and share your posts of our recipes on our daily Instagram stories.
Ask questions and rate the recipe in the comments section below. Please share what you did with this recipe. We are always looking for more and better ways to make homemade food. Other cooks love your ideas!
Recent Posts: