This Creamy Sausage tortellini soup is simple to make and provides a delicous meal for the family in about a half hour or so. You make it on the stove top in your soup pot.
This Italian soup brings together tender cheese tortellinis and spicy sausage in a creamy broth. Kale is stirred right in to add nutrients, flavor and texture. Enjoy the comforting flavors of Italy with this hearty and satisfying dish.
Our tortellini soup is the perfect choice for a chilly, busy night. It's delicious and a heartwarming Mediterranean classic recipe.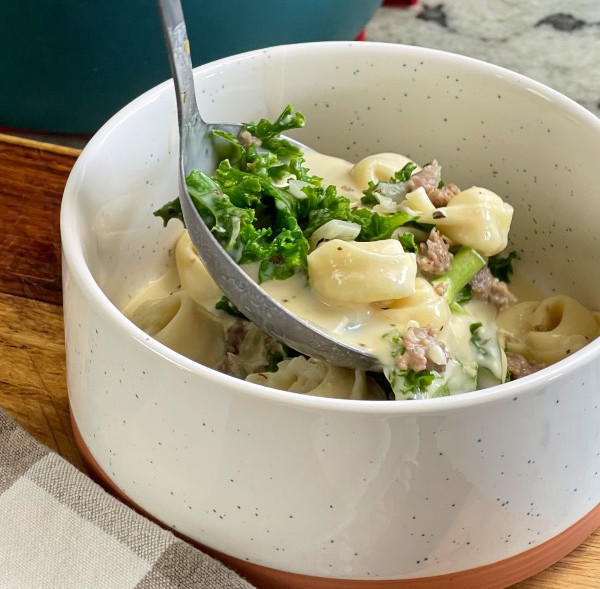 What is tortellini? Tortellini are small pasta dumplings that are usually filled with a mixture of cheese, meat, or a combination of both. For this tuscan soup with tortellini we are using Kirkland's Five cheese tortellini.
These yummy pasta pockets are the base ingredient for Tortellini recipes of all kinds. Cheese tortellini adds soft comforting carbs with a spot of cheesy flavor and protein in each bite. So good.
What is Tortellini Soup Made Of?
In general, Tortellini soup includes Tortellini pasta, a Broth of some kind, various Vegetables, and Herbs and Spices at a minimum. Meats are often added for more protein staying power and delicous flavors. Grated Parmesan cheese makes a great topping for even more flavor and creaminess. Endless versions of this soup keep it fresh and interesting.
Let's take a look at what else can be in this Italian style soup.
Tortellini Soup Ingredients:
The preparation of this tuscan pasta soup is simple. This is a comforting, satisfying soup that's perfect for a warm, hearty meal. And since it is soup, this easy tortellini soup is highly customizable.
Some variations include ingredients like diced tomatoes, or cannellini beans for additional flavor and texture. For this soup recipe we chose a wonderful chicken broth enhanced with cream. The result is amazing.
Substitutions:
Kale: if your out of kale or don't like it, you can substitute spinach for the kale and make a creamy tortellini soup with spinach. Spinach will not have the same structure as kale, so you will get a bit more wilt. Some people prefer kale, as we do for this recipe, since it holds up well when stirred into a hot soup. Others of you will prefer making a creamy spinach tortellini soup for this exact same reason. You do you!
Cream: If you are out of heavy cream or wish to replace it you can use half n half, whole milk or evaporated milk instead. Some people may enjoy this soup with Greek Yogurt whisked in to replace the cream. Mind the changes these substitutions can make to the flavor and texure of the soup. Make the change in small increments to be sure you are going in a good direction.
Sausage: Our Creamy Tortellini Soup with Sausage uses Italian bulk sausage that offers an authentic delicous Mediterranean flavor. You can use sliced cased sausage like we did in this crockpot tortellini soup with Italian sausage Or the bulk sausage like we did for this recipe.
All Sausage can be a wonderful meat choice for this Tuscan style soup. Sausage comes in so many meat choices, flavors and spice levels. They all can work well in tortellini soups with the right companion ingredients.
You can also make a very easy creamy chicken tortellini soup out of this recipe if you prefer. Rotisserie chicken meat is a great substitute for sausage. It is available in most deli sections of your local market already cooked, seasoned, pulled and ready to use.
Meatless Tortellini Soup:
Vegetarian tortellini soup omits the sausage, amps up the spices and uses a vegetarian broth rather than chicken broth. Vegetable Tortellini soup is going to need some additions like beans and other filling ingredients to bulk up the soup, add flavor, structure and protein, since your not using the sausage.
For Vegans: If your vegan you can make a vegan tortellini soup by using our tips for the vegetarian style soup and also choosing a plain tortellini rather than a filled one. Omit the cream altogether and use coconut milk, cashew cream, or silken tofu to add the creamy texture.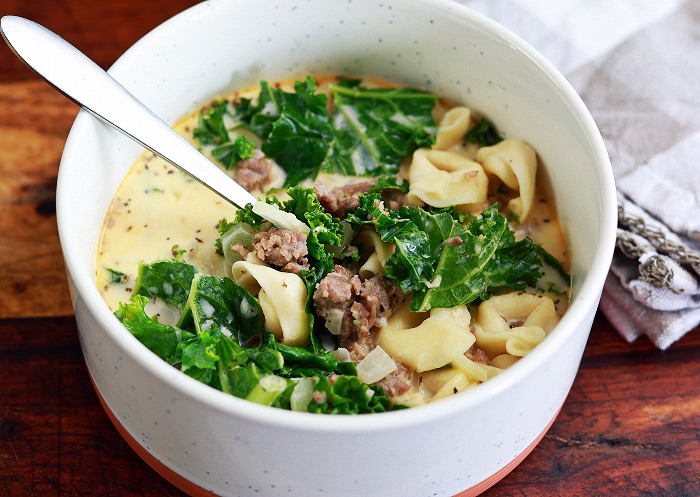 The base of tortellini soup is a flavorful cream broth. You can use either vegetable, or chicken broth. Chicken broth is the best companion for Italian sausages. The broth provides the liquid base for the soup and imparts a rich and savory flavor. You want the broth to compliment your meat choice.
Seasonings like bay leaves, thyme, oregano, and basil are frequently used to season this soup and enhance its taste. This is where homemade cooking shines. Make this soup your own. Adjust the recipe to suit yourself and your family.
And then come back and tell us in the comment section, how it went. We all love new ideas for our recipes. that's what make cooking fun.
What is the Best Bread to Serve with Tortellini Soup?
Some breads are particularly well-suited for pairing with tortellini soup. Sourdough breads are excellent breads for this cheese tortellini soup. The sourdough flavors pair wonderfully with this old world soup.
If your a sourdough baker, All of these breads will make great companion breads for this soup.
If you prefer to purchase authentic Italian breads (or make them), here are a few suggestions:
Crusty French bread: A classic companion of soups like this is crusty French bread. It is perfect for dunking into the flavorful broth of the soup. The crunchy crust and soft interior absorbs the broth and adds a delightful texture to each bite.
Baguette: A baguette, with its thin and crispy crust and tender crumb, is another excellent option. It's easy to slice and dip into the soup.
Garlic Bread: If you love garlic, serve our Cheesy bruschetta garlic bread with this tortellini soup. You can make it by spreading a mixture of butter, minced garlic, and herbs on slices of bread and toasting them until golden and aromatic.
Ciabatta: Ciabatta is a rustic Italian bread known for its chewy interior and crisp crust. It's sturdy enough to hold up when dunked in soup.
Breadsticks: Grissini, Italian breadsticks, are fun and convenient. Their slender shape makes them perfect for dipping into the soup. Kids love them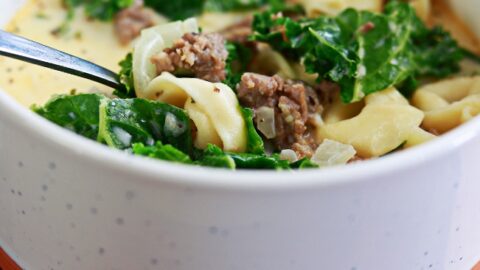 Yield:

10 servings
Creamy Tortellini Soup Recipe
Creamy Tortellini Soup hits all the perfect notes for an easy nourishing meal with tons of satisfying flavor and texture. Delicious Cheese tortellini, sausage and heavy cream form the base of this soup. Add in the kale and spices for interesting texture and flavors. There's even a hint of hot sauce in there for fun. Enjoy!
Ingredients
1 lb. ground sausage
12 oz. package cheese tortellini
1 small yellow onion-diced
1 Cup heavy cream
4 Cups chicken broth
2 Cups chopped kale
3 Tablespoons flour
1 Tablespoon garlic-minced
1 tsp. dried basil
1/2 tsp. dry mustard
1/2 tsp. black pepper
1 tsp. hot sauce (we used Franks hot sauce)
1/4 tsp. red pepper flakes
Instructions
Set soup pot on medium heat on stove top and add olive oil.
In the soup pot, Brown ground sausage and break it up into small bite sized pieces.
Add diced onion and cook until the onion is translucent.
Drain off the excess grease and Return the pot to stove.
Add minced garlic and spices. Stir into the meat for a few minutes.
Add in the flour and stir until it coats the meat.
Stir in the chicken broth and allow it absorb the flour.
Slowly add in the heavy cream stirring constantly. Bring the soup to a boil, then immediately reduce the heat to simmer. Stir to avoid scorching.
And the tortellini.r
Add the chopped kale next and stir together .
cover and simmer for 5 minutes.
Serve
Notes
This soup makes delicous leftovers. The tortellini will absorb the soup flavors and be even better the next day. Perfect for lunch!
Nutrition Information
Yield
10
Serving Size
1
Amount Per Serving
Calories

353
Total Fat

24g
Saturated Fat

11g
Trans Fat

0g
Unsaturated Fat

10g
Cholesterol

71mg
Sodium

896mg
Carbohydrates

22g
Fiber

1g
Sugar

3g
Protein

12g
More tortellini Recipes:
Tortellini is such a versatile pasta with so many culinary uses. It's delicous in soups, salads, and meat dishes. Here 's are a few yummy recipes that use tortellini. They are all so good!
More Delicous soups:
Follow Us:
We enjoy meeting you on our social networks. Follow us on Facebook, Pinterest, Instagram . Tag us with your pictures of our recipes and comment on how it went for you. We would love to see what you do with them.
We often like, comment and share your posts of our recipes on our daily Instagram stories.
Ask questions and rate the recipe in the comments section below. Please share what you did with this recipe. We are always looking for more and better ways to make homemade food. Other cooks love your ideas!
Recent Posts: