Say hello to our easy Pumpkin Pie Twists. They make a delectable fall appetizer that captures the essence of fall's coziness and warmth.
These flaky, golden pastry twists are generously filled with a luscious pumpkin pie filling. Enjoy the sweet notes of maple syrup and a blend of warm spices. You'll savor every bite and feel the comfort when the weather turns brisk. A delicious mouthful of cripsy sweetness.
These twists are made with Puff pastry dough. You can make up a batch of our homemade puff pastry recipe or you can purchase the puff pastry. It's all up to you.
Paired with a creamy, sweet cream cheese dip, these twists are not just an appetizer. You can make these treats for any gathering of friends or family large or small. Movie night, girls night, Fall parties or family treats. Eat them however you like. You won't be dissapointed.
Everyone knows pumpkin is the harbinger of Fall. Those warm, sweet pumpkin creations just come from all directions and we never get tired of them through the cold months. Pumpkin is Falls answer to zucchini. it is so good and goes with all kinds of flavors from savory to sweet.
Pumpkin stands on its own as a very nourishing, healthy food. But in this party food recipe we like it with lots of decadence.
Using Fresh Pumpkin Purée:
Using fresh pumpkin puree can add a slightly different flavor and texture to your Pumpkin Pie Twists, but if you enjoy making pumpkin purée from scratch it will work great. Just be sure that your homemade puree is smooth and not too watery for the best results.
Changing Up the Dough-Variations:
You can certainly experiment with different types of dough for your Pumpkin Pie Twists to create unique flavors and textures. You may find its not easy to make them into strips with some of these options, but they will still be delicious and can still be served attractively. Here are a few options:
Phyllo Dough: Phyllo dough can work well for making crispy and flaky twists. Brush each layer of phyllo dough with melted butter, then spread the pumpkin pie filling and follow the twisting and baking instructions as you would with puff pastry. Phyllo dough will give your twists a delicate, paper-thin texture.
Turnover Dough: Turnover dough, which is often used for making fruit turnovers, can be an excellent choice. It's typically thicker and more substantial than phyllo dough, with a slightly sweet flavor. Roll out the turnover dough, cut it into strips, fill with the pumpkin pie filling, and twist before baking.
Pie Dough: Pie dough can also be used to make pumpkin pie twists, but it will yield a softer and more pie-like texture. Roll out the pie dough, cut it into strips, and fill with the pumpkin pie filling. Instead of twisting, you can fold the dough over the filling to create a turnover-style pastry.
Crescent Roll Dough: Crescent roll dough from a can is a quick and convenient option. Separate the dough into triangles, spoon the pumpkin pie filling onto each triangle, and roll them up into crescent shapes. Bake according to the crescent roll package instructions.
Each type of dough will offer a slightly different texture and flavor, so choose the one that best suits your preferences and the overall theme of your dessert. Don't be afraid to experiment and have fun with different dough options to create a variety of pumpkin pie twists!
Flavor Variations:
Here are several variations and finishing touches you can use for your Pumpkin Pie Twists recipe:
Nutty Delight: Add a layer of finely chopped toasted pecans or walnuts to the pumpkin pie filling before twisting the pastry for a delightful nutty crunch.
Spiced Orange Zest: Grate some fresh orange zest into the pumpkin pie filling for a citrusy twist that pairs beautifully with the spices.
Maple Pecan Glaze: Prepare a glaze by combining maple syrup and finely chopped pecans. Drizzle it over the baked twists for a sweet and nutty finish.
Caramel Swirl: Drizzle warm caramel sauce over the baked twists for a gooey and decadent touch. You can also sprinkle some sea salt over the caramel for a sweet-savory contrast.
Chocolate-Dipped: After baking, dip one end of each twist into melted chocolate (dark, milk, or white) and let them set on parchment paper. Sprinkle with crushed graham crackers or mini chocolate chips for extra texture.
Chocolate Melts: These come in many different colors and flavors that would work great with these pumpkin pie twists. Just a few seconds in the microwave,(be sure to follow package instructions carefully), and you can theme the colors and flavor of these twists to your event.
Spread with Ganache: Its so simple to whip up a batch of chocolate ganache. Just spread it over the twists or serve it warm as a dip before it sets up. Yum.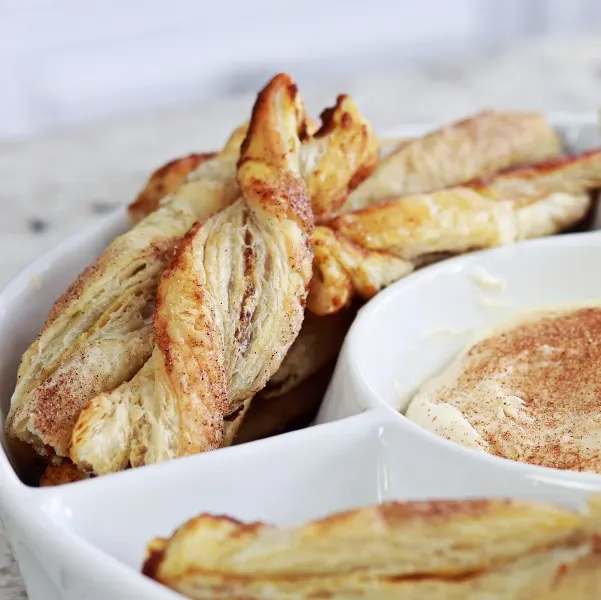 Sweetener Variations:
The sweetener we choose will add its own flavor notes to the recipe as a whole. Here are some of our favorite ways to sweeten these pumpkin pie twists.
Honey Infusion: Substitute maple syrup with honey for a different sweetness profile. Drizzle a little extra honey on top of the twists before serving.
Brown Sugar Blend: Use a blend of brown sugar and granulated sugar for the pumpkin pie filling to add depth of flavor.
Stevia or Monk Fruit: If you're looking for a lower-calorie option, you can use stevia or monk fruit sweetener in place of brown sugar in the filling.
Dip Alternatives:
You can totally reinvent this recipe by merely serving it with a different topping and omitting the dip. Or use a different dip and see how it goes. Any sweet yogurt dip will work. So many ways to serve these twists. Here's a few you might like.
Cinnamon Cream Cheese Icing: Whip up a creamy icing using softened cream cheese, powdered sugar, cinnamon, and a touch of milk. Drizzle it over the twists for a sweet and tangy glaze.
Vanilla Glaze: Create a simple vanilla glaze by mixing powdered sugar, vanilla extract, and a bit of milk. Drizzle it generously over the twists.
Whipped Cream: Serve the twists with a dollop of freshly whipped cream infused with a hint of cinnamon and a dash of vanilla extract.
Serving Suggestions:
Plain and Dusty: If you prefer not to make a dip or glaze, you can simply dust the twists with powdered sugar for a classic, elegant finish.
Berry Compote: Serve the twists with a side of warm berry compote (raspberry, blueberry, or cranberry) for a fruity twist.
Ice Cream Pairing: These twists can also be served alongside a scoop of vanilla or cinnamon ice cream for an indulgent dessert.
Caramel Drizzle: Drizzle warm caramel sauce directly over the twists just before serving for a caramel-lover's dream.
Feel free to mix and match these variations to create your own unique twist on this fall appetizer. The possibilities are endless, allowing you to tailor the recipe to your taste and occasion.
When you do your experiments and fine your perfect method, we'd love to hear back on what you did and how you enjoyed this recipe. Please tell us in the comments below. Our readers love new ideas and enjoy sharing.
Pumpkin Pie Twists Printable Recipe:
Here is the original recipe for you. It's a simple process and delivers reliable, tasty treats. We hope you enjoy it.
Yield:

about 26 twists
Pumpkin Pie Twists Recipe
This simple appetizer recipe is full of delicious Fall flavors and comforting pastry texture. Enjoy the sweet pumpkin filling twisted up with phyllo dough and dipped in a sweet cream cheese dip. your party guests will love this easy appetizer.
Ingredients
For the Pumpkin Pie Filling:
1/2 Cup pumpkin puree
1 Tablespoon maple syrup
1/4 Cup brown sugar
1 tsp. pumpkin pie spice
For the Dough:
Pumpkin Twists Topping Ingredients:
2 Tablespoons melted butter
1 Tablespoon granulated sugar
1/2 tsp. cinnamon
Sweet Cream Cheese Dip Ingredients:
4 oz. softened cream cheese
2 Tablespoons softened butter
1 Cup powdered sugar
1/2 tsp. vanilla extract
1/4 tsp. salt
Instructions
Preheat oven to 375 degrees F.
In a medium bowl whisk together pumpkin purée, maple syrup, brown sugar and pumpkin spice. Set Aside..
Lay out 1 puff pastry sheet on a work surface. Roll it out into a rectangle about 12 inches by 16 inches.
Spread the pumpkin pie filling evenly over the puff pastry sheet.
roll out the second puff pastry sheet into the same size and place it over the top of the filling so all the edges meet.
With a pizza cutter or sharp knife, cut the double layered puff pastry into 3/4 inch strips on the 12 side to you wind up with 12" by 3/4" strips. You should get around 12 of these strips.
Place parchment paper on a baking sheet.
Place the pumpkin pie strips one at a time onto the baking sheet and twist sheet strip until it twists all up the strip. Repeat for all the dough strips.
Once all the strips are twisted, brush them with melted butter.
Whisk together the sugar and cinnamon in a small bowl.
Sprinkle the cinnamon and sugar mixture over the twists (as desired)
Bake 15 to 18 minutes until the pumpkin pie strips are golden brown and slightly crisp. Remove from heat. They should firm up more as they cool. Cut the strips in half to make 24-6 inch long pumpkin pie twists.
Cream Cheese Dip:
Note: Make this dip while the twists are baking to save time.
Cream together the cream cheese, powedered sugar and softened butter in a large bowl with an electric mixer.
Add in the vanilla, salt and cream and mix together until smooth.
Spoon it ont a serving dish and serve with cooled pumkin pie twists.
Nutrition Information
Yield
24
Serving Size
1
Amount Per Serving
Calories

78
Total Fat

4g
Saturated Fat

2g
Trans Fat

0g
Unsaturated Fat

2g
Cholesterol

10mg
Sodium

61mg
Carbohydrates

9g
Fiber

0g
Sugar

8g
Protein

1g
More Delicious Pumpkin Recipes:
There is just nothing more delicious than pumpkin for Fall. We put it in about everything we can. Pumpkin is wonderfully good and good for you. All these recipes will warm your belly and your heart with yummy fall flavors.
Take these delicious pumpkin recipes to a party or serve them at home. They all work great for gatherings large and small. And a some are fantastic breakfasts and lunch additions. Give them a try. You'll love these!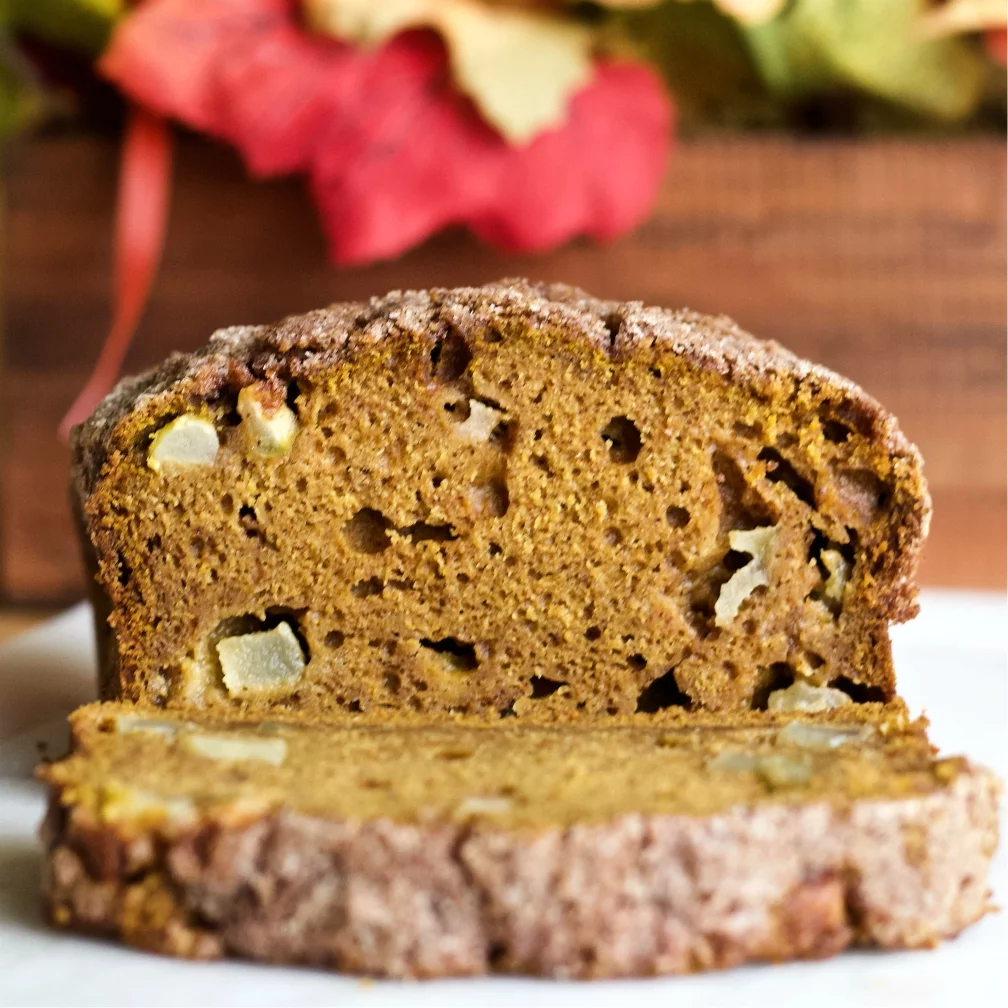 Follow Us:
We enjoy meeting you on our social networks. Follow us on Facebook, Pinterest, Instagram . Tag us with your pictures of our recipes and comment on how it went for you. We would love to see what you do with them.
We often like, comment and share your posts of our recipes on our daily Instagram stories.
Ask questions and rate the recipe in the comments section below. Please share what you did with this recipe. We are always looking for more and better ways to make homemade food. Other cooks love your ideas!
Recent Posts: